The fashion and makeup in HBO'sEuphoriais undeniably fantastic. Is it even possible to choose favourites?
Whether you subscribe to the belief that high school students should not be traipsing around in skin-showing attire and rhinestones stuck to their faces, or if you are fully passionate about the clothes and makeup in the show, most viewers would agree that costume designer Heidi Bivens and head makeup artist Doniella Davy have produced some iconic looks that madeEuphoriawhat it is today.
For a bit of fun, and with season two episodes now being steadily released, I look back on my favourite outfits and makeup designs on the women in season one: Cassie Howard (played by Sydney Sweeney), Lexi Howard (Maude Apatow), Kat Hernandez (Barbie Ferreira), Rue Bennett (Zendaya), Maddy Perez (Alexa Demie), and Jules Vaughn (Hunter Schafer).
Outfit: Cassie's blush pink Winter Formal dress was stunning. Her makeup was intended to be "as bare as possible," Kirsten Sage Coleman, one ofEuphoria's makeup artists, said on Instagram. "To be sort of the opposite from what we have seen from the previous episodes on Cassie as well as others. The dramatic contrast between her makeup and the rest of the characters within this episode was intentional."
As well as helping to convey Cassie's vulnerability, her subtle makeup also allowed attention to focus on her dress. ThisHouse of CB 'Camilla'knee-length satin body-con, with bedazzled trim and matching shawl, exudes femininity and class. It still screamed 'Cassie' even when she was at one of her lowest points in the season. Cassie is arguably one of the more tame dressers and does not yet have a strong sense of self, which I hope we get to see the development of in season two.
Makeup: Cassie's ice-skating scene occurred during a harrowing time in her season one arc, where she chose to have an abortion. While under, she dreamt of gliding and twirling in a peacock ensemble, which was inspired by Hedy Lamarr's green attire (by Edith Head) inSamson and Delilah(1949). Her makeup accentuated this perfectly — eyes framed with thick lashes and rhinestones in blues, greens and golds. Kirsten Sage Coleman fittingly called it "The Ice Peacock". The rhinestones also continued over Cassie's face and hair, making them look more frosty.
Outfit: Argue all you want, I will forever love Lexi's Bob Ross costume from episode six. With a crisp blue button-up shirt, a near-exact replica of the PBS artist's hair and a phenomenal beard, Lexi easily claimed the spot of 'Purest Soul' inEuphoria.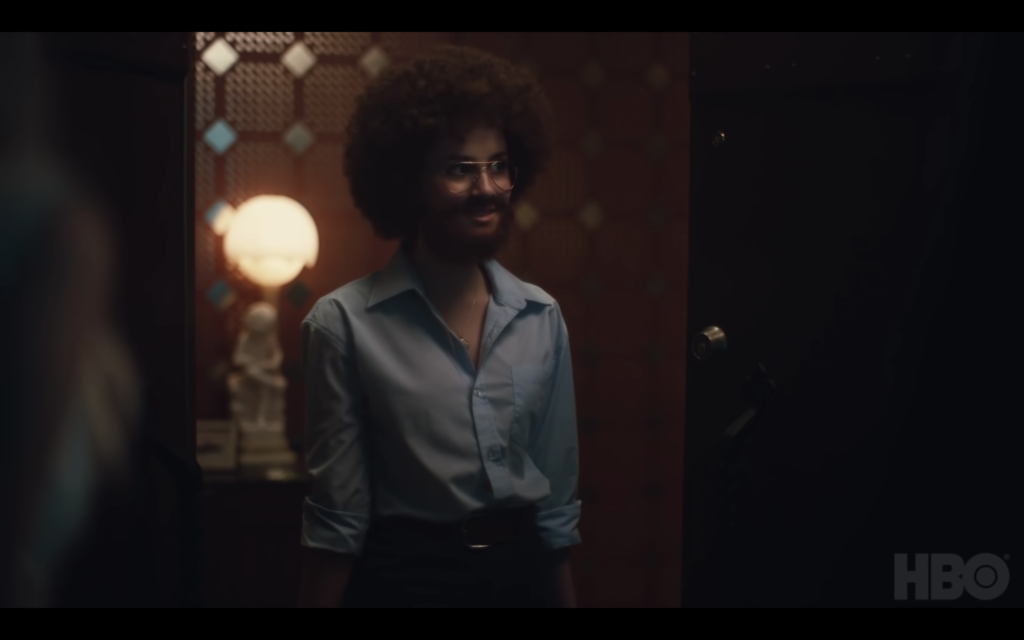 An honorary mention is also extended to her detective getup from episode seven, especially the inclusion of a police badge on a chain in a style reminiscent ofBrooklyn Nine-Nine's Jake Peralta andDie Hard's John McClane.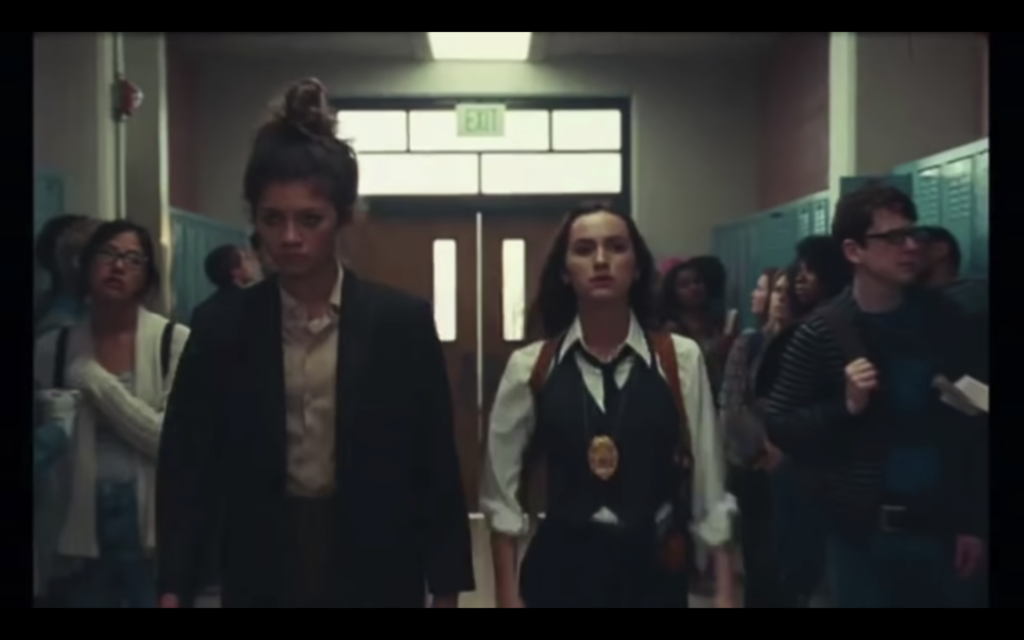 Makeup: Season one's Lexi played it fairly safe in regards to makeup, making less of a visual impact than the other characters. I will be looking to season two for more adventurous makeup on Lexi as she continues to come out of her shell and grow as a character.
Outfit: Kat went through a massive attitude alteration in season one, which included us watching her wardrobe go from 'shy teen' to 'confident dominatrix'. Because of this, her first outfit after her change of perspective was one of my favourites. This outfit, in particular, reminded me ofVivienne Westwood's 'Worlds End Campaign' collection. With punk elements like her tartan skirt, laced corset, band tee, fishnet tights and chunky boots, it was a far cry from the docile Kat in previous episodes.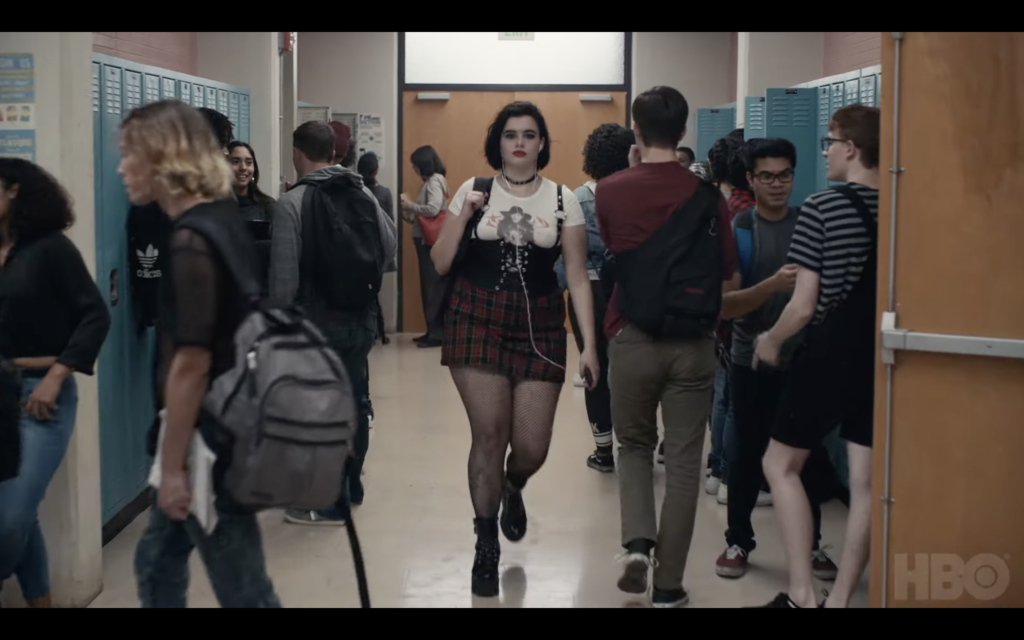 Makeup: Hello, Halloween queen! With Heidi Bivens dressing Kat's actress Barbie Ferreira as Thana fromMs. 45(1981), Doniella Davy and her team went all out on Kat's Halloween look, using a heavy hand with red eyeshadow and sparkly crosses, which gave me something to admire as Kat made more questionable decisions as the episode progressed.
Outfit: Unlike the actress who plays her, Rue is a character far less fashionably adventurous than most — she frequently donned her father's hoodie and switched between a few crop tops and button-ups. Fashion is rarely a priority for her, which makes sense. Halloween, however, brought out a well-dressed side of Rue that we had not seen much of since the show's launch. Paying homage to queer icon Marlene Dietrich and her outfit inMorocco(1930), Rue was dressed to the nines in a suit, with a pocket square, cummerbund and bobbed hair-do to imitate Dietrich's short curls.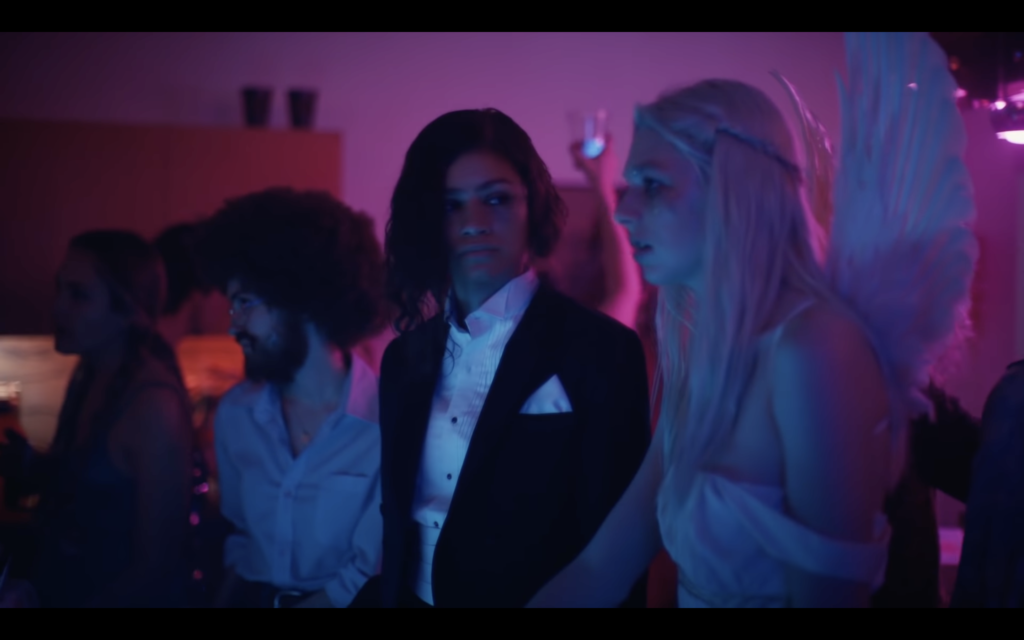 Makeup: Rue's Winter Formal makeup was one of my favourites for two reasons — the first being that it was one of the rare times Rue wore makeup. Secondly, it subtly helped the show's storytelling. Doniella Davy told Instagram that the burgundy shadow ties to Rue's "hero" colour, and the colour of her signature hoodie. "Since Jules was 'doing' Rue's makeup for the winter formal I wanted her to use something that we had seen on her before, a product that Jules 'owned'," she said. The blue glitter also creates a more subduedEuphoriaaesthetic, which I would argue fits nicely with Rue's character.
Outfit: Maddy was one of the most memorableEuphoriacharacters for me, and her confidence and a strong sense of self shows in her wardrobe. This little blue-and-peach number from episode three screamed 'Chanel' to me, reminding me of thetwo-piece suit setscharacteristic of the couture brand. It was one of the more conservative 'Maddy' looks from season one, yet it still had her styling elements — her midriff peeked out, the skirt was short, and hoop earrings were a staple, appearing in varying sizes throughout the show. Her high ponytail also made the 1960s-inspired suit more modern and casual.
Makeup: I still can not get enough of this makeup from season one, episode two. The fiery orange eyeliner and pale purple shadow matched Maddy's all-purple getup and orange nails. Maddy's makeup usually matched the colours in her outfit, which I found to be a great and easy (if you can call near-perfect makeup application "easy") way to show the attention to detail that both Heidi Bivens and Doniella Davy displayed in their work on the show.
Outfit: It nearly killed me trying to pick a favourite from the pleth4ora of incredibleEuphorialooks Jules exhibited in season one, but I got there. Despite appearing for only ten seconds, I loved theJeremy Scott Fall 2018 outfitJules wore in the finale cold open. The crucifix necklace and exceptional facial accessories make me believe that this was how Rue saw Jules when Jules was not trying to cater her look to please men.
Jules started out dressing in very feminine, candy-coloured outfits but gradually wore moved into darker colours "as the season moves forward and she kind of gets a little darker," according to Hunter Schafer. As a result, I see this look as being a middle between the two extremes.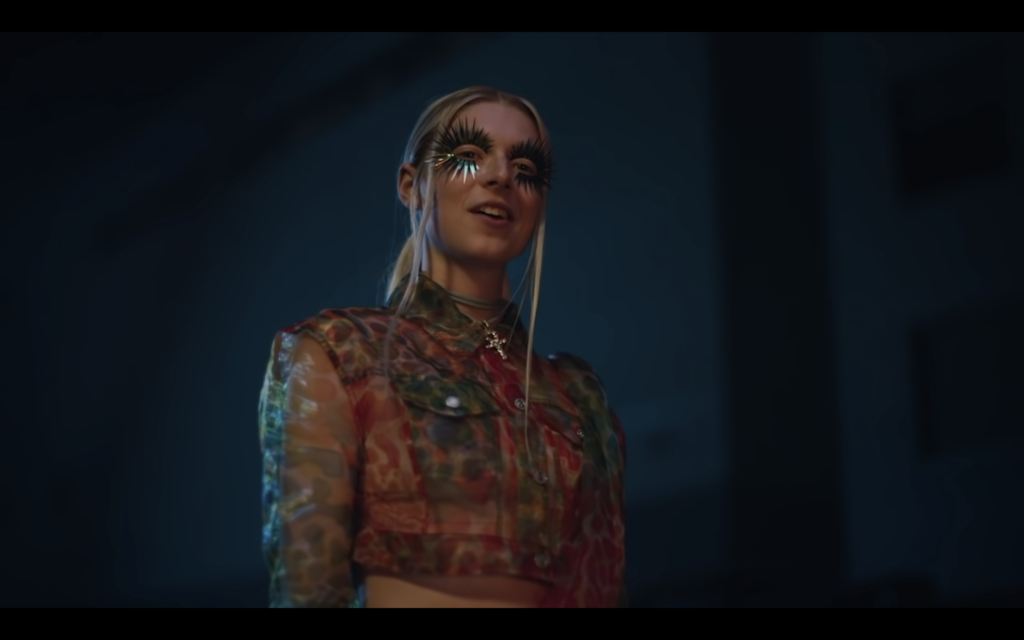 Makeup: The Winter Formal strikes again! Doniella Davy told Instagram that Jules's "goth look with red eyes" was requested byEuphoria's creator, Sam Levinson. Davy also described the final product as giving an "other-worldly insect vibe", because of face-framing hair strand "antenna" and opalescent stick-ons.
The iridescence of the stick-ons also paired nicely with her pearlescent apparel, tying the whole look together. Jules's hair remained mostly pale for the whole season, with pastel tones coming and going throughout, so the introduction of black hairstreaks signalled a deeper tonal shift in Jules. This was one of the darkest ensembles we saw from Jules in season one and reflected the change she experienced leading up to the finale.
AsEuphoria's second season comes out on streaming services, I am excited to see how each character's presentation evolves as the show develops further.Posting on Instagram, Doniella Davy saidEuphoria's season two makeup is "like [season one's] more introverted sister," that it will be more subtle and polished than its predecessor, and it "[loves] dewy skin, and going foundation-free," which will be an interesting change of pace. I am looking forward to seeing what Doniella Davy and Heidi Bivens have come up with!