The 'Endless Summer' gig at The Lady Hampshire on September 15th, 2023, was the first-ever gig to be promoted and run by a meme page (at least, that is the claim) in Camperdown, New South Wales.
The show was put on for free, where attendees were able to RSVP before the event or just show up on the night.
The night featured three Sydney-based bands - 'Safety First', who opened the night, followed by 'rat boy school excursion', then the headline act, 'EGOISM' - the emo, indie-pop, dream-pop band from inner-west Sydney.
The Instagram meme page, 'Enmore Gazette', was the leader of the idea behind the night and helped put together promotional videos, posters and social media posts for the event.
Speaking to Edge of the Crowd, Cam Davies, the man behind Enmore Gazette, detailed how the idea arose initially.
"I love the live music scene here but sometimes feel like it is lacking in unique and memorable events - I wanna keep doing things like this!"
The Gazette hosts real-life meetups where artists, bands and fans alike have come together and formed a community; the idea arose at the third of these meetups.
Olive Rush from the band EGOISM detailed how the idea came about, including with the support acts, 'rat boy school excursion' and 'Safety First'; the former he had known since November 2022 and the latter he had met at the third meetup.
"The Lady Hampshire actually reached out to us (EGOISM) first and asked us if we wanted to do a show... I was talking about it with my friend, Olive, from rat boy school excursion... it came together quite easily, actually."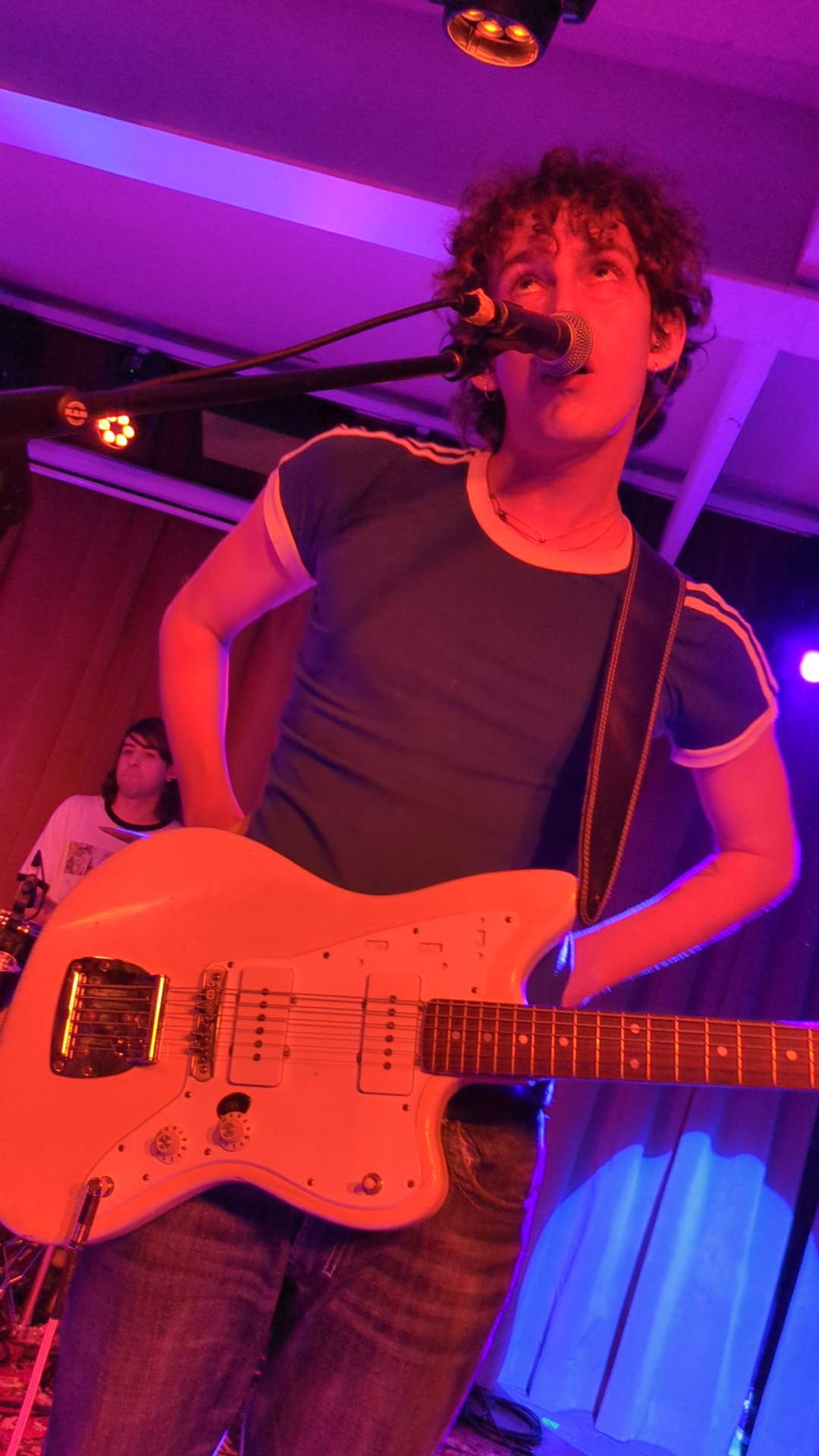 All three bands and Enmore Gazette promoted the show online and Olive spoke on when he first heard the numbers that would attend the show, which he did not know until late - the venue had capped at 300 capacity that night, with that number of people there not just late in the night for them but from the opening act.
"The day before, our manager messaged us and said 'By the way, you guys have gotten [about] 350 RSVP's'... I try to avoid what I call 'industry talk' because... it is easy to tie your own sense of self-worth into a numbers game and of course, like anything, numbers come and go."
Olive Rush spoke on the interactions he truly cherishes instead, especially from that night.
"Someone who actually cares about your music and will say it to your face, I try and focus on those interactions now."
For him, the volume of the crowd is more important than anything else when playing live.
"We have played big support tours to like 1000, 2000 people that are just there to see the headline.
"[But], when I can hear people in the crowd singing our songs back at us, the loudness of that is more powerful than the view of any crowd... playing in a room of like 100 or 150 people and they all know all of your songs, they are worth like ten people [each]."
The band formed in 2015 and initially was Olive (vocals and guitar) and fellow bandmate Scout Eastment (vocals and bass); they had started the band in high school, but the pair had met when Olive was in Year 5 and Scout in Year 6.
Adam Holmes (drums) had played with the band for years but was officially announced as part of the now-trio on September 6th, 2023.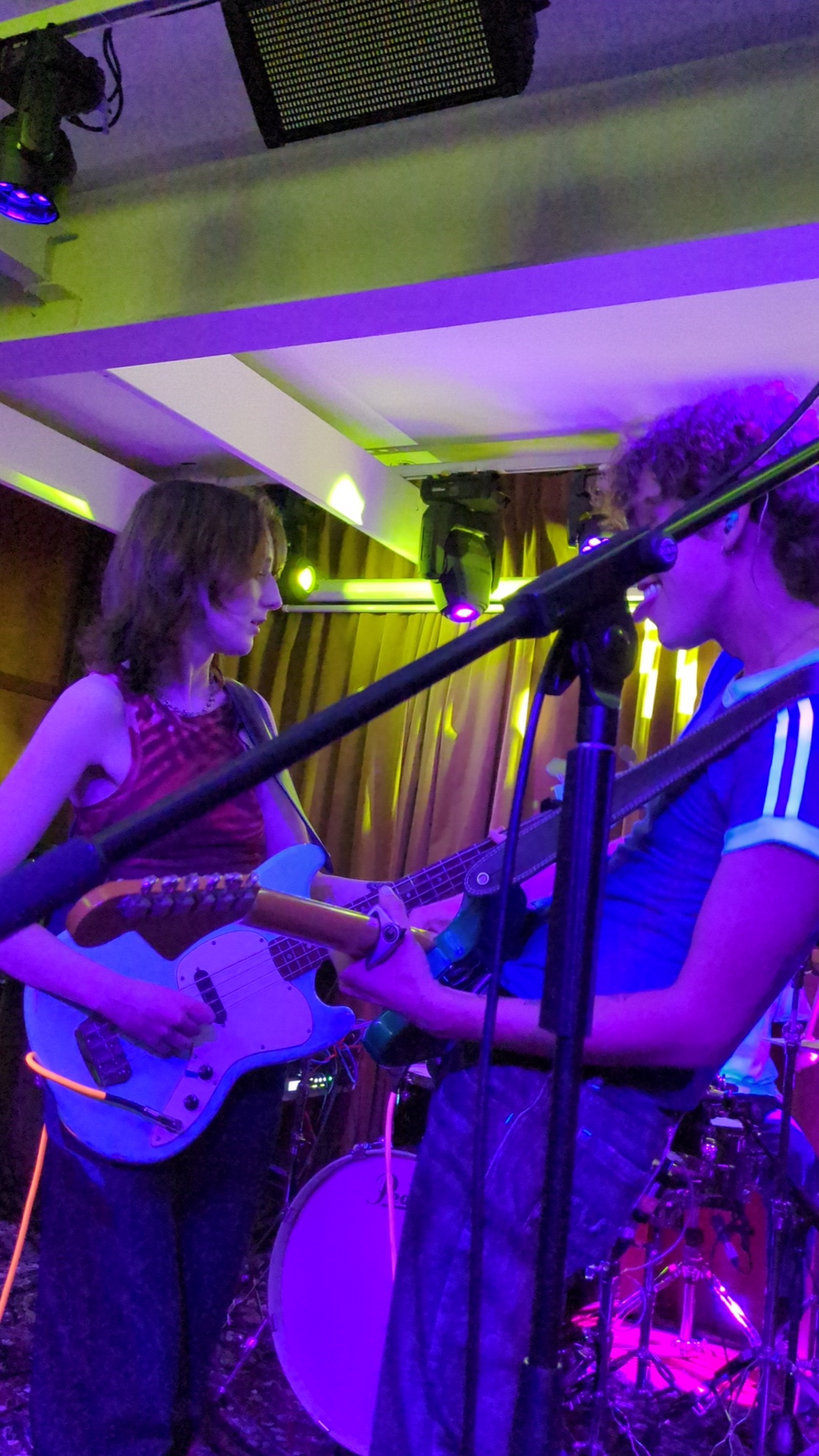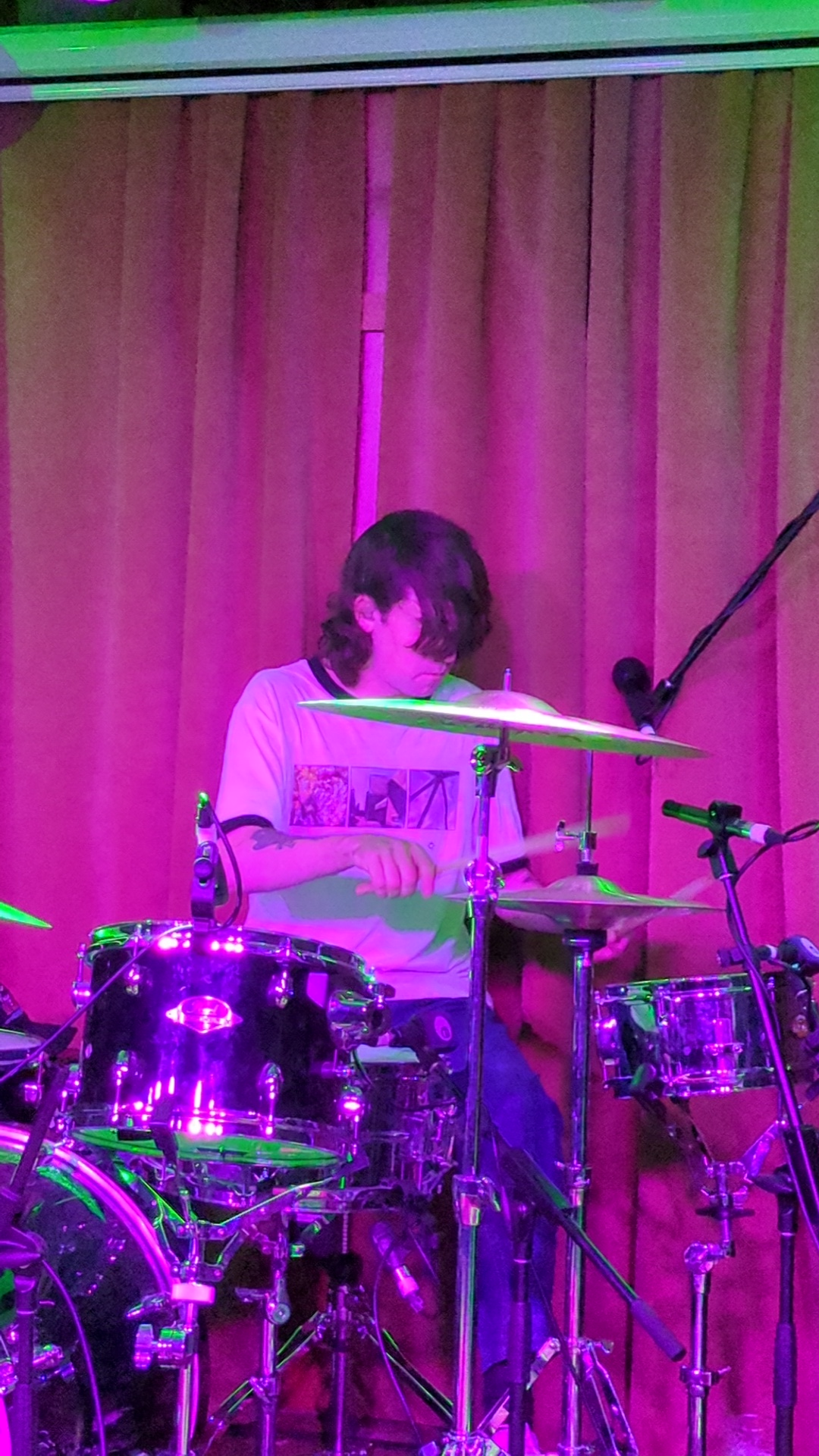 "They are really annoying... nah, they are both very good musicians... Adam is a great drum writer and Scout is an extremely good lyricist."
Olive Rush spoke on what the show at The Lady Hampshire meant once it had all come together and been played.
"That was probably one of the best shows we have ever done, I really had a great time, apart from splitting my head open [accidentally, on the speaker at the end of the show].
"We were mostly really stoked on how many people came.
"We are also always watching the crowd, kind of judging their reactions of things, observing, trying to hype them up."
The band played through almost all of their discography, including their biggest hit, 2019's 'What Are We Doing?'
"In terms of songs that are out, I still say my favourite is 'What Are We Doing?'... just for the fact that we have always been confident about it.
"There was never any second-guessing - we just wrote it, released it and then watched it grow.
"So, that is probably my favourite EGOISM song, but for a very personal reason."
To sum up the show, Olive Rush put it very delicately and succinctly.
"Meme page show - we stay winning.
"Who knew? I said this to Olive [Lorikeet] when I got on stage, like, 'we posted our way into this, just so you know'."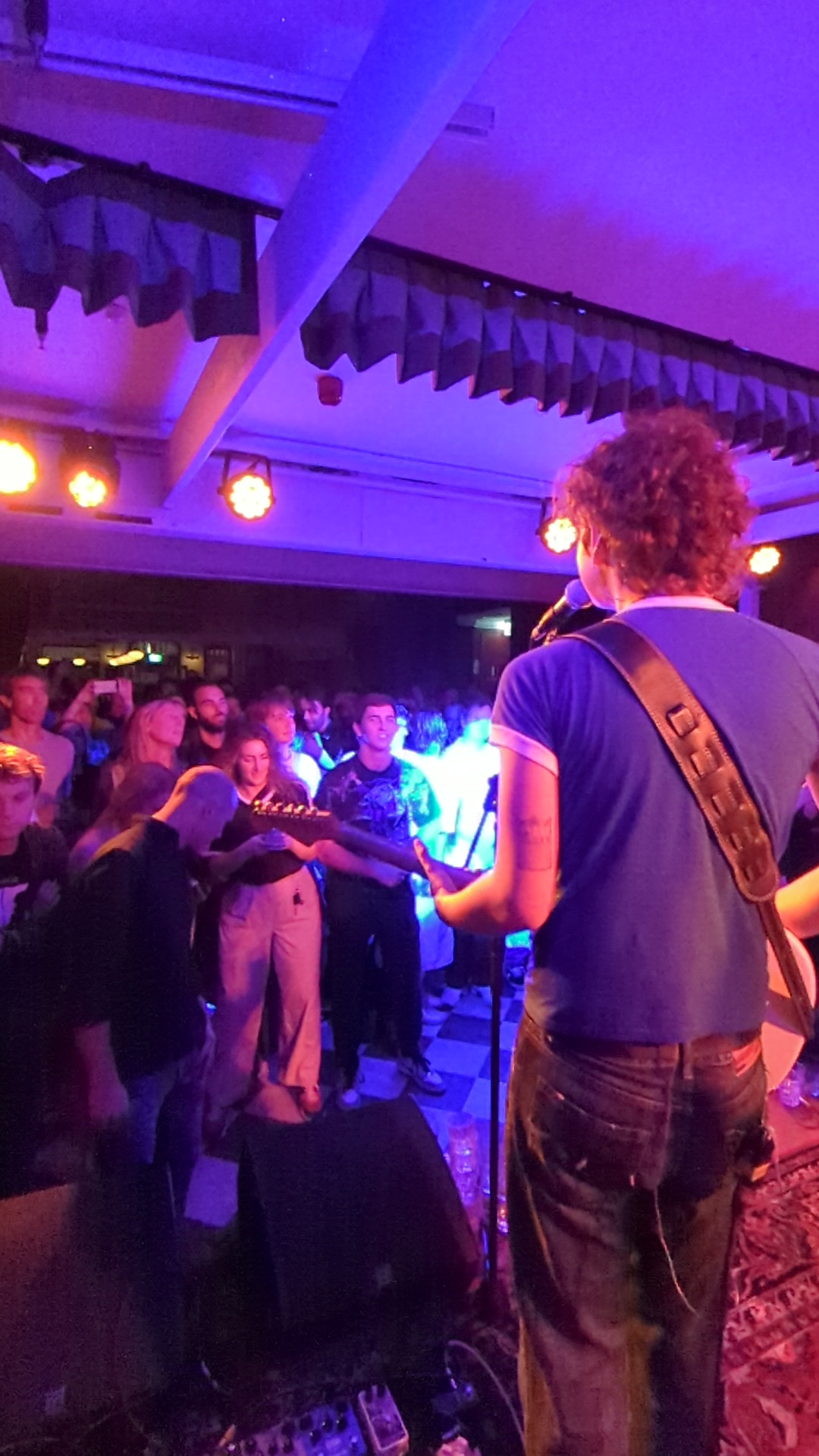 Olive Lorikeet (lead singer), from the gothic folk-rock band 'rat boy school excursion', along with bandmates Miranda Lorikeet (rhythm guitarist and backup vocals), Gus Hunt (lead guitarist), James Harvie (bass guitar), Cam Steele (drums) and Kierah McCue-Shore (xylophone/miscellaneous) brought their own energy to the show.
Olive Lorikeet explained how the show was from their point of view.
"It was so much fun... the crowd was so into it, which is really good, especially when you are not doing the traditional things on stage, like [playing] a giant 'Connect Four'.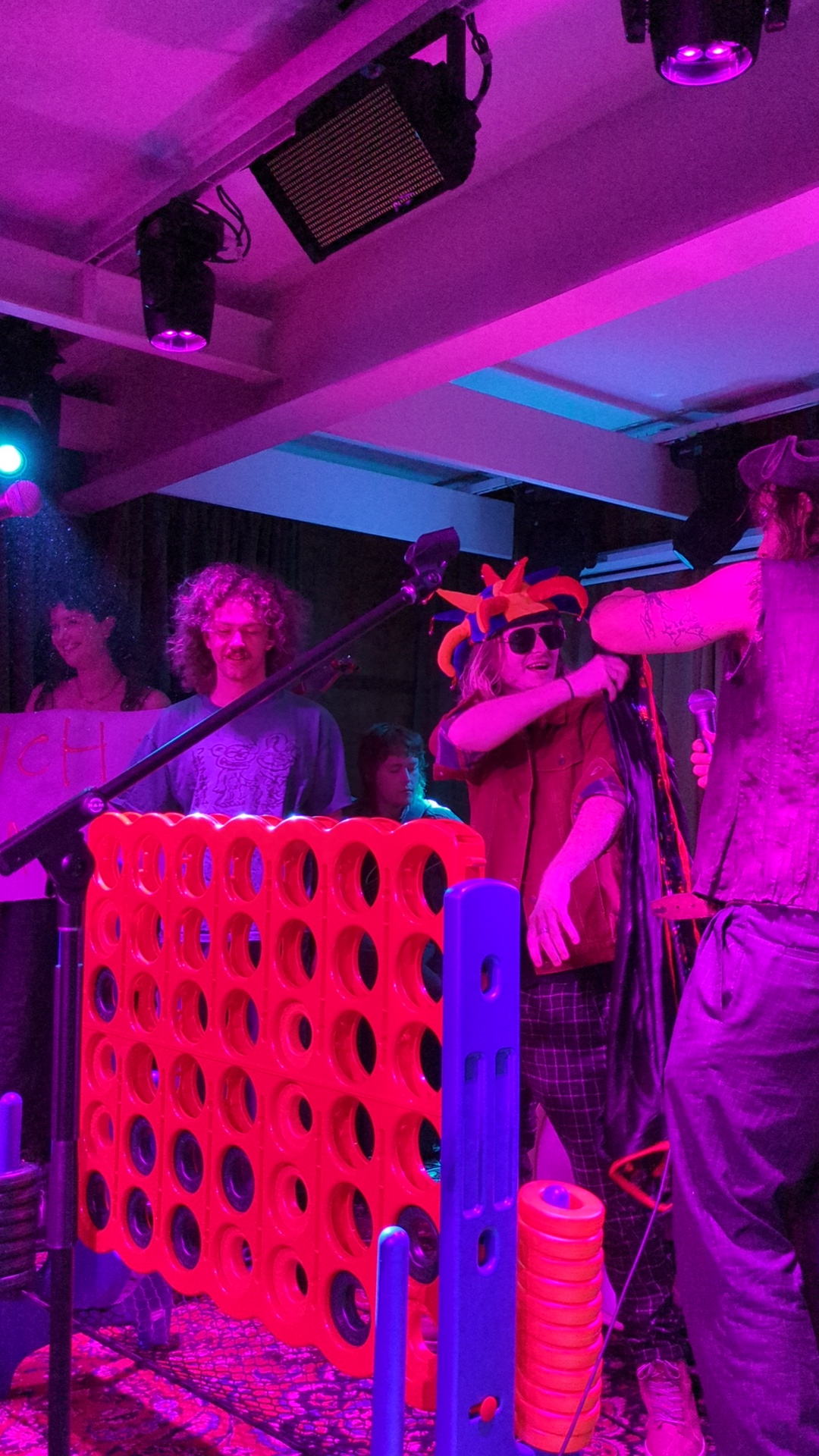 "I found it a really easy and enjoyable show where I was able to be in the moment while performing - I think it just felt really nice."
Among that Connect Four, RBSE's show consisted of peculiar instruments, such as the harmonica, and the events are usually hidden from Olive until the show is being played.
"I never have any idea what is going on, that is Kierah's domain... I remember when we played at MoshPit, he started by passing an egg around.
"Let's go Willy Wonka mode."
Olive Lorikeet helped put the promotional videos together with Olive Rush and the Enmore Gazette and recalled having to explain to people that the gig was actually real - that it was not just a made-up meme.
"We genuinely had people being like 'is it, like, a real thing?'"
The promotional poster for the show also listed RBSE as 'rat boy school explosion', which was played into in the promotional piece.
"I want that to be the meme - I want every promoter to get it so wrong that nobody knows what our name is anymore."
RBSE's debut single 'teeth' was released on June 23rd, 2023, and Olive Lorikeet spoke on how much they love performing.
"I just really love performance as an art form and as something to be entertaining to people because, no matter what it is, I love to be on stage, on camera, in front of people."
The juxtaposition in RBSE's music, too, is something that Olive Lorikeet enjoys.
"Even though I am a bubbly person, I love anything that is totally morbid and really sad - like I do not care about anything else; I do not care about happiness in art, it just does not attract me at all.
"So, I really like sad things that make you feel something... it is a funny juxtaposition with how silly and theatrical the rest of the show is and then we just launch into like the most heart-breaking lyrics."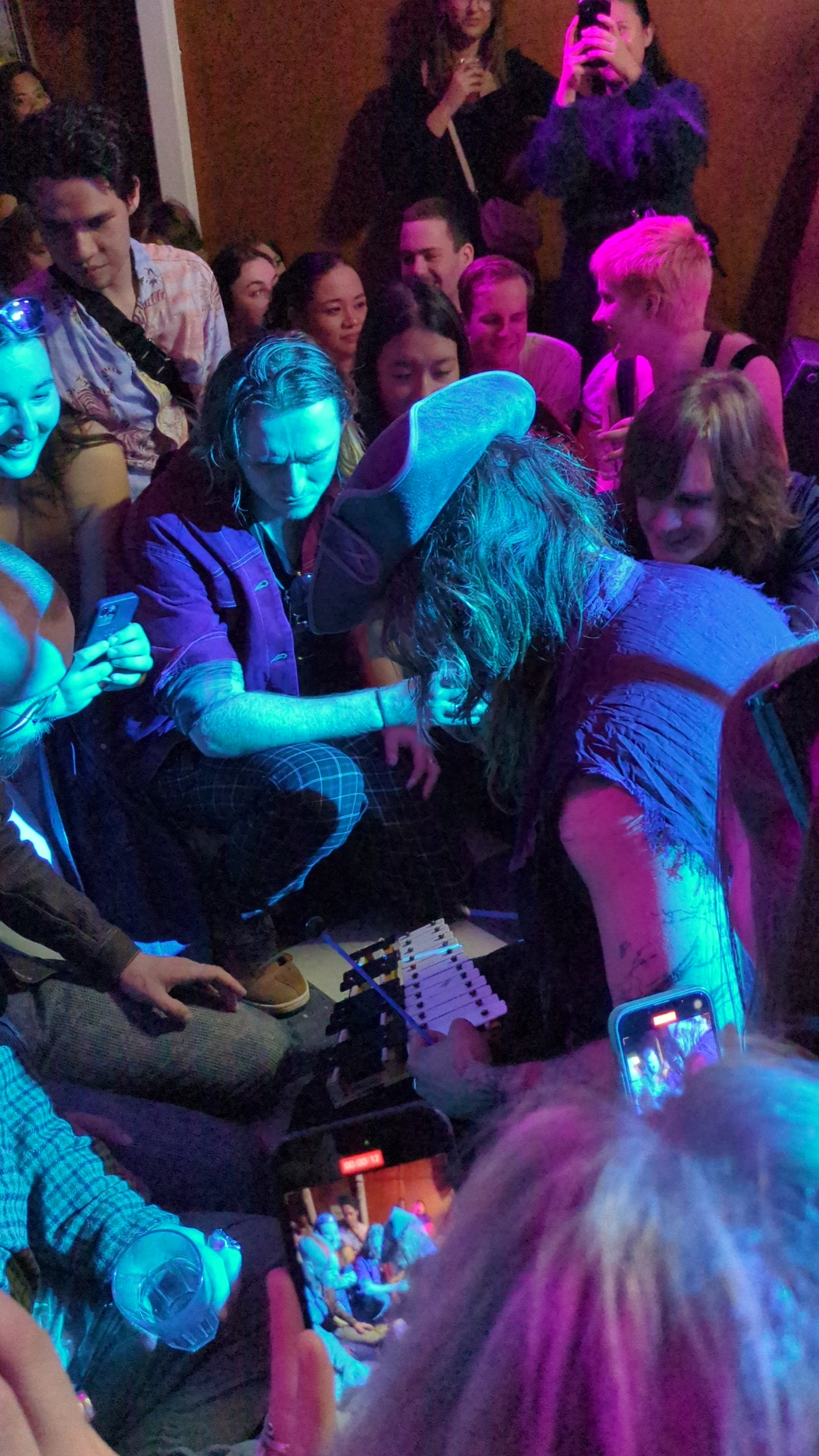 Lexi Green (singer) from indie-rock band 'Safety First', along with bandmates Zac Olsen (guitar, backing vocals), Tom Polden (guitar), Lauren White (bass and backing vocals) and Oscar Peterson (drums) opened the gig - Lexi also spoke on their experiences playing at the show.
"[Olive and Cam] asked us... it just sort of came out as part of [the third meetup].
"Obviously, I knew of them [the bands and promoter], but I had never met them previously."
Green also spoke on the show, itself, including how it felt to play in front of a crowd that had already reached capacity by the time their set started.
"It was great... people really like it, it was a really easy crowd to perform to... it just was a positive and kind environment - it felt like there was a community."
During the show, Green held up speech bubbles for their single 'haircut' - the same signs were also used for the single's music video.
"It is really difficult to get them in the right order!
"I am glad it worked out."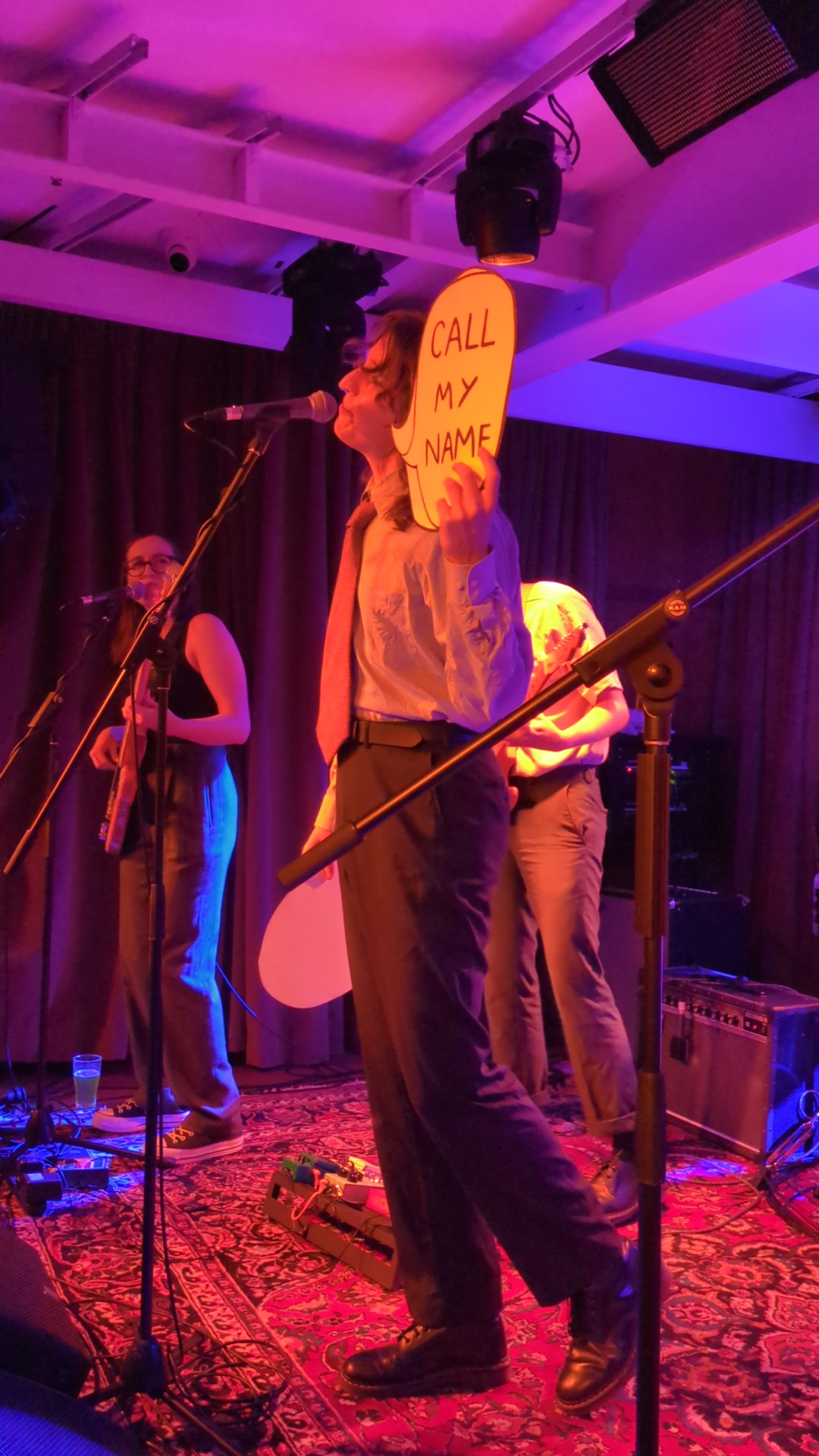 For Green, this was also a moment to experience their favourite part of performing.
"Nothing else really matters except for that moment.
"When you are on stage, [all the anxieties] just get washed away and that is a great feeling for me, personally."
Olsen also spoke about how the show was for him, too.
"The vibe was very underground, it was cool; it was not like a gentrified thing.
"It also just felt really inclusive, like everyone was just kind of existing."
The world's first meme page gig brought with it not only plenty of numbers in the crowd but just as many memories for those who attended the show, as well as the bands who took to the stage.
What started as an idea in a meetup run by a meme page on Instagram turned into an event with hours worth of music, dancing, and good vibes.
With more meetups on the horizon, the resounding success of the event could further prove the backbone of the idea that live music is best when it is shared without prejudice or limitations, with people of different ideas for genres, ages, genders, and backgrounds, in general, to get together.