The Giants have done enough to book a place in the 2022 Super Netball preliminary final after beating the Collingwood Magpies by seven goals in front of a loud home crowd.
It was a scrappy start, as Amy Parmenter disrupted the first Magpies' centre pass, and then the Magpies capitalised on the Giants turning over their first centre pass.
The game see-sawed early, as both sides struggled with finals nerves. The Giants settled first, tellingly, after their finals run last season, and took a narrow two-goal lead into quarter time.
The Magpies came out in the second quarter and dominated, taking a lead into half time, as they totally nullified the Giants' ability to turnover the ball, and Shimona Nelson dominated.
Magpies coach Nicole Richardson credited her side's effort tin the first half, saying "I thought it was a battle throughout the whole game, I thought momentum changed quite a lot throughout the game.
"I thought we struggled in the first quarter a little bit and were able to hang on and weather their storm and then found a way in the second quarter to find some space and really do damage on the scoreboard."
Sophie Dwyer had a particularly quiet first half, putting up just seven shots, as Jo Harten was forced to carry the load.
Harten was able to joke about it after the match, explaining that she had given her young teammate a pep talk at half time.
"I think I aged 20 years when she wasn't shooting in the first half," Harten joked.
"At halftime I just said to her 'you're not going to like this, but you need to start shooting more', and she responded. She's so calm and cool, maybe she was a bit shaky in that first half but she's still only 20, so to have an occasion like this when you're only 20 and I expect so much of her.
"I thought she was outstanding, I think she's just growing and learning with every experience, and she makes games an experience because she goes through this whole range of emotions.
"She works the court in so many different ways, but for a youngster, she's got such a cool head on her shoulders, and she stood up for us when we needed it tonight."
Giants coach Julie Fitzgerald also credited Dwyer's growth at half time, leading to an outstanding second half, "I thought Sophie Dwyer aged ten years from the first half to the second," Fitzgerald said.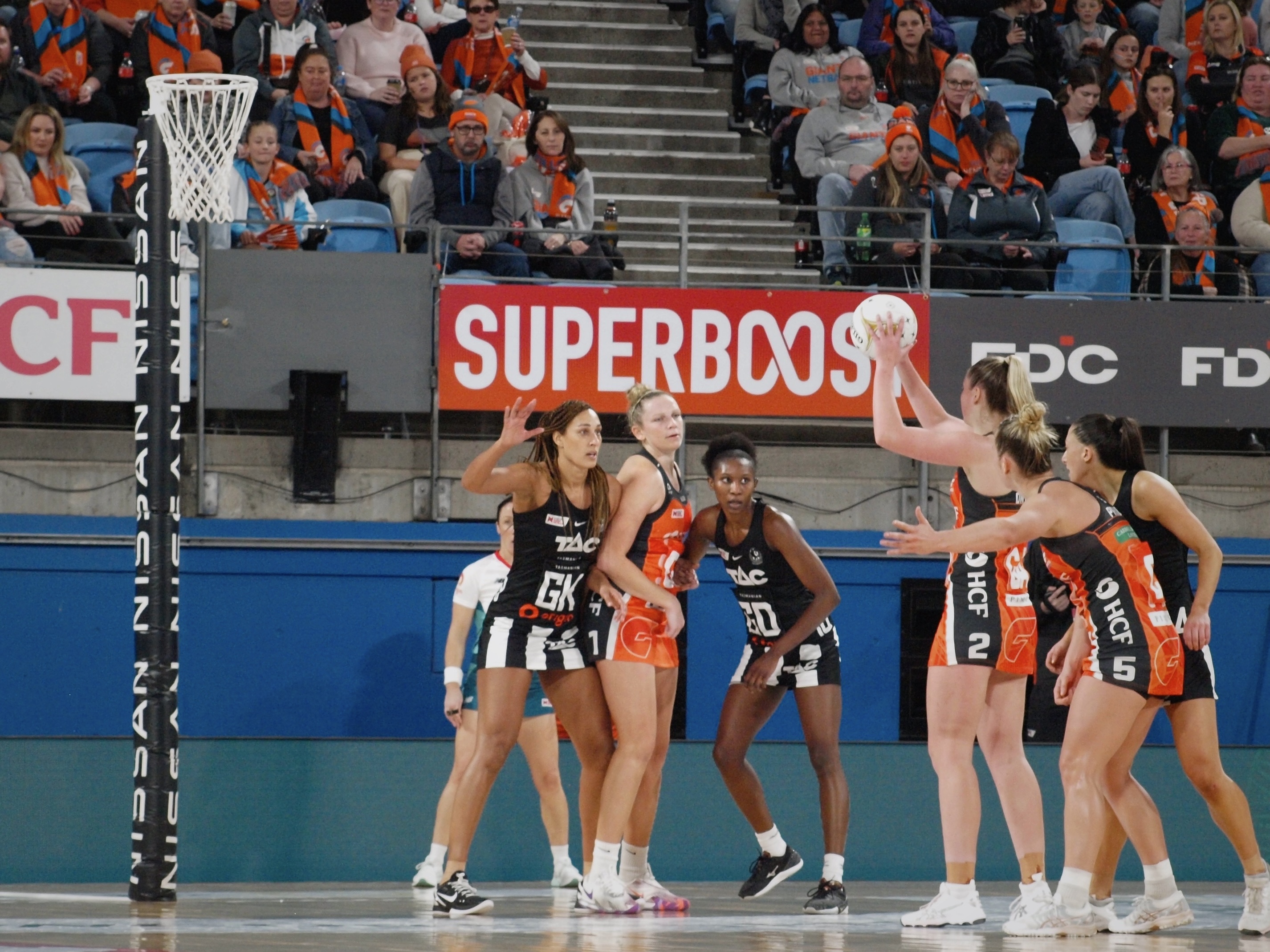 The Giants managed to shift the momentum late in the third quarter, nailing three back to back to back Super Shots to take a lead into three-quarter time, and with it, the momentum.
"I think the super shots were one thing - we were trying to grind out that third quarter, and eradicate some of the errors from our game to allow us to take the super shot without feeling the ultimate pressure," Harten said.
"I think momentum did swing with us - that transition from third to fourth quarter, we did swing the game and get on top."
It was much to the chagrin of Richardson, who was weary about the damage that the Giants could do from that range, having seen it first hand twice this season.
"I think they got the momentum because they nailed three two-pointers. We knew Giants would do damage in that space, and to our girls' credit, they only shot five, and against us they've been lethal, the Magpies coach said.
"I think we grew in that area, and taking Jodi off, they only got on top of us when they scored the two pointers. It wasn't as if it was general play where we got beaten, it was just in the last minute there."
Ward, who left the court just before the Giants took the momentum, was one of two players who just returned from COVID-19, and hadn't had any training under her belt this week.
"At one point the team doc came across to me and said she was having trouble with her breathing, which will be COVID related, but she was in a position where we could have put her back out on court.
"I thought Jacqui Newton did a good job when she came on. She got her hands to a couple of balls and disrupted the flow."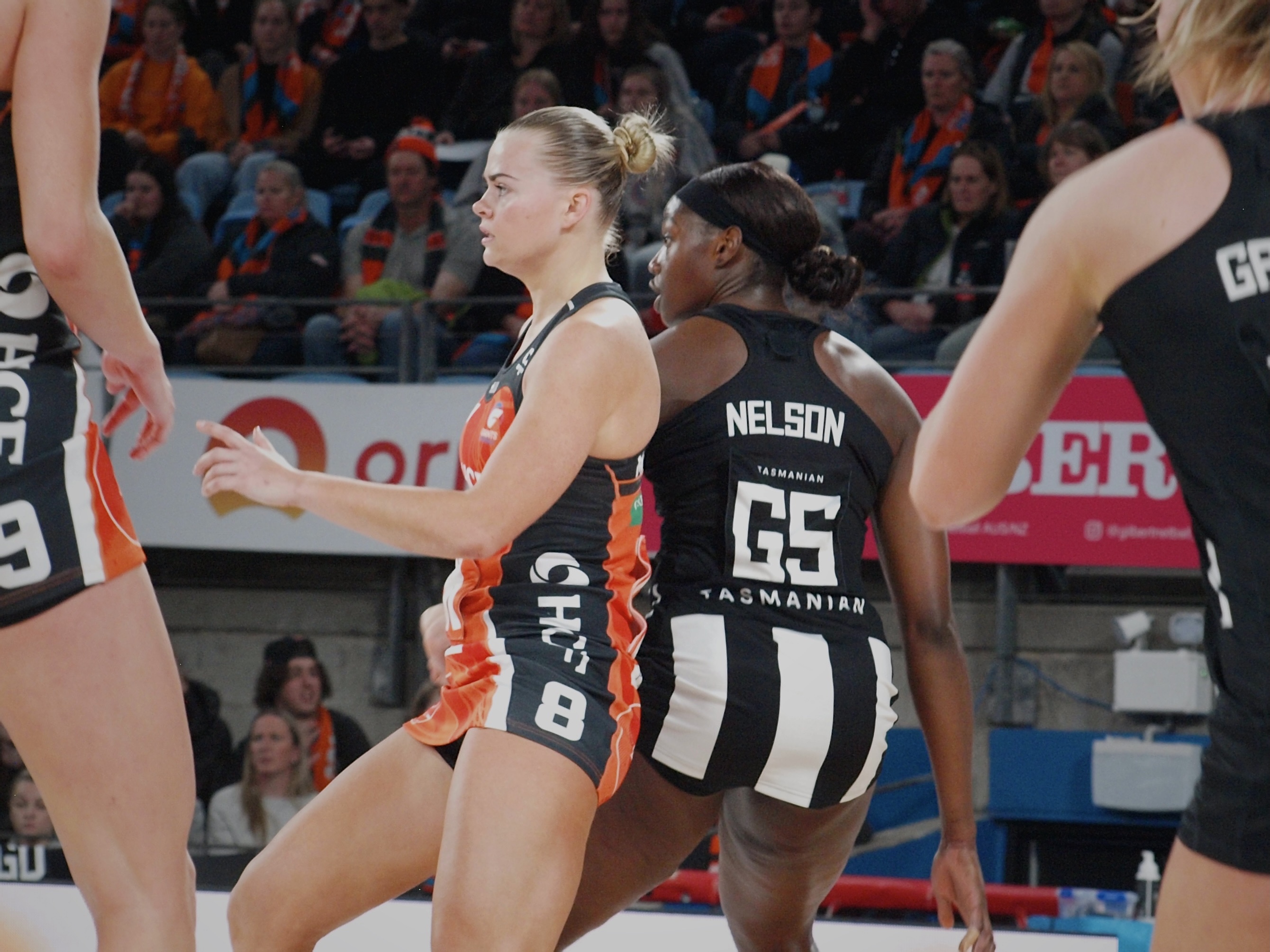 As the fourth quarter came, the Giants played a patient, disciplined style of netball, holding off the challenge of the Magpies, who were fighting for their season.
"We have learned from past years that finals are a different ball game, that they're a lot more physical, that there's much more on the line with every ball that you take, so I think we were better prepared for that than we were last year," Fitzgerald explained.
As the Giants held on for a seven point win, it keeps alive their hopes of a maiden premiership. The player that dominated on the court today for them, to keep that dream alive was Maddie Hay, who was one player who struggled in last year's grand final.
Fitzgerald was quick to compliment her wing attack, who was awarded the player of the match.
"I thought she had a great game, she thoroughly deserved that player of the match, but I think for our your ones, they're all learning through finals, and you could see that."
Her captain agreed, heaping praise on the young star.
"I thought Maddie Hay was outstanding tonight. For a player that is still learning to dominate as a wing attack, she has to call all those centre passes.
"She is the one dictating where that ball goes every single centre pass, she's playing against Ash Braz who is one of the best defenders in the world, and I thought she didn't let her get much ball of her tonight. When you're a wing attack that is doing all that, and then winning the ball back for you, you can't ask for more."
The Giants will take on the Melbourne Vixens next weekend for a place in the 2022 Super Netball Grand Final.