After walking away as champions of the England Series on Sunday, Australia had nothing to prove to the Brisbane crowd. With the Constellation Cup and a new 15-million-dollar sponsorship to their name, things were looking good for the team. Would Coach Stacey Marinkovich use this final game as a chance to try out combinations for the upcoming World Cup? Or were the Diamonds going for a 3-0 sweep?
Trying out combinations to have a dynamic and reliable group is something Marinkovich takes pride in, even if it does mean a selection headache. Post-match, she commented on the team and their extended support staff:
"To be able to keep backing up competition to competition, with different players. To be able to achieve what we've done, and we've used every player in our squad to do it.
"I think it shows that we're growing something pretty special [..] And if someone does go down or is unable to play then we do have strong replacements."
Following her concussion in the previous game, Maddy Proud was ruled out. Donnell Wallam, who was absent last game due to illness, was back, starting the game in the goal shooter position.
On the Roses' end, Funmi Fadoju's work had been rewarded with a start at goal defence. The Roses' attacking end was also switched up with Helen Housby in at goal shooter and Eleanor Cardwell at goal attack, the opposite of what fans saw in the previous two games.
Maddy Turner, who had come off the bench for the first time in the Test, got Australia's first turnover, kicking off a game of scoreboard pressure.
Despite having Cardwell at goal attack, it was Housby who appeared to have more movement out of the goal circle. Although both players have played at both positions at an international level, Cardwell's holding-shooter style typically has her better suited to the goal shooter position.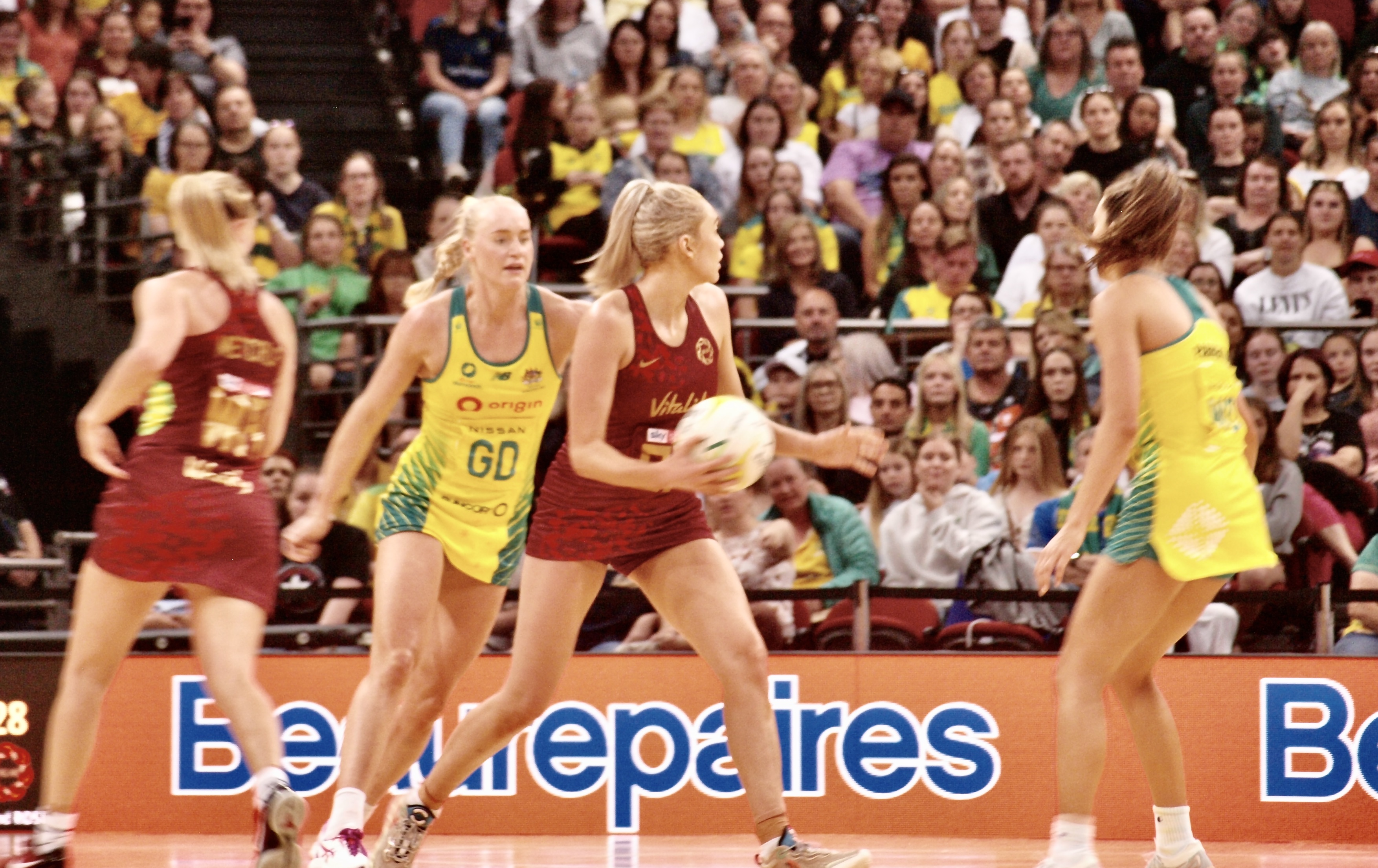 With just over eight minutes left to go, the Diamonds were up by seven, partially thanks to Turner's three gains. Coach Jess Thirlby responded, taking both Geva Mentor and Housby off, with Layla Guscoth and Sophie Drakeford-Lewis hitting the court.
During this change, Cardwell was moved into goal shooter, helping the Roses on a three-goal run to try and close the gap. Despite this, Australia still steamed ahead, ending the quarter 19-11.
Despite being significantly shorter than Wallam, Fadoju made herself a threat in the Diamond's holding shooter tactics. Jumping at everything thrown Wallam's way, Fadoju was gaining some valuable ball for her team.
Unfortunately, a lot of this ball was not converted at the other end, making her attempts seem futile. Even with Fadoju's leaps and bounds, Wallam was still making herself known, shooting at 100% (23/23) in the first half.
Although they couldn't make up any ground on the Diamonds, England went goal for goal in the second quarter, keeping the damage at a minimum. With one final goal in the dying seconds, the Roses ended on a 13 goal quarter, keeping the deficit at eight goals.
For the second half, youngster Sophie Dwyer replaced Kiera Austin in goal attack, and the ever-reliable Jo Weston came on at goal defence. For the Roses, Fran Williams took the goal defence bib, with Guscoth on the bench. The Roses started fighting back in the third quarter, with a five goal run coming from Cardwell and Drakeford-Lewis.
Sophie Garbin swapped out with Wallam halfway through the quarter, making the attacking end Sophie-squared. Despite the switch, not much changed score-wise, as England was still chugging along nicely.
As the quarter wound up, some sloppy plays came from both teams, showing the player's fatigue in the contested game.
Post-match, Marinkovich acknowledged the fact that many in her team had played several international games over the past few weeks, saying:
"I think it was a clunky game. But I think when we put it in perspective, we've just had seven international games. You know, we've travelled all around everywhere.
"Sometimes you've got to be able to grind out those games. We had a lot of changes today as well. So that probably ramped up a little bit of pressure on the court, just being able to settle and adjust."
Several changes game in the final quarter, with Weston moving to wing defence, Jamie-Lee Price in centre and Sarah Klau at goal keeper. The English side remained unchanged after leading the quarter 14-11.
As the minutes counted down, Australia smothered England's hopes of a win. Mostly thanks to two early three-goal runs, it looked hard for the Roses to be six up with five minutes to win the game.
The Roses weren't counting their losses yet, up and about in the final two minutes, trying to stop the Diamonds from scoring. As the crowd cheered the home team on, Fadoju took one last intercept as the siren sounded. Despite winning the quarter, the Roses lost overall, 53 - 57.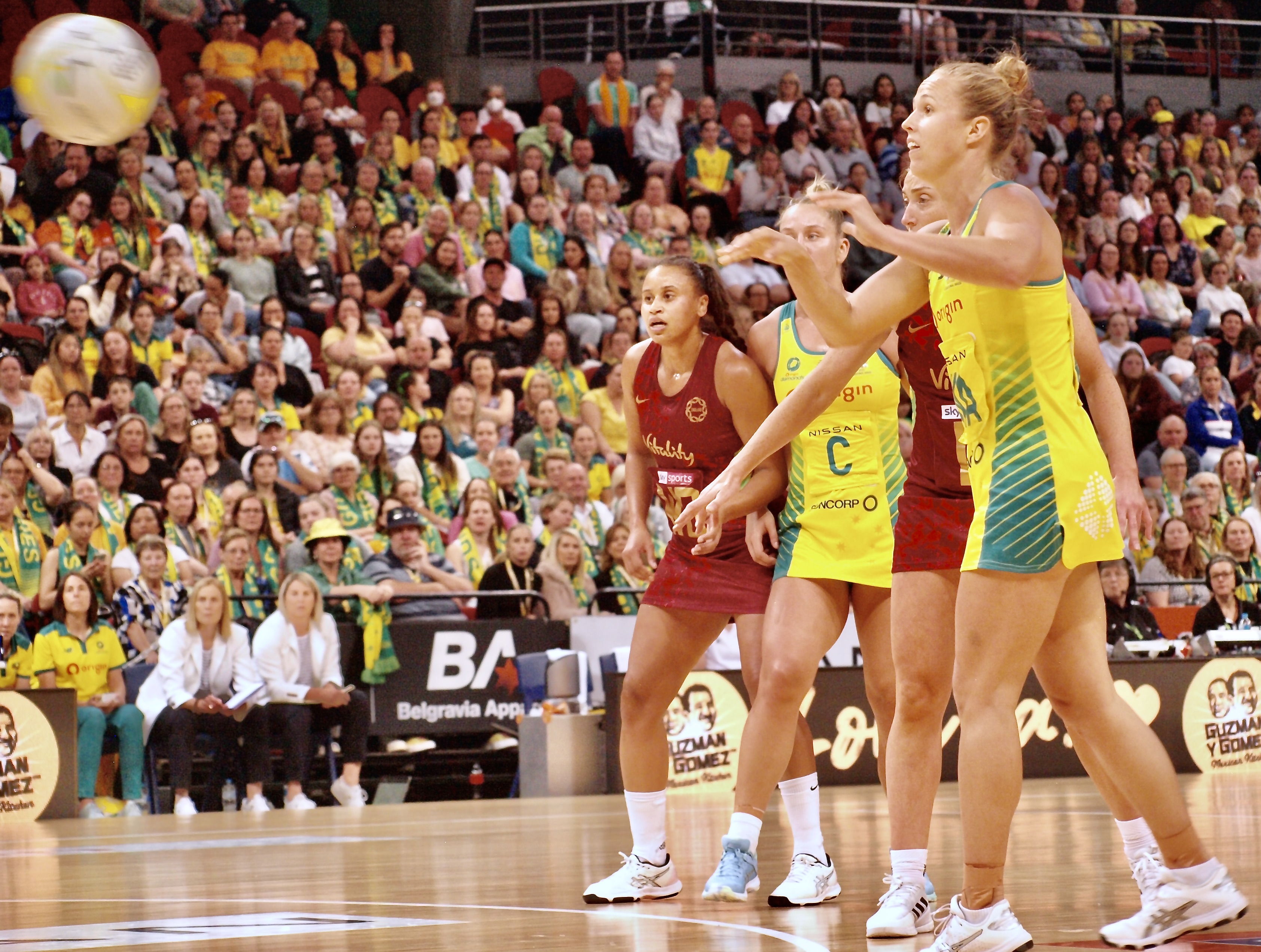 Captain Paige Hadley was named player of the match, with 16 goal assists and 26 feeds to her name. This test marks Hadley's first games as captain, after co-captaining the Swifts in 2021 and 2022.
"It's been an absolute honour [...] Steph and Liz definitely deserved a break over this time to be able to refresh going into next year," Hadley said after the game.
"So an absolute honour to captain but as I said [...] just because I don't have a title doesn't mean I don't lead within the squad. So it's been an honour to have that captaincy.
"But, I don't go away from my qualities in terms of leading from afar doesn't mean have to have the title. So I'll continue to be myself and bring those qualities to the group so we can push forward in 2023."