Sweden is one of a handful of teams who have selected its final 23-player squad for the FIFA Women's World Cup, and therefore won't be going through a rigorous training regime to prove their selection ahead of the July start date.
The Women's World Cup stalwarts are taking a team to New Zealand that resembles its Euros 2022 squad - with the additions of Madelen Janogy, Hanna Lundkvist, and Anna Sandberg -, with a stack of talent set to continue its string of competitive tournaments, and hopefully break the barrier towards achieving the one thing that eludes the team - the Women's World Cup trophy.
The one glaring omission of this Blågult squad is defender Hanna Glas, who is still recovering from an ACL injury she sustained during a training session with the national team in September last year that saw her miss the entire Frauen Bundesliga season too.
Entering her fifth Women's World Cup, captain Caroline Seger will be leading the team into the tournament, with the 38-year-old looking to impart her knowledge onto others, on and off the pitch. Likewise, Asslani has been in red-hot form for both club and country in recent matches and will look to strike in the box when needed, while Fridolina Rolfö is fresh off a European Championship-winning season with Barcelona.
There are a couple of players who will be making their Women's World Cup debuts - and major tournament debuts at that. 20-year-old defending duo Sandberg (two caps) and Lundkvist (four caps) will be entering this tournament as the faces of the next generation of Swedish footballers and will only benefit from their selections.
Goalkeepers: Tove Enblom (KIF Örebro), Jennifer Falk (BK Häcken), Zećira Mušović (Chelsea)
Defenders: Jonna Andersson (Hammarby), Nathalie Björn (Everton), Magdalena Eriksson (Bayern Munich), Amanda Ilestedt (Paris Saint-Germain), Hanna Lundkvist (Atlético Madrid), Anna Sandberg (BK Häcken), Linda Sembrant (Juventus)
Midfielders: Filippa Angeldahl (Manchester City), Kosovare Asllani (AC Milan), Hanna Bennison (Everton), Elin Rubensson (BK Häcken), Johanna Rytting Kaneryd (Chelsea), Olivia Schough (Rosengård), Caroline Seger (Rosengård)
Forwards: Stina Blackstenius (Arsenal), Rebecka Blomqvist (VfL Wolfsburg), Lina Hurtig (Arsenal), Sofia Jakobsson (San Diego Wave), Madelen Janogy (Hammarby), Fridolina Rolfö (Barcelona)
HOW WILL THEY LINE UP?...
Head coach Peter Gerhardsson definitely prefers to utilise a 4-3-3 formation, rarely changing the team's lineup from that particular set-up on the field. Sweden went with this formation throughout every single qualifying game for the Euros last year and should do the same at the Women's World Cup. Sweden also rarely lose when setting up this way, such is the dominance.
Despite the 4-0 semi-final loss at the Euros last year, Sweden should go into this tournament with a line-up that is reflective of that game, and its tournament overall. It is efficient at scoring goals and working from defence to attack, which will come into play against the team's Group G opponents.
The first-choice goalkeeper might be a puzzling selection with both Zećira Mušović and Jennifer Falk strong between the posts, with the former potentially beating out the latter, based on form for Chelsea this year. Jonna Andersson should replace Hanna Glas in defence as the only other change.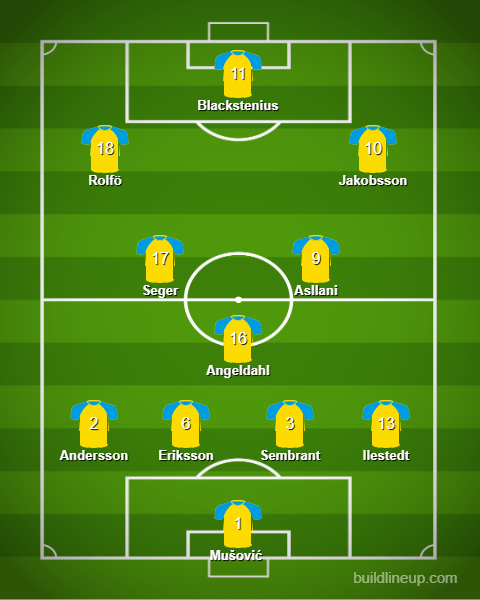 Edge of the Crowd partners with Her Game Too for the Women's World Cup, uniting our passion for diversity and inclusivity in sports. Together, we aim to dismantle barriers, tackle sexism, and amplify women's voices in the sporting realm. Join us in celebrating the spirit of the beautiful game, free of gender constraints. The love for the game knows no gender; let's make every game, Her Game Too. Head to @HerGameToo on Twitter, Facebook and Instagram to learn more.
Should Seger be the main starter for Sweden, it'll resign Hanna Bennison to the bench. But, it would also mean the Everton midfielder could come on and make an immediate impact when she steps foot onto the pitch for the first time.
Bennison knows how to make an impact late in games, as she has done for her club, and for Sweden in international football, with her precise dribbling, speed and run, and strong right boot all valuable to getting past the opposition defences which will be important come July and August.
July 17: Unofficial Friendly vs The Phillipines, NZ Campus of Innovation and Sport
July 23: WWC Group G vs South Africa, Wellington Regional Stadium, 5pm NZST
July 29: WWC Group G vs Italy, Wellington Regional Stadium, 7.30pm NZST
August 2: WWC Group G vs Argentina, Waikato Stadium, 7pm NZST