SQUAD (26-player provisional)
Ranked fifth in the FIFA Women's rankings, France's squad ahead of the 2023 World Cup will be a hard list for opposition sides to come up against. The outs of Delphine Cascarino and Marie-Antoinette Katoto are huge omissions for the side given their strength to the side.
The good news for France is that the side has heaps of talent to come in and a lot of younger players who have shown that they can come into the side and make an impact despite the injuries.
The last time Les Bleues made the Women's World Cup in 2019, they made it to the quarter-finals where they were knocked out following a heart-breaking 2-1 loss to the United States of America (who would go on to win the World Cup).
Herve Renard has taken the role of leading the French side to this year's World Cup since players were torn over the side's previous coach Corinne Diacre. France has shown recently, despite their injuries, how strong of a side it is to come up against.
Goalkeepers: Mylène Chavas (Bordeaux), Solene Durand (Guingamp), Pauline Peyraud-Magnin (Juventus), Constance Picaud (Paris Saint-Germain)
Defenders: Maëlle Lakrar (Montpellier), Wendie Renard (Lyon), Estelle Cascarino (Manchester Untied), Elisa de Almedia (Paris Saint-Germain), Sakina Karchaoui (Paris Saint-Germain), Selma Bacha (Lyon), Aissatou Tounkara (Manchester United)
Midfielders: Sandie Toletti (Real Madrid), Grace Geyoro (Paris Saint-Germain), Amandine Henry (Angel City), Amel Majri (Lyon), Laurina Fazer (Paris Saint-Germain), Kenza Dali (Aston Villa), Oriane Jean-Francois (Paris Saint-Germain), Lea Le Garrec (Fleury)
Forwards: Eugenie Le Sommer (Lyon), Clara Matéo (Paris FC), Viviane Asseyi (West Ham), Vicki Becho (Lyon), Kadidiatou Diani (Paris Saint-Germain), Naomie Feller (Real Madrid)
HOW WILL THEY LINE UP?...
The gaffer of the French team, since the last Women's World Cup (which was held on home soil), is new, with Herve Renard since taking over the position. A popular formation the side has used in previous years has been the 4-3-3 and 4-2-3-1.
Although, it is highly possible with Renard in his new role, that there will be constant changes to the team's formations due to the opposition they come up against, also depending on the lineup they choose ahead of the FIFA World Cup.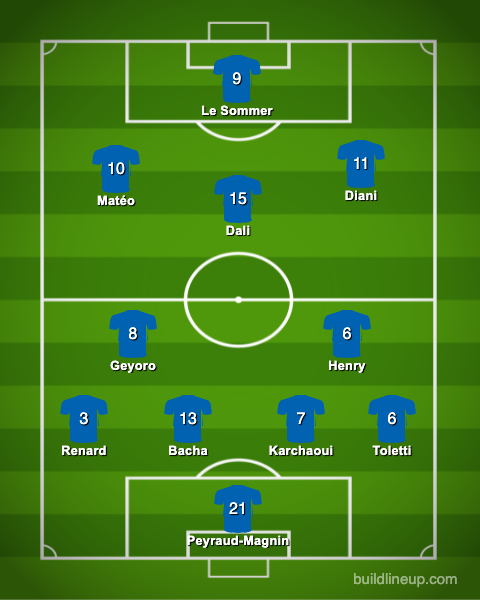 Edge of the Crowd partners with Her Game Too for the Women's World Cup, uniting our passion for diversity and inclusivity in sports. Together, we aim to dismantle barriers, tackle sexism, and amplify women's voices in the sporting realm. Join us in celebrating the spirit of the beautiful game, free of gender constraints. The love for the game knows no gender; let's make every game, Her Game Too. Head to @HerGameToo on Twitter, Facebook and Instagram to learn more.
With injuries affecting France's selections in attack n the preliminary squad ahead of this year's Women's World Cup, it looks as though forward Naomie Feller could earn her place due to the unfortunate setbacks of her national team peers.
The 21-year-old has quickly established how important of a player she is for her side, despite having only played three games for her country. Feller, who too has been set back due to injuries in the past, will be a critical inclusion to Les Bleues next month, given her dynamic pace and willingness when attacking the ball.
July 23: WWC Group F vs Jamaica, Sydney Football Stadium, 8pm AEST
July 29: WWC Group F vs Brazil, Brisbane Stadium, 8pm AEST
August 2: WWC Group F vs Panama, Sydney Football Stadium 8pm AEST