The more experienced heads at the Adelaide Crows took bragging rights and another percentage boost in a 60-point smashing of cross-town rivals the Port Adelaide Power.
Saved a little by the Crows' inaccuracy in front of goals - they kicked 15 behinds - the Power were unable to register a goal in the game, becoming the second team in as many weeks to be dominated by the Crows' defence.
The match was won at the stoppage, with the Crows taking all eight centre clearances and overall winning clearances 33-11. The contested possession has been an aspect of their game the Crows have been working on this season, and they won it again on Friday night, 111-82.
Without first use of the footy, Port struggled to get it inside 50 effectively. They went down 40-17 in entries and were unable to take a single mark inside 50, while the Crows' managed 18.
Port can be proud of their presence around the ground, their trademark tackle pressure once again had them winning the count, this time by two.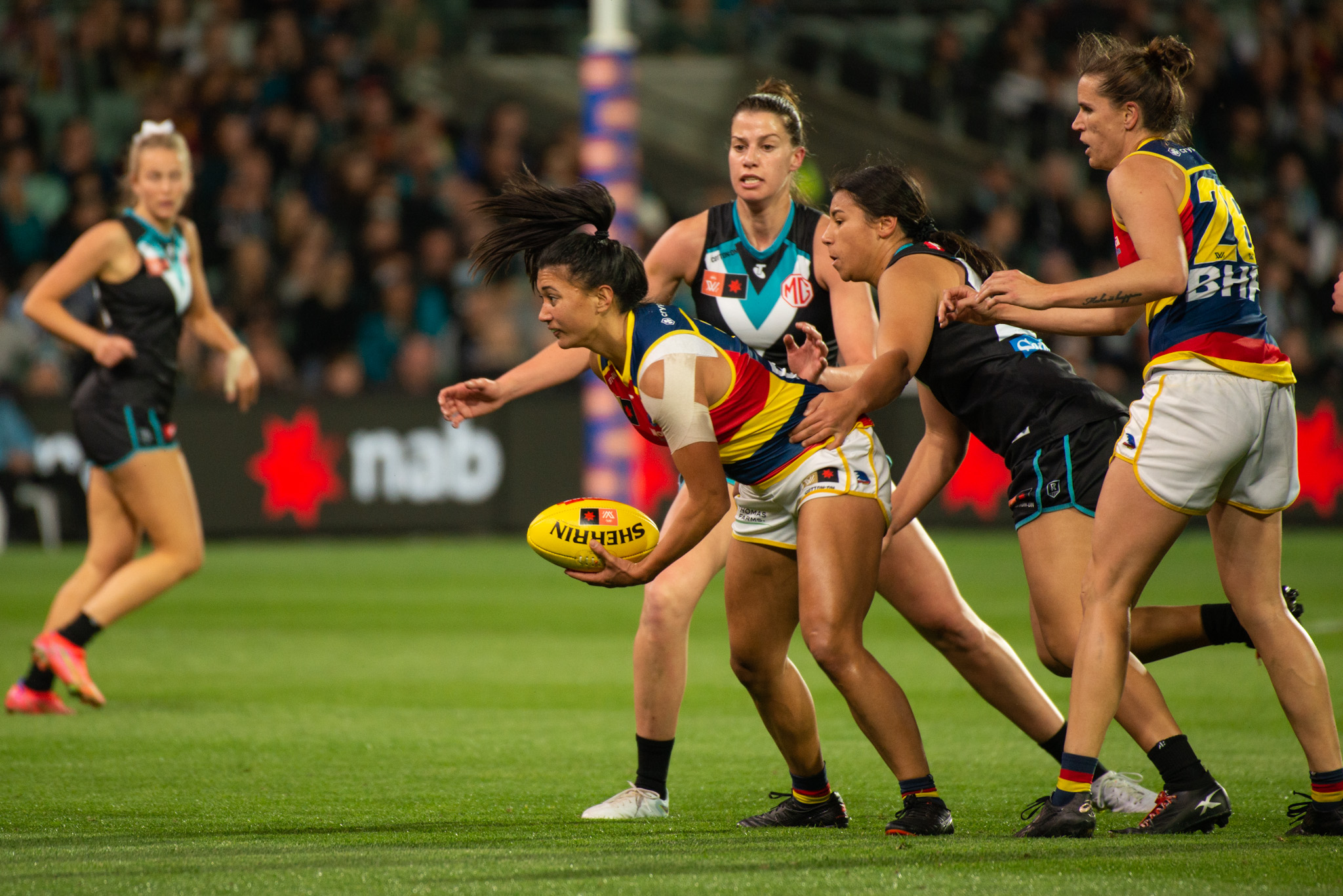 Adelaide's Chelsea Randall kicked three first half goals to set up the win, while Abbie Ballard and Jess Waterhouse showed their incredible goal sense to finish off the night.
The win was soured by a right knee injury for last week's leading goalscorer, McKenzie Dowrick. The Crows were "apprehensive" and will "just hold [their] breath," coach Matthew Clarke said.
"There's the potential for [an ACL injury]", Clarke assessed.
Eloise Jones was also seen with ice on her foot, Clarke noting scans will also be needed to determine the injury there, but he is hopeful it's not too serious.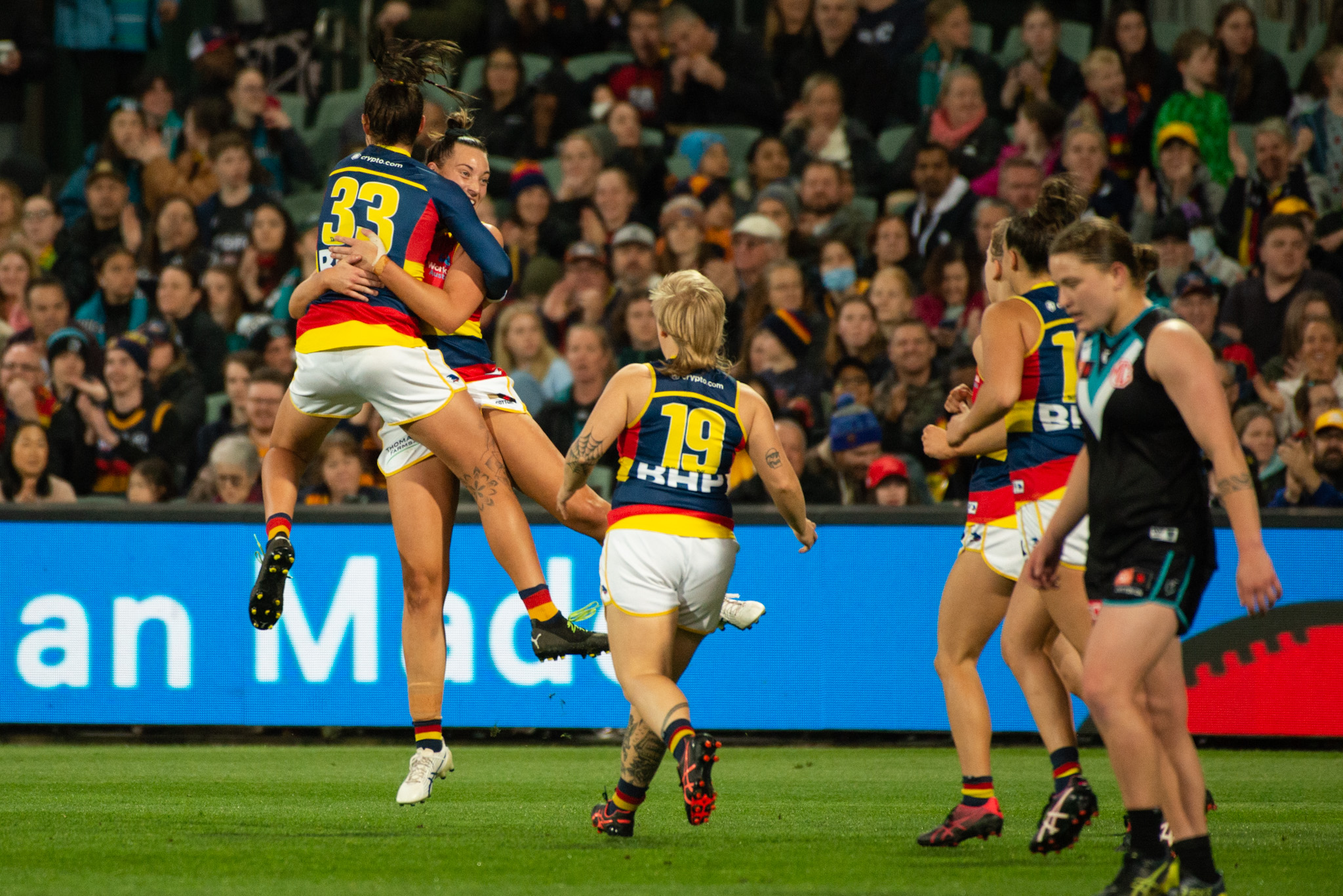 Randall inaugural Showdown Medallist
Excelling in every position she plays this year, becoming a very versatile captain, Randall's work down forward in the first half on Friday night helped to earn her the first Showdown Medal.
Each week, when thrown a little bit further out of the defensive or even rebound position that she has called home in previous seasons, Randall's speed, agility and goal sense become clearer and clearer.
Asked about his captain post-match seemingly every week at the moment, Clarke was full of praise again for the leader.
"She was outstanding, clearly she's an exceptional player" he said.
"You probably get sick of hearing about how good she is, but we're immensely fortunate to have her as part of our team.
"She's led from day one, and she continues to do so."
The jumper pull after her second goal, a set shot just minutes after her first in the opening quarter, epitomised the passion Randall has for the club and the new chapter in a storied rivalry.
"She's very much been at the centre of everything we've been able to do over the journey and this is kind of a next step in terms of this cross-town rivalry," Clarke continued.
"So, she was invested, as it probably was displayed by the performance."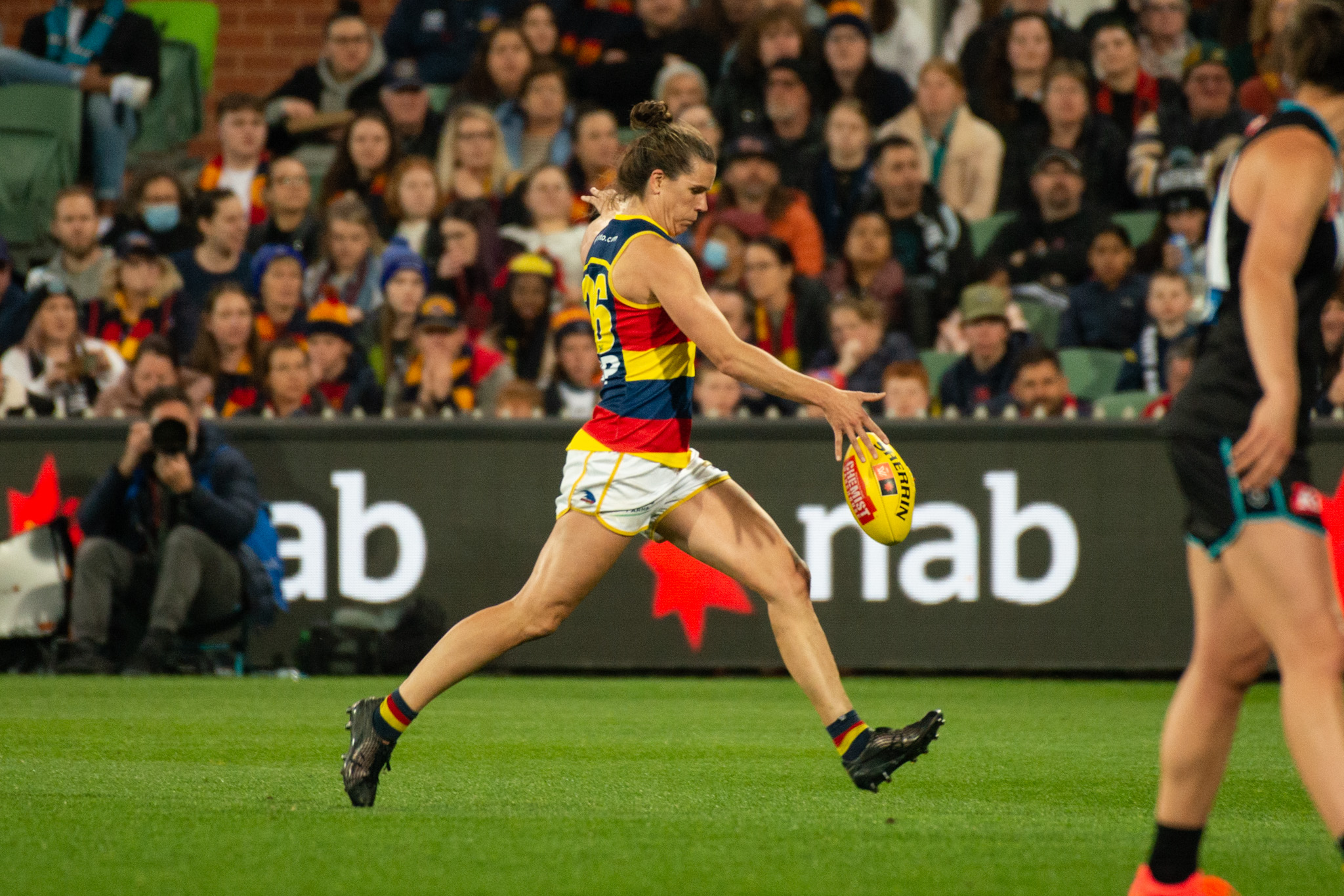 Season Seven up against Season One
Friday night was a reminder for all that one South Australian club has been strengthening year-on-year for seven seasons, together.
The other, came together just over 15 weeks ago for the first time. A group of players who have come from different AFLW and state league clubs, plus seven draftees, who have had just three months to settle into the side.
Five of those draftees played in Showdown I, including a debutant, and the other two were emergencies.
One team has dominated the competition, playing in four Grand Finals and winning three of those for Premierships, the other has nine players in their very first season.
"I think we clearly saw the triple-premiership team that the Crows are, an experienced, hardened football group against a young team," Port Adelaide coach Lauren Arnell said of the result and lack of competitiveness in the scoreline.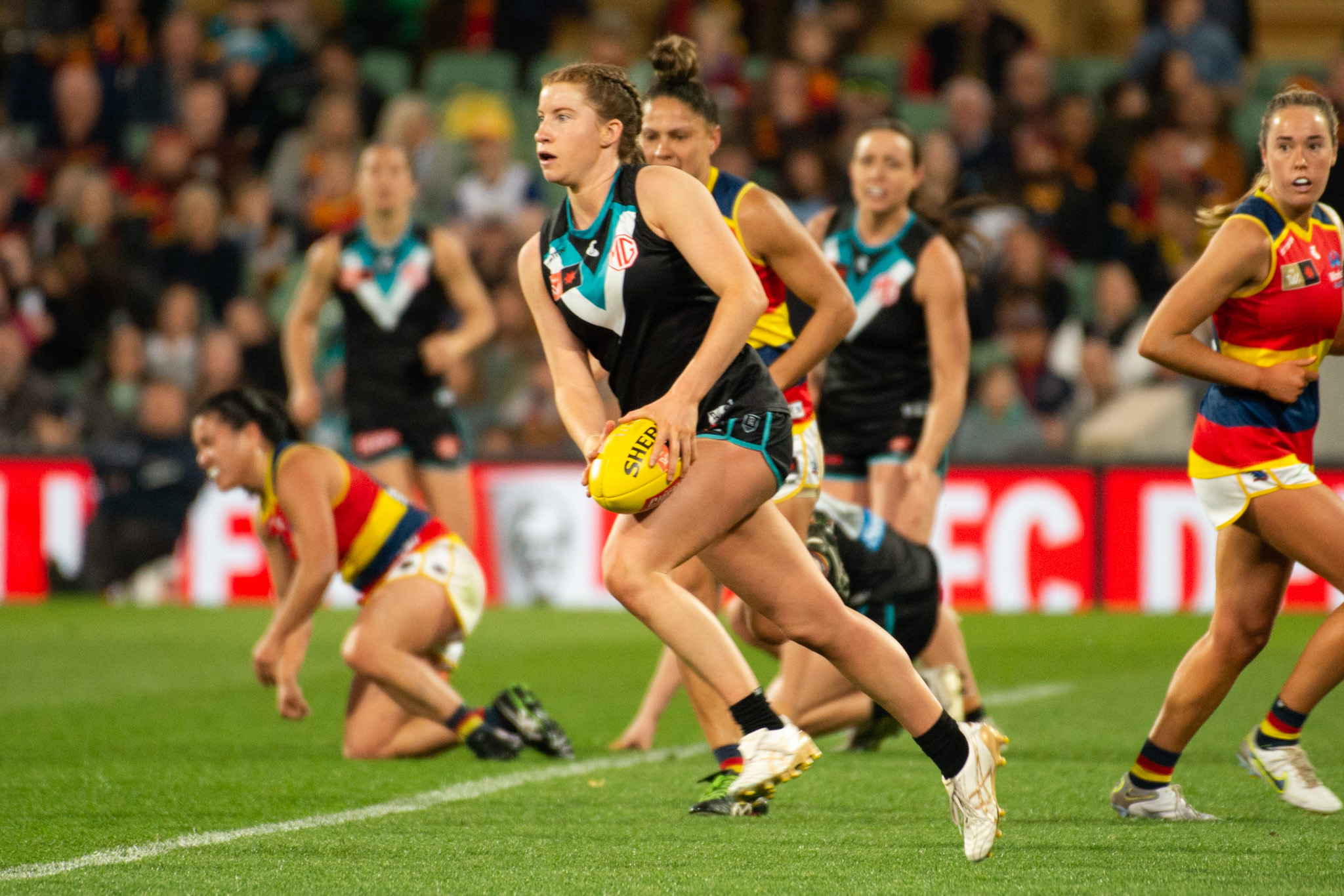 Port Adelaide has a 17 year old, Amelie Borg, playing as a key defender, and another Year 12 student, Ella Boag, debuting on the wing and picking up 10 touches - seven in the first half.
Alex Ballard, in just her sixth game, led the way in disposals (18) and marks (six).
"For a big chunk of them (the kids), they've got six games of AFLW in them now," Arnell mentioned.
"And I think there's one element of how many games does each individual play and gain experience from, and then there's another element of how many games does your team play together and learn each other's strengths and weapons?"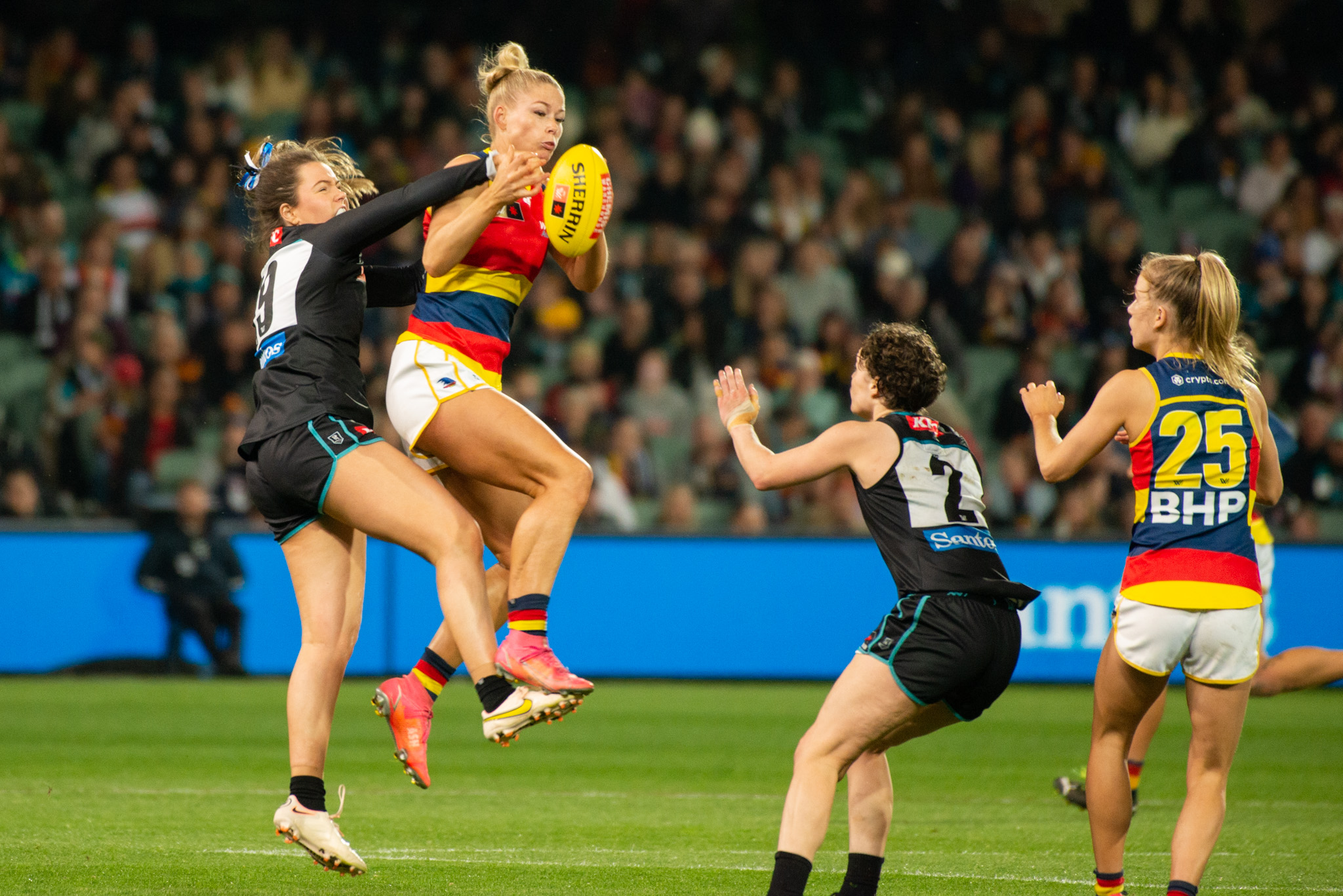 Improvements will come thick and fast. They already have. Last weekend against Gold Coast, Port Adelaide didn't have a great start, but showed up late in the game and almost stole a victory.
In earlier rounds, Port Adelaide was starting strong and then fading when it mattered, allowing teams such as West Coast to run over the team and Carlton to draw level, late.
In an inaugural season, inconsistencies have to be expected, but the girls have bought into Port Adelaide, the club, and the AFLW team, and want to keep working to be better each week.
"I can tell you that all the players want to do is get better all the time and there's complete buy in on that, so that's where they're at right now," Arnell said.
"I'm very proud of the group of young women that we have in our club and I know they take plenty of learning from every single game of footy they play, and they stick together."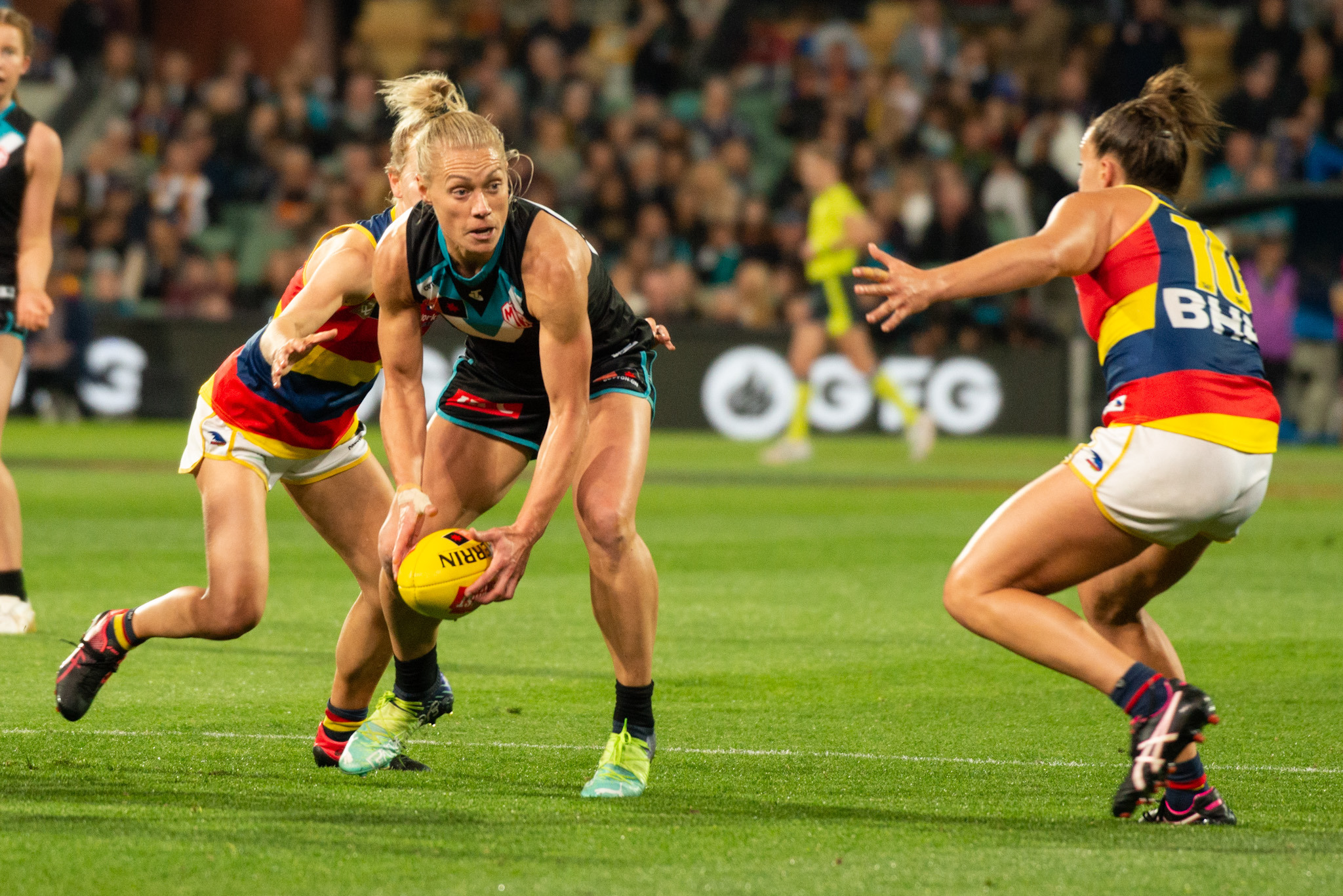 Bigger than a game of football
Friday night was not just a Round Six game of AFLW Season Seven, it was a celebration of women in sport in South Australia and the beginning of a new chapter in the rivalry between these two proud clubs.
Fans turned out in big numbers to see the first AFLW Showdown live at Adelaide Oval, a crowd of 20,652 making their way to the ground on a beautiful night for football.
"It was outstanding; the atmosphere was electric, Port Adelaide do an amazing job of their pre-game and so that just all added to the theatre", Clarke reflected.
Clarke added that he was "really pleased with the way that players absorbed that and enjoyed that and then got to work".
"The fact that the South Australian community got behind the game… it was a great night for footy and I thought everyone played their part in the job", he said.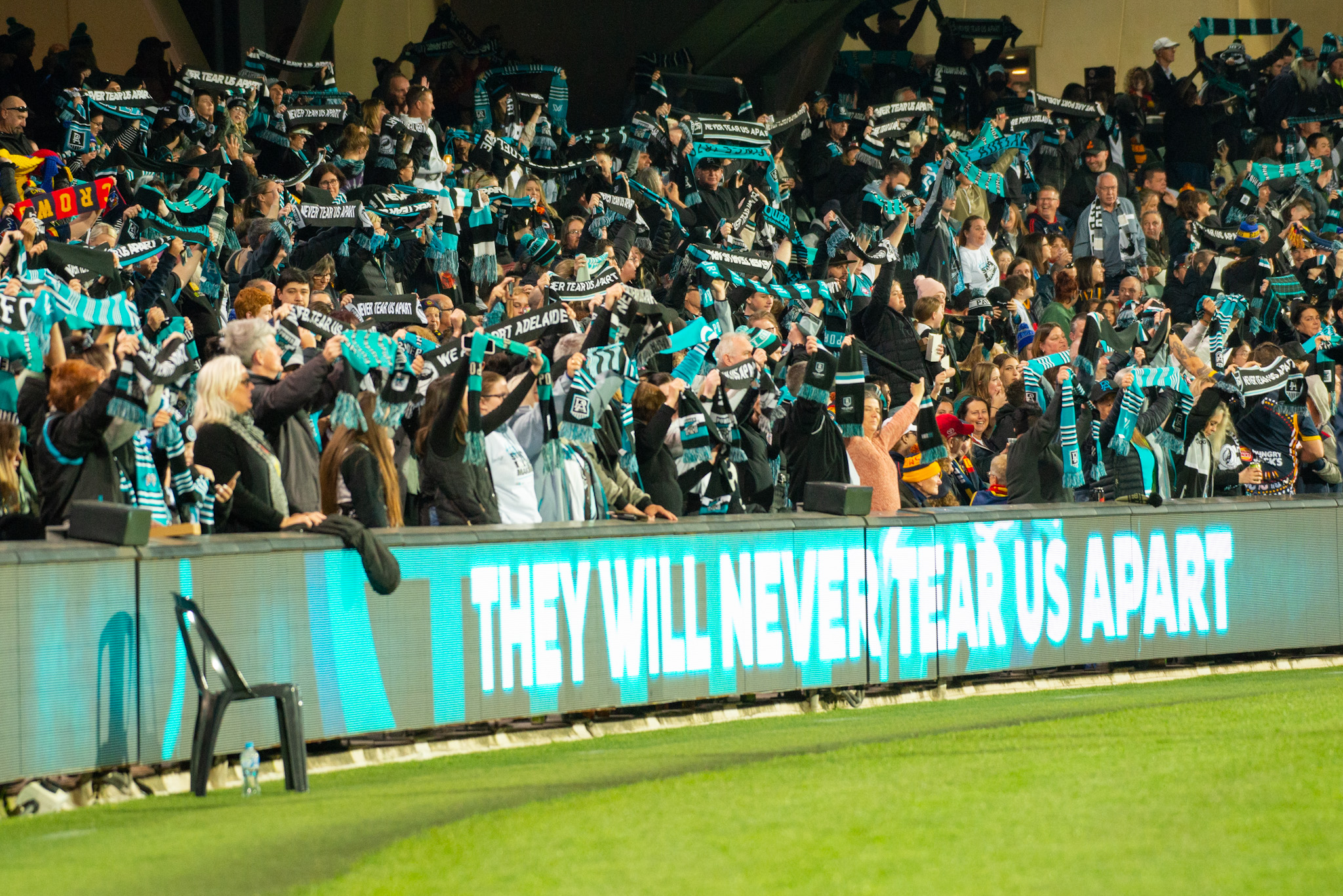 While the game might have been one-sided and nothing like the competitive contest the clubs and their fans were hoping for, Arnell said it "speaks a lot to South Australian footy" that fans did come in droves and women in sport were recognised as part of the historic occasion.
"I know there was a big celebration of women's sport and generations, and generations of female sporting heroes in South Australia celebrated tonight and over 20,000 I'm told here, an epic crowd," Arnell said.
"I think, that's one part of the night - there's a huge celebration - something for both clubs to be really proud of."
Both teams will rest up before big clashes next weekend. The Adelaide Crows are set to host the Fremantle Dockers at Unley Oval on Saturday, October 8 at 2.40pm ACST, while the Port Adelaide Power will travel to Melbourne to take on the Hawthorn Hawks at Skybus Stadium on Saturday, October 8 from 7.10pm AEST.