Eloise Ashley-Cooper is "amped up and ready to go".
Her first VFLW grand final awaits her on Sunday, July 3, and while she been trying to not be drawn into the hype, she can't help it.
"Heading into the weekend is obviously super exciting but I haven't really thought too much about it - I'm just trying to turn up at training each day and get through work or whatever is on the cards for that day," she told Edge of the Crowd.
"I am absolutely super excited, as everyone is within the club and within the team, but I'm just trying to be as present as possible."
But she could be forgiven for letting the emotions grow ahead of the big game.
Essendon did not lose a game during the 2021 season or the finals series.
"Obviously you don't want to get too far ahead of yourself, but there is definitely an unwavering belief amongst the group that we are capable," Ashley-Cooper said.
"We probably didn't realise that maybe we would go undefeated, but there's definitely a belief and confidence in each other that we can take on and we can achieve this style (of footy) and we will fight our hardest on the field no matter the day."
The Bombers will come up against the Southern Saints, who finished fifth at the end of the home and away rounds but had a dream run through finals to make it to the grand final.
The premiership will be fought for at ETU Stadium, Port Melbourne at 12.15pm.
Ashley-Cooper said the talented group that makes up the Southern Saints will put forward a tough fight.
She is not surprised that they played so well in the finals series.
"I think that the Saints have just been so competitive throughout the year and it's shown through the close games that we've had," she said.
"They're extremely determined, they can be really dangerous up forward, and quite exciting, I found through watching some of their games and playing them earlier in the year.
"Coming into the weekend I'm excited for the challenge and I think it'll be a really good game."
But the Essendon group is a special one, she said - one that is hard to describe.
"There's so much genuine care for every player, whether they're on the field or off the field," she said.
"It's fantastic that we're able to celebrate those goals for the win or the smother that someone did.
"But I think equally we're able to celebrate all the amazing people in the program, whether they're in rehab or our fantastic volunteers and our coaches and our supporters.
"It's so much bigger than us on the field."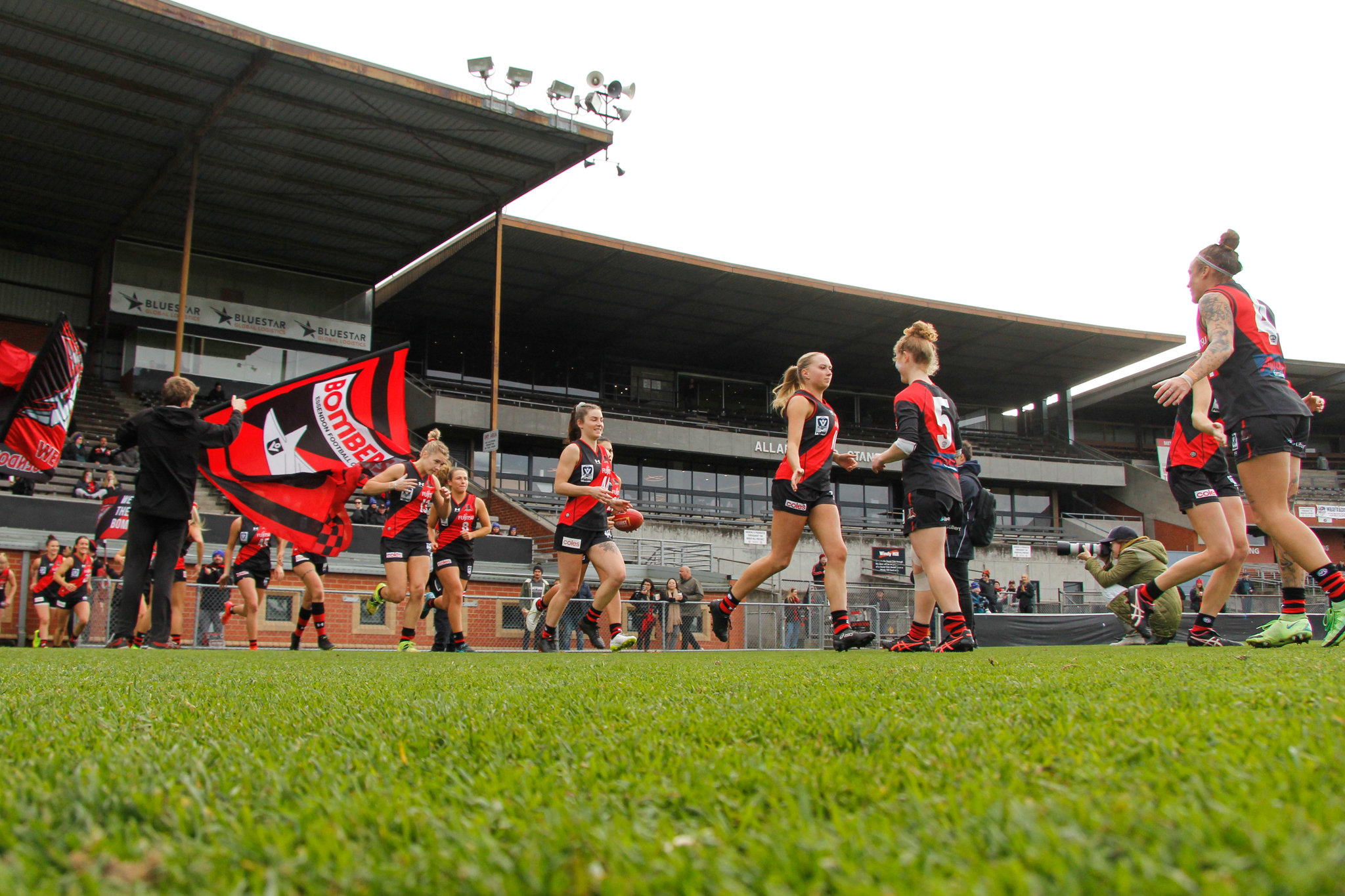 Fun is just as important to the team as success, and it shows not just on the field, but off it.
Ashley-Cooper said Essendon Football Club was a safe space to both push herself and enjoy all the little things.
"We know when to switch on and when we can switch off and have a chat and a laugh," she said.
"It's a really lovely balance and I think that that has been super beneficial throughout the year.
"It's a really unique experience that I haven't had anywhere else, and I think it's just because I turn up to training and I love every minute of it, I feel like I learn each and every training from the coaches, and have really good relationships with them but also my teammates.
"I'm so lucky and privileged to be able to say I get to go to training with my best mates and have a blast, so I think that sort of connection has really allowed us to gel but also just enjoy the process and enjoy our time at the club."
She said all of this will be on show at ETU Stadium on Sunday.
It will be the last time they will play together as a group, as numerous star players have been signed as part of Essendon's inaugural AFL Women's side.
"I think it's just another opportunity to spend time together as a team," she said.
"We are such a special group and this is just another opportunity that we can both hang out and play together.
"But also every time you get to wear the Essendon colours it's so special. Being able to pull on the sash - it's pretty hard to compare anything to."
Ashley-Cooper said she and her teammates were keen to show off what they can do, and hopefully come away with a flag as a result.
"I'm so excited to get out there and to watch out for some of the girls that I get to work - we've got some really amazing players and I think they're just going to absolutely tear it up on Sunday," she said.
"I like that we have such exciting players and they will be able to get to work on the weekend and I think anyone that will turn up will really enjoy watching them.

"I think that Federica Frew has some serious magic and she can light up, and you never know, she can become really unstoppable, so I think I'd definitely watch out for her in the forward line - she might get a couple of cheeky snags."
Along with the success of her team, the 21-year-old defender's star has been rising since she joined the ranks at Essendon in 2019.
Just last year, she was elevated to the leadership group at the start of the season, and at its end she became the club's youngest best and fairest winner.
Her efforts have led to her being signed to Essendon's inaugural AFLW team.
"Last year was super interesting, obviously with the circumstances of lockdown, and I think I had a real year of growth," she said.
"Obviously it's fantastic to have those personal accolades, but a really big thing for me was it's great for me to grow as a footballer, but I grew as a person.
"I think in terms of that I've really been able to harness those characteristics or those particular values that I've built up this year to become a better player or to learn new skills, and I'd like to think I've worked pretty hard."