Perth Glory head coach Alex Epakis spoke exclusively toEdge of the Crowd'sBen Gilby about a challenging week that saw him lose key players to injury and COVID before falling victim to the outbreak himself on the morning of his team's game with Newcastle Jets.
Despite all of the difficulties, his team produced a heroic performance that righted the wrongs of their 4-0 loss at Sydney FC the previous week.
Epakis' tenure at Perth has been full of challenges from the start. Last season he had to put together a team at short notice full of young local players due to COVID issues.
This time around, the Glory has been forced to relocate to a North Sydney hub due to the most recent Western Australian border restrictions since Christmas.
Throw in injuries to key offensive players Susan Phonsongkham and Cyera Hintzen, plus three players testing positive for COVID, and a tough situation got even worse.
Despite this, Perth's head coach remains enthusiastic: "I love my role and I have enjoyed the nature of having to navigate through certain difficulties over the last two seasons.
"Without a doubt, there has been a lot of hurdles to overcome for us as a collective group, but we always band together and find a way through.
"Last week certainly had its difficulties. At one stage I was the only coach available to take the training sessions throughout the week.
"On top of this, we had injuries from the three matches from the week prior, we had players and staff get COVID, and then just as it was smoothing out I got a positive covid test!
"It is quite a storyline but to be fair, everyone just pushed on as much as they could. Players and staff stepped up and put on a great performance against Jets, which I feel we were unlucky not to get more from."
That performance at Newcastle's No 2 Sportsground on Sunday, a venue where the home side has a historically strong record, saw several of Epakis' youngest players really step up to the plate and take responsibility to drive their team onwards.
Having watched every one of 21-year-old Deborah-Ann de la Harpe's appearances for the club, I put it to Epakis that Sunday was the finest offensive shift she had put in during her season and a half in a purple shirt.
"I agree. She had a great match playing out of positions - she did a job for the team today and took up a new role. She really exceeded and reminded everyone (including herself) how much of a great player she is and the ability she has.
"On a personal level, I was very very proud of her and I really expect that she will take a lot of confidence away from the match and play a big role in the second half of the season.
"She is a very mature person, well balanced and has a great personality which always puts the team first. I really enjoy coaching her and having her in the squad."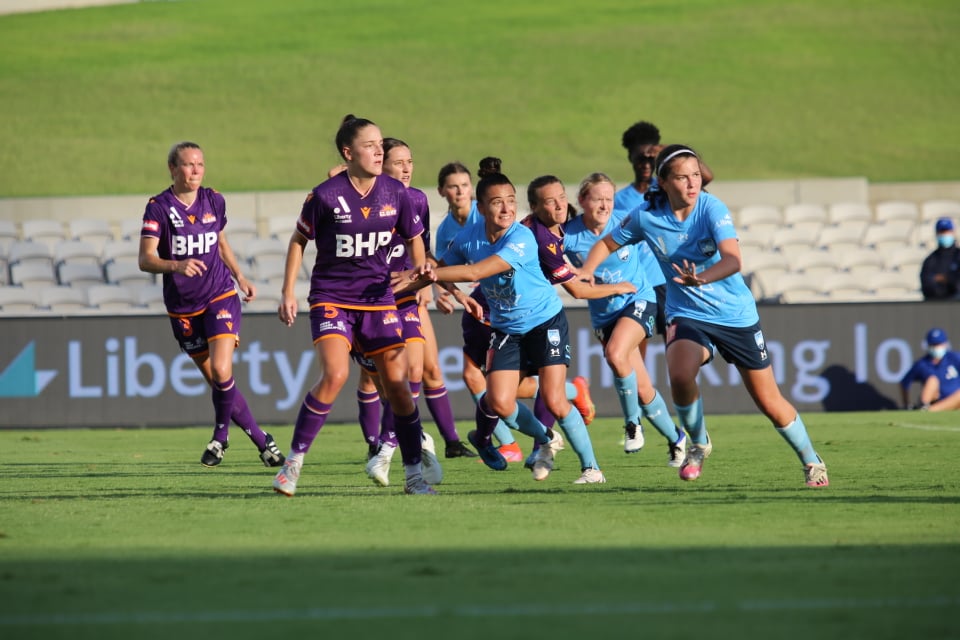 Locally produced 18-year-old Hana Lowry also produced a display of passing vision and tenacity which was way beyond her years. On top of this, she scored a superb goal
"I think Hana offers a lot of versatility in being able to play deep or attacking midfield. This assisted us against the Jets as we needed her to play higher up the field and she had a really effective game and scored a great goal.
"She has been playing so well this season and a lot of the work she gets through doesn't go unnoticed. She will continue to offer us a lot across the midfield positions in the coming weeks and I am really pleased she got a goal."
Prior to Sunday's game, Perth Glory's head coach named two targets for his team - cutting down on set-piece concessions and matching the Jets' physicality. They succeeded on both counts.
"I think this was a big reason why our performance was so pleasing. We didn't give away as many corners as previous matches, we had been averaging seven to nine per match. Against the Jets it was only two or three.
"We also improved our ball retention and overall play which meant we could be on the front foot and take control of the match. We also certainly matched up to Jets in the duels.
"They are a strong physical and robust team. Each one of our players matched it with them on the weekend."
Khamis and local youngsters
With another offensive player, Alana Jancevski unavailable, Perth had to bring in reinforcements of a temporary nature. They turned to Leena Khamis, a former Matilda with 25 caps to her name, who is in the top five of all-time W/A-League Women scorers charts.
With Khamis being without a club this season and based in New South Wales, Epakis felt that the 35-year-old was the right player.
"We needed some extra bodies and experience upfront in particular. Someone who was available straight away. Leena was a perfect fit, we had a brief phone chat and she was down at training the next day and made an instant impact.
"She is a great pro, a great leader, a great person, and a great player. We are fortunate to have her over the next few weeks. At this stage, it is just a short-term injury replacement and we haven't looked past keeping her for our NSW games just yet."
With the Glory's stay in NSW due to come to an end on 5th February, the Perth head coach has not ruled out giving some of the younger Western Australian talent in his squad a run in the future.
The duo of 17-year-old Tijan McKenna and 18-year-old Bella Wallhead had significant game time last season in very difficult circumstances. Whilst they have not appeared during the 2021/22 campaign as yet, they are still very much part of Epakis' thinking.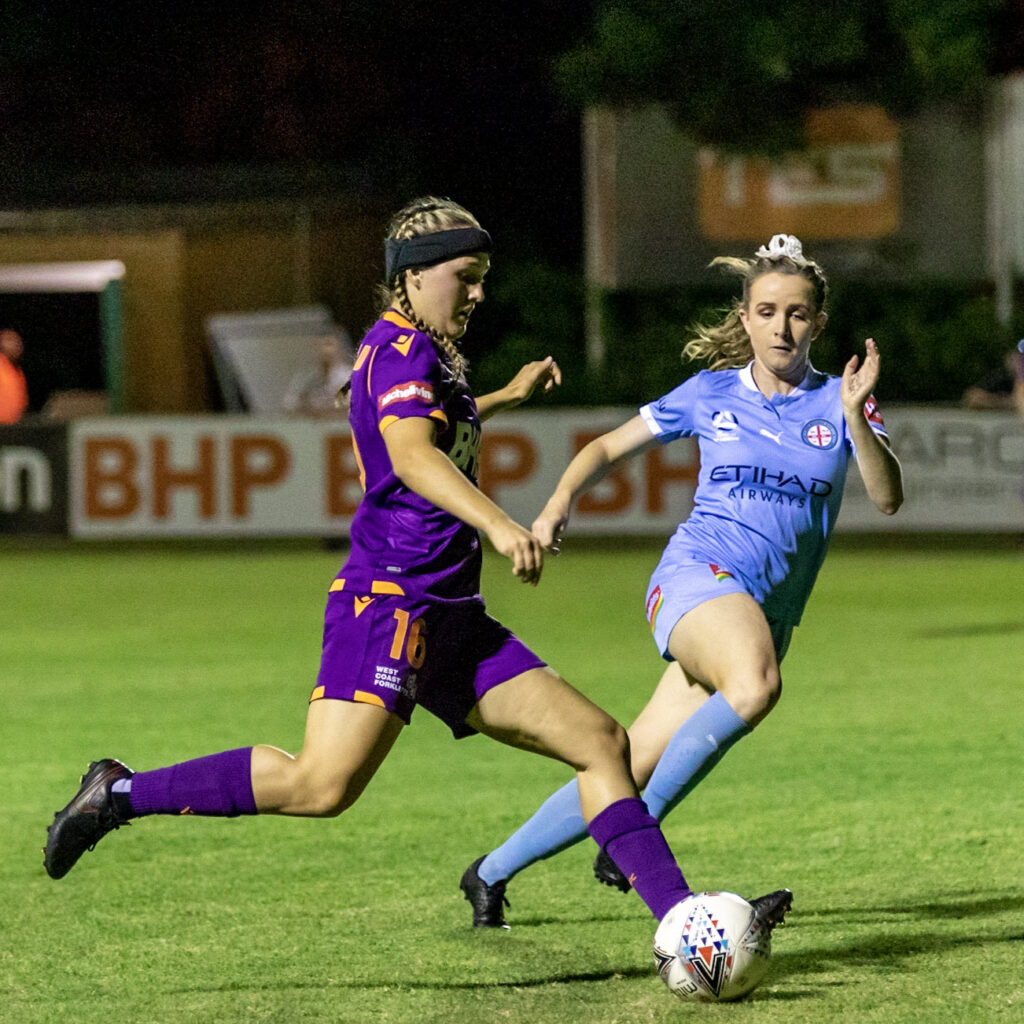 "Bella and Tijan are both great players with a fantastic amount of ability. Their attitude and desire is unquestionably a strong part of their character.
"They are at an age where consistent performance week in, week out is what they are working towards with the support of myself, the experienced players, and all the staff.
"They are developing nicely and learning each day. I expect them to continue to progress throughout the second half of the season and continue to fight for a place in the squad on match day. They add a lot to the environment and they both have bright futures."
With Perth Glory taking on Western Sydney Wanderers in Gosford this coming Sunday, team selection will not be settled until the last moment.
"We need to ensure that the players who haven't got COVID remain COVID-free.
"We are essentially building a team every few days based on injuries and COVID issues. I hope to have the opportunity to have some consistency in our squad over the coming weeks.
"However, on the other hand, I know we have a strong squad with great depth and everyone will step up as shown if needed."
Perth Glory's home Liberty A-League Women game against Western Sydney Wanderers will take place at Central Coast Stadium, Gosford, NSW on Sunday. Kick-off is 6:45 pm AEST/3:45 pm AWST.