It's been a big week in the long-term future of Perth Gloryas their hugely talented young head coach Alex Epakis signed a contract extension.Edge of the Crowd'sBen Gilby heard Epakis setthe scene ahead of Saturday's game with fellow Finals contenders Melbourne Victory.
Perth Glory head coach Alex Epakis revealed that there were no hesitations whatsoever when it came to extending his tenure to a third season.
"The club didn't need to convince me to stay. I'm really invested in the players and what we are trying to achieve. It was an easy decision and one I'm delighted about."
"In my mind, we have an unlimited amount of potential, both individually and collectively. As a group, we have a great balance of players who are all contributing towards success. It's exciting to be part of and I'm proud of it. I get to work with these players and staff every day and I'm proud of that."
With Perth's A-League Women season coming down to their final three matches against Melbourne Victory, Sydney FC, and Wellington Phoenix, they face a tough battle to make Finals, but one that remains realistic.
"I don't want to put a limit on what we can achieve or what that may look like. We want to finish with three strong performances.
"If we pick up enough points to make the top four, great. Next year we want to have even more success and build towards that. A lot can happen in the next few weeks and I'm not writing off our chances."
Perth's head coach reiterated his observation that he knew early in pre-season that his team had huge potential going into the campaign.
"For me, having a six-week pre-season with the players was always going to be a huge starting point which was so much better than last year (when Perth had minimal preparation time and was still putting a squad together a month before the season started due to border restrictions).
"The players who were coming in and those we retained meant that I could have a specific pre-season. Every player came to the club knowing what to expect and I knew what to expect from them.
"I knew we had a strong foundation and we'd have stronger performances and it was exciting to see what we could achieve as a group."
Whilst some saw last weekend's 4-0 loss to Melbourne City as a decisive blow in the Western Australian side's Finals hopes, Epakis has other thoughts.
"Our performances have been really good. The 4-0 loss to City needs to be put in context. It was 2-0 after 88 minutes and we kept trying to get something and as a result, it blew out. Those last goals were not huge lapses either.
Related Articles
Hana Lowry: Leading the next generation of WA stars (edgeofthecrowd.com)
Deborah-Ann de la Harpe: In the form of her life (edgeofthecrowd.com)
Cyera Hintzen on learning, growing, and life with Perth (edgeofthecrowd.com)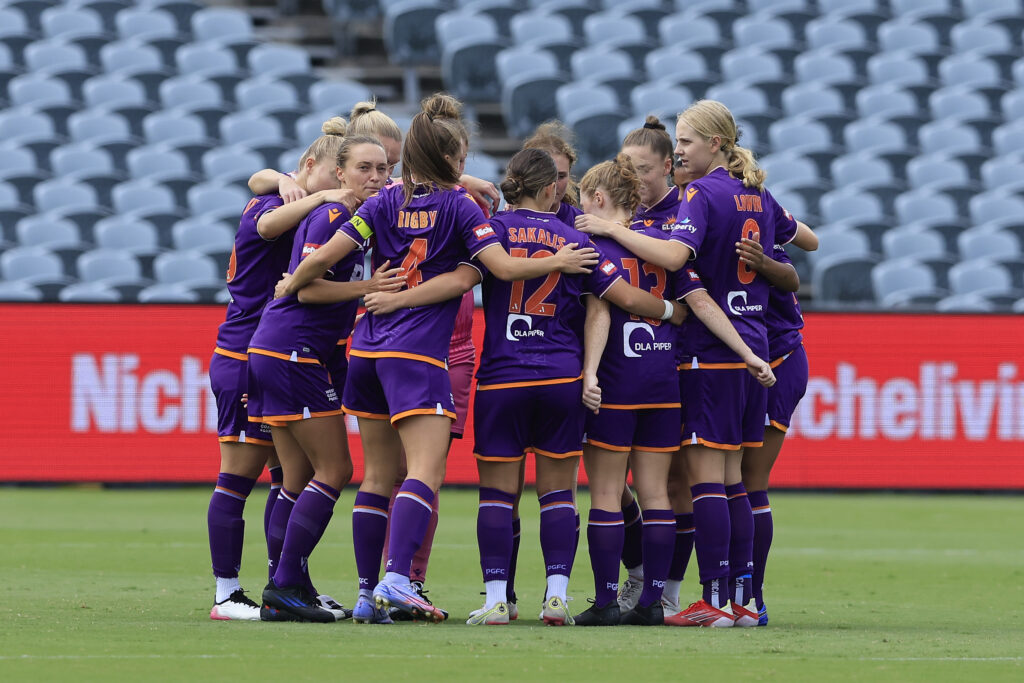 "We've also showed in other games – Adelaide for example. They won 8-2 the game after we played them, and we beat them 1-0 with ten players. That was a huge result. If we focus towards what we did there against Melbourne Victory, we'll be OK.
"I would describe our top four chances as optimistic. I am more interested in our performances over the final three weeks. That's what we're striving for. If we can try and do that regardless of opposition, then we have a chance of top four.
"The remaining fixtures for the teams, there are lots of equations and it can muddle your head. That is why I'm focusing on our performances. A lot of football is still to be played and lots can happen."
For Perth Glory to be even being talked about as Finals contenders when they have only played one game at home all season (back in Round One), is an incredible achievement. Something that the club's head coach underlined.
"We want to be playing in Perth. We've lacked a competitive edge from not being able to play in WA. There's the playing in front of our own support and the impact on the opposition with the travel and the time difference.
"You can't dismiss that. It's a really huge factor. We are trialling a bit of everything at the moment, but it is not home. Home advantage for Perth Glory is worth several points a season. Without that, the players have had to go above and beyond. It is us against the rest.
"I think if we'd had been able to play in Perth we'd be in an even stronger position. What this situation has caused though is a really big bond between the group and that has helped in difficult situations. Yet, it comes without the outside support network. You don't want to just be suffocated by football, you need family and friends too."
Looking ahead to tomorrow's clash with Melbourne Victory, Epakis said: "It was a good opportunity to watch Victory play Sydney on Wednesday as we saw some real strengths of theirs. They have a fantastic front three who can create and take chances with very little space. We also saw a few little things in their structure which hopefully we can take advantage of and attack.
"They are an experienced team. Jeff (Hopkins, head coach) and the players have been together for a number of years now. It's a match where both teams go into it knowing they need the three points. It will come down to which team can manage the critical moments better.
In terms of availability for the match, Perth's head coach revealed: "Some players have had to go back to WA for school or other commitments. We've sent Poppie Hooks and Tijan McKenna back with our best wishes as they are about to enter their HSC year at school. Gemma Craine has gone back as well after her injury and she needs to be getting back to Perth. We have no new injuries though."
Meanwhile, the club has revealed that their final regular-season A-League Women "home" match against Wellington Phoenix will be played in Tasmania at Launceston's UTAS Stadium as a doubleheader with Glory's men's team playing Western United.