SQUAD (26-player provisional)
The Three Lionesses have selected a 26-player provisional squad which will need to be trimmed down to 23 names by July 9.
The European champions have been stung by injuries to several star players, and although it has weakened their lineup, the strength of the provisional squad selected speaks to the strength in depth Sarah Wiegman has to choose from in the England national pool.
Superstar Beth Mead missed out on selection for this tournament due to injury concerns, as did her contemporaries Fran Kirby and Leah Williamson. All three have knee injuries with Mead and Williamson missing out through the dreaded ACL injury.
Manchester United captain Katie Zelem will play at her first major international tournament as will Niamh Charles, Laura Coombs, Lauren James, Esme Morgan and Katie Robinson.
Maya Le Tissier, Jess Park and Emily Ramsey have been selected as the standby players as Coach Wiegman takes a different tact to the one she took prior to the Euros when she selected a large squad and slowly trimmed it down over time. This time, injuries notwithstanding, the 23 other women selected in this Three Lionesses squad are the ones who will look to complete a historic Euro/World Cup double.
Goalkeepers: Mary Earps (Manchester United), Ellie Roebuck (Manchester City), Hannah Hampton (Aston Villa), Emily Ramsey (Manchester United)*
Defenders: Millie Bright (Chelsea), Lucy Bronze (Barcelona), Jess Carter (Chelsea), Niamh Charles (Chelsea), Esme Morgan (Manchester City), Alex Greenwood (Manchester City), Lotte Wubben-Moy (Arsenal), Maya Le Tissier (Manchester United)*
Midfielders: Keira Walsh (Barcelona), Georgia Stanway (Bayern Munich), Ella Toone (Manchester United), Jordan Nobbs (Aston Villa), Laura Coombs (Manchester City), Katie Zelem (Manchester United)
Forwards: Alessia Russo (Manchester United), Rachel Daly (Aston Villa), Lauren Hemp (Manchester City), Chloe Kelly (Manchester City), Lauren James (Chelsea), Katie Robinson (Brighton), Bethany England (Tottenham Hotspur), Jess Park (Manchester City)*
HOW WILL THEY LINE UP?...
Given gaffer Sarah Wiegman's Dutch heritage, it is no surprise that she favours a 4-3-3 formation, and that is exactly how the Three Lionesses are expected to line up in Australia and New Zealand.
It will be a surprise if Mary Earps isn't England's first choice in goals. After her penalty shootout heroics in the Finalissima against Brazil, it would take a brave person to pick against her starting the tournament between the posts. Ellie Roebuck will be a more than apt deputy, while there will have to be a disaster in the goalkeeping ranks for Hannah Hampton to see any game time.
Defence is not nearly as straightforward, with injuries muddying the waters somewhat. However, we have gone with Lucy Bronze proving her fitness and starting the first match at right full-back, with Millie Bright as the right-sided centre-back. Alex Greenwood will play alongside Bright at centreback, with the versatile Jess Carter playing at left full-back.
England's starting midfield trio is the envy of most other countries in the world. Bayern Munich midfielder Georgia Stanway will play on the right of central midfield, with Manchester United star Ella Toone patrolling the opposite side of the engine room. FC Barcelona star Keira Walsh dictating play from a slightly more withdrawn position in the middle of the park.
The aptly named Beth England will play on the right-hand side of an attacking triumvirate that will terrorise most defences at this year's competition. Clubless former Manchester United star Alessia Russo will play through the middle. Lauren James is who we have picked to complete the treble of attackers on the left-hand side. She may have only made her debut in October of last year, but she looks right at home in this world-class outfit.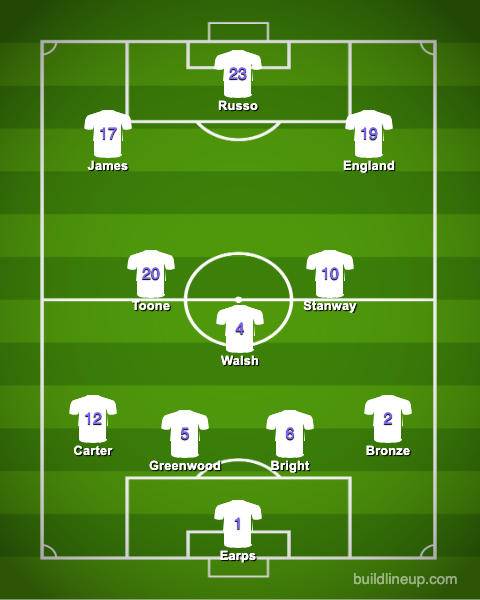 Edge of the Crowd partners with Her Game Too for the Women's World Cup, uniting our passion for diversity and inclusivity in sports. Together, we aim to dismantle barriers, tackle sexism, and amplify women's voices in the sporting realm. Join us in celebrating the spirit of the beautiful game, free of gender constraints. The love for the game knows no gender; let's make every game, Her Game Too. Head to @HerGameToo on Twitter, Facebook and Instagram to learn more.
Given the sheer quality that permeates the England squad, it is difficult to pick one player who makes an impact from the bench. With that in mind, I am going for a personal favourite of mine, Rachel Daly. The Aston Villa striker has had a tremendous WSL season, and in the rare circumstance that England is struggling for a goal, she can offer an alternative route up forward.
July 1: WWC Warm Up Friendly vs Portugal, Stadium MK, 3.15pm UK Time
July 22: WWC Group D vs Haiti, Brisbane Rec Stadium, 7.30pm AEST
July 28: WWC Group D vs Denmark, Sydney Football Stadium, 6.30pm AEST
August 1: WWC Group D vs China, Hindmarsh Stadium, 9pm AEST