Eleanor Patterson rose to dominate on Day 5 of the Championships, delivering an amazing performance to see her become the first Australian Women's High Jump gold medallist, as well as only the 10th Australian track and field athlete to claim a world title.
The 26-year-old equalled Nicola Olyslager's Oceania and Australian record of 2.02m, and a new personal best. It comes after Patterson's extraordinary comeback of knocking down the door of elimination from the competition.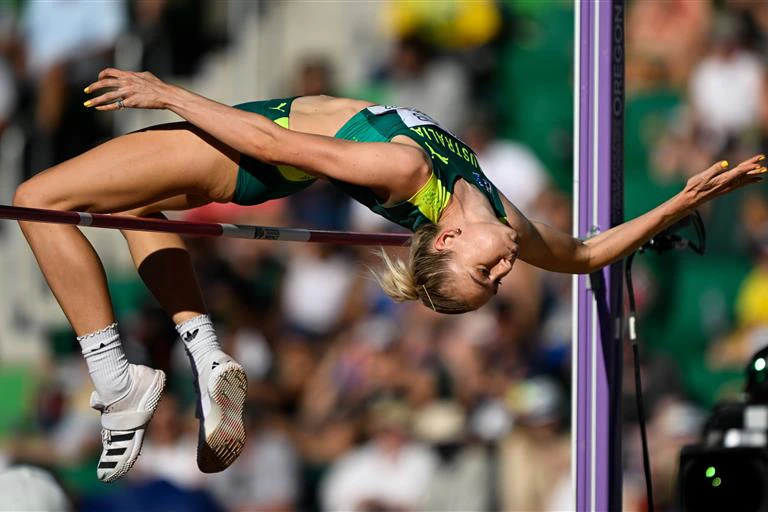 In a show of talent in the face of the rest of the competition, Patterson cleared 2.02m with ease on her first attempt. World Indoor Champion Yaroslava Mahuchikh from Ukraine was the only other athlete who managed to cleared the bar on her second attempt.

Neither athlete could clear the bar when it was raised to 2.04m, Patterson smiled the moment after as she realised that she had won gold on countback.

"I'm honestly struggling in many ways to process what's happened tonight. I'm in disbelief but I obviously had to dig deep in so many moments throughout the competition," Patterson said.

"I didn't make it easy for myself at 1.98m. The calibre of women I was up against was phenomenal and they were doing everything first and doing amazing things, so there were a number of moments where I had to remain alive.
"I'm overjoyed that I could even clear that height. I knew it was within me. But to bring that out tonight and under such pressure, I'm really proud of myself."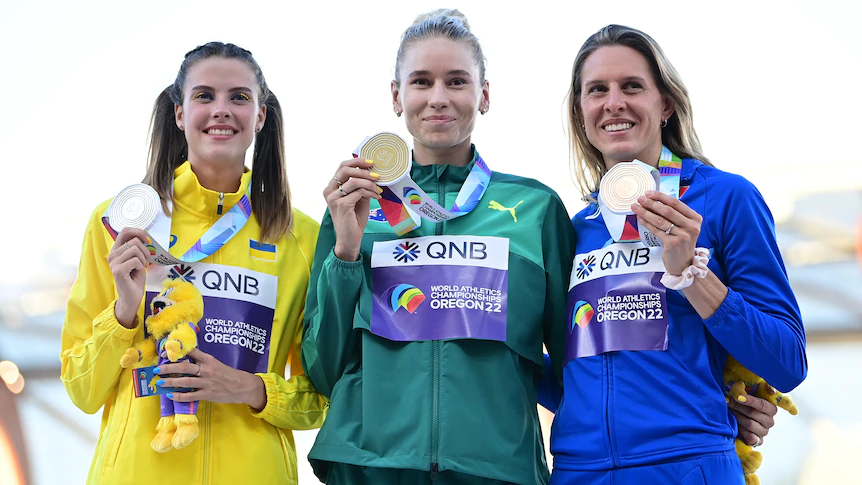 Patterson's historic win comes less than four years after she walked away from the sport. Patterson found her way back into the sport she loves thanks to her coach Alex Stewart, who helped her find her confidence and ability once again.
"Back then, it was a different me, a different Eleanor. In so many ways. In the last three years, my life has changed so much. In 2018 stepped away from the sport and now I've been working with my coach Alex Stewart for the last three years," she said.
"At a young age I knew I was capable of clearing big heights. I believed that I could be a high performer. But the environment I was in wasn't right for me. This is where I'm meant to be now. I'm meant to be surrounded by people like Alex, and this is what it has brought out."
Olympic silver medallist Nicola Olyslagers (nee McDermott) expressed her emotions for Patterson, after she placed fifth with a final clearance of 1.96m.
"For me personally, it was the best competition of the year so far, and getting up to those 98s - well, I'm in good shape but I think those pre-comps over two metres would have been good. Overall, I'm fifth in the world and it's only the beginning of my season," Olyslagers said.
"Tonight was also incredible to be there for Eleanor. I felt like I screamed for her more than when I jumped that height. It was such a good jump in a pressure moment. She's my inspiration and to have our first ever world champion in the women's high jump is a big moment in history and I'm so happy I could be a part of it."
The World Athletics Championships are currently taking place at Hayward Field Oregon, USA and will run through to July 24.