Acclaimed R&B singer and rapper Doja Cat's upcoming album SCARLET will be released tomorrow - Friday, September 22.
Since the announcement last month, Doja's comments and the singles of the album indicate that the artist is making a hard shift into hip-hop, a far cry from her wildly successful previous pop projects.
But given the success of her previous releases, why is she pivoting her sound?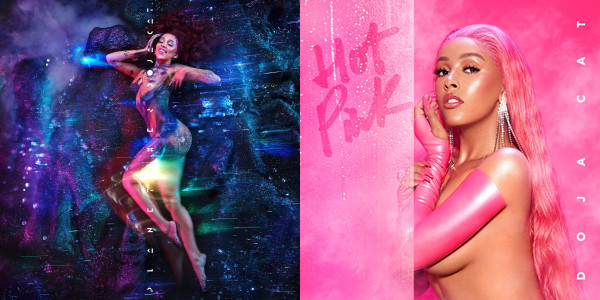 Doja Cat's 2021 album Planet Her was the biggest R&B album of that year, praised by critics, was her highest chart-placing release, and was the first album by a female rapper to spend 33 weeks in Billboard 200's Top 10. Sonically, the album was a full-on dive into the mainstream, with a cosmic aesthetic that reflected the diverse instrumentations and effective unconventionality of a new-generation pop sound.
Doja rapped on the album a bunch of times, and there were plenty of terrific features from major rap artists, but the album was clearly catered to a wider audience, which we can see from the firmly pop R&B songs that charted highly like "Woman", "Need to Know", and "Kiss Me More".
This echoes the success of her sophomore album Hot Pink, where her biggest song was the dance R&B track "Say So", overshadowing the more intense rap tracks on the project.
I'm a big rap fan, so my favourite Doja Cat tracks have always been the ones where she drops the singing and starts sliding on the beat, rapping verses on Hot Pink's "Rules", "Like That", or Planet Her's "Ain't Shit" or "Get Into It (Yuh)". Her vocal delivery is consistently unique, and when she gets going, she can flow with the best of them.
That being said, Doja Cat's lyrics are rarely up to the quality of her peers, a fact she's well aware of.

But hey, pop music was working for her, so I assumed she'd stick to what was working.

Doja Cat has generated a lot of controversy with her social media presence over the last few years. She's condemned her older projects as full of "digestible pop hits" that she used for "cash grabs", and straight up called her fans stupid at one point. Her tweets and Instagram posts just started getting crazier and crazier and all her social media now is mostly composed of memes and aesthetic shitposting.
So when she hinted her next project would be straight rap, her distancing from the previous pop projects made more sense.

And when SZA dropped a remix of Kill Bill featuring a verse from Doja Cat, it all clicked.
Kill Bill already had a hard beat that was just begging to be rapped on. Doja filled it out perfectly, flowing seamlessly over the crisp drums and ghostly sample at a rolling pace, painting a textured scene of betrayal, heartbreak, and violence.
Its dark, introspective tone calls back to the shadowy storytelling tracks of the late 90s, like Eminem's "Stan", Common's "I Used to Love H.E.R", or MF DOOM and Apani B on "Can I Watch?". Her delivery of the short verse gave me chills when I first heard it and it perfectly contextualised her new sonic direction.
If Doja Cat is sick of pop, the drama, and apparently easy success, a rap album seems like the way to go. I've always felt the raw power in rap comes from the ability to talk straight – no need to stylise words through melody or vocal effects, and the speed of the form means you can pack in more words and ideas than most others.
It's risky though: rap has always had hyper-critical fans and she would have to work hard to match the level of the genre's high-quality artists and fit into the competitive scene.
From the singles, I think we can trust that she's levelled up.
Her first single "Attention" treads the same instrumental path as "Kill Bill": ominous sample, gritty drums, but above all, raw.
The music video reflects this, interspersing between Doja strutting down the street and ethereal dreamscapes of the artist singing about the nature of attention. As she walks in the verses Doja raps straight to the camera, disparaging her listeners with bars like "You follow me, but you don't really care about the music" and mocking pop culture, saying "'Cause we all wanna see them slip and fall right on their faces".
There's also a tiny clip that stood out: Doja Cat standing fully naked in the street, covered in thick blood. Wait, is this getting spooky?
Her second single "Paint the Town Red" hit a more familiar tone. With light soul vocals and a bright trumpet sound sampled from Dionne Warwick's "Walk On By", Doja grooves on the beat, rapping about her status as a rebel in the industry and her unwillingness to conform to the mainstream she's worked in for so long. The chorus just hits. You have to sing along.
The third and last single "Demons" is a step into the underworld. Doja minimally raps with a sharp flow over a grimy industrial beat from d.a. got that dope, and the video is downright spooky. It plays an important role in the album rollout, as it cements the aesthetic for Doja Cat's new era: hell.
Twisted demons, excessive blood, and glittery spiders: Doja's determination to switch sonic lanes and introduce this hellish aesthetic was made even clearer by visually drenching her previous albums in blood on streaming services.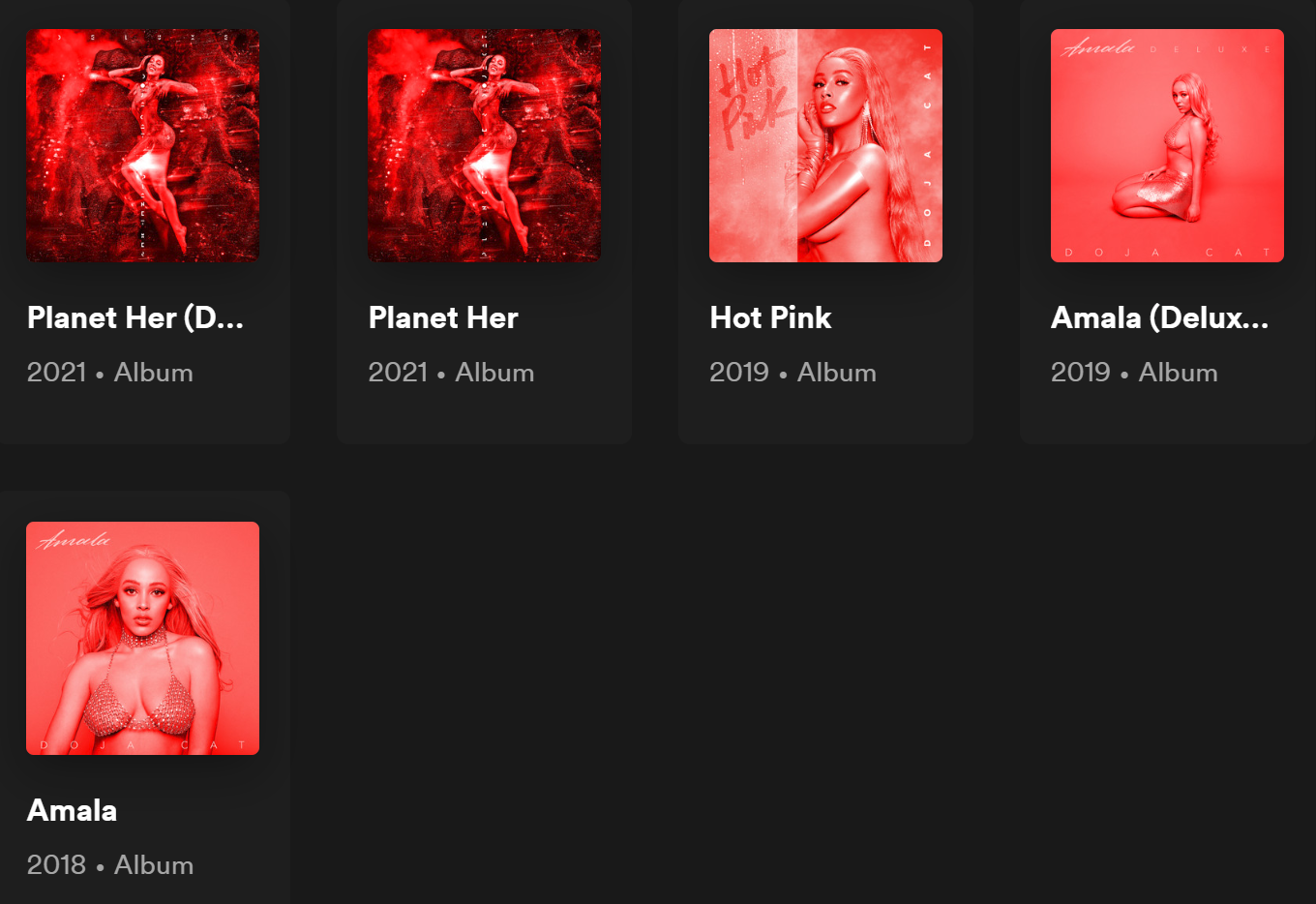 It's going to be tough for Doja Cat to lean all the way into a genre that she's only played around in before, but it looks like she's put the work in to make it work out. If anything, she's carved a seriously styled niche and effectively changed her entire brand and aesthetic, and that's an achievement in and of itself.
Doja Cat's SCARLET releases on Friday, September 22 through Kemosabe Records and RCA Records.