The Aussie Diamonds were glad to be able to put the controversy of the end of the Constellation Cup behind them, and be able to focus on a new opposition, taking on the English Roses.
There was no love lost early between the two sides, especially with a number of the Roses players having Super Netball experience, and teammates and opponents matching up against them.
Helen Housby and Sarah Klau battled at one end (with Courtney Bruce frequently switching with Klau) while Geva Mentor and Sophie Garbin traded bruises at the other end.
Defence was on top early, as Courtney Bruce and Francesca Williams each racked up early gains, and piled the pressure on the shooters.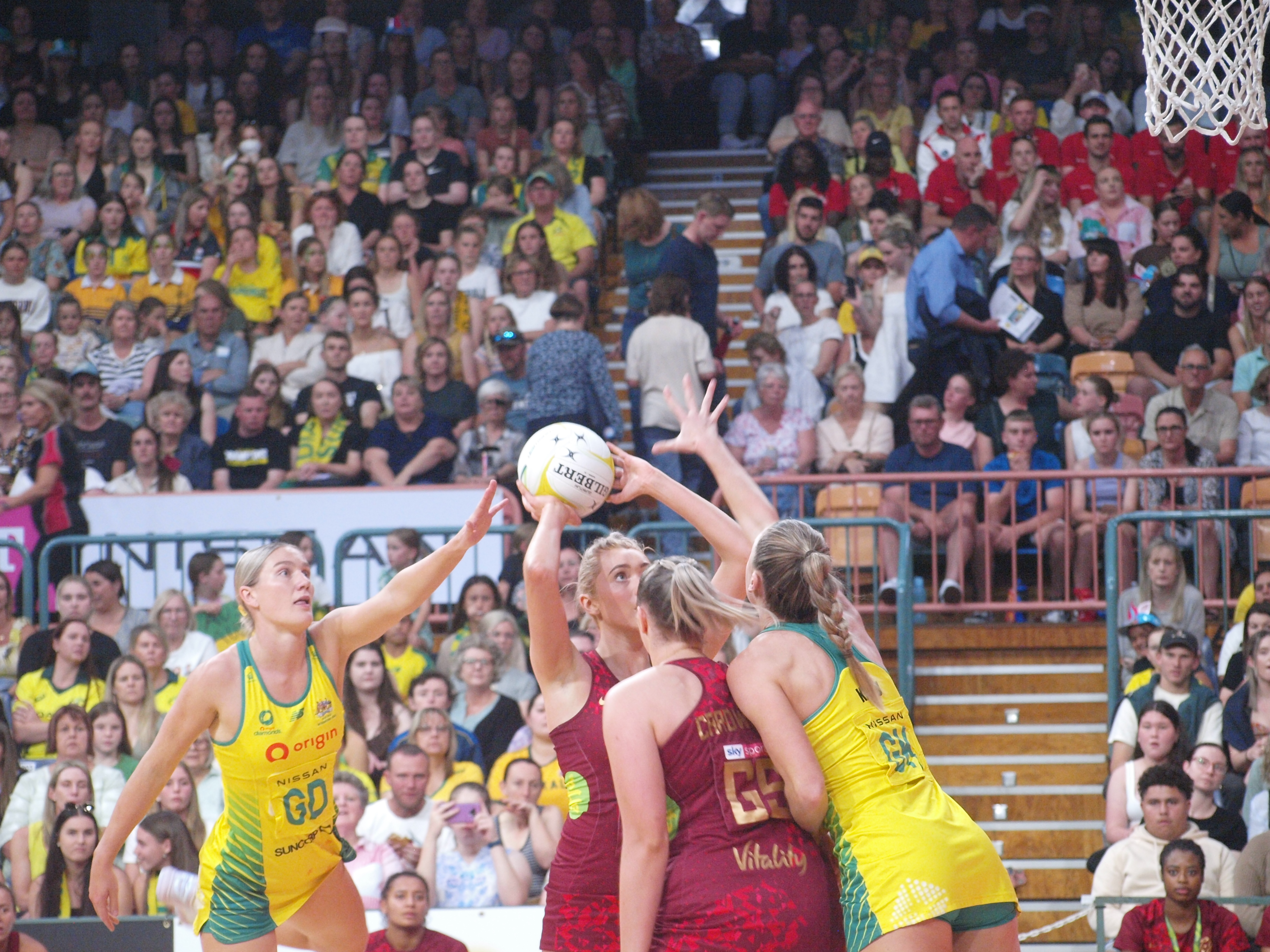 There was plenty of physical play as the two sides went hammer and tongs to start. By the end of the first quarter, when the two sides drew breath, the score was 14-all.
The second quarter continued with the physical battles, as neither side gave an inch. Australia swapped Courtney Bruce out to bring Jo Weston on, to raucous applause from the crowd.
The Roses jumped out to a second quarter lead, before the Diamonds fought back to bring the gap down to one goal at half time, trailing 27-26.
Coming into the second half, the Diamonds made changes, with Paige Hadley shifting into centre for immediate impact, with an intercept on the first possession.
The third quarter was when Australia started to get on top, with some flow in the attacking end, as Cara Koenen came onto court replacing Kiera Austin. Against her, Funmi Fadoju came on in goal keeper and the Roses fought back with a switch of their own.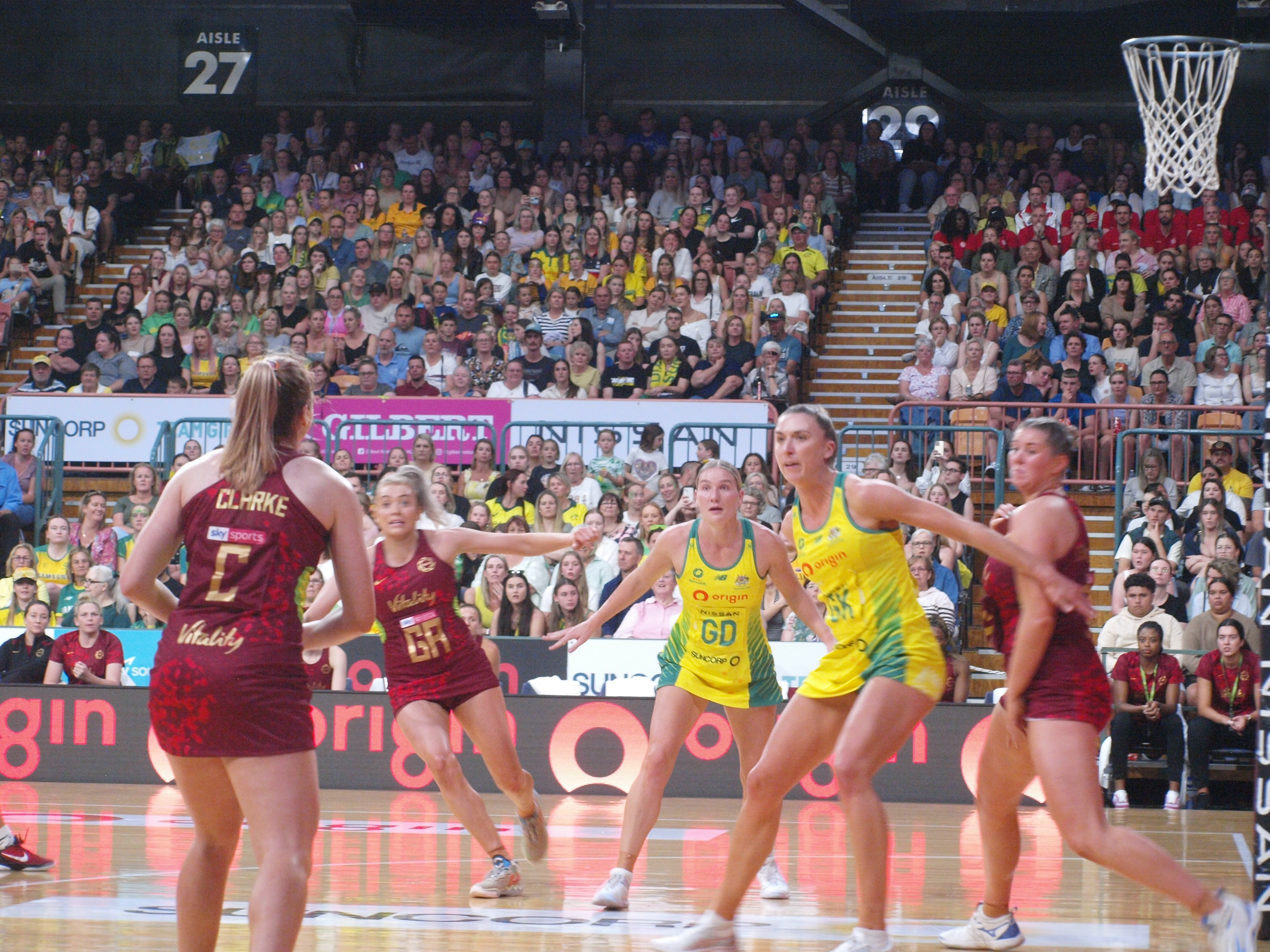 At the other end, Helen Housby was switched out for Sophie Drakeford-Lewis, and Courtney Bruce came back in for Sarah Klau. There was no space to be had at either end of the court, as players went maximum speed, maximum effort, with bodies flying everywhere.
The Diamonds pulled away slightly, to lead by three goals at the final break. As the game tightened up in the last term, Stacey Marinkovich made the decisive substitution, bringing on debutant Donnell Wallam with ten minutes to go.
Diamond 189 became the third First Nations Diamond, and made an immediate impact, raising the volume in the building with a goal on her first touch.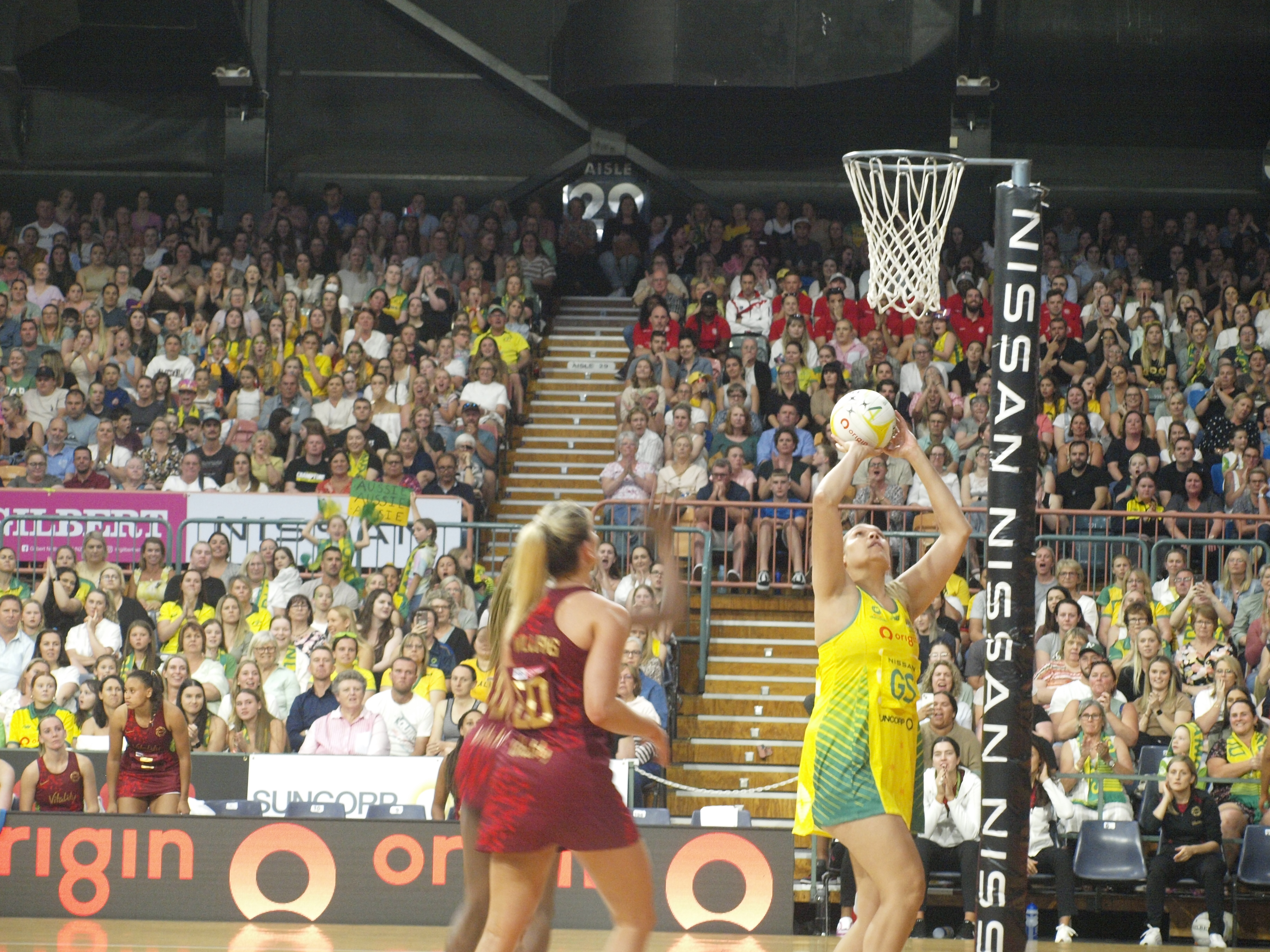 The fatigue of the frenetic pace started to set in late, as both sides turned the ball over with silly errors. As the game tightened up, Wallam battled with Fadoju, and with thirty seconds left, the scores were tied.
What followed is best captured in video, rather than in words.
Wallam's lay up gave the Diamonds a one goal win on debut, bringing the house down in Newcastle.
After the match, Diamonds coach Stacey Marinkovich reflected on the moment.
"I think we certainly connected when it mattered most," Marinkovich said.
"Obviously with people coming on to the court and new combinations, it's gonna take a little bit of time to settle and then obviously it was Donnell coming on.
"And the last part, for someone to be able to come on and debut and and grab a moment she certainly set the stadium alight so it was good."
Diamonds captain Paige Hadley talked about how tough the match was, and what it meant for the group to perform as one with the pressure on.
"The whole game was an absolute grind," Hadley said.
"We couldn't really push ahead by too many kept going everything ebbing and flowing, but to get majority of the squad out there in an intense battle, it's only going to be in good stead for the next two games."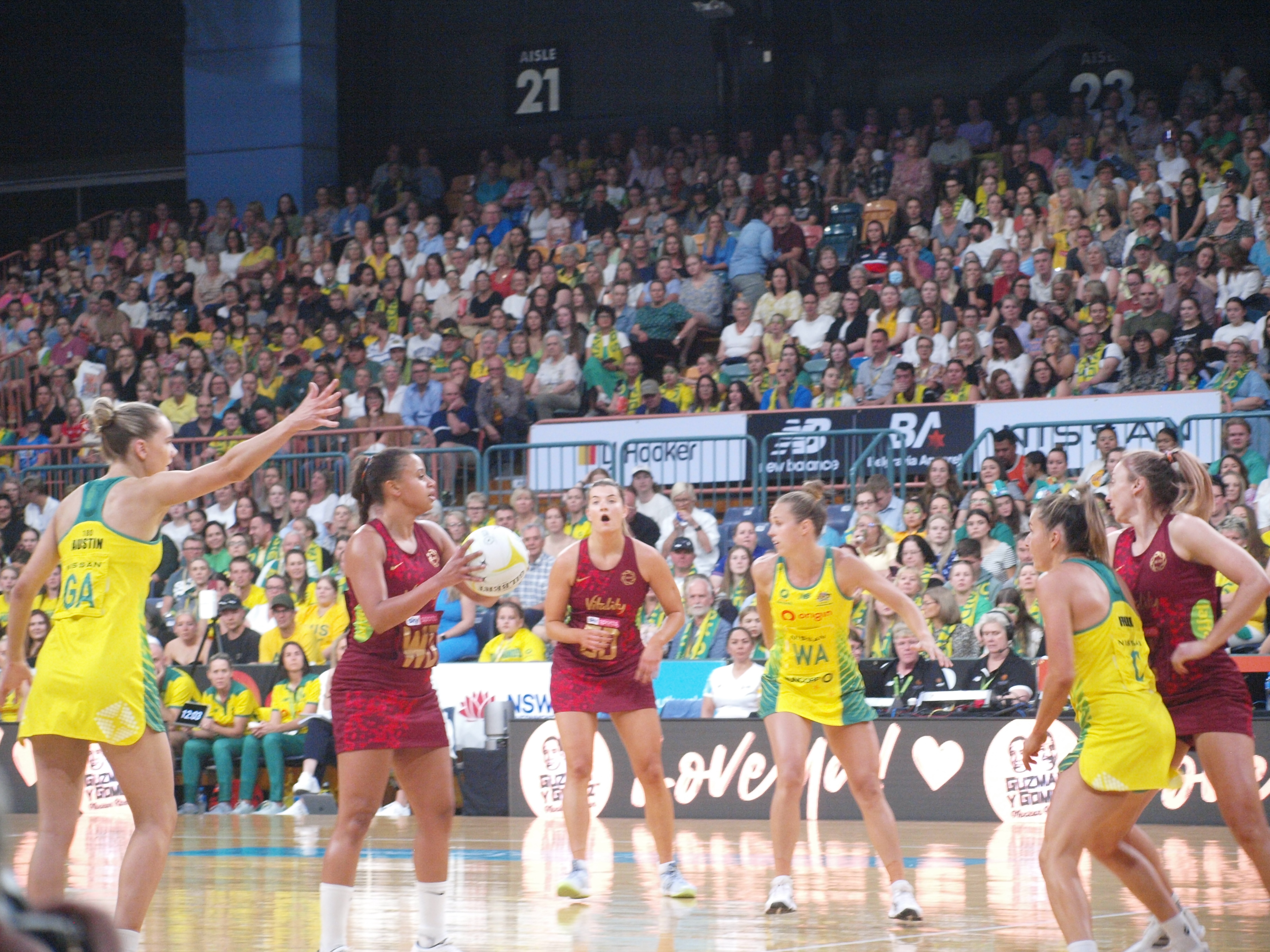 For Hadley, it was a welcome return to the court in the golden dress, after missing most of the Commonwealth Games due to injury. Her return was marked by her first game as Diamonds captain, in the absence of Liz Watson.
"It's an absolute honor. Obviously, I never thought in my diamond journey that this would be an opportunity. So to have a first game like that well you know, obviously my first game back in a very long time with my injury so really special and really proud that we could keep our heads together.
"The injury really showed me how much I love this team, being a part of it. So to be out there and stays trust me for 60 minutes to be out there.
"It was it was really special. But yeah, obviously to have [Maddy Proud] you know, obviously played alongside her for a few years. It's so slow and so to be able to make that transition together in the green and gold is special and that's something we've been working towards."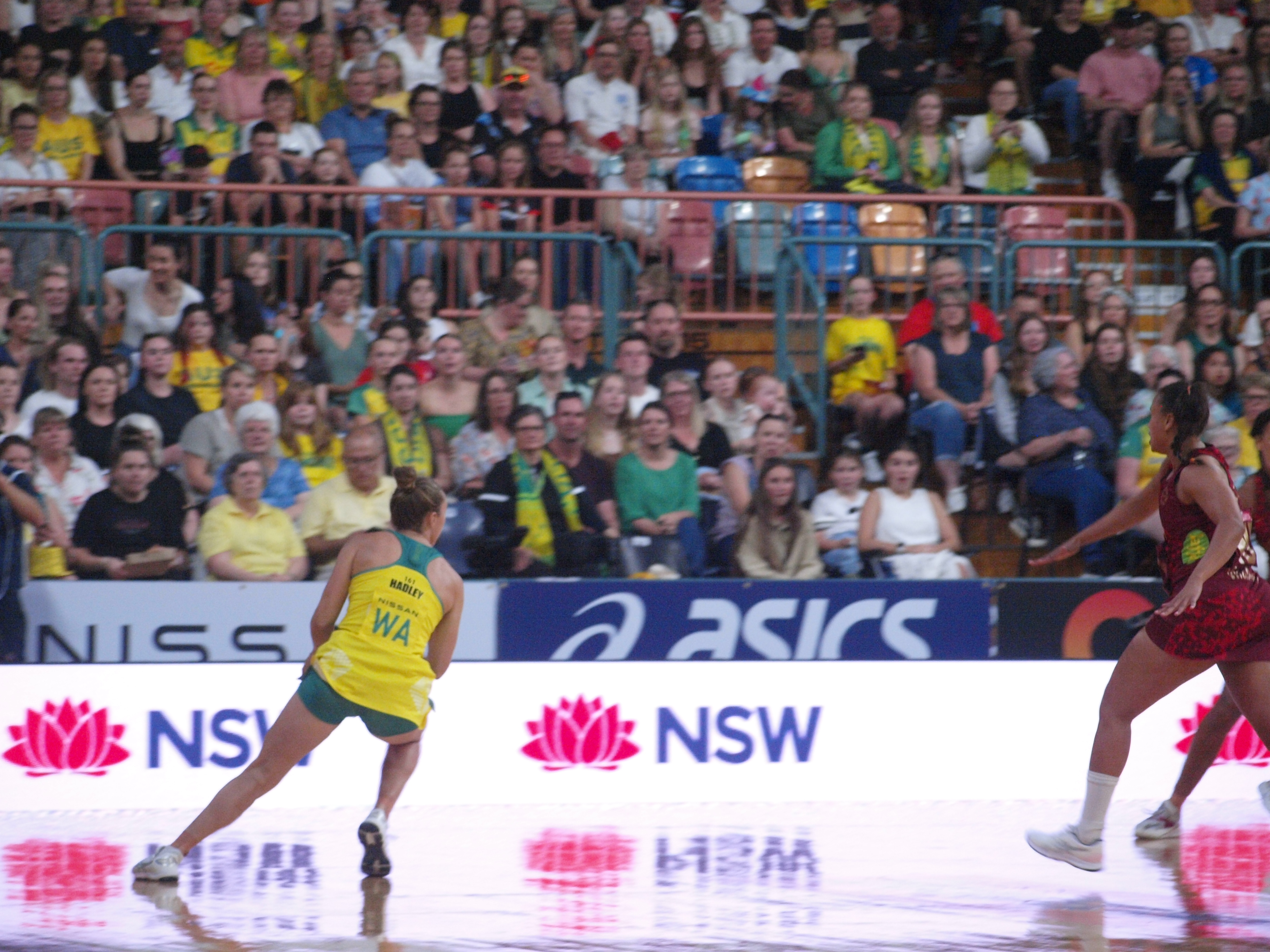 Across the court, Jess Thirlby was measured in her assessment of the outcome.
"It's great for the neutral [fan], of which I am not," Thirlby joked.
"On balance, I've got to be so proud with what we've been able to put out there. We've come overseas, pretty green off the back of the summer within a really exciting group.
"We just wanted to make sure that we were in games really across these three matches and I thought we did a really great job at holding them to account - we were up for long periods of the game."
For Thirlby, she was full of praise for Funmi Fadoju, who starred in her first action against the Diamonds.
"She's kind of out there now. She's arrived on an international stage, which is shame, I kind of wanted to hide her just a little bit longer.
"She's been training really well, she's she's young, and she's young in lots of ways, but that just is so freeing. I think you saw that fearlessness in her tonight and she's a very intelligent young girl.
"I also love the fact that when when any player breaks onto the scene, they have this kind of honeymoon period. I'm not sure how long Funmi's will be because I'm sure the Diamonds will do their homework.
"What a great entrance for her into that goal keeper role. To have won so much ball, to be fair to the players out in front - they really helped her to shine, but also to give Funmi credit, she really celebrated the work that was being done out in front from the likes of Jade [Clarke] and [Imogen Allison] and Fran [Williams]."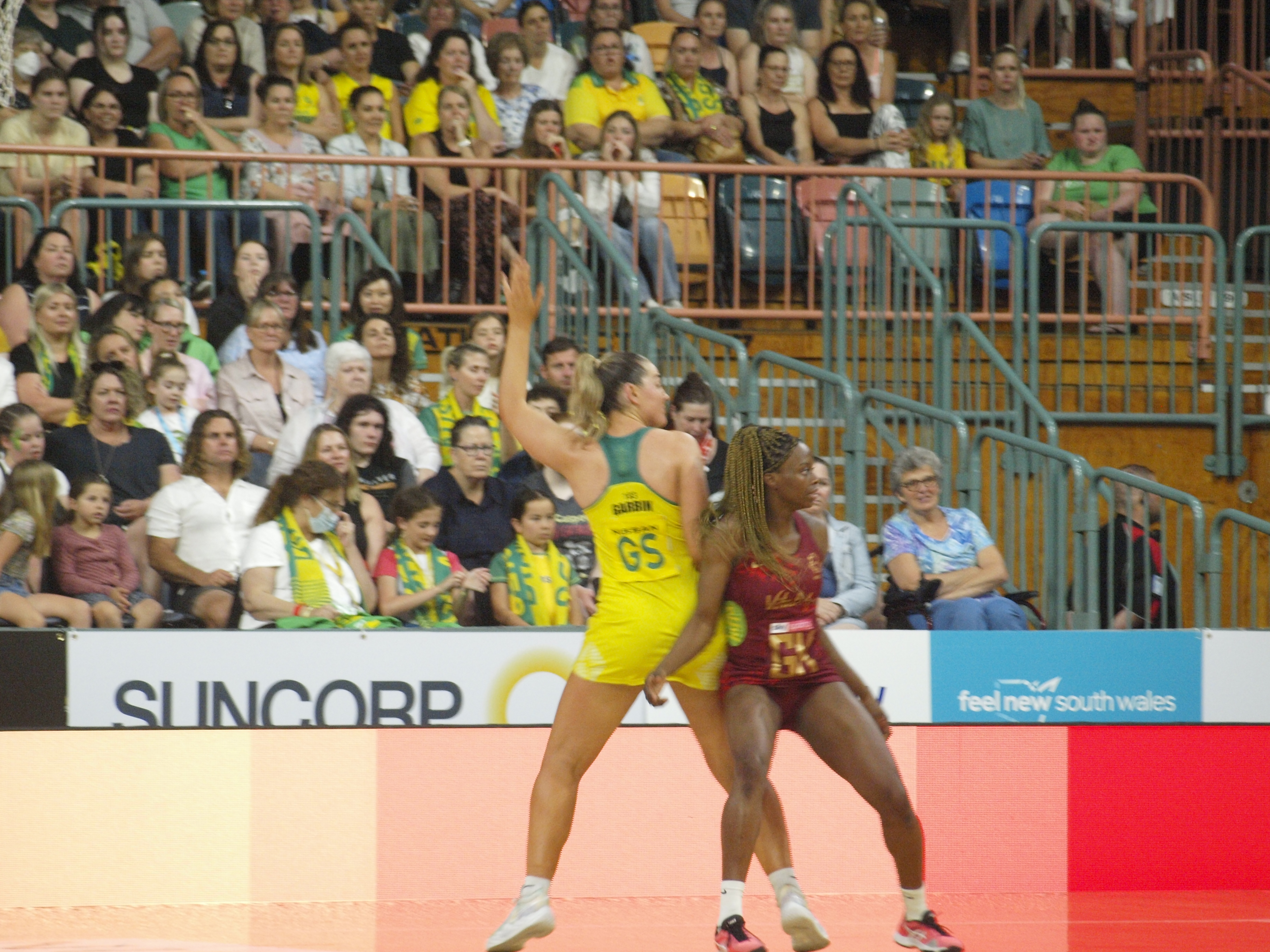 Williams spoke after the game about how exciting it was to see her teammate shine like that.
"Nothing surprises me when it comes to Funmi," Williams explained.
"They're the kind of intercepts that we see we can week out at training and in our league back home, so just such a star to come on in such a moment like this in such a big Test match against the World Number One.
"For her to still just deliver what we know she's so capable of and more. She did an incredible job and I'm just super, super proud of her."
Williams was by no means a teammate living in the shadow though, as she played a starring role in goal defence herself for much of the match.
"It was my second Cap against Australia.
"It's always a privilege to kind of challenge yourselves against what's best and to do it here with my favorite team, the Roses, just a complete honour and I felt so backed up and supported by the whole squad today."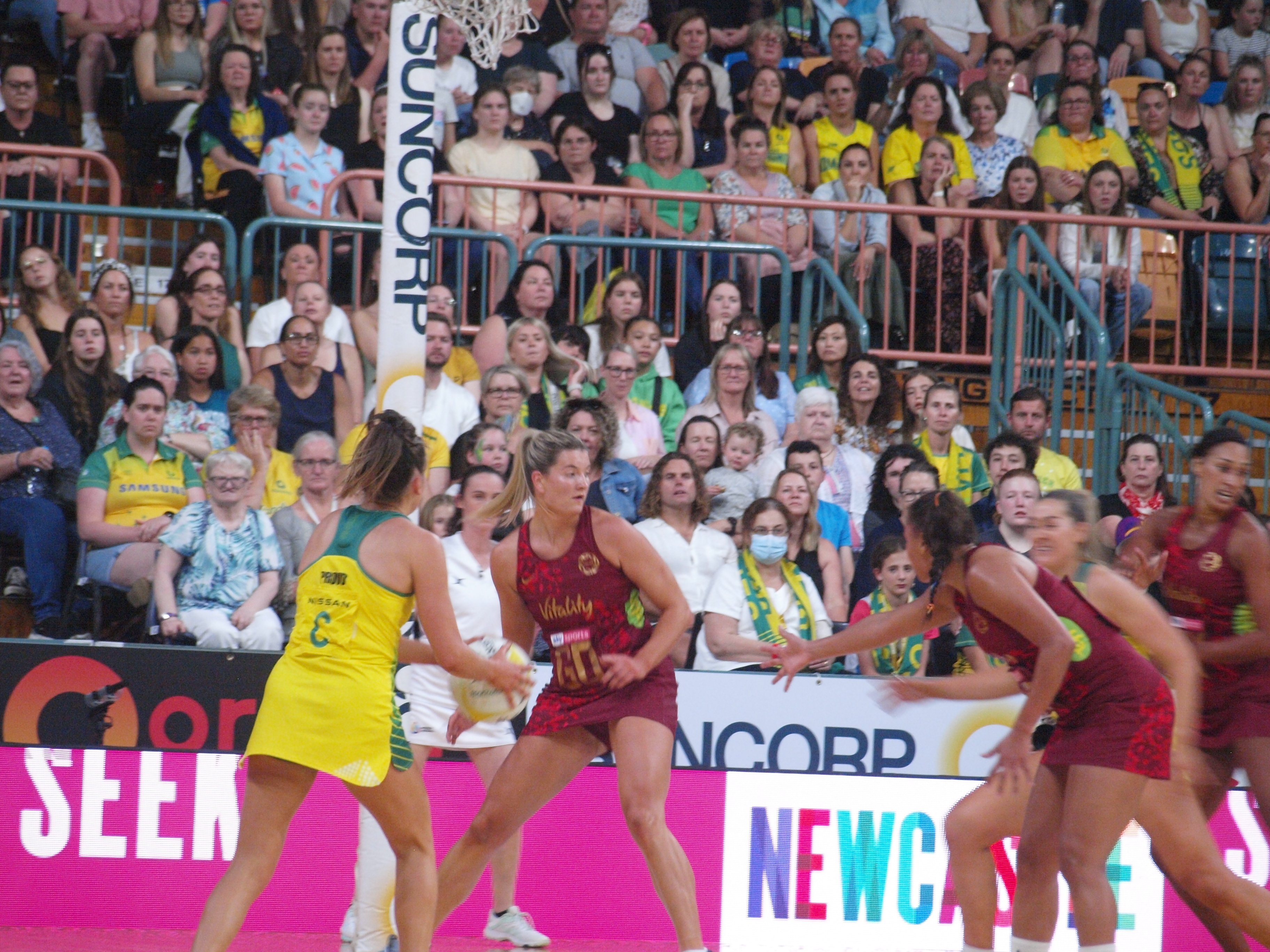 For the Roses, it will be back to the drawing board, while the Diamonds will look to ride the waves of positivity into Sunday's clash in Sydney.