Perth Glory's Deborah-Ann de la Harpe hit the headlines last weekend with a sensational goal in her team's 1-0 Liberty A-League Women win over Western Sydney Wanderers. It capped a superb few weeks for the 21-year-old, and she spoke exclusively toEdge of the Crowd's Ben Gilby about her footballing journey, Young Matildas experiences, and life with the Western Australia club.
Deborah-Ann de la Harpe has never been playing better. Whilst her incredible free-kick goal for Perth Glory which beat Western Sydney Wanderers rightly took the plaudits, it was the mere icing on the cake.
Throughout the match, the youngster was dominant along the right wing. She produced insightful passing and dangerous crosses into the box. Her viciously inswinging corners into the near post were causing regular chaos in the Wanderers defence.
The rocket-propelled free-kick that de la Harpe sent flying into the far corner of the net to take all three points was no surprise. The previous week at Newcastle, the Perth star saw a powerful effort come cannoning back off the bar.
For de la Harpe, her current level of performance is the culmination of a footballing journey that started in her hometown of Caringbah, 24 km's south of Sydney.
"I always loved playing football because it brought me so much joy, de la Harpe told me.
"Growing up with three older brothers, I was kicking a ball with them as soon as I could walk! After a year of begging my parents as a three-year-old, I started playing at my local club Cronulla Seagulls with boys. I went into NPL when I was 10 with Sutherland and later joined NSW Institute from 14-17.
"I really enjoyed my time at the Institute coupled with my training at Westfield Sports High where I went to school. Getting to train and play with such a strong age group of talent every week was awesome and made me better.
"I had some difficult injuries throughout 2017/18 however I was able to represent the Young Matilda's at the under 19 AFC Asian Championship after my season with North West Sydney Koalas in 2019."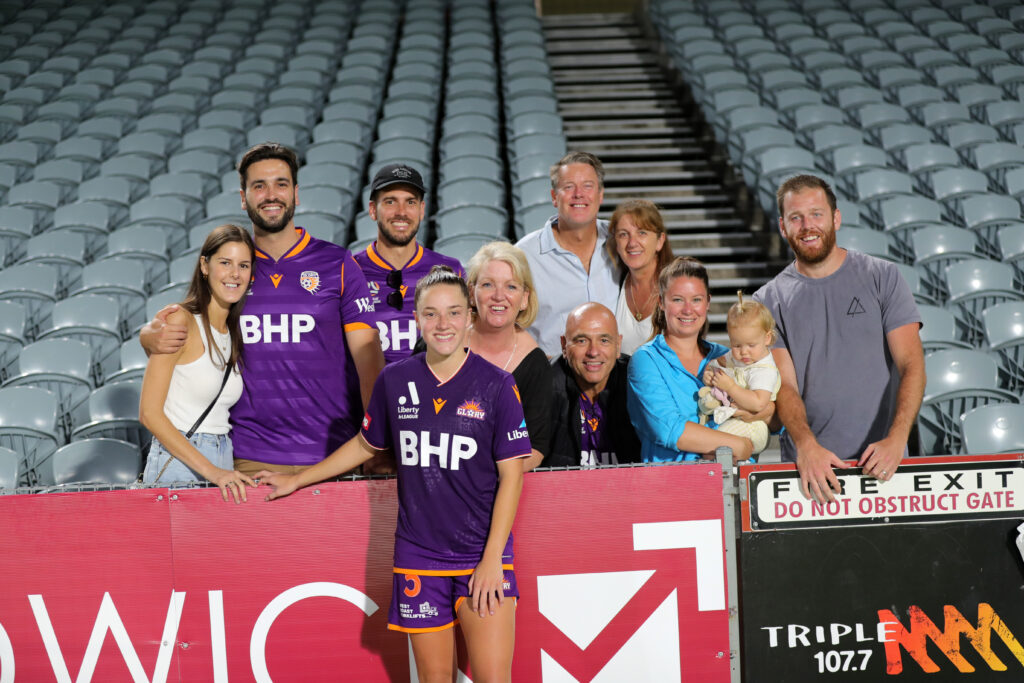 Those few weeks with her country at the Asian Championships were moments that still bring back huge pride for de la Harpe.
"It was a huge goal of mine that I had for so many years. There is no better feeling than accomplishing a goal. I was so driven in my teenage years to make that squad and it paid off.
"The feeling of representing your country was amazing and to be amongst a group of girls I had done most of my teenage footballing journey with was awesome. It gave me a taste of what the international level is like and I hope to represent my country at the highest level one day."
de la Harpe continued her forward progress and in 2020, was awarded her first W-League contract on the other side of the country with Perth Glory. She has additionally represented top NSW-based NPL Women's side APIA Leichhardt.
"I'm grateful for my continuous football journey. Whilst there have been a few setbacks when I was younger through injuries, it makes this moment of playing in the A-League Women so much sweeter.
"Football gives you the opportunity to grow so much as a person continuously bettering yourself on and off the field. I've always tried to find joy in the midst of every season."
It has been a tough two seasons to be a Perth Glory player. Last year saw the team only received permission to take part in the W-League late in the day due to COVID restrictions in Western Australia. de la Harpe reflected on those challenges.
"I personally learned so much that year and it's carried into this season. Making the move from NSW I was just purely excited. I had no expectations. It was something new and Alex [Epakis, head coach] had given me an opportunity and I wanted to take it with both hands.
"Having such a well connected and welcoming team made it so easy to fit right in. It was really easy for me to sign a new deal at Perth, I really wanted to be a part of this journey because I knew there was so much more we could give this season and achieve as a team.
"When we won the first game of the season it was just the best feeling. I had goosebumps I was just so happy to be a part of this story. What a turnaround and what a resilient group.
"It's a really great environment as well and it wasn't a question to come back in purple for another season."
This season, whilst Perth is playing exceptionally well on the pitch, the challenges are arguably greater off it. Being forced into a North Sydney hub due to COVID restrictions in Western Australia which are now of an "indefinite" length, the club is effectively stranded almost 3,300 km's from home.
"Yeah, it has definitely been challenging. To be honest, this group of girls and staff has dealt with so many challenges already that we have built such a strong mindset and resilience.
"In terms of being based in the hub, I would say it's a lot more challenging for my teammates who are separated from their loved ones and support systems at the moment. I'm grateful I can see my family [as they are NSW-based] but obviously, I had made the commitment to leaving Sydney knowing I wouldn't see them.
"However, this was very unexpected for the others. We have a very supportive environment though and we all look out for each other. Our communication as a team is a strength of ours we always regroup and are very open with each other. Alex [Epakis] is great like that. I think we are dealing with hub life really well as a group."
With de la Harpe emphasizing the importance of Alex Epakis in growing a strong sense of togetherness in the Perth squad, I asked her to explain in a bit more detail why she enjoys playing for him so much.
"Alex is really easy to work with. One thing that is great about him is he is always honest and always wants the best out of you.
"He really takes the time to get to know his players and their goals. Having a coach that is able to give you honest feedback and take the time to get to know you as a person is awesome.
"I'm grateful to him that he gave me my first opportunity in the W-League and really backed me and I feel I have grown so much these last two seasons as a result.
"It's another reason why I wanted to come back in purple as I'm continuously learning a lot from him, which is what you want as a player - to keep bettering yourself."
All of these factors explain why Perth Glory has produced arguably their best two performances of the season amidst the backdrop of a COVID outbreak, injuries, and being so far from home.
"We don't let setbacks take away from our focus and purpose. If anything it makes us stronger and come together even more," de la Harpe explained.
"I'm just really proud of all my teammates and the staff it honestly says a lot about who we are and I'm sure you can even see how far we have come in such a short time.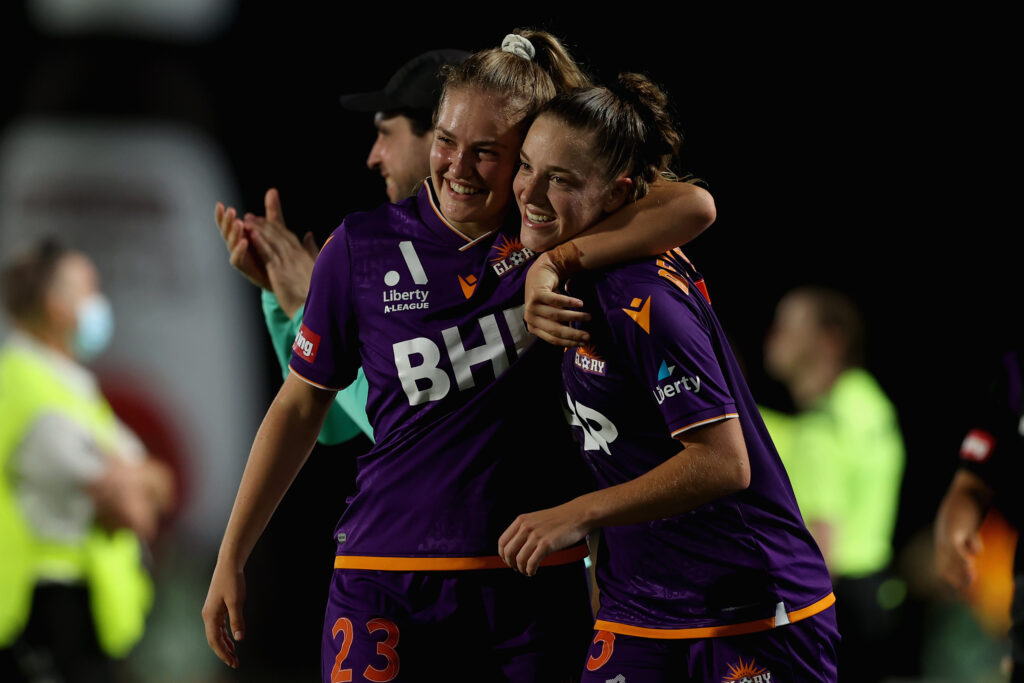 "Each player and staff member play such an important role on and off the field and we are more driven than ever to accomplish our goals for this season."
Having seen every one of her performances for Perth, I put to the 21-year-old that she's never played better in a purple shirt. This form has come about at the same time as an enforced switch to the right-wing from full-back.
"I used to play right wing when I was younger so I was actually excited. I felt like a 15-year-old again. I really love to attack especially when I play as a fullback so it was a little further up the park for me but I'm absolutely loving it.
"I feel I have always been versatile. It's encouraging that Alex has the confidence in me to play me in multiple positions and sees this as a strength.
"I just always want to give 110% for the team no matter where that is. As a team, I was just so happy for us. I feel like we controlled the game and really played our style.
"My personal aims for this season are to continuously build on each game and play consistently. I always want to do all I can to contribute to the team whether it's defensively or in my attack."
Glory's new midfielder feels that her team is continuously moving in the right direction.
"The Newcastle Jets game [a fortnight ago] was definitely our best performance yet. We built on this even more in the Western Sydney Wanderers game at the weekend which was awesome.
"I'm so proud of this team it really displayed our fight and resilience being away from home and all the sacrifices everyone has made."
de la Harpe believes that if the Western Australian side can maintain their level of performance, then anything is possible.
"A good season for us will be consistently executing our style of football and building each week. Ultimately leading to competing in the finals series.
"Without a doubt, we are more than capable of [achieving]. I believe we have looked more threatening than ever in the last few weeks and I'm so excited to see this continue and become strong contenders for finals."