Perth Glory's Americanstriker Cyera Hintzenis fresh from playing her first games in the Liberty A-League Women competition. She spoke exclusively toEdge of the Crowd's Ben Gilby abouther growth as a player and how happy she is to be in Australia.
At the age of 24, she is one of the more experienced players in Perth Glory's exciting young team this season. She has represented the USA at under-19 level and played UEFA Champions League Football for Icelandic champions Valur.
Hintzen had a strong college football career at the University of Texas, with whom she was named as the Big 12 Conference Player of the Year in 2018 after scoring 10 goals and contributing nine assists.
She revealed that coming to Australia to play football was something that had been on her wish list for some time.
"I always wanted to play in Australia before I graduated college, I had seen former teammates and friends do it and they always talked about how good an experience it was for them.
"Playing overseas was always something I looked forward to doing throughout college and Australia was one of those places where I could become a better player, learn new things, and also have an unreal experience in a place that many people dream of going to."
Hintzen has learned a lot from the beginning of her career. Whilst she certainly has not had it easy, her past experiences have helped her to develop both on and off the pitch.
"A lot has changed for me from junior football to now, I feel like when I was younger, I was looked over a lot and was nervous about what my future would look like.
"Now each year I've grown more than the previous year which feels good because as a person and athlete you always want to improve in everything that you do. I think things changed for me in college, my understanding and vision of the game really improved which I think has helped me now as I transitioned professionally."
The striker was happy to highlight some of the learning moments of her career.
"My time playing Champions League and also with the [USA] U-19s both taught me how important tempo of the game is and how if you can go forward, then be confident and go.
"Both are high pace environments and if you want to excel and be your best, you have to be able to play quick, think ahead about what you want to do with the ball, and pick and choose those lethal moments to go."
With Hintzen new to the A-League Women this season, she is well-placed to offer an opinion on the quality of the competition and her club: "It is a great league, we are all surrounded by great players and many have so much experience whether that be in Australia, with their national teams or internationally.
"My favourite part about the game is, everywhere I go, it is an opportunity to learn from the players around me and continue to take that information with me. It's physical here and I've noticed a lot of games where there are a lot of goals, so as a striker it's exciting.
"For our team, I believe we are capable of more and putting together a full 90 minutes. But we are definitely working on that and trying to improve on things we want to do differently each week.
"We also have a lot of new players playing together for the first time, so we are getting better with the chemistry each game and it will continue to improve the more we play together.
"I want to learn from the girls and help the team as much as I can to reach our goals as a team. With my experience internationally, I hope some of my information or things I do can be helpful to players on our team as well. I want us to compete and battle every game and help improve from last season.
"Alex Epakis is a great coach, he is all in with the team and he believes in us as a team and individuals. The thing that stands out to me is how much he truly wants the best for all of us and if there is anything we need, he is always there. It's nice to have a coach who genuinely cares about us."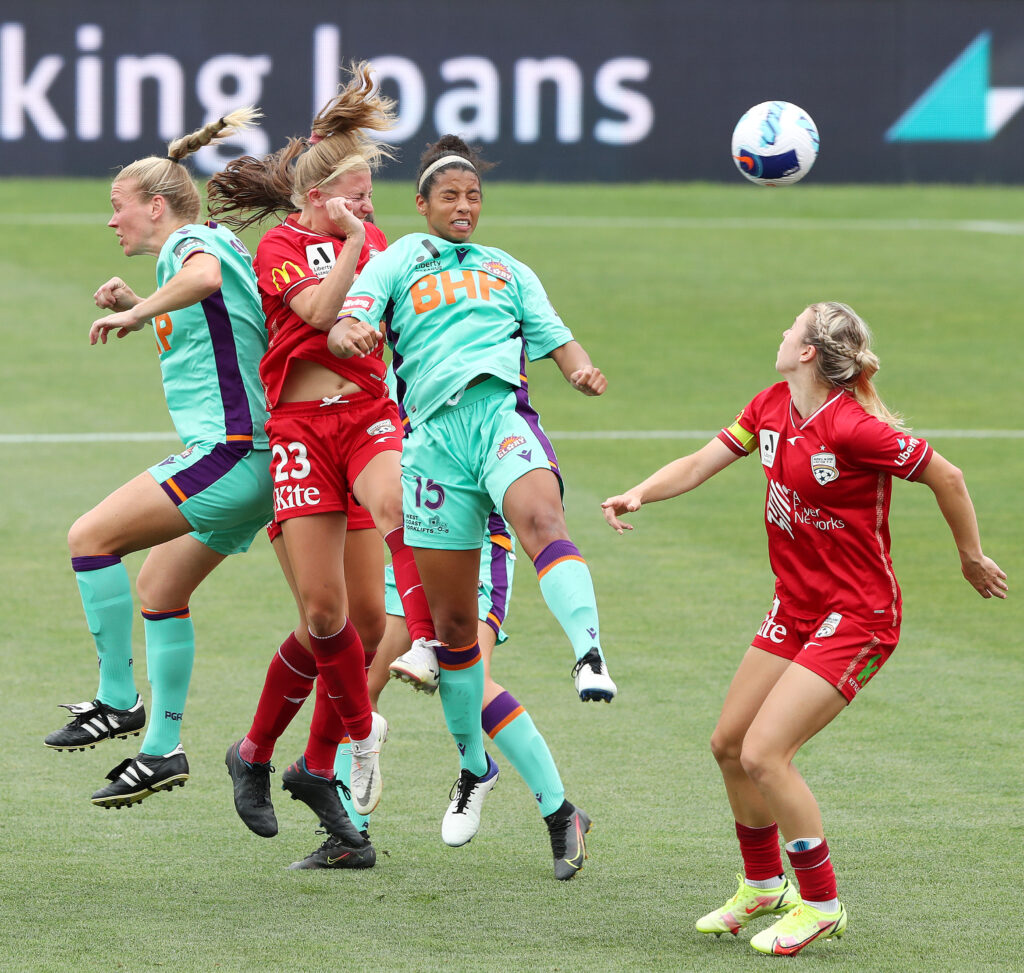 On top of moving to a new country and being part of a new team, Hintzen has the additional challenge of spending at least the next month with her team based in a hub in North Sydney due to Covid restrictions on the Western Australian state border. However, it's a situation that she sees positives in.
"For me, it's exciting because this is my first time in Australia. Being able to live in Perth and stay in Sydney for five weeks is kind of a plus in my eyes because it's all so new and exciting for me to travel and explore.
"It's a fun experience because this is a challenge that we all get to face together as a team. Our team is very good at supporting one another and being there for each other if we ever are struggling, which is nice, especially in a time when you can feel a bit isolated.
"The only downside is with COVID, everything is a little different and I know my experience might not be the same as it would've been a few years ago. We are all hesitant to go anywhere because we don't want to put ourselves or the team at risk, so there's not much to hub life besides training, going on walks, and cooking dinner with your roommate."
With Perth Glory having won two and drawn one of their opening five matches, the team harbour realistic hopes of challenging for Finals football this season. Hintzen is positive that if the team keeps improving and sticking together, then good things will happen.
"We need to battle in every game and not take anyone lightly. We need to be working together and for each other, not individually. I never like to say how many games we should win or "if we win this game, then this will happen" because I like to focus on one game at a time.
"As a team, I think if we work hard for each other, play our game and focus on one game at a time, then good things will happen for us this season."