Our Aussies have continued their brilliant performance carrying onto the second day at the 2022 Birmingham Games. Australia has captured a further 11 medals, including five gold medals on Day 2 to hold their top position on the medal tally.
Jess Stenson Leads Australia in the Marathon
Jess Stenson dominated the women's marathon, taking the gold home with a blistering time of 2:27:31 with her son, Billy cheering his mum on from the sidelines.
After finishing third in both the 2014 and 2018 Commonwealth Games, Stenson now stands top of the podium as she becomes the first woman to claim a medal in three Commonwealth Games marathons.
Liam Adams finished just shy of a podium finish after setting the pace early and leading the pack for 25 kilometres, an emotional finish as he came seven seconds behind third place. Andy Buchanan was not far behind in seventh place with a time of 2:15:40.
Australian para-athlete Madison de Rozario added another gold medal to the collection continuing her amazing victory in the women's T53/54, finishing the event with a time of 1:56 for a Games record. Christie Dawes finished in fourth place with her season-best performance of 2:07:02.
Emma Mckeon Makes History in the Swimming
Emma McKeon won her tenth Commonwealth Games gold medal an incredible achievement for anyone to achieve. She now equals the all-time record Commonwealth Games record shared with swimming superstars Ian Thorpe, Susie O'Neill and Leisel Jones.
Our Aussies dominated in the pools with a haul of three gold medals. Katja Dedekind set the first world record as she powered home to win the women's 50m freestyle S13 final.
The men's 4x100 freestyle relay saw many of our Aussies finish on the winner's podium, while McKeon (100m butterfly) and Brendon Smith (400m individual medley) captured silver medals in their brilliant performances.
Bradley Woodward (100m backstroke), Elijah Winnington (200m freestyle), Jacob Templeton (100m freestyle S13) Brianna Throssell (100m butterfly), Kiralee Hayes (50m freestyle S13) and Chelsea Hodges (50m breaststroke) all finished with bronze medals.
Women's Rugby 7s Upset Champions
The women's rugby 7s team is through to a gold medal showdown against Fiji tonight following their thrilling upset win over defending champions New Zealand (17-12) in the semi-final.
The men's rugby 7s team has advanced to the semi-finals after their convincing victory over Samoa (7-0), they are take on South Africa tonight.
Maeve Plouffe and Connor Leahy Cycle a Brilliant Race
Maeve Plouffe won silver in the women's 3000m individual pursuit, with Connor Leahy winning his second bronze medal in the 4000m individual pursuit.
Aussies Impress on the Courts
The Diamonds are as brilliant as ever posting their second victory in just days, with a thumping victory 53 goal win over Scotland (83-30). Daniel Johnson's was dominant with his shooting, leading the men's 3x3 basketball team to a Trinidad & Tobago (21-7).
Aussie Women Showing Their Strengths
Our Hockeyroos took to the field in their first match, thumping Kenya in a convincing victory (8-0). Jess Turnball could not have had a better start to her debut in the Commonwealth Games with a win.
Romi Brown, Georgia Godwin, Kate, McDonald, Breanna Scott, and Emily Whitehead put on an amazing performance to claim the silver medal in the women's artistic gymnastics team.
Six-time representative Jian Fang Lay led the women's table tennis team in a convincing win, storming into the quarter-finals, she combined with Minhyung Lee to win both matches.
Aussies Fight to Make a Comeback
Australia's mixed team gave number one seed India an almighty scare putting in a terrific performance against the defending champions. Unfortunately, India showed why they are first seed and were too strong for the Aussies in the end.
Lawn bowler Ellen Ryan made a sensational comeback to win over Canada's Jordan Kos (21-17), whilst the men's triple team of beat Jersy 15-14 to complete a 3-0 sweep of their group.
More Aussies Push Ahead of First Match
Chris McHugh and Paul Burnett claimed victory in their first match in men's beach volleyball. Aussie featherweight boxer Charlie Senior boxed his way to a nice victory as he won his first bout on points. Senior defeated Nauru's Christon Amram in the round of 32.
Aussie Paralympian's Continue Terrific Performance
Our Aussie para-women's pairs remain undefeated in their pool games defeating both South Africa (18-7) and New Zealand (19-8). Our Aussie para-men's pairs team rallied for a 21-15 win over Scotland.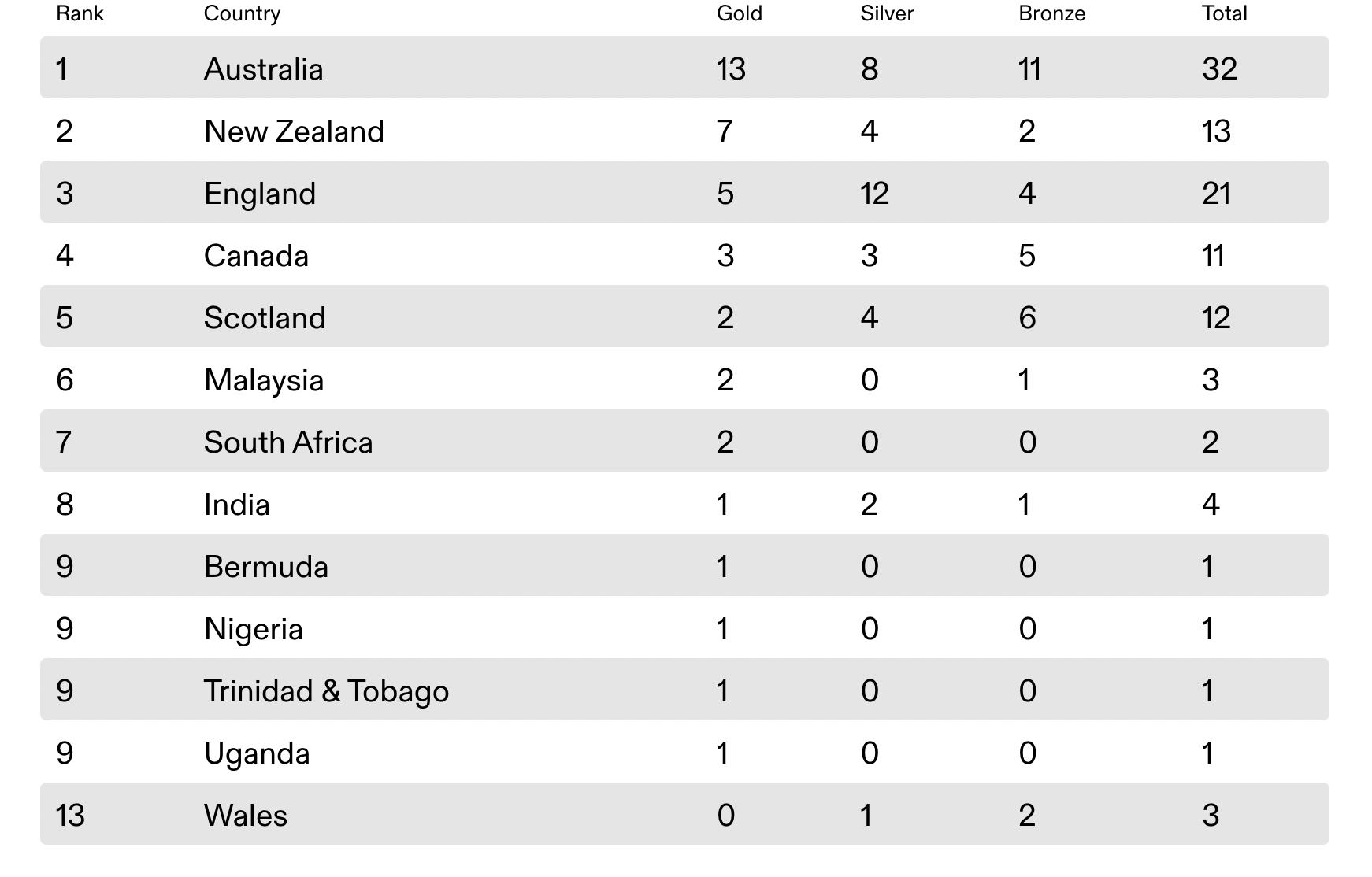 More of our Aussies are in action for the third day of the Birmingham Games and are planning to further add to their medal tally.