Australia has announced the first two athletes on the Australian Winter Olympic Team for Beijing 2022, with Curlers Tahli Gill and Dean Hewitt set to make history as the first representatives for the country since it became a medal sport in 1998.
The pair secured their mixed doubles quota spot after an undefeated run in the Olympic Qualification Tournament in the Netherlands in December and was nominated by the Australian Curling Federation to be officially selected by the AOC.
Australia has previously competed in Curling when it was a demonstration sport at Albertville 1992, however, with today's selection 22-year-old Gill and 27-year-old Hewitt will become Australia's first official Olympians in Curling.
They have shown they are in the top tier of world Curling, finishing fourth in the 2019 World Championships in Norway, and winning seven straight matches to secure one of only two quota spots on offer at the final Olympic Qualification Tournament.
Curling qualification is competitive, as no country other than the host nation, got automatic qualification for Beijing 2022 and only 10 nations are represented in the mixed doubles. The top seven from the 2019 World Championships qualified, plus China and the final two spots were decided at a tournament in the Netherlands last month.
The Australian pair beat Korea in the final match to secure the quota placing and it was only a matter of formalities before they could be announced as Australia's first Winter Olympic Team athletes for the 2022 Games.
Gill and Hewitt spoke to media on Zoom after the announcement from their pre-Games set up in Alberta, Canada, where they are bunkered down, training and avoiding Covid-19.
"I think it's all starting to feel very real and the Games are coming around really quickly," Gill said.
"We are just so proud and honoured and we just feel very grateful that we've had such an amazing support team for our journey and it's a dream come true for us, so to live it is just something else completely."
For Hewitt, it's "still sinking in" that they are off to Beijing at the end of the month.
"It's pretty incredible, but all the [media] stuff today has been unbelievable.
"Seeing yourself in the uniform and over social media... there's so many things that are just starting to hit home and we're just incredibly grateful for all the support we've had."
Both athletes are from Curling families, with Gill's mother and both of Hewitt's parents competing for Australia.
Hewitt's father even represented Australia at the 1992 Games in Albertville when Curling was a demonstration sport, and his Olympic flag went straight up in the hallway at home as soon as his son had secured the quota place late last year.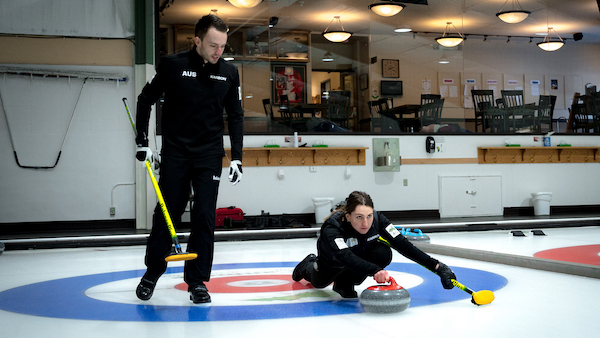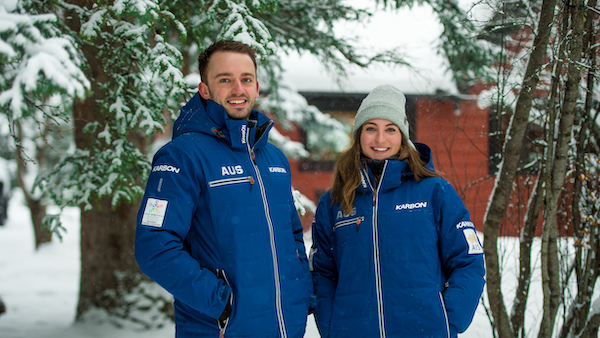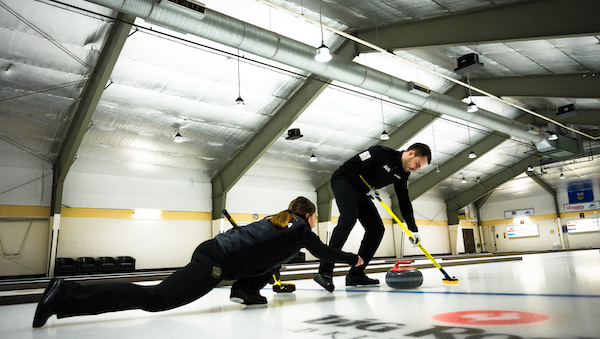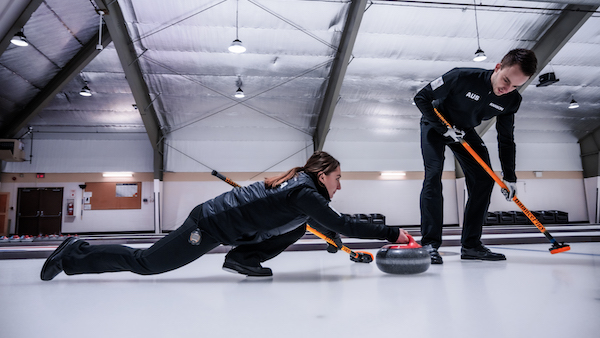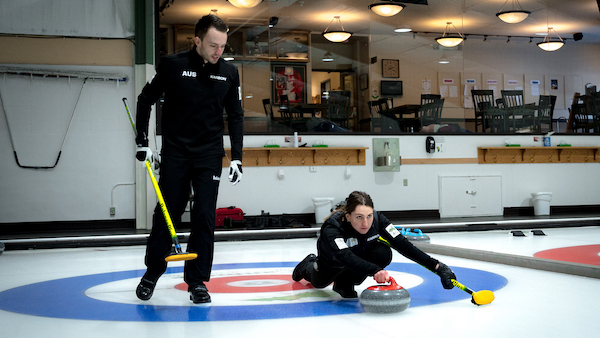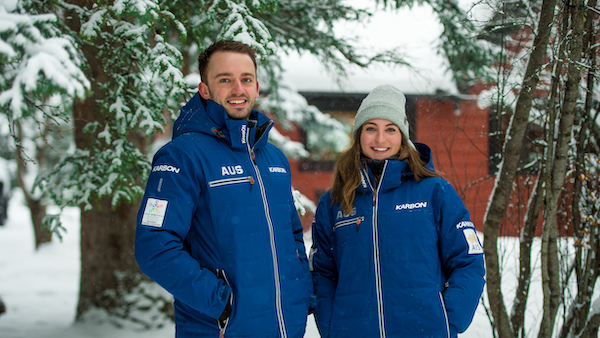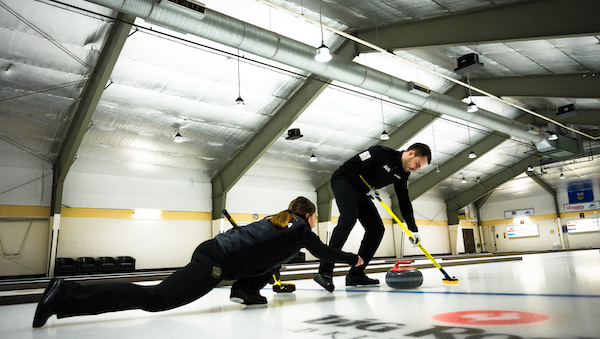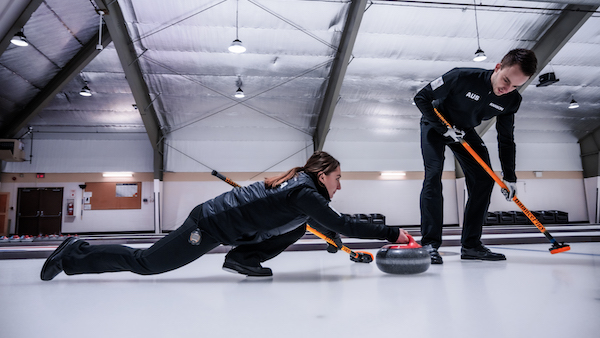 Hailing from Brisbane, Gill spoke about the challenges of the past two years as they worked towards Olympic qualification, and now the Games themselves.
"We don't live in the same state, it's already somewhat restricted when we are in Australia in a non-Covid year," she said.
"As prep, we always have to go overseas to get on ice and compete in event overseas and that added barrier of the Covid pandemic and not living in the same state - it was different for both of us, because we had different restrictions throughout that year...
"But a lot of Zoom calls, a lot of resilience, I'm sure a lot of athletes went through similar things to us.
"It's a lot of change in plans, you have to be super adaptable and we worked quite a lot on our sports psych, with our sport's psychologist, and I think that that has been a really big help for us on how we can handle things that are very unpredictable from a mental perspective."
On the flip side of Gill's experiences, Hewitt was challenged further by being forced off the ice for an entire year, as Victoria was plunged into lockdown.
Some athletes were given permission to train at certain venues, but there is no dedicated Curling rink in Melbourne - or even Australia - and with the ban on overseas travel, Hewitt was confined to a slide in his living room.
"In a usual year it's hard to play together as it is, but when we got to that last year, I didn't actually throw a rock for an entire year there, or even step on ice as it was.
"So that was really tough.
"[I] had the good support of the OWIA (Olympic Winter Institute of Australia), as well as VIS (Victorian Institute of Sport), we got some equipment from them and even had the slide board at home in my living room, which took up the entire room and I was out there sliding just a couple metres, daily, just on and on and on, and sweeping as well, doing intervals, because you need to build up that sweeping endurance."
Geoff Lipshut, the Chef de Mission for the Australian Olympic Team for Beijing, was excited to make the first team announcement and noted what a fantastic milestone it is for the Australian Winter Olympic Team.
"Congratulations to Dean and Tahli, I am thrilled to be able to announce you both as Australia's first team members for Beijing 2022," Mr Lipshut said.
"Dean and Tahli have shown they are not only world-class athletes, but world-class people. They have attacked this Olympic cycle with dedication and determination and have overcome immense challenges to earn their spot at Beijing.
"This is a great day to celebrate not just for Dean and Tahli, but for everyone who has helped them reach this moment. Thank you to the Australian Curling Federation and sport institutes for developing and nurturing their talent from juniors to the elite level, and the coaches, family members and friends who were there every step of the way.
"And for all of those curlers who have come before – thank you for blazing a trail throughout the years that has built towards Dean and Tahli competing on the world's biggest stage this February. Now millions of Australians will see Australian curlers and want to get out there and have a go, to help inspire the next generation of winter athletes.
The Curling event will take place in the same venue that hosted the 2008 Olympic swimming events, renamed the 'Ice Cube' from the 'Water Cube'.
It's an early arrival for the pair, as competition commences two days before the Opening Ceremony.
Hewitt and Gill will start their Olympic campaign against the USA on February 2, and play all nine other teams in a round-robin format from February 2-6, before finals take place from the seventh.