The Adelaide Crows have continued their positive start to the AFLW season with a 13 point win over the North Melbourne Kangaroos at Norwood Oval.
Ashleigh Woodland once again starred in the forward line for the Crows, who, despite a tough fight from the likes of Emma Kearney and Ashleigh Riddell, the Kangaroos were too inaccurate to really trouble the Crows.
However, the Kangaroos had a host of returning faces, including captain Kearney back from health and safety protocols, along with Ellie Gavalas, BrookeBrown and dangerous forward SophieAbbatangelo. Meanwhile, ex-Gold Coast ruck LexiHamilton debuted for the club.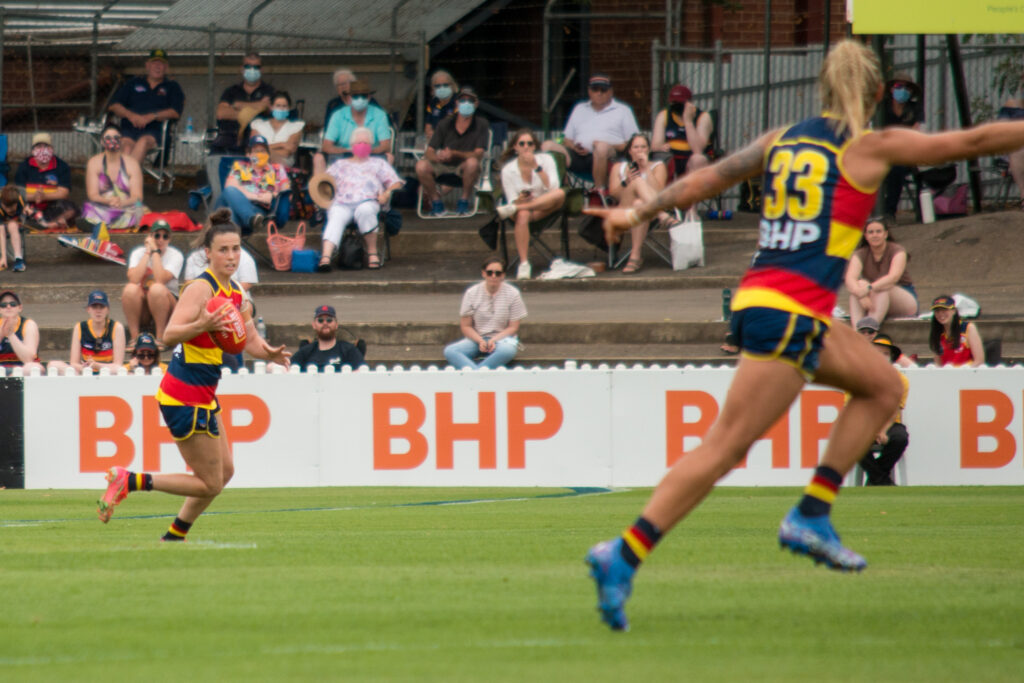 Speaking to theEdge of the Crowdafter the Round Two win, Adelaide Crows' winger Eloise Jones said the side is "really happy" with how the season has started, but admits there's a long way to go.
"It's a really good start to the season, we're obviously really happy with everything, but there's a fair few to go," she said.
"We've been pretty lucky with the two home games, which is always nice, gives you a bit of a better feeling with home crowd and everything like that.
"But, back to the training track this week and then obviously got West Coast up in Melbourne coming up, so [we'll] see how we go there.
"Definitely [an] exciting start to our season."
After her four goal effort in last Sunday's win, Woodland was once again on the goal-kickers list early against the Kangaroos.
She was at ground level as the ball was tossed between the North defenders, she intercepted and snapped across her body to put the Crows on the scoreboard first.
She then slotted an easy one from 20 metres out halfway through the second quarter to help her side push ahead.
Woodland backed it up minutes later with another mark inside 50, she played on and found Stevie-Lee Thompson across goals for a goal assist. Thompson went back and slotted the set shot for the Crows to move out to a three goal margin.
The Kangaroos hit back through key forward Abbatangelo, who just snuck her kick over the line without the Crows' defenders interfering.
Jasmine Simmons marked directly out in front of the goal, just beyond the edge of the square, but she kicked off the side of her boot to register a behind.
At half-time the home side led by 12.
A strong mark overhead in front of her defender put Woodland in a strong position to kick her third for the day.
McKinnon went up for the mark in the defensive goal square, but was unable to help rush it through. The Kangaroos pounced, keeping the ball in play and moving it out to Gavalas who had space to snap the goal, and it was back to 13 point margin.
A chip kick found Jasmine Garner, but she couldn't make it two in-a-row for the Kangaroos, as she missed to the left.
The was a strong period of play from North Melbourne at the end of the third hushed the loud Norwood Oval crowd, but the side was only able to reduce the margin by one point to sit 11 behind at the last break.
Rachelle Martin missed a sitter to start the final term for the Crows, but the crowd continued to roar anyway.
Garner kicked her first, and the margin was just seven with minutes to go.
Kearney (23 disposals), Garner (20 disposals, six tackles, five clearances) and Riddell (27 disposals, four tackles and six clearances) tried hard, but were unable to have the scoreboard impact required to surpass the Crows.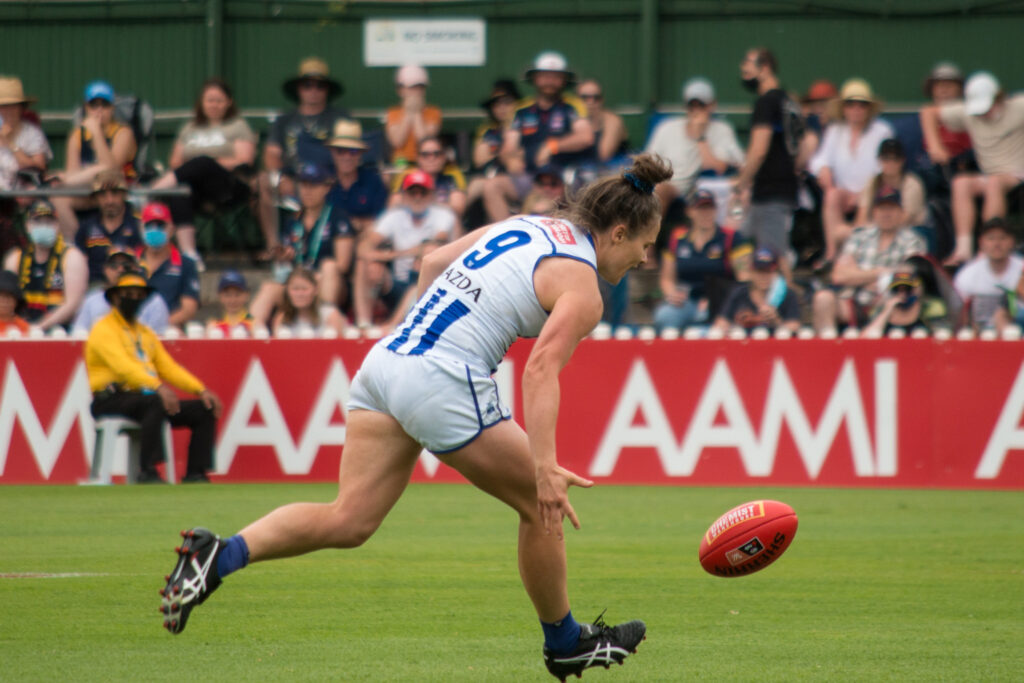 Woodland missed her first chance at a fourth, but got it a short time later to secure the Crows a 13 point win.
The ex-Melbourne Demon returned home to the North Adelaide Roosters in 2020, before getting picked up by the Crows ahead of the 2021 season. She has hit her straps early in the 2022 season, but it's not without some hard work behind the scenes.
"She's been fantastic for us, she's worked so hard in the off-season," Jones said.
"Last week she kicked four goals and she was still disappointed that she didn't take any marks, so she's working really hard and each week she's finding something to get better at and work on.
"She's a fantastic person and we're so thankful she's come back to us at the Crows.
"Her goals, and even her forward pressure and movement, has been outstanding and it's a credit to her - she's worked super hard."
The Crows' forward line has collectively kicked 11 goals in the opening two rounds, with Woodland slotting eight of them. However, her opportunities are coming about because the group is moving for, and with, each other in the forward 50.
Whether it's Woodland or Simmons taking strong marks, or it's the likes of Thompson, Martin and Ponter sneaking around and using their speed, it's a cohesive unit putting scoreboard pressure on from the first quarter.
"It is an exciting forward line, we're pretty lucky down there we've got some speedsters - I think Rachelle Martin [is a] bit of a fan favourite, I reckon every single time she kicked the ball, the crowd got a bit louder," Jones laughed.
"There's a lot of girls that can run down forward for us, a lot of exciting girls that can put scoreboard pressure on as well.
"So, it's really cool how much of a dynamic team we've got… girls that can drop back, drop forward, play in the midfield, so it allows our rotations to work really well and creates an exciting game for everyone to watch as well."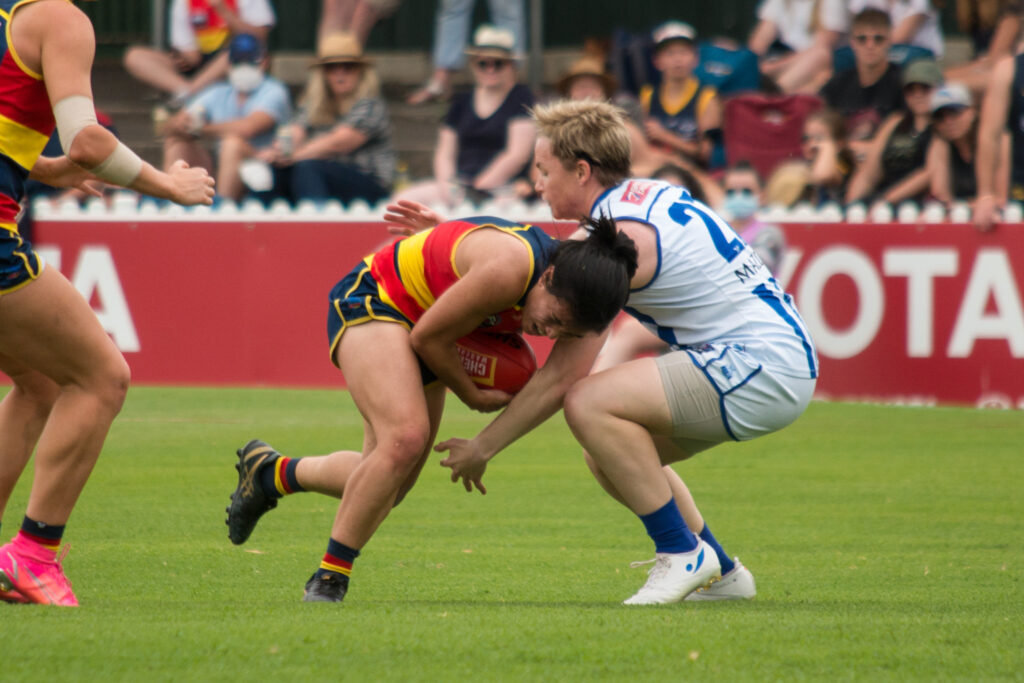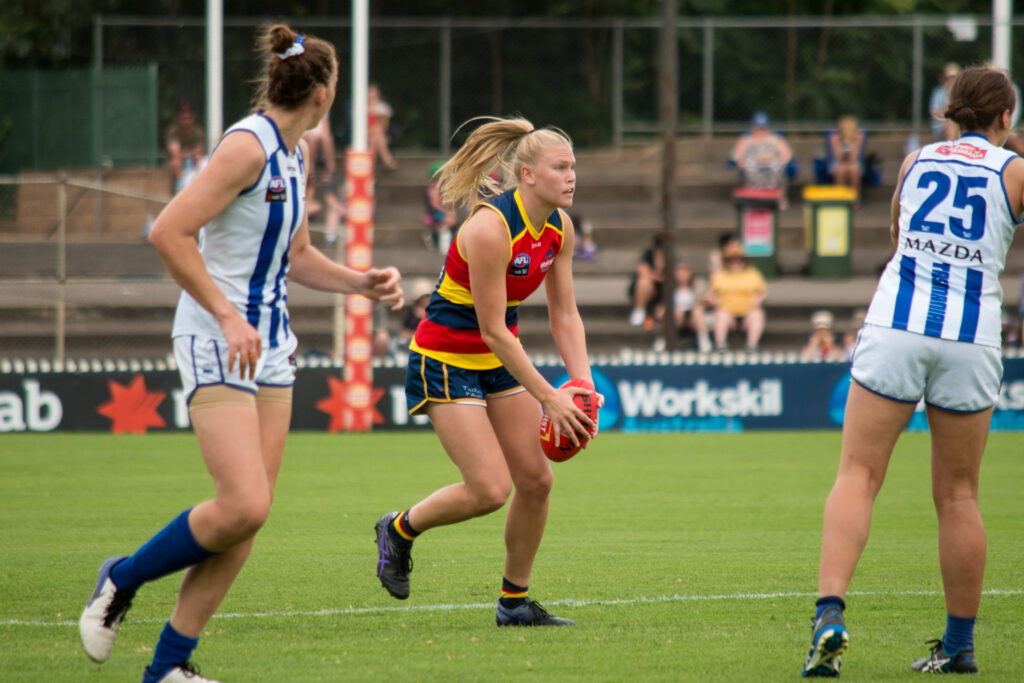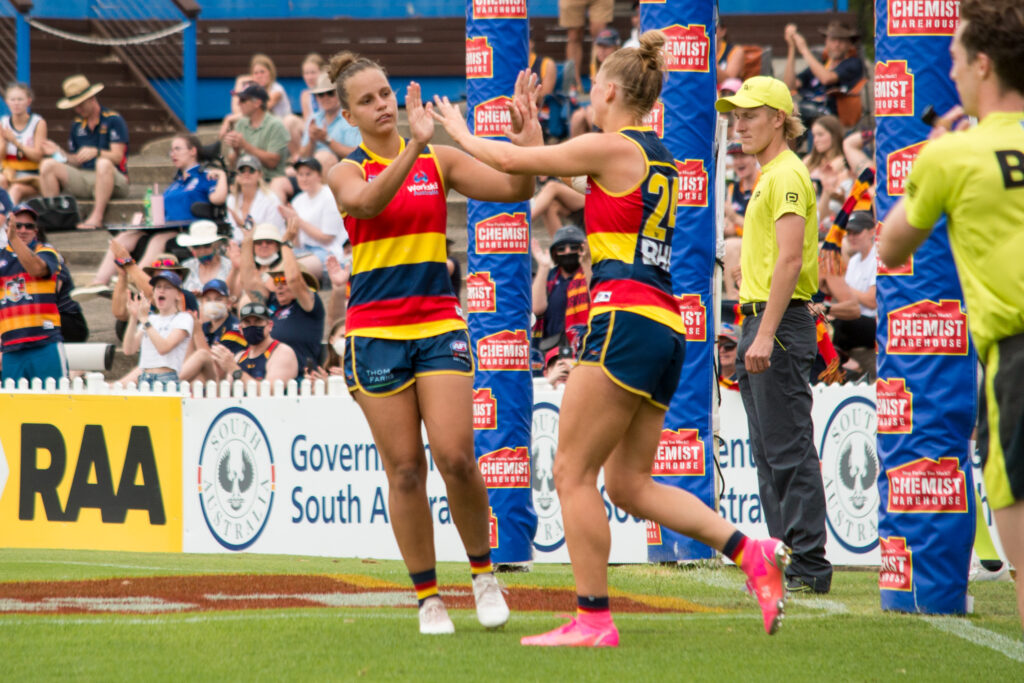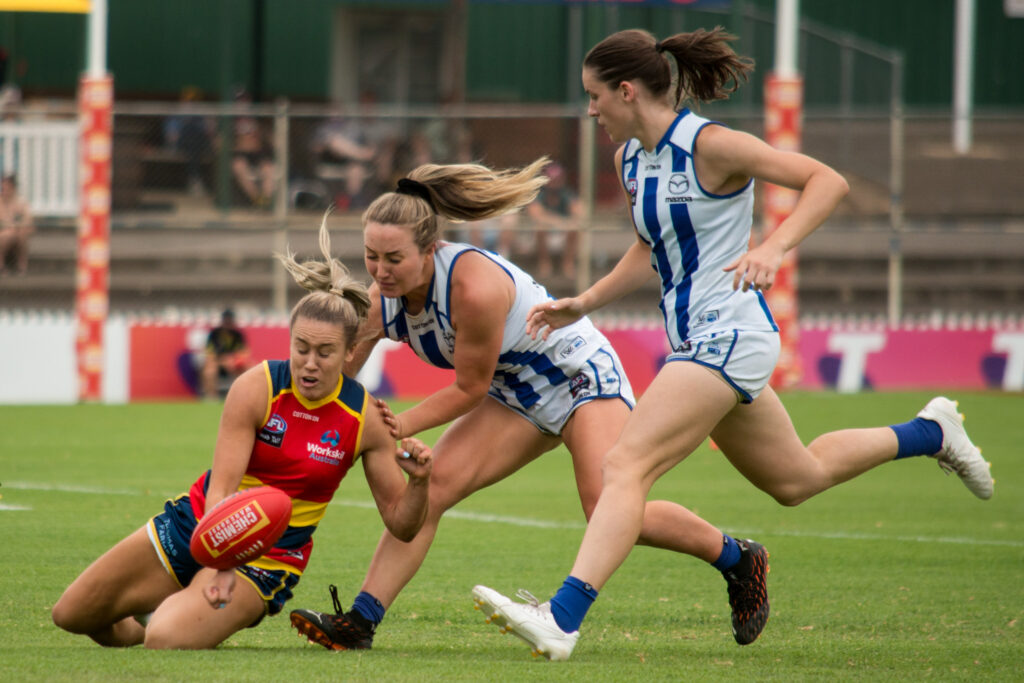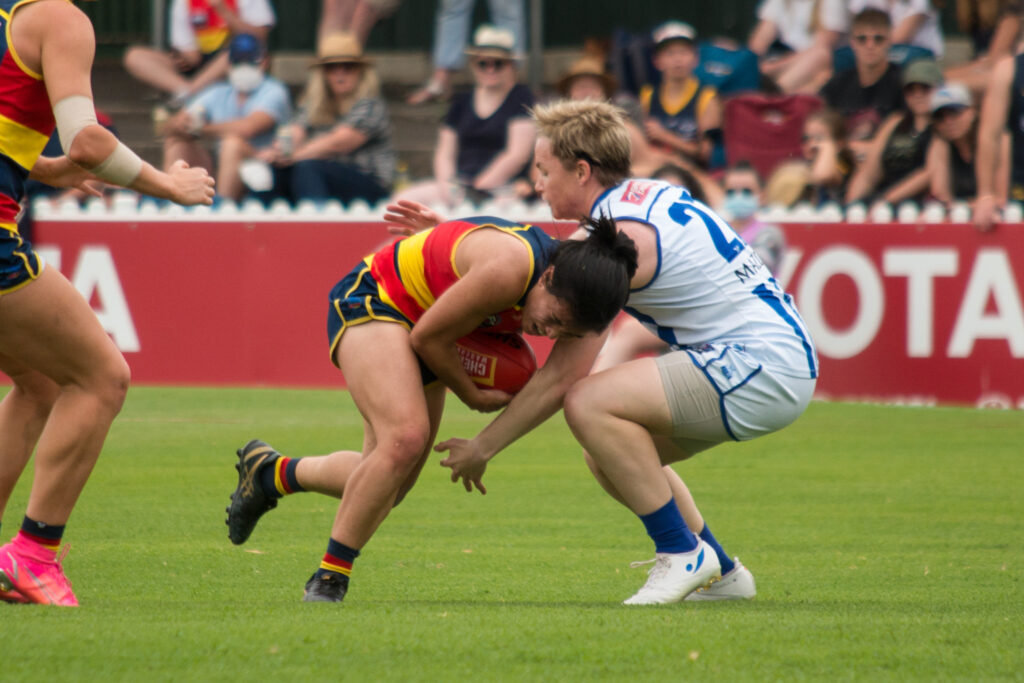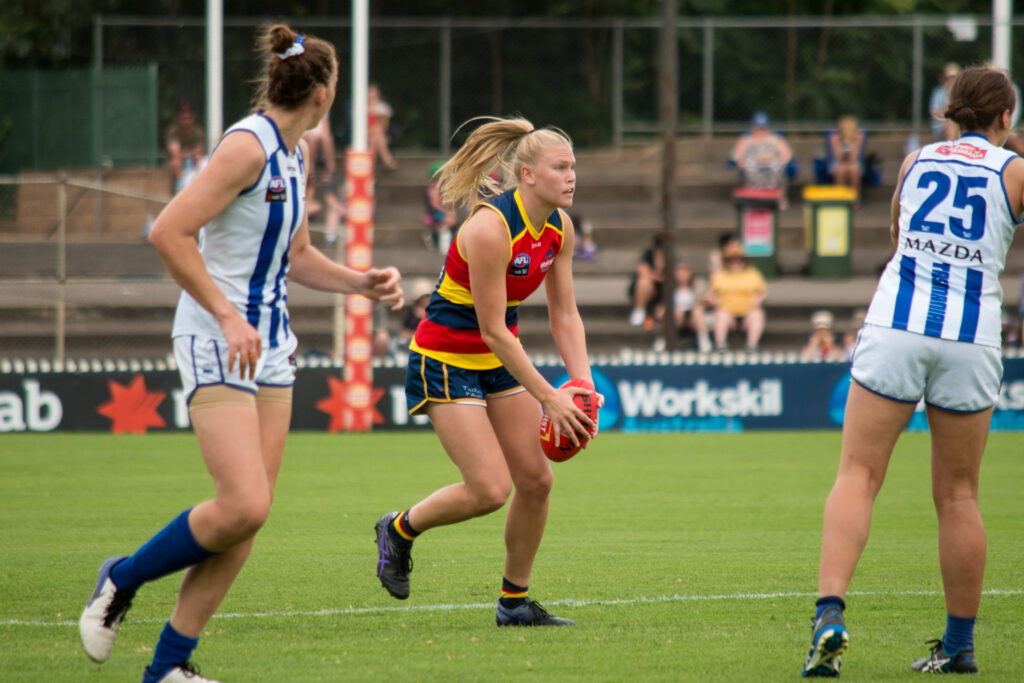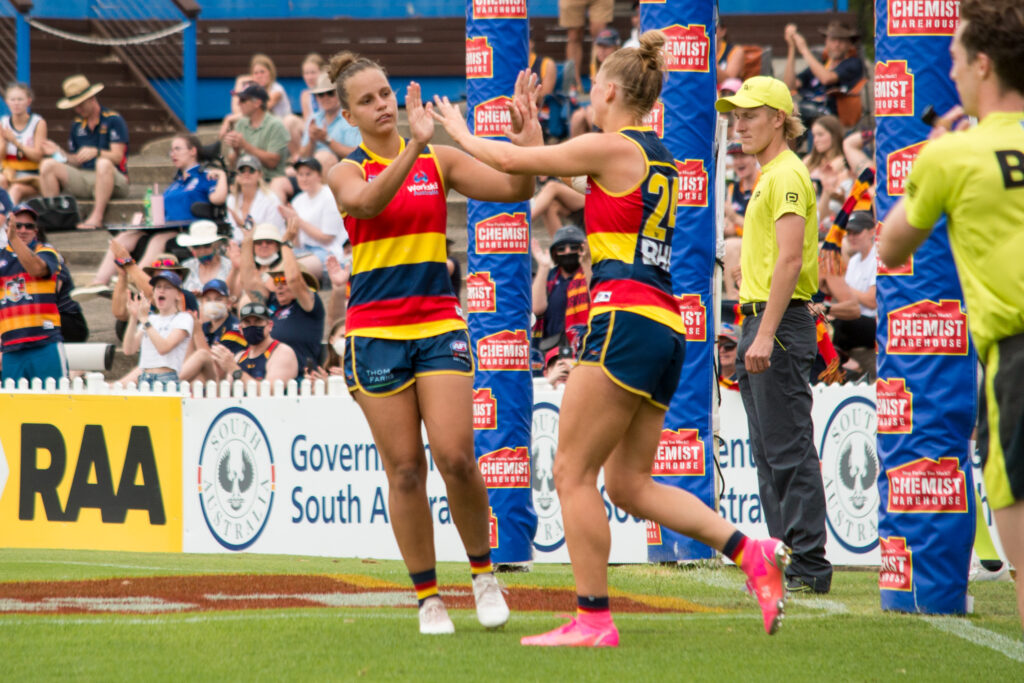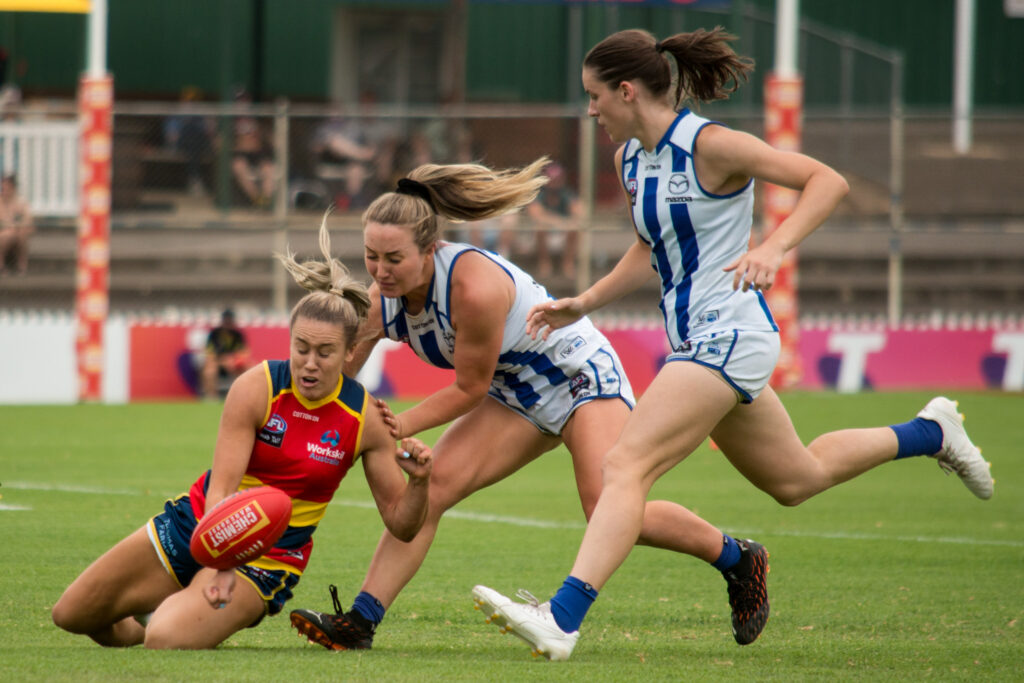 While she might not be a prolific ball winner like her teammates Anne Hatchard (29 disposals) and Erin Phillips (23 disposals), Jones has found her role on the wing and is working on her consistency this season.
"I think coming off the past couple of seasons, I've lacked a bit of consistency and that's what I've spoken about with some of the coaches, just trying to wrap my head around playing some consistent games.
"When I do get the opportunity to impact, obviously impact well and be clean with the ball, and move it well.
"As a winger, you want to bring the pressure and bring the heat. I've worked really hard in the off-season trying to do as much as I can.
"Personally, I'm pretty happy, but there's a long way to go. Obviously don't want it to go downhill, but as long as I can keep a consistent game that'll be the main focus for me."
The Crows will head to Melbourne where the West Coast Eagles will host them at the Swinburne Centre, while the Kangaroos return home to host the Giants on Sunday.