The Adelaide Crows were challenged by the Fremantle Dockers, but in a fourth quarter fight-back have secured a sixth straight win in season seven.
Adelaide has conceded a total of 20 points in the last three weeks, but a 17th placed, undermanned Fremantle was able to get that, and more, even ahead by nine points going into the last.
However, it was unable to last the final quarter dominance of Adelaide, who controlled the ball and the result.
The brave performance by Fremantle saw even more carnage for the already injury-ravaged side, finishing three players down, with Hayley Miller also receiving treatment during the game.
While the wind wasn't particularly strong on a sunny afternoon in Adelaide, it seemed to have an influence, as the Crows only scored majors at the northern end of the ground.
The Dockers, who have been improving every week despite the list of available players seemingly shrinking every week, gave it their all for three quarters.
Amy Franklin hit the scoreboard first as the Dockers went in on top at the first break.
In the second quarter, a snap from Roxy Roux and Philipa Seth's first AFLW goal were matched by goals to Crows' Chelsea Randall and Caitlin Gould.
A long-sleeved Mikayla Hyde regained the lead for the Dockers in the third quarter, and another first-time goalkicker Mim Strom nailed one for the solid three-quarter-time lead.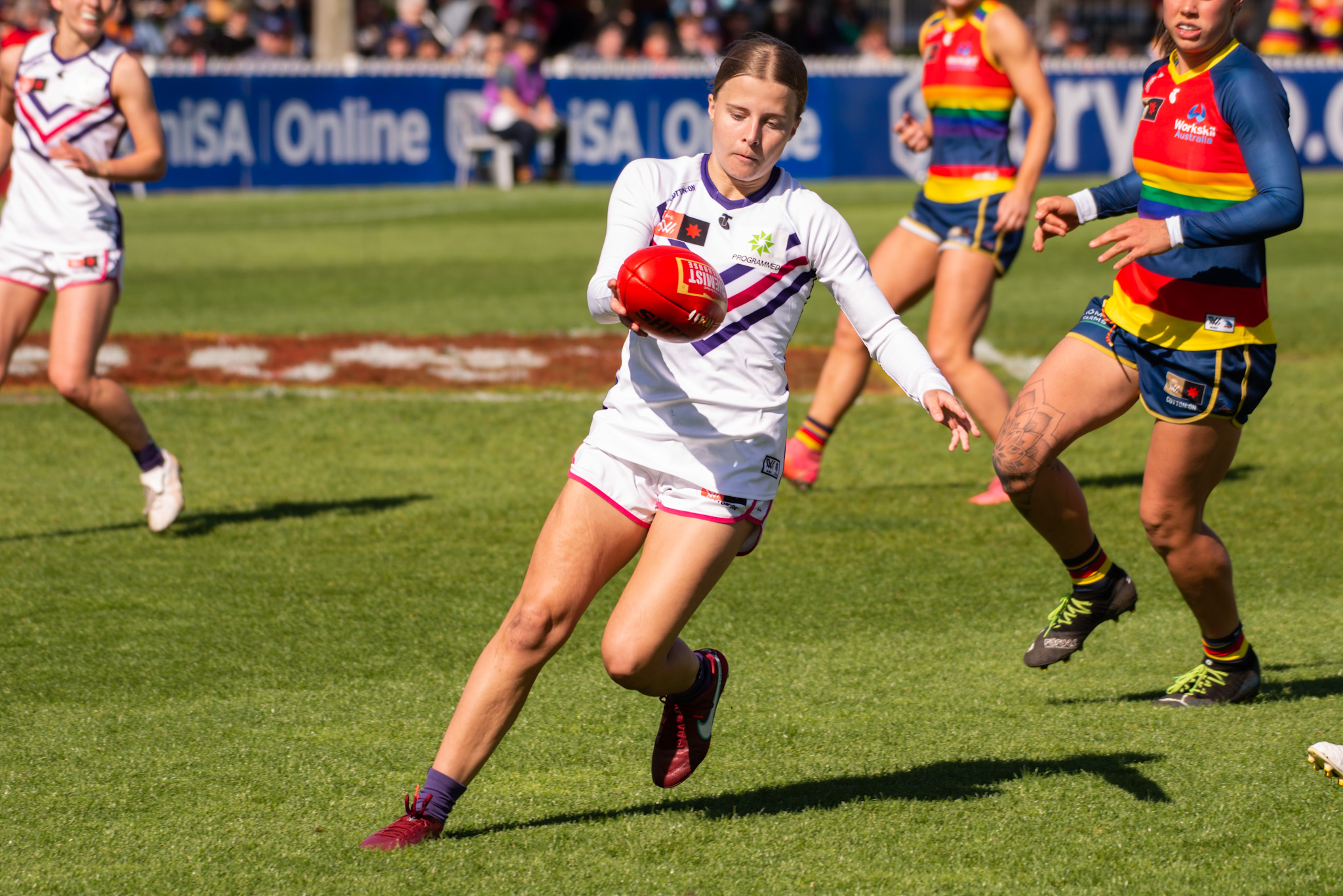 They were ultimately overrun by the Crows, though, who hit another gear to start the final term, led by none other than captain Randall.
Within a minute of Randall's second major for the day, Ash Woodland got her toe on the ball at the goal line and took the lead for the Crows.
Gould took a nice forward mark and kicked trule, before Danielle Ponter, returning from a quad strain, secured the win for the Adelaide Crows.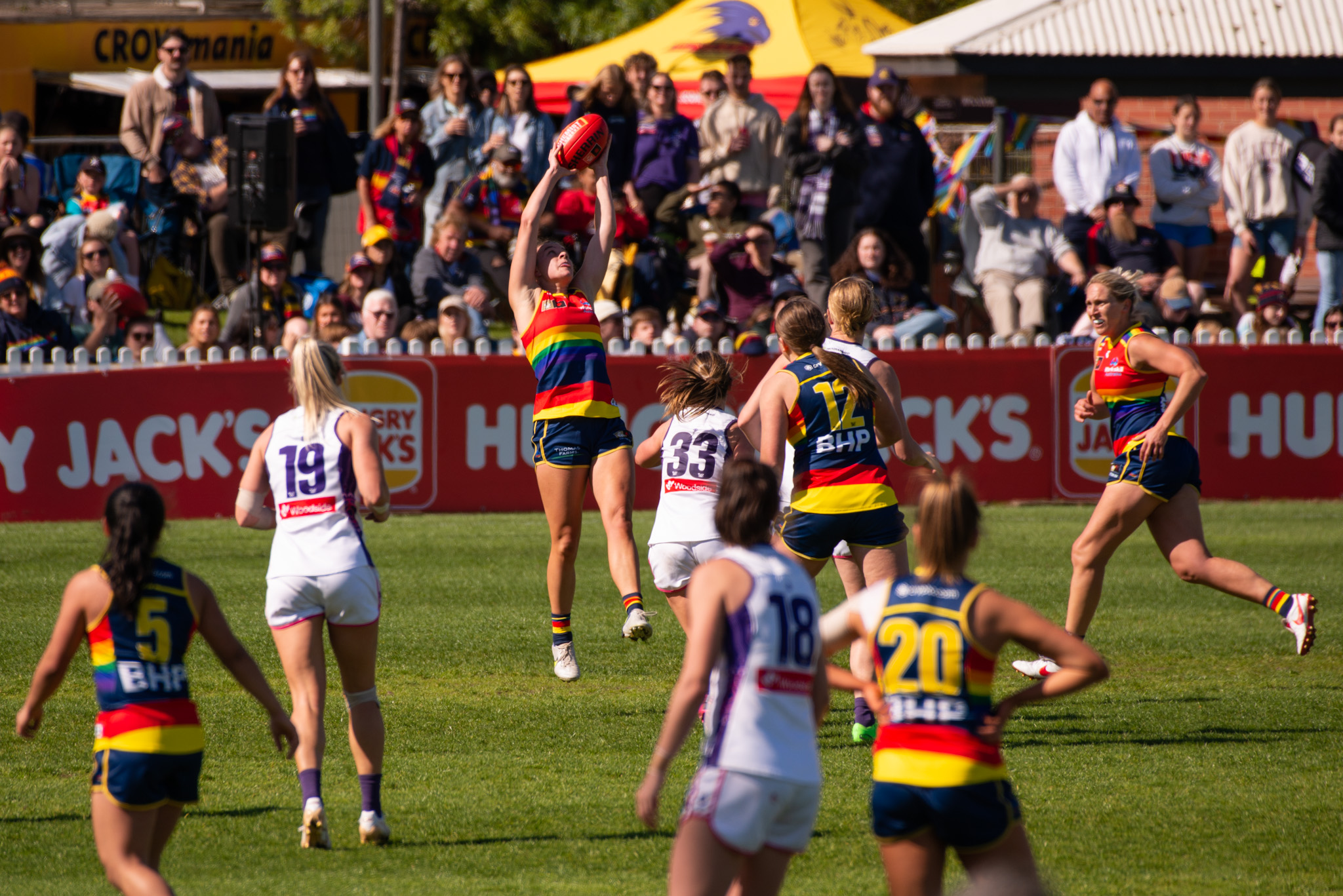 Two of the competition's best midfielders, Ebony Marinoff and Kiara Bowers, were once again dominating the midfield, contributing to another "great game" between Adelaide and Fremantle.
Marinoff finished with 32 disposals, 11 tackles and six clearances, while Bowers had 29 disposals, 19 tackles and 11 clearances.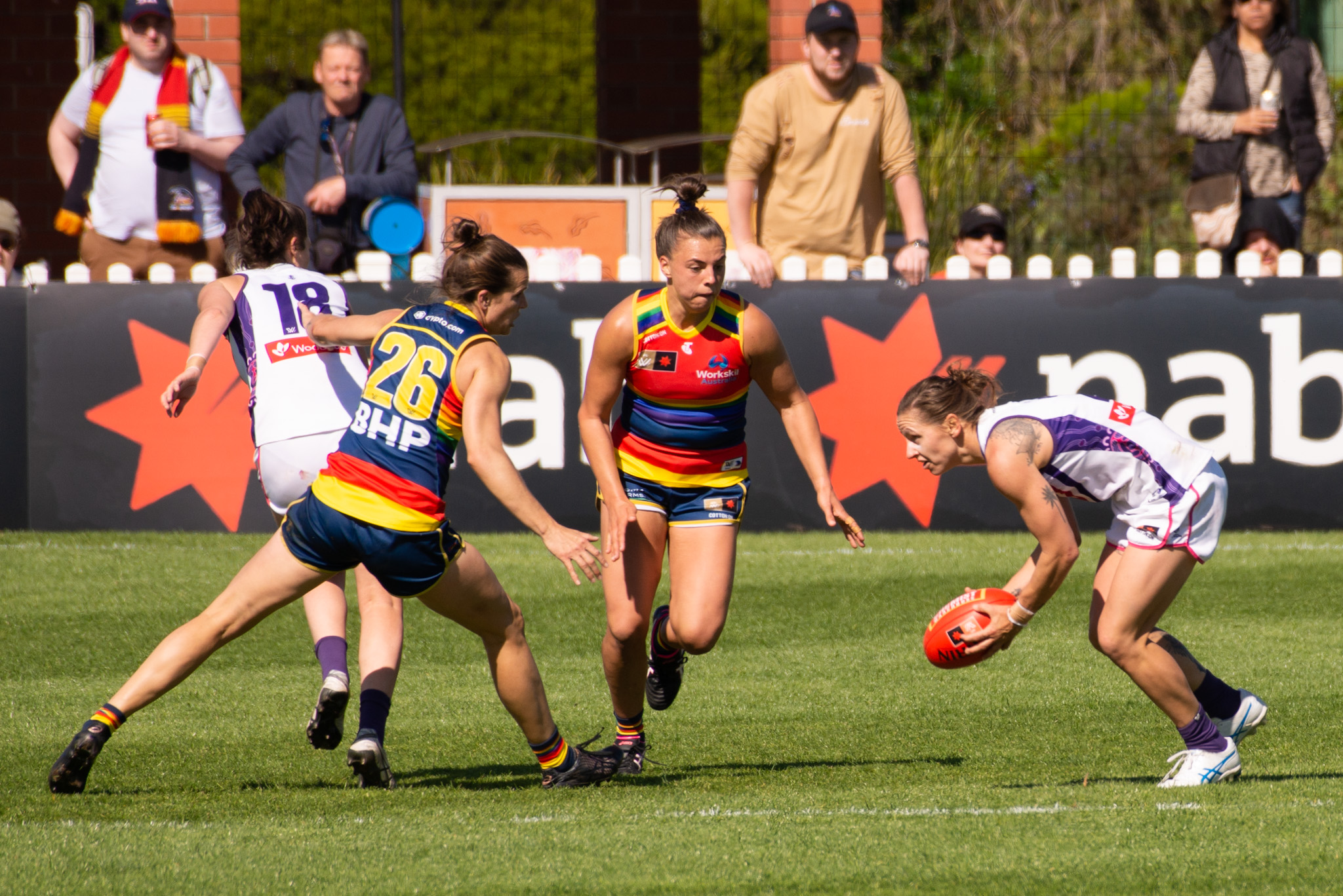 Speaking about Bowers' efforts after the game, Fremantle coach Trent Cooper shed some light on her game today.
"21 touches, 19 tackles, 11 clearances and when we were out of rotations, instead of taking her off the ground for a two-minute break, we just had to put her in the goal square, and she made a goal or two down there as well.
"She's been doing it off very little sleep over the last few weeks, with her son having a few minor medical problems," Cooper explained.
"But I think she had a good night's sleep at the hotel last night and that paid off today."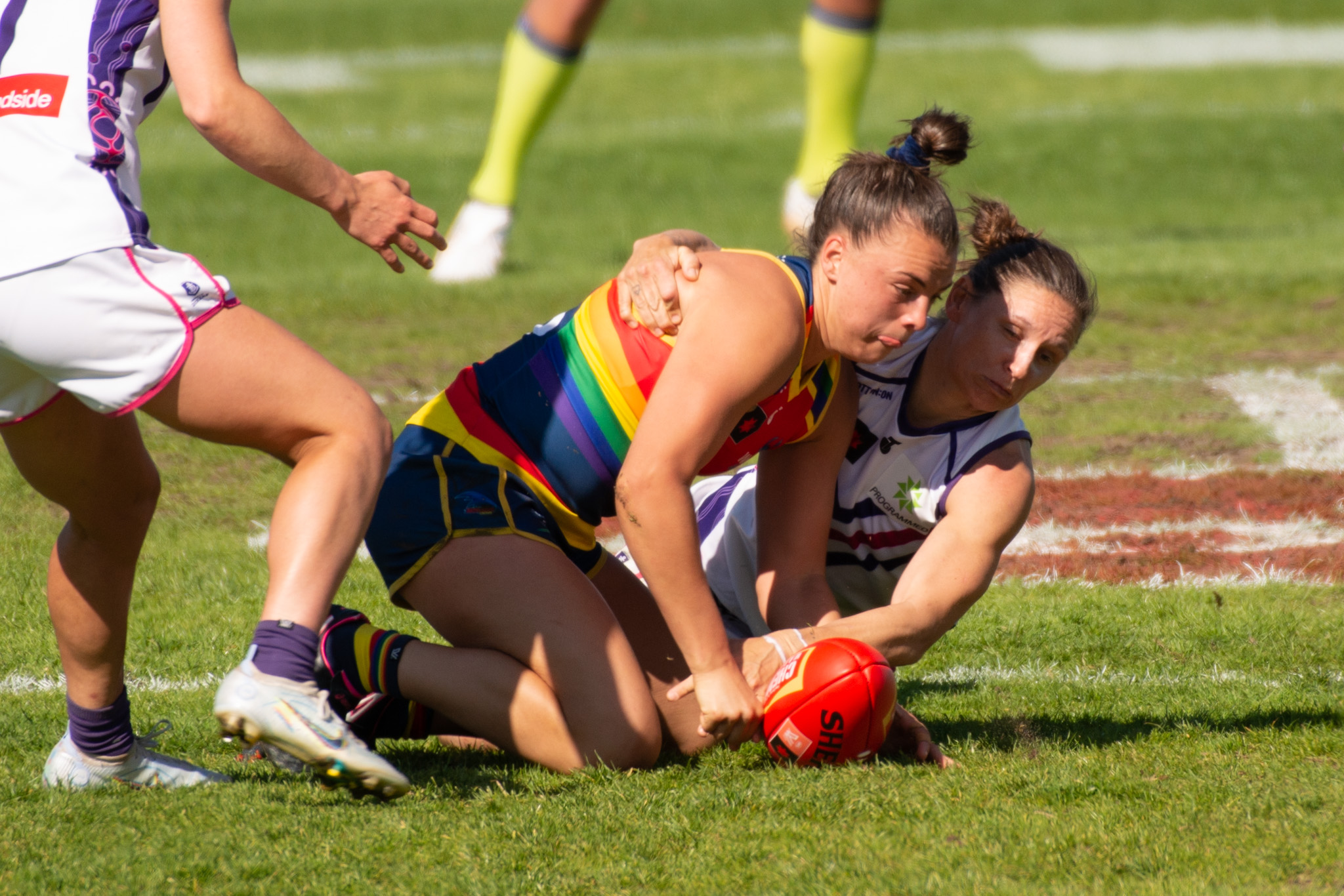 Marinoff finished with 32 disposals, but in the first quarter she had 14 - equalling the AFLW disposal record for one quarter of football - and by half-time, she had 24.
Ex-Crow Nikki Gore was tasked with chasing Marinoff around the park, and although Marinoff was getting the ball, Cooper was okay with that, because it was another statistic they were focused on.
"Marinoff always gets a lot of the ball and always has a lot of metres gained. Nikki Gore was playing on her, and we wanted to limit score her involvements.
"So in the first half, Marinoff, as good as she was, she only had one score involvement.
"We thought we didn't need to change anything. Nikki had a really good third quarter on her, she sort of took her completely out of the game, which gave us a bit of possession dominance and some territory dominance.
"But the last quarter, Marinoff just lifted again.
"It's just hard when you've got (Anne) Hatchard, Marinoff and (Chelsea) Randall in the one team," Cooper said.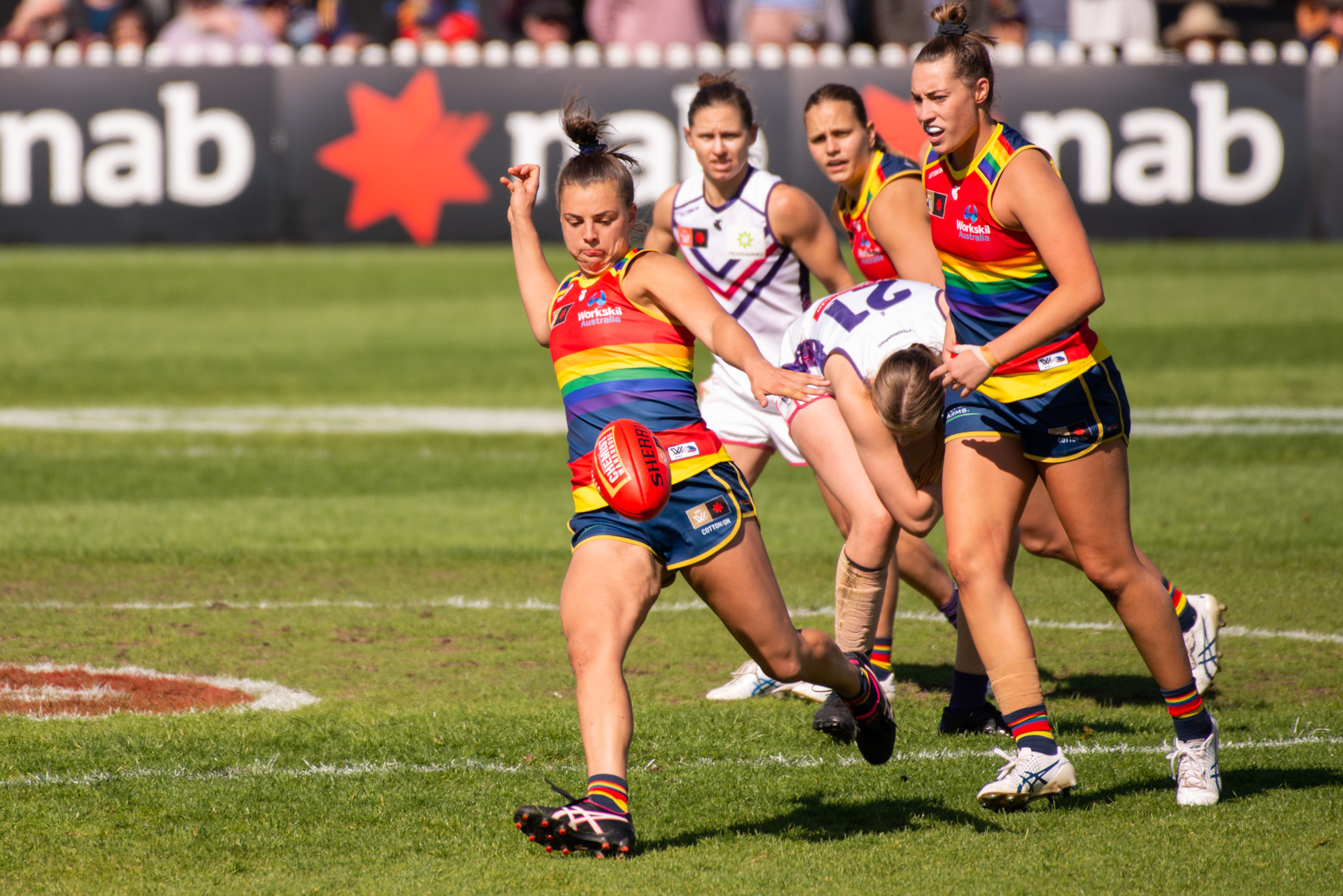 Hatchard finished with 28 disposals, eight tackles and 12 clearances and Chelsea Randall kicked two key goals and had 18 disposals, as she was moved around the ground as needed.
It's definitely a luxury to have three such dominant players impact the outcome of the game, and Crows' coach Matthew Clarke felt their midfield collective was able to get on top.
"I thought Kiara Bowers' game was outstanding, I thought her pressure, her ability to win them some clearance (was important), but on the flip side, our mids, as a collective, were able to hang in there.
"Ebony's first half, absolutely (was strong). Anne (Hatchard) got into the game in the second half.
"So just across the course of the game, we were able to sort of wear them down a little bit.
And while "sometimes you get lucky" in the game of football, "you get luckier when Chelsea Randall's in your team," Clarke chuckled.
"She's obviously having a great season and that ability to use her in some different roles is important for us."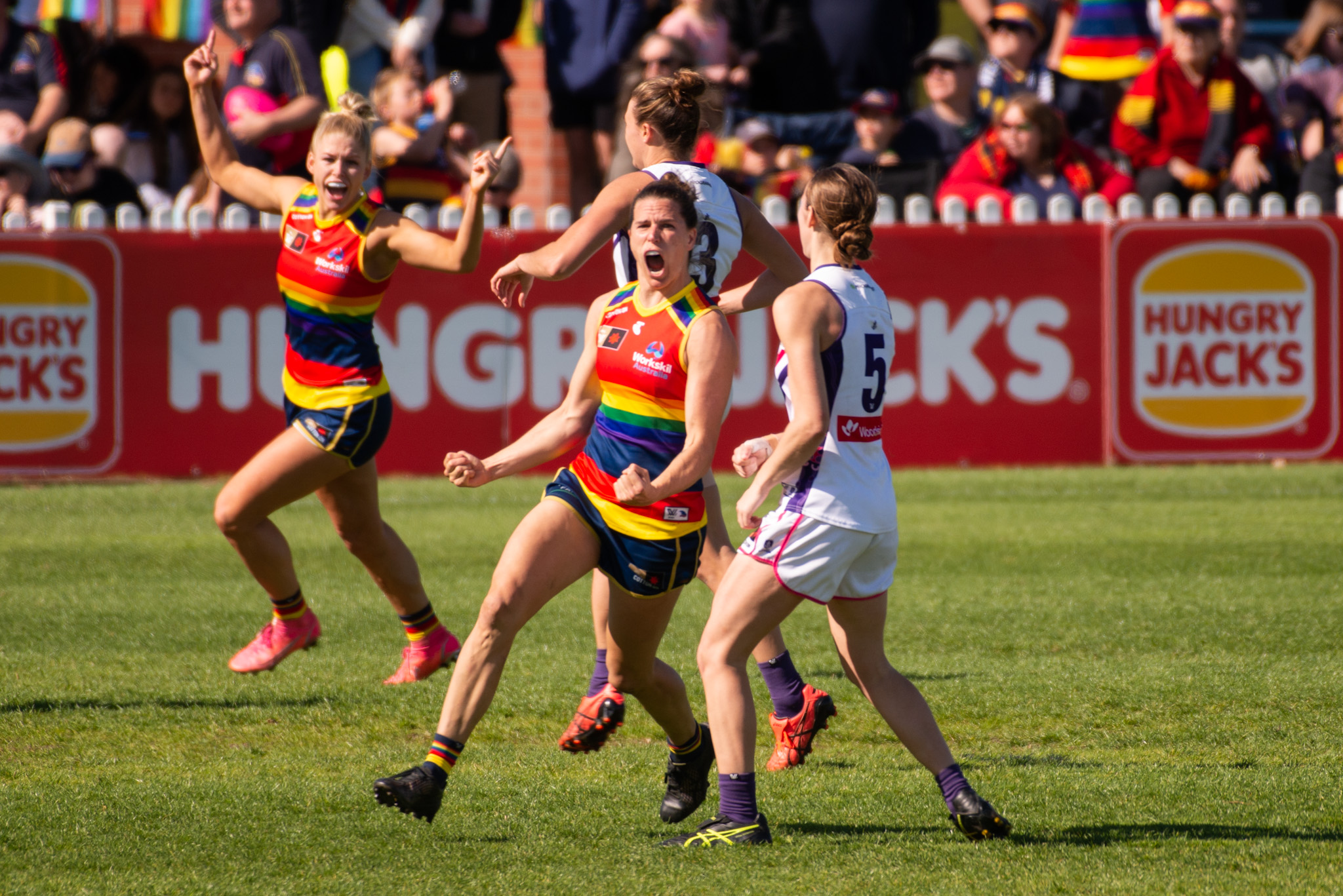 The injuries woes sadly continued for Fremantle in Adelaide, first losing Gabby O'Sullivan to a dislocated shoulder. Then, it was Janelle Cuthbertson who limped off the ground with an ankle injury, attempted to return and was eventually ruled out of the game.
Sarah Wielstra also injured her knee, "but it's not an ACL or anything like that," Cooper diagnosed.
"So, there'll be more tests, but we'll see how all three of them pull up."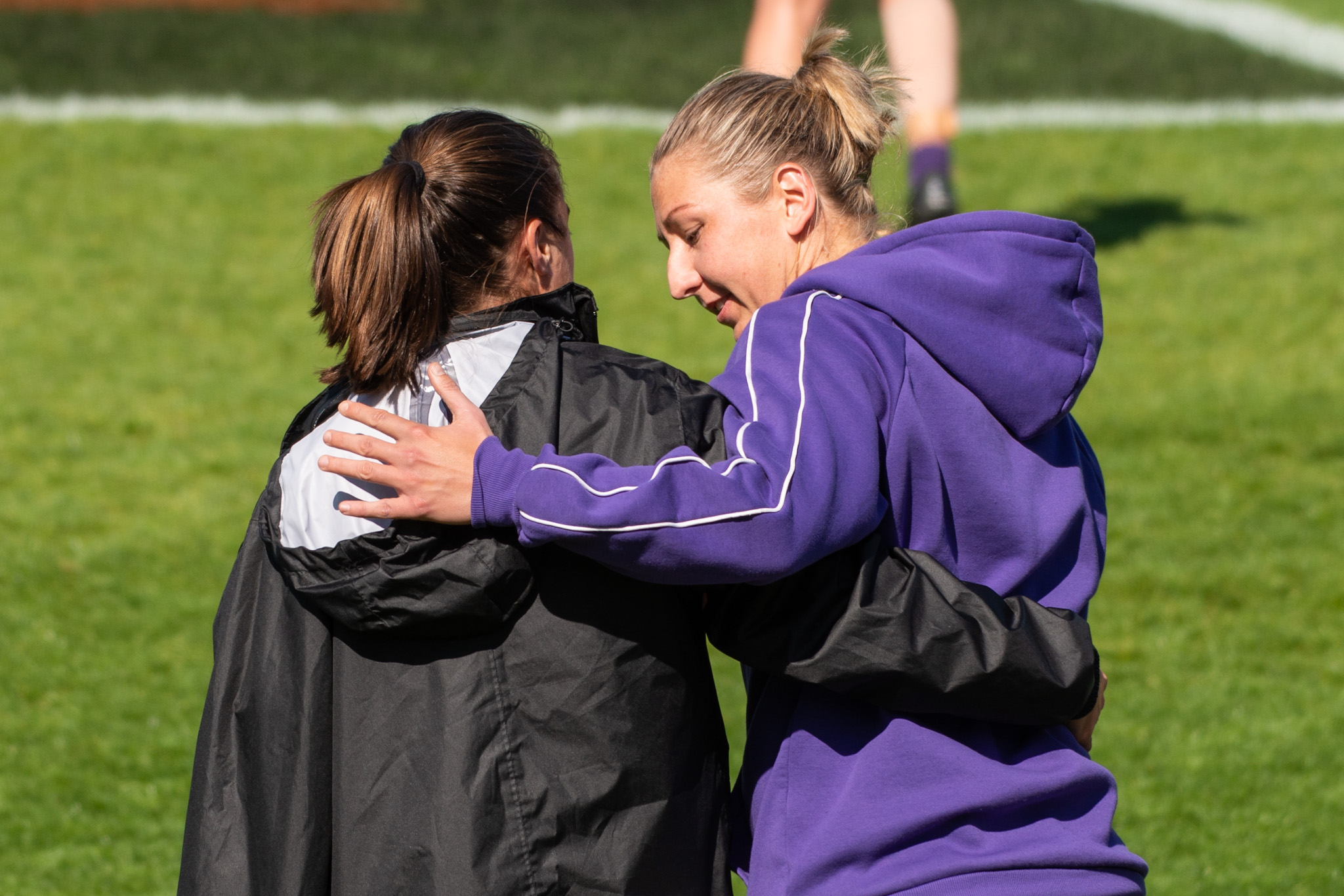 It's been a difficult season for Fremantle with injuries to key personnel, but with renewed goals for the year, Cooper is pleased with the way his side has been improving week-on-week.
"After that Geelong game, we were so far back as far as the footy we were playing, so finals at that point become, sort of, by the wayside.
"So we're just concentrating on improving week by week. We think that we've done that every week since then, and I think today was our best performance for the year so far."
Adelaide will be better for the challenge, as they come up against the Brisbane Lions on Friday night at Metricon Stadium, 7:00pm AEST. Meanwhile, Fremantle returns home to host Collingwood in its own Pride Round game on Sunday at Fremantle Oval, 2:10pm AWST.