Over the past month, we have seen four significant events that will affect cricket well into the future.
Firstly, we saw the announcement of a franchise league in the United Arab Emirates (UAE), which we have since learned will be heavily funded by billionaire Indian Premier League (IPL) owners. Similarly, then we saw the South African T20 league sold exclusively to IPL owners, effectively giving birth to a mini IPL.
In more recent weeks, we saw the retirement of Ben Stokes from ODI cricket at just 31 years of age. And only a couple of days ago, we saw reports that David Warner wants to play in the UAE league rather than playing in the Big Bash League (BBL) back home.
With the continuing rise of the IPL, with the Board of Control for Cricket in India (BCCI), and ever-expanding T20 competitions, cricket as we know it could change forever. So let's examine how and why we got here and what it means.
Longer windows for T20 comps
Ever since the first edition of the IPL in 2008, the people in the know have flagged that it was the future of cricket. It's taken a long time, but now we are almost there.
Looking at the T20 franchise calendar, there are competitions in all but three months of the year. While yes, not all of these have blacked-out windows like the IPL, we could see that change very quickly.
The recently-leaked future tours programme has shown the IPL now gets an almost three-month window where no other international cricket will be played. And with Cricket Australia and the England and Wales Cricket Board pushing for windows for the BBL and The Hundred, we could easily be looking at at least five if not six months of international cricket blackouts.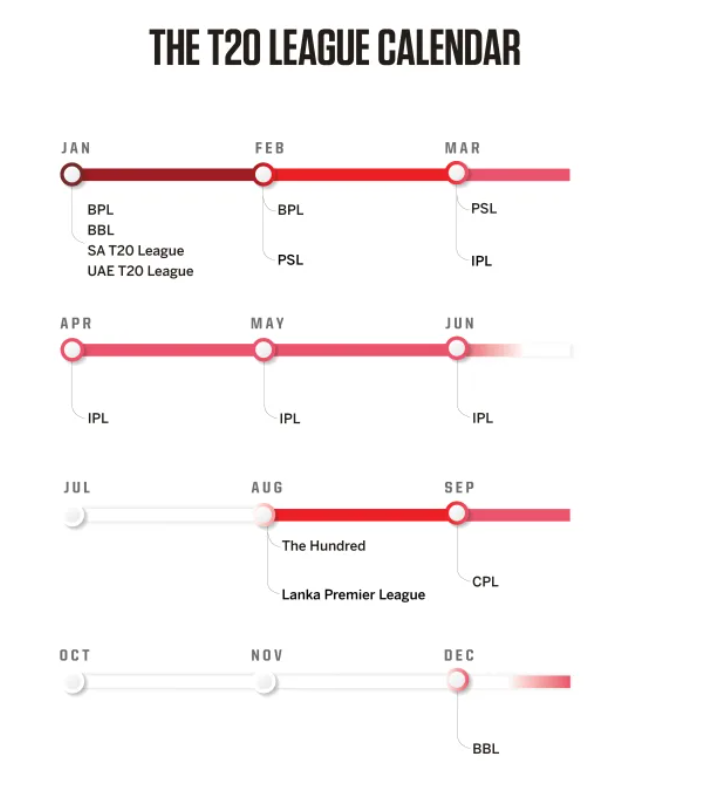 The biggest worry from players , and something Ben Stokes pointed out in his retirement, is the massive amount of cricket being played. Cricket boards will still need revenue to function whether these T20 blackouts come or not. What that means is a gigantic condensing of cricket into even smaller windows.
Let's look at England, for instance. The side is currently playing South Africa in a tour set to finish around September. They then come to Australia for white ball cricket and the T20 World Cup before going to Pakistan. That leads directly into their long summer between March and September with an IPL in there as well, all before an ODI World Cup in India later in the year. There are simply no breaks, so who can blame Ben Stokes for retiring?
From an Australian perspective, the gap from March through April was traditionally when players would rest and recuperate after a long summer and before plying their trade in the UK. Now it's filled with T20 games every couple of days in India.
And while T20 cricket is the shortest format, it is also the most intense, which mentally and physically affects players. You may be asking, though, what has changed? The IPL has been there for years. Well, let's have a look at that now.
South Africa and UAE leagues owned by the IPL
What has changed is two new massive leagues set to massively alter the calendar and the power the IPL has over cricket worldwide.
Cricket South Africa has been in dire straits for a long time. Between COVID, severe allegations of racism and two previously failed T20 leagues, there isn't a lot of money left in the bank. A quick injection of funds via IPL teams to purchase the different city-based sides makes a heap of sense for them.
Unfortunately, all of the cricketing world is going to feel those ramifications. The league has been penned in for January 2023, during the time the Big Bash League is set to conclude, and because of that window, we saw South Africa pull out of playing three ODIs against Australia.
While it is yet to be confirmed, plenty of reporting out of India has suggested that serious consideration will be made to allow Indian players to play in this league. Essentially what we have on our hands is a mini IPL during a time that was traditionally used for Test and ODI cricket in the Southern Hemisphere.
The UAE league is set to be played between January 6 and February 12 2023, once again during the traditional Southern Hemisphere Summer and BBL slot. This league is looking to attract the best talent by offering up to $450,000 USD per year, way up on the $320,000 USD that the BBL offers for twice as much work.
What differentiates the UAE league from every other and makes it worse for world cricket is the fact only two local players need to be in each playing XI. White ball cricket has been used in the past as a stepping stone for local players to take the next step to international cricket. But the UAE league barely even allows its players to play, let alone grow the game in the UAE.
What does the future look like
The UAE league has such an allure that it has recently been reported that Australian superstar David Warner is seriously considering playing in the league rather than the BBL. And while there are issues with his captaincy ban that have led to this crossroads, there is a bigger elephant in the room; money.
If you've chosen a career with a 20-year shelf life at best, you want to cash in as much as possible to change life for yourself and for future generations of your family.
And while it's all well and good playing for your country for pride reasons, at the end of the day, cricket is a job for these people. In this conversation, we need to consider that Warner came from a public housing background, and cricket has proved to be his way up the social ladder. While it's unlikely that Cricket Australia would issue Warner a non-objection certificate to play in the UAE, this is another sign of what cricket's future could look like.
And while it won't be as much of an issue for more prosperous boards who can find the money to match the salaries of these massive T20 leagues if needed, let's take a second to think about smaller countries.
For example, if you're a young cricketer from Sri Lanka, will you stick around hoping to play the World Test Championship Tests and the occasional T20I game while getting paid a couple of hundred thousand dollars? Or are you going to perfect your T20 game and go out on the circuit to make millions? One makes a hell of a lot more sense financially.
With T20 cricket taking up more and more of the calendar, it's evident that Test and ODI cricket will go by the wayside. For the best part of a decade now, ODI cricket has been on the way down, and as we move more into the streaming era, ODIs just make less sense.
The financial model for ODIs revolved around selling 100 advertisements between overs, but with streaming, that's just not possible. Streaming needs the consistent audiences of Test matches where people sit and watch for five days or the daily appointment viewing that a T20 league gives.
In the future, it certainly looks like bilateral ODI cricket is on the way out. We have already seen the scrapping of the ODI super league. Thankfully, as we saw in 2019, the Cricket World Cup is still the showpiece of world cricket. For the next 20 years, at least, it will be the centrepiece. The question, of course, is how teams prepare when so little ODI cricket will be played.
Test cricket also won't especially die, although we may see a very different system. I believe we will see more specialisation with those who can afford, love or are better at Test cricket becoming stars of that format.
Simply there is too much cricket on the calendar for players to play franchise tournaments and all of the international matches on the calendar.
Let's face a fact first; T20 cricket is going nowhere. And that's a good thing. I love T20 cricket, but that doesn't mean I think there needs to be even more of it. T20 cricket has been incredible in growing the game and provides money to players and everyone in cricket, the likes of which have never been seen before.
The question really is, how do we achieve a balance? Firstly is to call out silly opinions like that of Ravi Shastri on Sky Sports last week when he suggested only six countries should play Test cricket. That is obviously wrong. If anything, we should be looking to expand the game.
While this piece has focused on there being too much cricket, that's not true at all levels. Smaller nations don't play enough, and women don't play enough and let's not even get into the disgust with which most cricket boards treat their disability and special needs squads.
If you love the traditional forms of the game, if Test cricket is where your heart is, then make sure you're supporting the game. Show the BCCI and the cricket boards all around the world that it's the premier format.
The other is to become even more involved in local cricket. If we want even more talent to rise to the top to fill all of these positions in cricket that will come with the ever-expanding T20 leagues, then we need more cricket talent.
The final issue comes down partly to media, but also partly to supporters. Put pressure on cricket boards to ensure tours to smaller and poorer nations occur. The more money these nations receive from touring countries, the less likely they will need to go to the BCCI and IPL owners to keep their boards afloat, as Cricket South Africa has had to do.
So there are positives; the question is, will boards, the ICC and other vital stakeholders listen, or will the pursuit of riches create contextless cricket?