The Adelaide Crows have continued their brilliant start to the season with a 14 point win over the flag fancied Melbourne Demons, highlighted by impenetrable defence and three goals to Erin Phillips.
The win was marred by Crows' skipper Chelsea Randall re-injuring the same hamstring she pulled up on two weeks ago against the Demons.
She finished the game on the bench with ice on her right leg. Speaking toEdge of the Crowdpost-game, fellow defender Marijana Rajčić said it was "really disappointing" for Randall and the team, that she had gone down with the hamstring once again.
"She was training really well during the week and gearing up and basically ready to go, and obviously she still didn't feel comfortable and just had to make the call.
"So I'd rather her be safe now and give her time to heal rather than pushing on and doing further damage. So I guess it's the right decision."
While it's likely Randall will miss at least another week, the Adelaide Crows are so confident in their squad of 30 that any player can come in and do the job asked of them.
"We talk about we're a squad so it's not just the players that are here, but we've got the other players that come in. We're a squad of 30… and we have to be able to do with each and every one of us. So one in, all in...
"We've built that [confidence] from the preseason, everyone's put the hard work in and we've done the hard yards and like Docs reiterated, we've all reiterated that anyone that can come in and do the do the job and play their role for the team."
That "one in, all in" mentality was important this week, as the Adelaide Crows made four changes as three players - Justine Mules, Danielle Ponter and Stevie-Lee Thompson - all missed due to the AFL Health and Safety protocols. Jasmyn Hewett was omitted.
That made way for Chelsea Randall to return, along with Caitlin Gould, while Maddi Newman and Lisa Whiteley were included for their first games for the year.
Travelling for the first time this season, Melbourne welcomed back Lily Mithen and Maddi Gay after they observed the AFL's Health and Safety protocols. Maggie Caris and Brenna Tarrant have been omitted to make way for them.
Adelaide was hot out the blocks on a very warm Saturday afternoon. Taking the ball forward, Erin Phillips hit the scoreboard first, roving at the bottom of the pack and snapping for a goal.
Targeting Karen Paxman early, the Crows gave the Demons' midfielder no room when the football was in her vicinity.
Phillips was on the board with her second thanks to a neat poke off the ground, the 36-year-old jostling her way to get her foot on the footy. With this goal, Phillips re-claimed her title as the all-time leading AFLW goal kicker.
There were more opportunities for the Crows, but they were unable to convert, and those conversion troubles continued into the second term.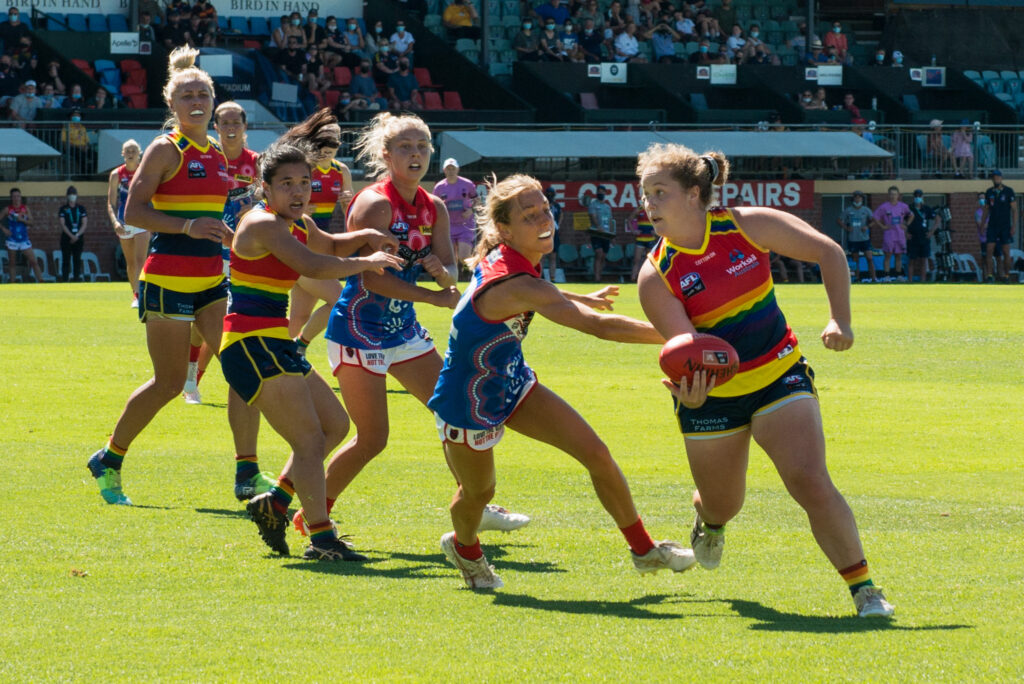 Across the first half, Adelaide had 27 inside 50s to Melbourne's nine, but the home side could not make these count, scoring two goals, five behinds for the half.
As Melbourne started to win the football more, the issue became the lack of forward options to go to. It was frustrating for the group, as they remained goalless to half-time.
A strong mark from Whiteley gave her the chance to open the Crows' second-half account, but she didn't have the distance on her kick. At the contest, Teah Charlton had yet another snap at goal, but once again was denied by a touch from the Demons' defence.
Adelaide kicked a third goal, by none other than Phillips, the superstar continues to rule this competition.
Rachelle Martin got on the scoreboard in the third as well, the small forward had been around the action and took her set-shot opportunity, slotting it neatly.
Whiteley copped a boot to the head and went downstairs to be patched up.
Melbourne made some adjustments, such as putting Daisy Pearce going back, but was unable to add a score in the third term.
At the final change, they made further moves sending Gay to half-back, swapping Eden Zanker into the ruck and they saw an immediate result to open the fourth quarter. On defensive transition, the Demons' worked it forward, Pearce was involved, and the ball made it to Harris who slotted the side's first for the day.
Pearce then got on the board herself, giving the Demons a sniff, but the Crows lifted once again to maintain their lead.
Winning one-quarter of football has been enough for Melbourne the past three weeks, but against Adelaide today it was not going to get the premiership points.
Pearce kicked one last goal after the siren, but the Demons fell short by 14 points.
Young guns Eliza McNamara (22 disposals) and Tyla Hanks (20 disposals) led the way for the Demons, while on return Gay was held to just 13 disposals and two clearances, as was Paxman.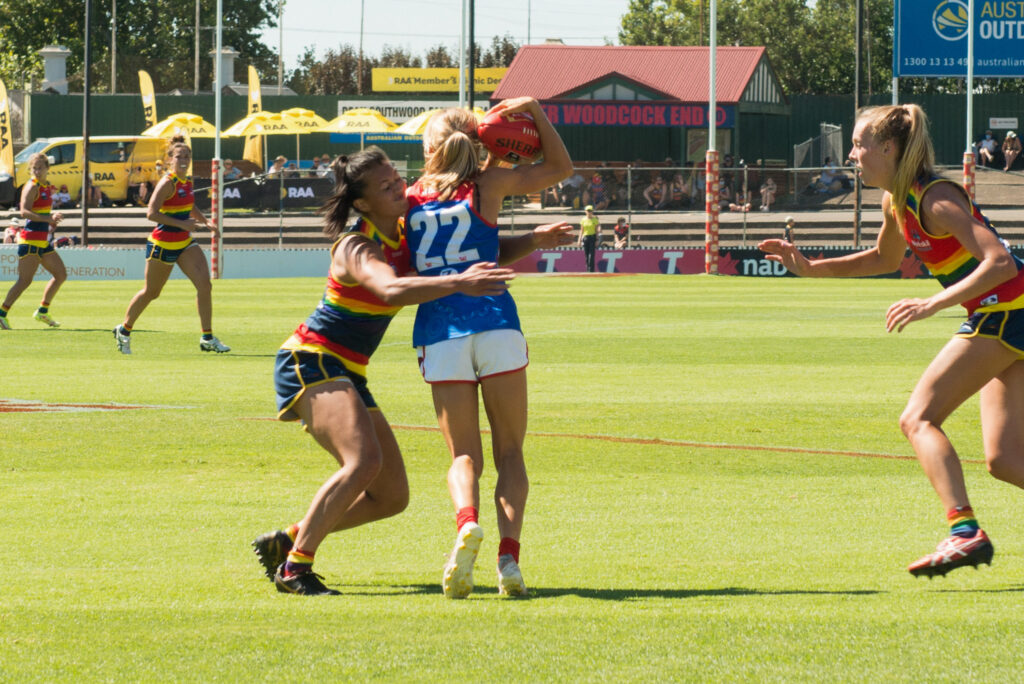 After the game, Rajčić said it was hard work out there, but her side was pleased to get another four points.
"It was obviously a tough day at the office, we knew it was going to be a hot contest and pressure footy," Rajčić said.
"We obviously started off really strong and we had them there for three quarters, and again, they're a quality side so we knew that we're never give in and they pushed us to the end."
The defensive pressure from the Crows was particularly impressive, and from early in the second term it was left to Sarah Allan and Rajčić to lead this unit.
They kept Melbourne to just two behinds in the opening three quarters, which was as impressive an effort as you'll see this weekend.
"It really is a whole team effort, but I know us down back, we love it if we can hold them off as long as possible.
"So that was definitely, as a defensive effort, we were really, really happy with how we were playing. But again, always willing to improve and I felt like we lapsed there in the last quarter a little bit and gave them a sniff. So again, we've still got some work to do.
"I guess we knew coming into that last quarter that they had a bit more breeze on their side, which breeze isn't anything when you've got the pressure, so we just had to be smart.
"We're resilient if you get a goal against you just got to reset and go again. So they got a couple there and we just had to reset and just keep fighting and keep what we've been doing all day.
An undefeated Adelaide side will now travel to IKON Park next Sunday to face Carlton, while Melbourne returns home, hoping to bounce back against Gold Coast.