Chelsea Pitman has played a key role since becoming a training partner at West Coast Fever this season, having her knowledge and experience has been vital for the side.
One advantage the Fever have up their sleeve this season is the flexibility of bringing in the Commonwealth Games gold medallist when a player is unavailable, added a wealth of knowledge and experience to the Fever mid-court.
Speaking to the media this week, Pitman said she's making the most of her role as a training partner, even when there is uncertainty around if she's going to be in the 10.
"I think the beauty of my role being a training partner is that I knew that is what the case would be most weeks for myself," Pitman said.
"It is not ideal at all that Jess (Anstiss) has an injury at the moment but for me individually, what an opportunity for me to be able to step into the 10.
"So I'm cherishing every moment that I get a chance to step out there and every training session, I just attack it like I am playing and if I'm in the 10 how good and if I'm not, I've got a role to play and that's my job."
Being a training partner, Pitman dosen't have as much pressure on her as the squad of 10, but it allows her to bring an element of calmness to the group.
"The position I'm in, I'm able to not have the pressure as much as the girls. I think one because I'm a little bit older and I quite liked that feeling.
"So I can instil I guess a bit of experience and calmness by directing them on what they should be doing.
"Vez (Verity Simmons) is one of those people that attack training like she plays, and she wants to be better, and she hasn't hit a ceiling yet, and the beauty of it is you can be direct and give her feedback straight away.
"So Vez's been playing 60 minute games the past couple of weeks, and she's handled that pressure well, and she knows that she's got more in the tank.
"So we expect Vez to do better in those pressure situations, and she's working really hard on every facet and what she needs to do to be able to do that.
"So, that's exactly what we want from every single person in our squad to be able to dive a bit deeper on what they need to look like when the pressure is going in a game and so that's exactly what we've done.
"Coming off the Vixens loss, that we need to look at ourselves, might be a bit more accountable with what we're doing for the team."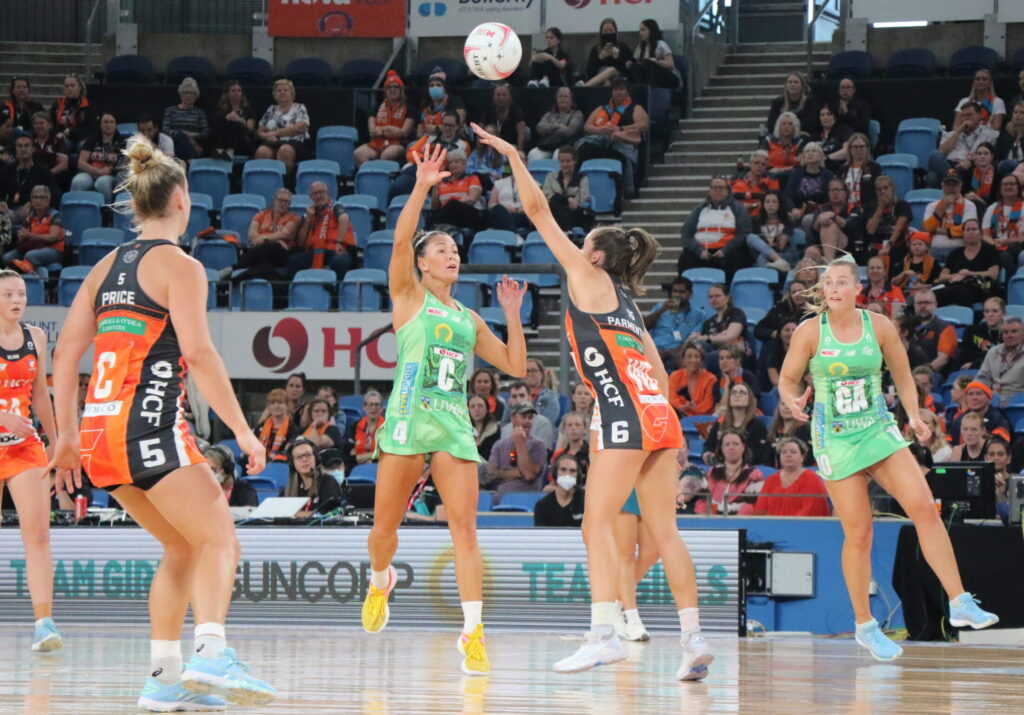 The match against the Vixens put a dash in the Fevers chances to claim that top stop to get a home semi-final at RAC Arena, but the Fever have their sights firmly set on that elusive first premiership for the club.
"I think it could be an elephant in the room if you're allowed to be. If you don't talk about the elusive finals and wanting to make finals and wanting to win, we've addressed that like Fever hadn't done before. We want the 2022 premiership, and that's no secret.
"Anyone that plays elite sport is aiming for that top spot and for us, we know how strong and how great we are at home. Yes, we didn't get the win on the weekend, but we just know how much the green army means to us and how hard it is to beat us at home.
"So for us to be able to have that opportunity to play at home around everything that's familiar to us, that's exactly what we want to do, and especially we want to do that in a final situation.
"So we're not here for fun and games, we're here to win a premiership and what do we need to do, that is to get in the top two."
There's that element of pressure for the Fever in this week's game against the Giants to really cement their spot in the top two. While many could say that it puts too much pressure on the younger players, Pitman said it's all about exposing the young players to that high stakes' environment.
"How do you learn how to handle pressure if you're never put under, or if you don't put yourself and mentally challenge yourself? That's the questions I'd ask the young ones and then have a reflection time on how did you feel in that situation? What did you naturally revert to? Was it the right thing for the team or the wrong thing for the team?
"So that's how you grow, and you develop, because we need to get more comfortable being in really uncomfortable positions and that's what pressure does. Not just for elite athletes, I'm sure people that do any normal job feels pressure sometimes, and they know from that experience...
"So I think tackling it head on, having open conversations about it and knowing that your teammate's behind you and got your back when it comes to the crunch time.
"You know, we're lucky at the moment we're in second position, and we've got a few points on our side, but again, like I think hard work and wanting success is really hard work and that's what we want and so if we don't create this environment where we're challenging each other every single week, and either bringing up these conversations that we're just not going to get there.
"Something needs to change and something needs to shift from previous years for us to be better, and this is the space we're heading in."
The West Coast Fever take on the Giants on Sunday at 2pm at RAC Arena, with the side looking to bounce back after a disappointing loss to the ladder leaders in the Melbourne Vixens.