This week when Bree Masters steps out on the athletics track at Mackay for the Oceania Championships, it will be her first time competing in Athletics for Australia, but it's not her first time on the world stage representing Australia. It's been a long journey for the talented sprinter, and her moment is finally here.
The 26-year-old was a precocious athlete as a child, competing across a variety of sports, but her two passions were dance and surf-lifesaving.
"My parents got me into surf lifesaving when I was 6 years old," she explained.
"I am originally from Cronulla, Sydney and I had my entire surf lifesaving career down there, I went right through nippers into the senior ranks, but I was more of a full-time dancer. My parents put me into lots of different sports to keep me active, but dancing was always what I gravitated to.
"I went to a performing arts high school, where I was selected for dancing, and I still did running on the side. I had to drop off a couple of sports because everything started clashing. That was probably the main reason I dropped off athletics because athletics and surf lifesaving were on at the same time all the time, and I really liked being at the beach. I think I had better friends in surf lifesaving, I just enjoyed it so much more."
Masters stuck at trying to maintain both at once, pursuing dual dreams of surf-lifesaving and dancing at the highest level. When she finished school, she decided that she could only pursue one, and so went down the path of dancing.
Or so she thought. For the first time, her career shifted in one fell swoop, just as it seemed to be gaining momentum.
"After school, I went to a full-time dance school in Sydney, in which I spent maybe 3 months there and I didn't like it whatsoever, just lost my passion for dancing doing the course.
"It was a very strange time, I had been so keen on being a full-time dancer in a company, and all of a sudden, I was like 'no, I want to move to Queensland and follow my running career'."
And so, the young dancer packed up her life, moved north, and recommitted herself to surf lifesaving.
"I moved up [to Queensland] because it's the hub of surf-lifesaving, it's warm all year round, the ironmen and women can be in the water all year round, and it's not as cold as being in Tasmania. All the surf clubs up here have such great coaches and competitors, so it made sense for me to move up here."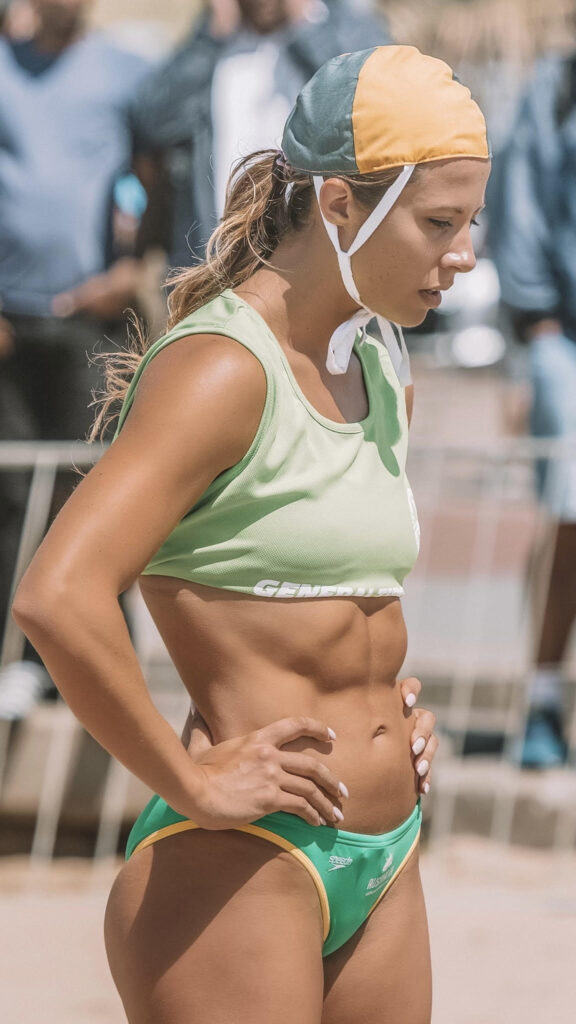 Despite that desire, the success did not flow immediately for Masters, who was forced to grind away in the sand as she perfected her craft.
"I had a rough few years when I first moved up. I wasn't really making any finals or anything, and then in 2015, I saw my first open medal.
"When I was younger I was a very good young talent, I won multiple Australian beach sprint titles, state and Australian teams. Then I got appendicitis, and that is probably what it was. It rocked me around a bit and I looked to kind of come back from that," Masters explained.
Once she found her stride in 2015, the wins started coming quickly, as she reached the peak of the sport within a few years.
"That was when I started to represent Australia a bit more, I got my Australian Open Beach Sprint Title in 2019, World Open Beach Sprint Title in 2017, and it just kind of kept rolling from there."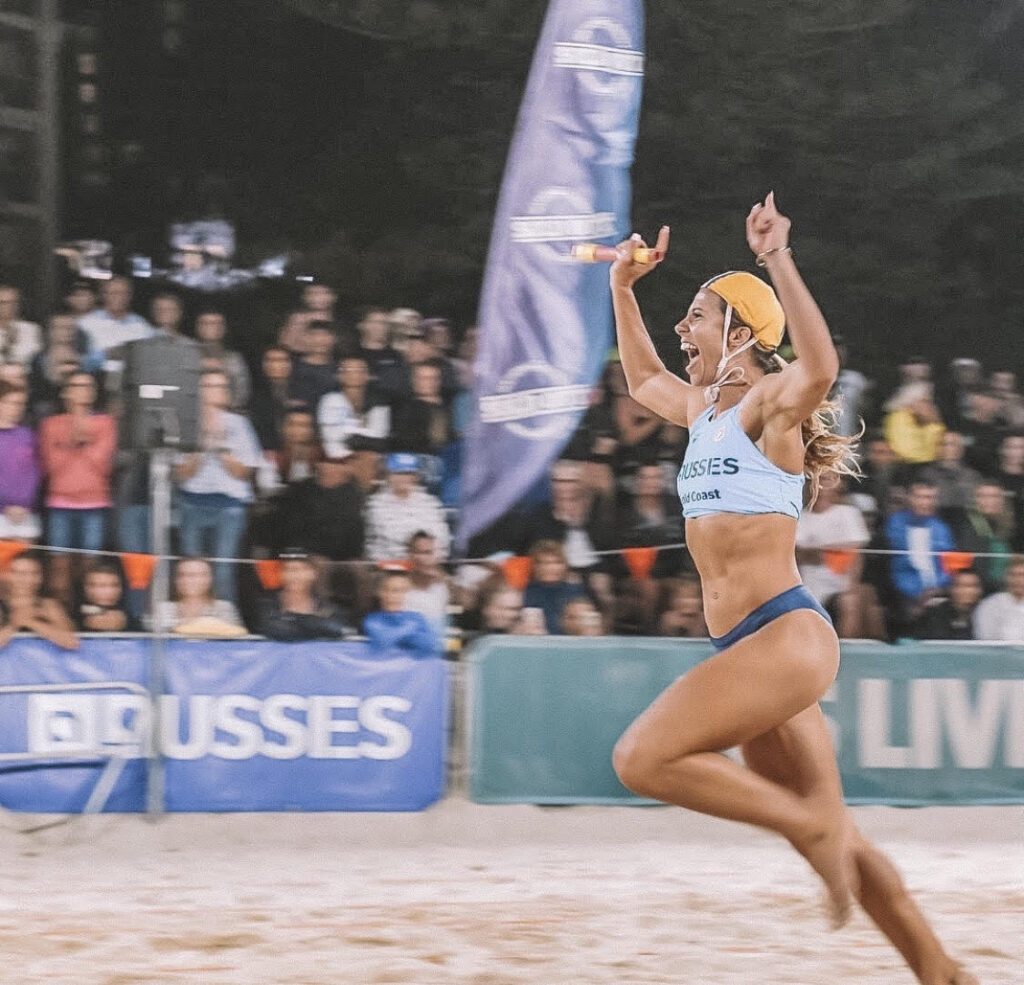 Not long after being crowned with the national title, Masters' started to struggle with where her career was sitting. She had been to the peak of her sport and back already, aged just 23.
"I think I had almost achieved everything I'd wanted to, and obviously, in surf lifesaving, and similar with athletics and other sports in Australia, it's really hard to make money, so I was thinking about my career.
"I was 23, and now I look back and I'm almost 27 and I'm still running, but when I was 23, I thought I had to get my life together, so I ended up going to university. I went to Bond University and I did a Bachelor of Communications and Business with a major in marketing relations, and I loved it."
Another big career change was just around the corner, coming almost exactly at the same time as her university degree kicked into gear.
"t the end of my first semester, I finished with the Stawell Gift, and that was my first taste of something outside of Surf Lifesaving, and it gave me a bit of spark, that there are other things outside Surf Lifesaving that I could be doing.
"I met, at Stawell Gift, my current partner, who is in track and field. As our relationship progressed, he was saying that I should do this track race that he was coming to Queensland for. He was saying you train on grass, it's the same as beach sprinting, just on a track, give it a go, and I agreed.
"I went along and I ended up running 11.63, and that put me in the mix with some of Australia's top girls at the time. It was really enjoyable for me, there was no pressure, nobody knew who I was, I could just go out there and have a bit of fun and surprise myself, so that's how I ended up in athletics."
It was love at first sight with athletics (no comment about the partner), as sprinting came naturally to Masters, after a career on the sand, the track was just a slight difference, but with a world of possibilities.
"From that first track race that I did. I don't take life too seriously, and I'm very modest, I thought 11.63 was cool, but I didn't really know if that was good or not. People told me it was really good, and that if I focussed on track I could go places. I thought I could, but I probably wouldn't.
"I remember one of my teammates saying she believes I could run 11.3, and I thought she was joking, and then I ran 11.3 at Nationals (in 2022), so, thinking back to that first race that I did, with some of the comments my teammates made, to now, I probably wouldn't have believed that it could happen."
Just over two years on, Masters has a time of 11.24 (illegal wind) and a time of 11.33 under her belt, and this week will represent Australia on the track for the first time.
It's a big turn for Bree Masters, who hopes that it is the first of many times in these colours. Despite that, it wasn't always her dream to represent Australia at the Olympics.
"I've always said that to people, because I always did sports, like dancing and surf lifesaving were my two main sports, and dancing dropped off and then it was surf lifesaving, so the Olympics was never on the cards.
"It was always about representing the Aussie team at the Surf Lifesaving championships, and coming into athletics, people thought I could be in the 4x100 really, you could go to Tokyo, and that was all new news to me. I always watched the Olympics and would have loved to be there, but I just never had that image of myself there in the sport that I did, so now I do, it's pretty exciting."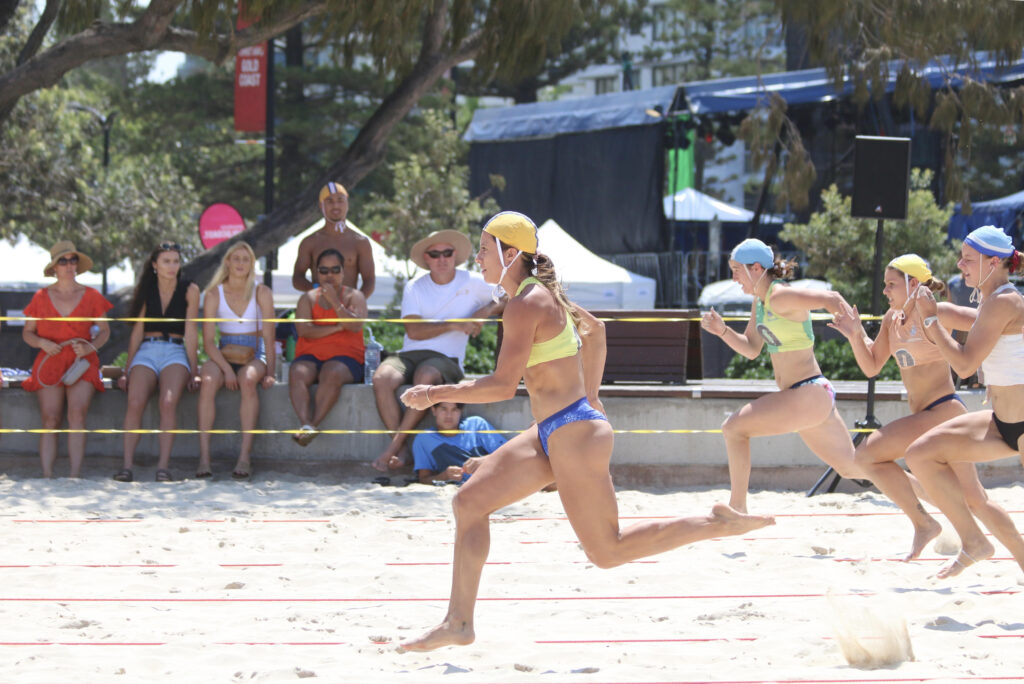 Masters is unique in many ways, but one that will pop up this week is that she is no average debutant. It may be her first Australian representation on the track, but she has been to the very top of her field, and now that she's changed pursuits, that feeling is driving her.
"It keeps me motivated, knowing that I have done it before, that I can do it again. A lot of people have questions on Instagram asking how you stay so motivated, and I tell them my huge goal is what keeps me motivated. If I'm at the track, and I don't want to do my last rep, I remember that I want to be in Paris and do the last rep. It's just experience and it's challenging.
"I've been to the World Championships for Surf Lifesaving, and so many national finals, that I feel like I've brought that to athletics, that mindset of lining up on a final, I feel like I've been there many times before and I trust myself that I know how to execute this and that I can do this."
And so tomorrow, Bree Masters will step out onto the track in Mackay. The weight of the national team, and the expectation will be on her shoulders. She has carried it before, and the fact that she knows she can will drive her legs like pistons, even faster down the lane as she competes in green and gold again, many years later.
The Women's 100m is on Tuesday 7 July at the Oceania Championships. Heats are at 1:30 pm AEST.