After a week that included a rumoured appeal for selection, and debate regarding a quota spot, the Australian Olympic Team has been announced, starring 'Bobsled Bree' Walker and her brakewoman Kiara Reddingius.
Walker jumped into the sport about six years ago, and was on the cusp of selection for Pyeonchang 2018, but wasn't selected at the time. After four strong years in this cycle, Walker will be going to Beijing 2022.
'Bobsled Bree' will compete in the two-woman bobsled event with Reddingius, and will be the lone Australian in the first-ever Women's Monobob field, a new event added for this Games.
Walker was thrilled to be selected to make her Olympic debut after the heartbreak of four years ago.
"We are all really excited, we've worked so hard for this and can't wait to continue our Olympic journey in Beijing," she said.
"I'm very privileged to be a part of this group of athletes making history in Monobob as it makes its debut at the Winter Olympics.
"It's going to be such exciting races - not many athletes have had much experience on the new Beijing track, it will lead to some unexpected racing, lots of thrills and leaderboard changes and I can't wait to have Australia watch."
Australia has been a significant force in the Women's Bobsled for the last few years, with Ashleigh Werner and Tia-Clair Toomey also competing strongly on the circuit.
Australia finished just outside the top six nations in season rankings, a mark that would have designated a second sled to be bound for the Olympics, with Werner and Toomey likely to have been selected as the second sled.
Walker acknowledged how far Australia has come as a bobsled nation over the past few years.
"Everyone has said Australia can't be successful, but why not? We're all humans, no different to those athletes from the nations with big programs, and I can't wait to show what Australian bobsledders can do in Beijing.
"And we've had so much support, from the Olympic Winter Institute, and Queensland Academy of Sport to help put us in a position to compete at the highest level.
"I hope there are athletes who see Kiara and I compete in Beijing and see their own opportunity in winter sports and to chase a Winter Olympic dream.
"People can see what we hopefully will be able to do in Beijing, and might, the same that we did, google the bobsleigh website and see how they can get involved in the sport."
Walker was also quick to acknowledge how competitive the Australian selection process had been.
"We're obviously very sad that we won't be able to have two sleds at the Games, we knew how difficult it was going to be to achieve, going up against some really strong nations with really big programs.
"But we're going to do our best to represent Australia as best we can at the Olympics and lay down the best performance we can on the day."
Reddingius made a strong impression at World Cup level, earning her spot with quality performances throughout the season, in the sleds of both Walker and Werner at different times. She came across to bobsled from an athletics background, similarly to her pilot.
"I was very confident in my ability to learn fast and adapt and I was quite confident in the position I had got my body in for the last eight years in athletics would put me in good stead," Reddingius said.
"There was so much to learn, but I like learning and the bobsled community is so supportive, so many people around the world were willing to help me because they saw that I had potential.
"Bree and I do all that we can, at any time, to execute our training and rest and everything we can control to the best of our abilities. We've got high expectations of ourselves, but we also know that every moment we're giving our best."
Hayden Smith, CEO of Bobsleigh Skeleton Australia and a former Olympian himself congratulated the team on their selection.
"We have a small but fierce group of athletes, we've shown this quadrennial that we can mix it with European heavyweights," Smith said.
"Our Women's bobsleigh program has gone from strength to strength in the past quadrennial, we are extremely proud to have such a competitive product and fortunate to have the depth that we have.
"It has been a whirlwind of a season, we were in a fantastic position leading into the last World Cup race where Australia was holding two women's bobsleigh quota spots. Unfortunately, we weren't able to field both teams and dropped back, missing out on the second quota by the slimmest of margins."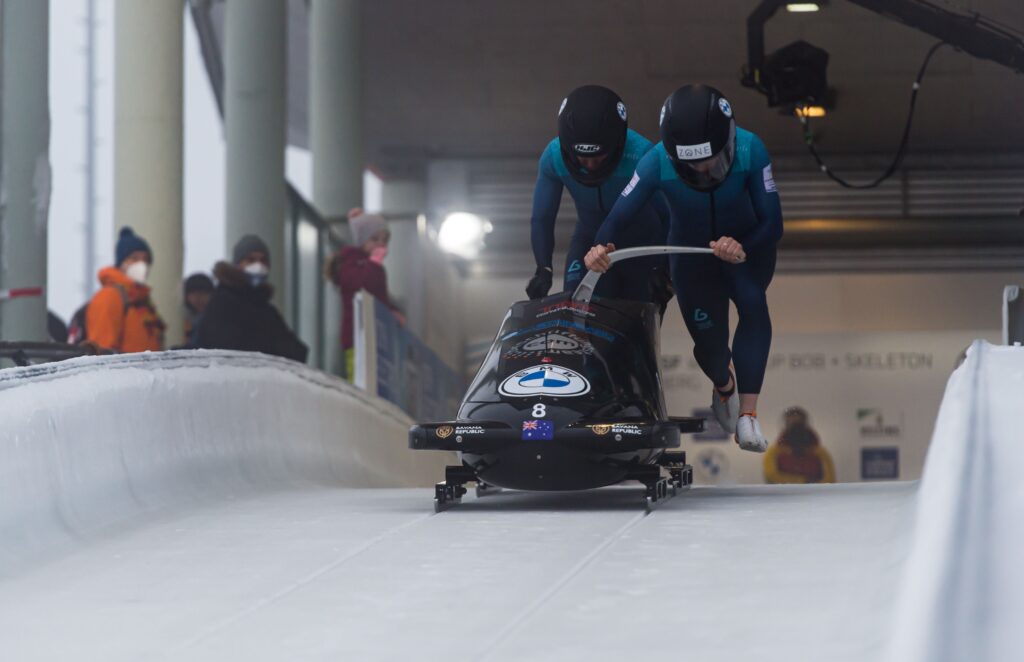 It was heartbreak for Werner, who tested positive for Covid-19 days out from that last World Cup race. She was in position to qualify if not for that and would have been going after heartbreak four years ago, where she was teammates with Walker when they were not selected.
Smith was quick to acknowledge the efforts of all the athletes who had competed in the Women's bobsleigh program over the quadrennial.
"In that regard, we have had multiple deserved athletes who have shown incredible dedication throughout a difficult qualification period. We would like to acknowledge all the hard work of Sarah Blizzard [who has been selected as an alternate], Ashleigh Werner, Tia-Clair Toomey, Stefanie Preiksa and Peta Tobin who all had impressive seasons and helped with our qualification."
Blizzard's selection as an alternate completes the three-woman bobsled team, and along with Nicholas Timmings (Men's Skeleton) and Jaclyn Narracott (Women's Skeleton), the team for the bobsled and skeleton events is now complete.
The Women's Monobob will run from 13-14 February and the two-woman bobsleigh will run on 18-19 February at Yanqing Sliding Centre.