Amongst the 2021/22 Australian Baseball League season's cancellation, teams from across the country have organised their own exhibition games. This past weekend, the future of Australian baseball was on show against the Adelaide Giants, while the Canberra Cavalry and Brisbane Bandits re-ignited their rivalry with a return series in the nation's capital, after coming up against each other last week too.
TEAM AUSTRALIA FUTURES v ADELAIDE GIANTS
GAME 1 - GIANTS 6 FUTURES 5
It was an enthralling contest at West Beach as Australian baseball fans got a taste of what the future stars of the sport can deliver with Team Australia Futures going down by one run against the Adelaide Giants.
The first four innings were scoreless with neither side finding a run, until the Giants plated the first two runs of the game at the bottom of the fifth inning, after getting out of a one-out bases loaded jam in the top half.
In the bottom of the fifth, Adelaide lead-off batter Mitch Lightbody made it to first on an error by second base Darcy Barry, unable to glove a high pop-up. Brodie Arriola and Griffin Weber each earned a walk to load the bases.
Despite Drew Davies striking out, a double-play ball hit by Jack Partington saw a force out at second, but short-stop Bailey Jay-Cooke's throw to first was errant, and allowed Lightbody and Arriola to put the Giants on the board.
Adelaide would add an extra four runs to its score at the bottom of the seventh inning and after Davies went down swinging, Partington found himself on base from a hit by pitch, before advancing on a Rixon Wingrove hit to centrefield.
Partington and Wingrove advanced on a pass ball from Jackson Grounds, and each came home after Jordan McArdle connected well on a pitch that landed just in front of the centrefield fence for a two-RBI double.
Further pass balls allowed McArdle to reach third, and then come home, as Mitch Edwards drew a walk before a pitching change was made and the final two outs recorded to end the inning.
Despite being down by six runs, Team Australia Futures wasn't prepared to go down without a fight, closing in within one run by the time the top half of the eighth inning was done, plating five. The Futures had the bases loaded after Cain McClelland was walked, and singles to George Callil and Barry with the former two coming home on a Solomon Maguire single that cleared the infield, into right field.
Bailey-Jay Cooke delivered a sacrifice fly into centrefield which was caught by Partington, scoring Barry before Harry Fullerton launched a two-run home run to left field to make it a one-run ballgame.
Team Australia Futures wasn't able to plate any more runs, as the Adelaide Giants also shut its opponents out at the top of the ninth, holding onto a one-run lead, and victory.
Team Australia started with Zak Elvy on the mound for the first two innings, supported by Joel Hogan before Lachlan Brook and Stivey both had scoreless relief outings. For the home side, Adelaide began with Jack O'Loughlin on the mound, who was replaced by Mitch Neunborn before Tom Fitzgerald provided some relief.
Fullerton and Maguire lead Team Australia with two hits each of the side's seven in total, both collecting two RBIs also. For Adelaide, McArdle led the side with two of its four hits with Partington and Wingrove collecting one apiece, with McArdle also tallying two RBIs.
GAME 2 - GIANTS 5 FUTURES 11
Team Australia Futures took the second and final game of the series, scoring all 11 of its runs across the second and third innings in a dominant offensive display which the Adelaide Giants tried its hardest to come back from.
Following a scoreless first frame, the Futures' bats were hot to start the second innings, with four runs coming from it. It began when the side got runners on the bases, via a Harrison Fullerton walk and a John Lemm hit by pitch.
Fullerton scored on an RBI double into centrefield from Max Stagg while Lemm also made it home as Mitchell Austin connected on a pitch, but grounded out to first base. Stagg scored the Futures' third run on a Lachlan Wells pass ball and a Solomon Maguire RBI double into left field scored Nic Hawkins.
After shutting out Adelaide's hitters in the bottom half, the Team Australia hitters were back again and adding more runs onto the scoreboard, this time tallying seven within the third inning.
Lemm made it to first on an error from second base and Stagg pencilled in his second hit of the game, a single into left field. The two baserunners advanced on a pick-off attempt at second by Giants pitcher Riley Yeatman with the ball ending up in centrefield before the bases were loaded when Austin was walked.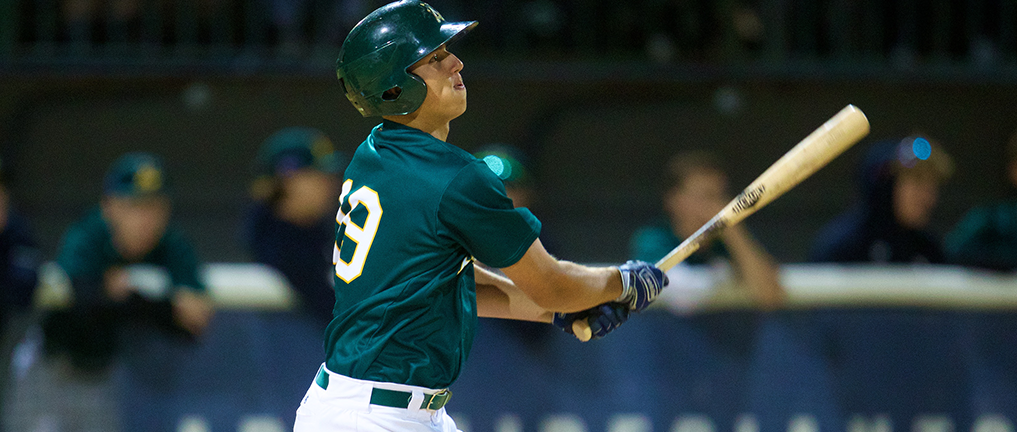 PHOTO: Ryan Schembri / SMP IMAGES | Action from the Team Australia Futures Series clash between Adelaide Giants vs Team Australia Futures played at Adelaide Shores Baseball Complex, West Beach, South Australia
Hawkins was also walked by Yeatman, plating a Lemm run, and the next batter up, George Callil was hit by a pitch, seeing him take a walk to first, and Stagg to score. On contact by Luke Smith to first base Mitch Edwards, he tried to get the force out at home but the throw took Griffin Weber away from the plate, and Austin ran through safely.
Solomon Maguire then hit a two-RBI double into centrefield to plate Hawkins and Callil before Clayton Campbell also brought in a further two runs, Smith and Maguire, with a hit into left field, taking the margin to double-digits.
Fullerton, the ninth player up for Team Australia in the innings, was the first batter to get out, striking out on a Yeatman pitch. Adelaide made a pitching change, bringing in Jayden Bastow, who got Lemm to fly out to left field, before conceding a single to Stagg, but ending things when he caught Austin looking at strike three.
From there, no score was added until the home side mounted a small comeback, starting with a two-run sixth inning. Weber, Partington - who recorded Adelaide's first hit of the game with a single into centrefield - and Wingrove saw the bases loaded, and a Jordan McArdle pop-up in shallow centrefield landed safely to score Weber. The Team Australia lead went back into single digits when Edwards was walked, scoring Partington.
Adelaide left it late to mount much more of a fightback, not scoring any more runs until the final innings, where the side plated three runs in the ninth. Despite a lead-off groundout by Edwards, Liam Bull and Mitch Lightbody each earned a walk.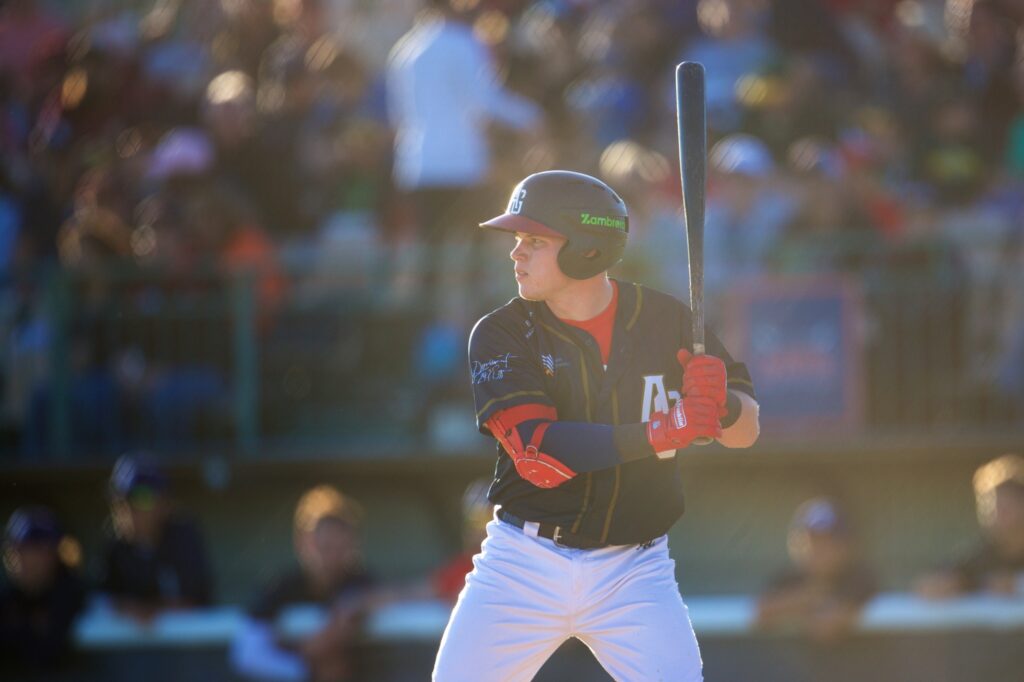 PHOTO: Ryan Schembri / SMP IMAGES | Action from the Team Australia Futures Series clash between Adelaide Giants vs Team Australia Futures played at Adelaide Shores Baseball Complex, West Beach, South Australia
Brodie Arriola hit an RBI double into centrefield to bring in Bull, before another hit by Weber, a single into centrefield, scored Lightbody. Drew Davies then flew out to left field, but would record an RBI when Ariolla touched up at third, and then scored before Team Australia recorded the final two outs to end the ballgame.
Coen Wynne started on the mound for Team Australia Futures, lasting four innings and not giving up a hit while striking out five batters. Angus Stals and Max Milner provided relief for the national team. For Adelaide, Lachlan Wells, Riley Yeatman, Jayden Bastow and Luke Wilkins combined to try and slow any offensive opposition threats.
With the bats, for Team Australia, Max Stagg lead the game, going four from five with Solomon Maguire collecting two, as well as three RBIs. For Adelaide, Jack Partington lead the way with three of his team's collective six hits.
Team Australia will next be in action against the Brisbane Bandits at Viticon Stadium in a two-game series beginning on February 25. The Adelaide Giants hasn't announced any further exhibition games.
RELATED STORIES
AUSTRALIAN BASEBALL WRAP: ACES AND GIANTS SPLIT SERIES, BANDITS BEAT CAVALRY
MAJOR REFLECTIONS: JUSTIN HUBER – AUSTRALIA'S 20TH MLB DEBUTANT
STRONG HITTING DISPLAY SEES GIANTS WIN THE MELBOURNE CHALLENGE
BRISBANE BANDITS v CANBERRA CAVALRY
GAME 1 - CAVALRY 4 BANDITS 4
After a scoreless first two innings, the Brisbane Bandits got on the board first, plating two runs in the third inning and taking a four-run lead after the fifth inning. However, the Canberra Cavalry responded with a four-run rally in the eighth inning to tie the scores, with both managers agreeing to a draw as the final result.
Brisbane's starter Tim Atherton pitched six innings, striking out 10 of Canberra's batters. Frank Gailey got the start for the home team, lasting five innings on the mound and tallying five strikeouts.
With the bats, Dermot Fritsch lead the game for hits with four as Dan Nilsson contributed with three hits and three RBIs for the Bandits. Cam Warner tallied three hits for the Cavalry with Boss Moanaroa collecting two RBIs.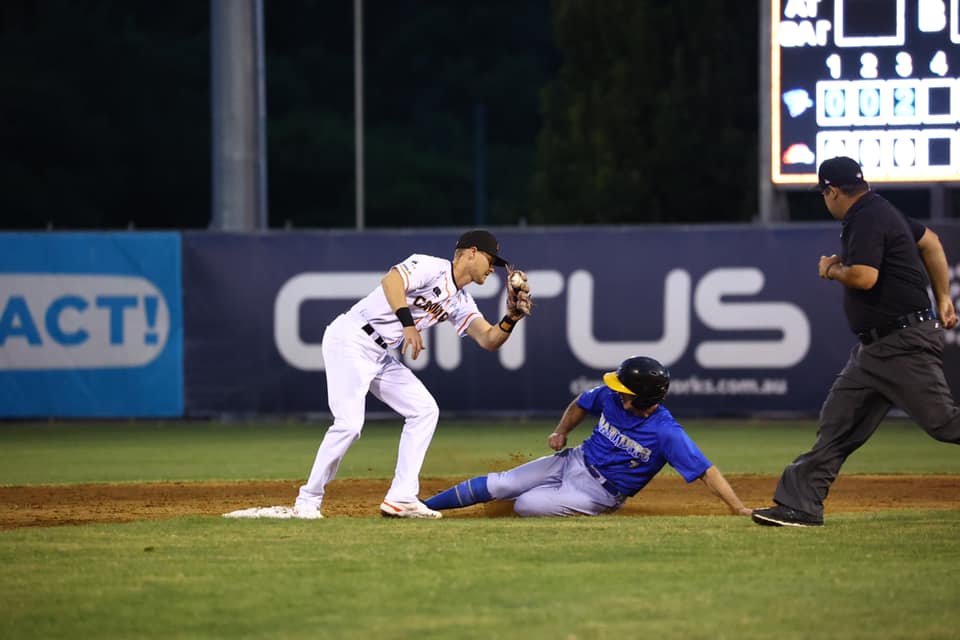 GAME 2 - CAVALRY 1 BANDITS 6
The Brisbane Bandits again took an early lead in Game 2 of the series against the Canberra Cavalry, scoring two runs in the second innings, and another in the third, before the home team got on the board with a run of their own before the third inning came to an end.
The next three frames resulted in tight defence from each team, but the visitors would make sure of the lead, adding a further three runs to their total in the seventh and final inning, with Canberra unable to string together a fightback in the first game of the day's doubleheader.
Steven Kent lead the way for Canberra to start the game, pitching six innings ensured he also lead the way in quashing much of the threat the Brisbane batters possess, striking out 12 hitters before Jason Lott came in as relief. Jeremy Atkinson pitched five innings as Brisbane's starter, collecting seven strikeouts.
On the offensive side of the game, Brisbane's Dan Nilsson was the only batter of the game to record multiple hits while Jordan Thomson and Dermot Fritsch helped bring in two runs each for their team.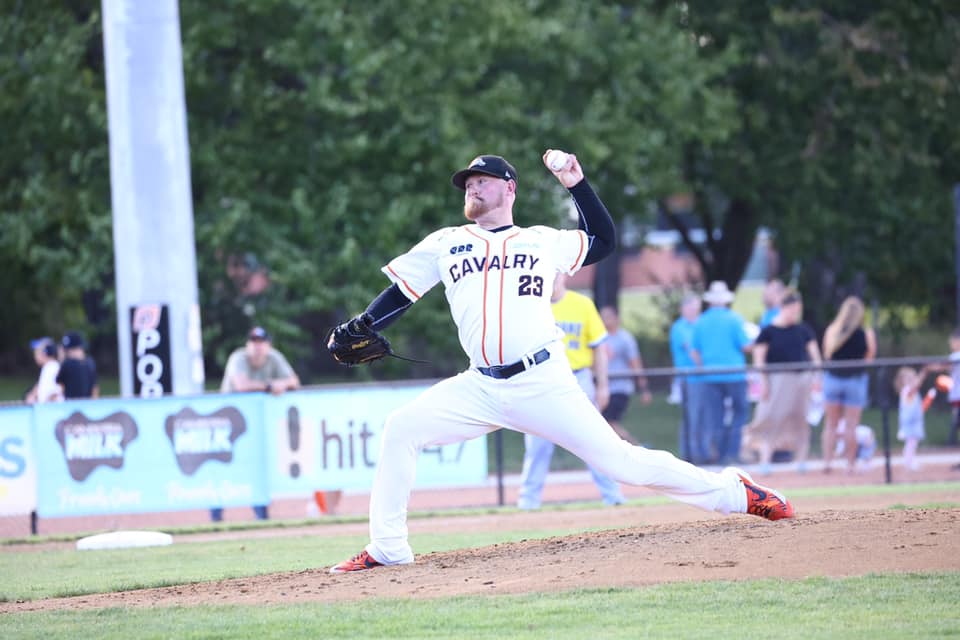 Canberra Cavalry starting pitcher Steven Kent pitches the ball in Game 2. (Photo: Canberra Cavalry)
GAME 3 - CAVALRY 5 BANDITS 0
The Canberra Cavalry ensured it wouldn't let the Brisbane Bandits go home without a loss, providing a shutout to its opponents in Game 3, the final game of the series and doubleheader.
The Cavalry started scoring early, highlighted by a four-run first inning as Rhys Niit did all the work on the mound to limit any Bandits hitters from scoring. Canberra added one more run to its score in the fifth inning as the defence remained solid all-round.
Niit worked six innings on the mound for the Cavalry, finding six strikeouts while for the Bandits, Connor Laverty (four innings) and Byron Humble (two innings) worked in tandem.
Jordan Young and Robbie Perkins each collected two hits for the Cavalry with Tom Shakespeare and Perkins batting in two runs each while Boss Moanaroa hit a home run.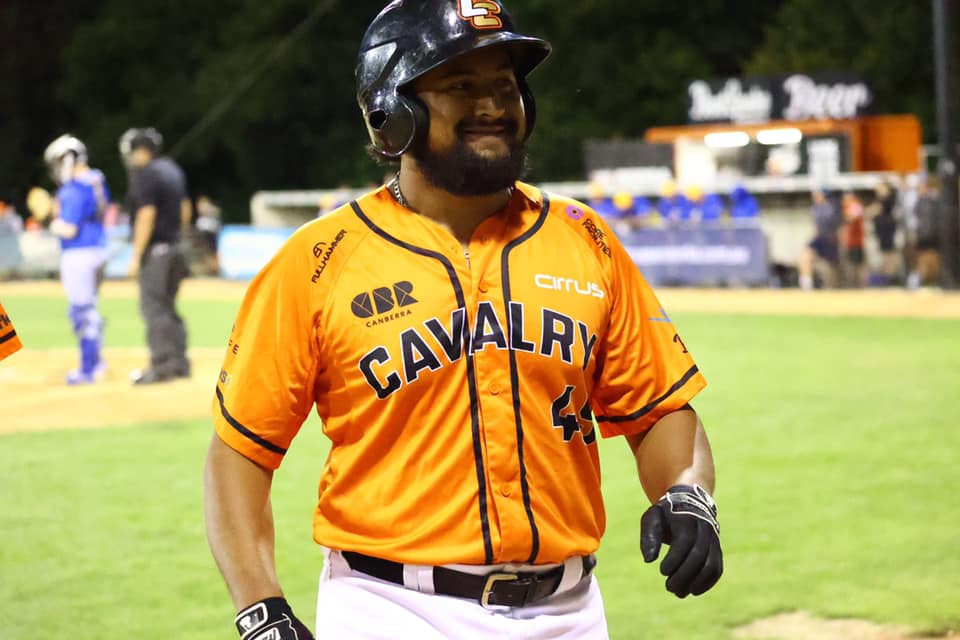 Boss Moanaroa all smiles after hitting a home run in Game 3. (Photo: Canberra Cavalry)
The Brisbane Bandits' final home series will see the club host Team Australia on Friday, February 25 and Saturday, February 26while the Canberra Cavalry travel to Blacktown to face the Sydney Blue Sox in a two-game series this weekend.