With less than two weeks until the Australian team gets to race for Cross-Country glory on the world stage, Athletics Australia has unveiled a 28-runner squad looking to light home soil alight.
It's the first time in more than two decades since Australia hosted a major World Athletics event (which doesn't include the Olympics and Commonwealth Games). For many Australian athletes, it's the first time in their lifetime that World Athletics has come to Australia.
One such athlete is Bailey Habler, who will be making his debut in Australian colours.
For Habler, the moment is a huge opportunity, and he is fully aware of that.
"It's gonna be an absolute pleasure to put on the green and gold for the first time," he said at the Athletics Australia announcement.
And it's not just being at home that is the opportunity for Habler, it's also having the stars of today around him.
When asked about having Stewart McSweyn and Jessica Hull on the same team, Habler was quick to show humility and an eye for the future.
"To follow in their footsteps would be the goal but to see what they've done in the world stages credit to them and an example for me in the future."
Habler also spoke exclusively to Edge of the Crowd in the wake of his selection, and he was still soaking up his chance to wear the Australian colours.
"I'm ecstatic to be wearing the green and gold for the first time, especially to be able to home country, and in Bathurst will be an absolute pleasure.
"Even now just being on the team is being able to race with my heroes. So to do it as a junior is an absolute pleasure and like I said, so excited."
The team for the World Cross Country Championships is 28 strong, with five Olympians, including a Commonwealth Games champion, and multiple Australian champions and record holders.
The most star-studded race will be the mixed 4x2km relay, with Stewart McSweyn, Jessica Hull, Ollie Hoare and Abbey Caldwell. The quartet will go into the race with high expectations and as one of the most complete teams in the field.
The Australian team will have the fastest personal best times over the distance and will be hoping to make the most of the opportunity.
Speaking to Edge of the Crowd, McSweyn was quick to talk about how the opportunity was not just for the stars of Australian athletics, but future stars like Habler too.
"This will be actually my first time doing the relay," McSweyn said.
"So I'm excited. Obviously, we've got four great athletes running for Australia. So hopefully we can do pretty well and kind of set up for the next-gen coming through as well."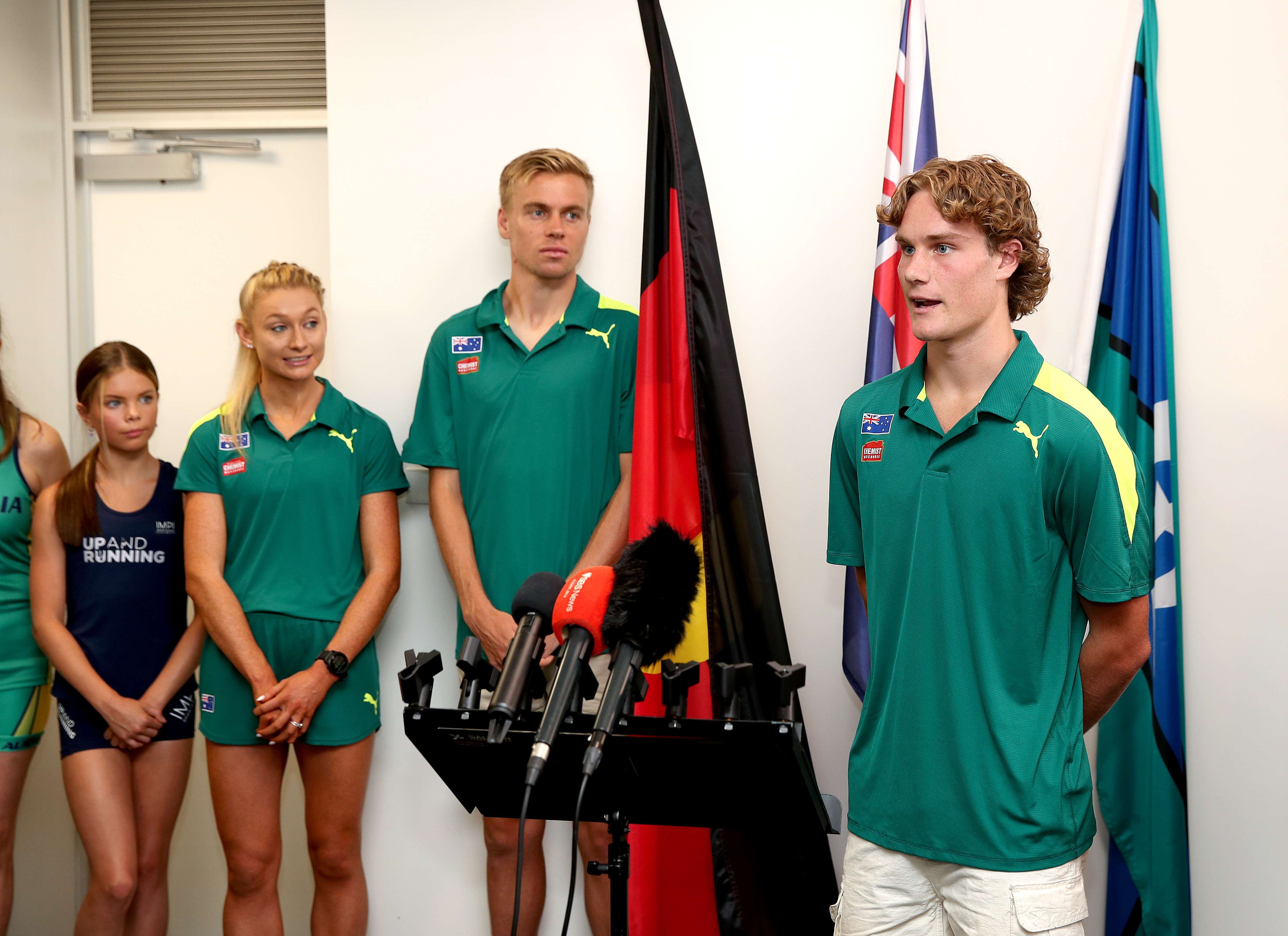 For Habler, when he was asked about which of those heroes he was most excited to race alongside, the answer came quickly, and fittingly, to a runner standing just nearby at the time.
"Stewie [McSweyn]. Pretty easy answer, but there are so many other good guys in there that I can learn off and stuff like that.
"Jack [Rayner] and Brett [Robinson] as well so the whole team is filled with so many good athletes especially, in them as well. I'm so excited to meet them all."
And for many of them, it will be a great opportunity to meet and race alongside Bailey Habler, who will have a bright future in Australian athletics.
The Australian team will race at the Bathurst World Cross Country Championships this weekend. The full Australian team is:
Men's 10km – Jack Rayner, Matthew Ramsden, Brett Robinson, Rorey Hunter, Andy Buchanan, Ky Robinson.
Women's 10km – Rose Davies, Leanne Pompeani, Caitlin Adams, Isobel Batt-Doyle, Holly Campbell, Ellie Pashley.
Mixed 4x2km Relay – Stewart McSweyn, Abbey Caldwell, Oliver Hoare, Jessica Hull.
Under 20 Men's 8km – Logan Janetzki, Archie Noakes, Jack Coomber, Cael Mulholland, Ciaran Rushton, Bailey Habler.
Under 20 Women's 6km – Amy Bunnage, Gabrielle Schmidt, Gabrielle Vincent, Aspen Anderson, Claudia Meaker, Fieke Van Der Kamp.