Alex Ferlazzo, Jackie Narracott and Nick Timmings have been rewarded for their incredible efforts in the 2021/2022 world cup seasons by officially being named on the Australian Olympic Team for Beijing 2022 in Luge and Skeleton.
Competing in the Luge, Ferlazzo will make history in Beijing as the first Australian Luge athlete to compete at three Olympics.
First having attended the 2014 Sochi Olympics where he finished 33rd and 28th in Pyeongchang in 2018. The latter being the best result for an Australian at the Olympics in the Luge event.
Just 26-years-old, Ferlazzo has been focusing on not just his past experience at the Olympics and physical health but also his mental health to ensure the best results possible in Beijing.
"This is such a special moment," Ferlazzo said. "I'm stoked first of all to make the Olympic team again to be able to represent Australia.
"I feel more ready than ever, Luge is such an experience-based sport and you know, having two Olympics under my belt, I'm finding it a lot easier to handle the pressure of racing and just enjoy every moment.
"With travel restrictions in 2020, I was at home and missed the whole season. It was difficult, to begin with, I just committed to doing everything I could back home. I spent a lot of time working on mental health, worked out some niggling injuries, so going into this season, I've been feeling mentally fresh, and the body is feeling better than better than it ever has before."
Hailing from sunny North Queensland, Ferlazzo's origin is atypical for winter Olympians, but he hopes that his performance at the Olympics will inspire Aussie kids to take up the opportunity should it be offered.
"For kids watching the Games in February, if the opportunity comes your way you have got to grab it. The time I've had throughout the sport has been incredible, sliding on some awesome tracks and learning something each week.
"The feeling of Luge is amazing - this morning, I hit my top speed ever of 143 km/h and it just feels like you're floating. You're so dialled in and focused, you're just flowing with the track and it's a beautiful feeling."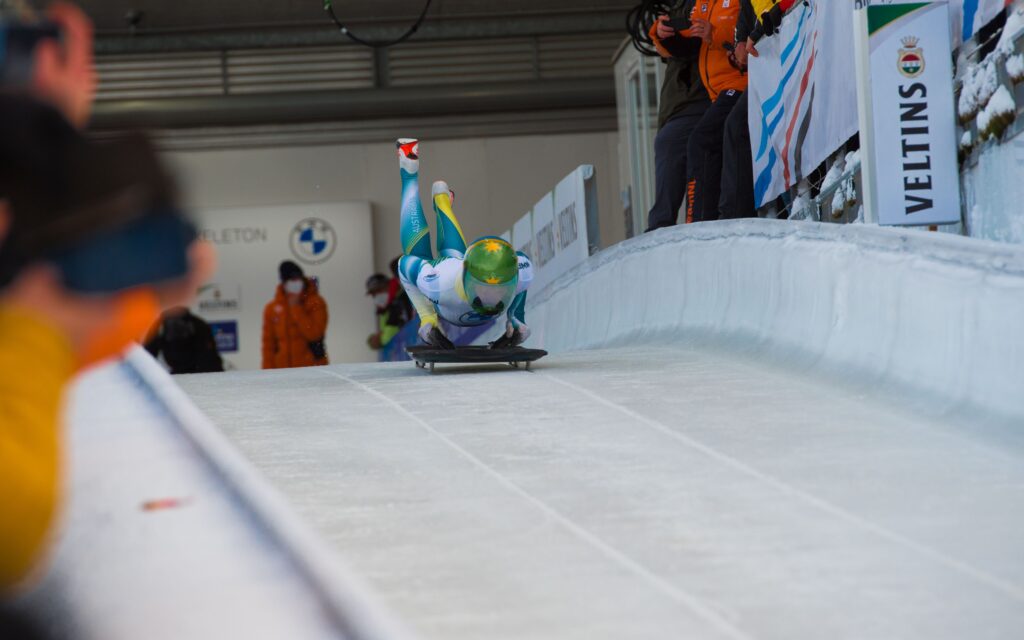 The 31-year-old recognised last weekend's victory as tangible proof that she can win at the top level and how much she's enjoying her time racing this season.
"Becoming a two-time skeleton Olympian is fantastic, it's unreal," Narracott said.
"Winning St Moritz last weekend was an absolute dream come true. I managed to finally put all the lessons I've been learning over the past 10 years into two great runs in the same race.
"To cross the finish line and then see the number one [next to my name] was just pure excitement. I've always dreamed and hoped that I would be the first Aussie to win a skeleton World Cup, but to actually do it is really cool.
"It's given me concrete proof that I can compete and win this level. I've always believed that it was in me – now I know.
"We get to race faster than we can legally drive cars. On a good run, it just feels like you're flying, it's so fun and free and fast. I can't wait to do it again in Beijing."
It's been a long ride for the only debutant of the trio but after over a decade in the Australian Skeleton program, Nick Timmings now gets to call himself an Olympian.
The Western Australian detailed how it feels racing down the track at unreal speeds following selection, clocking in at 141km/h on the Whistler, Canada track this year.
"It's a dream come true to go to my first Olympics, I'm over the moon," Timmings said. "I can't wait to get out there and see what we can do in Beijing."
"Every Olympic athlete would have had a four-year plan that was completely thrown out the window after the year two. For me, last year was a big struggle to get away and compete. But I bit the bullet and took a risk to get away to better myself and improve so I could get in that position this year where I could really attack that qualifying spot.
"The speed and the adrenaline of skeleton is like nothing else. I got to 141 km/h in on the Whistler track this year, when you're having a good run, you can feel time slowing down like the corners are coming at you slower. You literally feel like you're flying."
Timmings hasn't been alone in the sport, recognising that getting to race alongside his brother Dean has helped with the loneliness some might feel.
"This sport does get lonely sometimes when you're travelling the world by itself, so when Dean and I have been together it's been a big help. Only qualifying one spot on the male side was a shame, but no matter who it was to qualify, we knew we were each going to be happy for the other person."
Siders will compete at the Yanqing Sliding Centre just outside of Beijing, which is a shorter track than the one used in 2018 at Pyeongchang, officially coming in at 1975m with 16 turns including a world-first 360-degree turn.
Geoff Lipshut, Chef de Mission for the Australian Olympic Team welcomed the latest three athletes to the Olympic team, commending the hard work over their careers.
"Congratulations to Alex, Jackie and Nick - today is a fantastic day to celebrate for you, your families and friends," Mr Lipshut said.
"This is the result of decades of work, so much time put in on the tracks around the world, in the gym, away from Australia to compete at these Olympics.
"Today's selection highlights that it doesn't matter where you're from in Australia if you have the drive, determination and skill that Jackie, Alex and Nick display, whether you're from north Queensland or West Australia, you can chase your Winter Olympic dream.
"Thank you to Bobsleigh Skeleton Australia and Luge Australia for developing these athletes from their first time on ice to the Australian Olympic Team, and to the Queensland Academy of Sport and West Australian Institute of Sport for your ongoing support of the athletes' pursuits."
President of Luge Australia Hannah Campbell-Pegg congratulated Alex on his history-making selection.
"Luge Australia is so proud of Alex and all that he has achieved," Ms Campbell-Pegg said. "To qualify for three Winter Olympic Games when you originate from Australia is an amazing feat in itself."
"He's shown nothing but grit and determination over the years in order to achieve what he has and developed into the best Luge athlete Australia has ever seen.
"He is an astounding ambassador for sliding sports and we are delighted to have him represent Australia again at the Winter Olympic Games in Beijing."
Hayden Smith, CEO of Bobsleigh Skeleton Australia hopes Australians will cheer on the athletes when they hit the ice in Beijing.
"A massive congratulations to Nick and Jackie on being selected to the Australian Olympic Team today, it's a great outcome after more than a decade each in the sport," Mr Smith said.
"Jackie and Nick have shown their strength of character, navigating what has been a really challenging qualification process and delivering impressive results on the ice.
"They're such impressive athletes and people and I look forward to Australians cheering on Jackie and Nick when they hit the ice in Beijing."
The Luge competition will run from 5-10 February and Skeleton 10-12 February at the Yanqing Sliding Centre.