It was a washout in Adelaide in the second T20I match of the Ashes series, but the big news was pacer Tayla Vlaeminck missed through injury.
Rain delayed the toss, but the ground staff started to remove the covers around 2pm local time and played got underway half an hour later, with 14 overs per side.
Both teams made one change; Darcie Brown replaced Tayla Vlaeminck, while Charlie Dean came in for Maia Bouchier in the English XI, after the batter went down awkwardly on her knee in the outfield during the T20I opener.
The official word from Cricket Australia was that Vlaeminck is being assessed for a right foot injury and they'd know more in the coming days.
Speaking to media after the match was abandoned, Meg Lanning said the medical team was still determining the extent of the issue.
"We're sort of assessing how it is and what exactly is going on. So, we'll know a little bit more over the next few days, but obviously not ideal...," she said.
"It's always hard to tell with Tay (Tayla Vlaeminck), she puts on a pretty brave face. I've just had a chat with her today and she seems okay, but it's hard to get a read at the moment."
When play did get underway, Ash Gardner opened the bowling for Australia and Danni Wyatt was immediately off the mark for England, continuing her form from Thursday night.
The outfield was slow and made it difficult for the English openers to hit the boundary, but they still managed to do so three times in the 4.1 overs bowled.
Australia elected to rotate its bowlers through, with five different players coming in for an over. When Alana King - still in shades, despite the showers - came on, the rain only got heavier and the players headed off quickly.
The rain settled in, as it had all morning, and play was officially abandoned at 3:30pm local time.
The injury to Beth Mooney on Monday threw another spanner inAustralia's "scattered" Ashes preparation, but a quick-fix for the practice matches on Tuesday has become the preferred option for the home side.
"We have plenty of options [for the opener spot], a lot of the girls do open for their WBBL teams," Lanning said.
"So, it was just a matter of working through what we thought would work best.
"I opened in the practice match with Midge (Alyssa Healy) and that was just a bit of a stopgap measure at the time, but me and Midge batted quite well together and we have over a period of time...
"It just made sense, I guess, for me to slide up and then the opportunity was presented for T-Mac (Tahlia McGrath) to come in at number three, which was sort of set us up really nicely."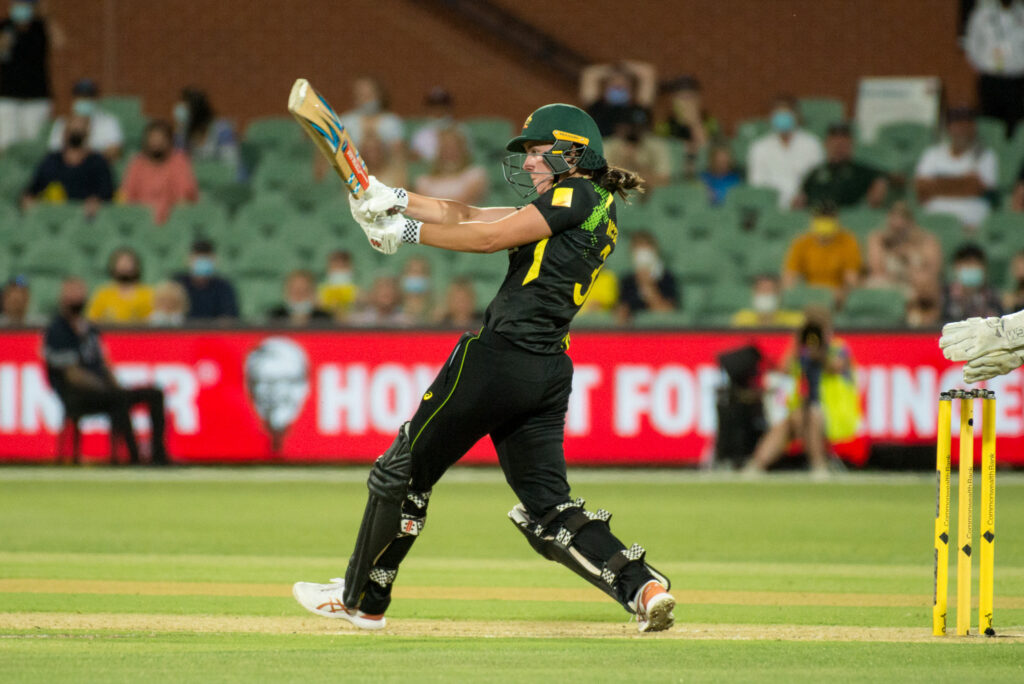 That change was not the only one we saw for Australia's XI on Thursday night, with Ellyse Perry not selected in the playing side, instead seen running drinks.
It's a luxury the Australian selection team have now, that there is a pool of players to chose from and, especially in the T20 format, they can select players for very specific roles.
Lanning spoke of the decision to select a side that did not include Perry, who's form in the format has declined in the last 12 months.
"It's something we've spoken about a lot in this T20 format, becoming really role-specific and those sort of five, six, seven roles with the bat," she told.
"You don't face many balls, it could be five balls, maximum maybe 10. So, we need players who can come in and impact the game straightaway and I suppose that played a part in the decision as well.
"We've sort of gone down the path of playing a lot of all-rounders as well over the last few years and I guess that was the other part to it as well was with her bowling I guess we just had other options to go to ahead of her. We like to have players within our side who can contribute with both bat and ball and that played a role in it as well."
While T20 might not be Perry's ideal format right now, the Ashes series features a Test and three ODIs for the all-rounder to find her place in the playing XI once again.
"There's no doubt it shows how much the game has improved and the depth that we've got within Australian cricket as well. Ellyse (Perry) is a great of the game and always will be and I guess at the moment we feel like we can pick players to play specific roles and sort of at the moment at least didn't sort of quite fit into that, but that's not to say she can fight back and play a little differently and play a role for us."
Australia and England return to Adelaide Oval on Sunday for the final T20I for the Ashes Series, before travelling to Canberra for the Test.