At the end of the 2021 Super Netball Season, Allie Smith packed up her life and her career at the Melbourne Vixens and took off for Sydney. She's hit the ground running and found a new team, a new position, a new house and a new calling in weeks in Sydney.
Smith was a premiership player with the Melbourne Vixens in 2020 and spoke toEdge of the Crowdahead of her first matchup against her old side on their home court.
She holds no ill-will towards the Vixens and has nothing but respect for her old club.
"Everyone knows the Vixens are an amazing and successful club as well," Smith said.
"The move was purely opportunity-based. You train so hard to play netball and looking for that opportunity, and I was looking for a future, and I guess that's what I came up [to Sydney] for and a little bit of a change."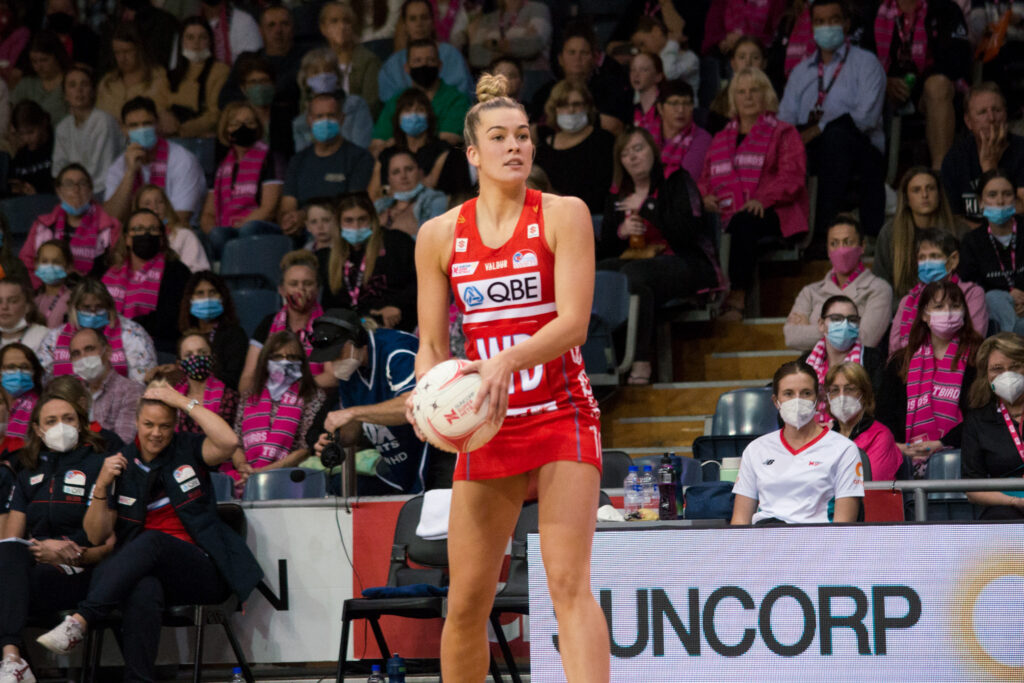 It was a pretty significant change for Smith, whose whole life has shifted since signing with the Swifts. Now, she is living with teammates Maddy Proud, Maddy Turner and Sarah Klau, in a netball-mad house.
"I was still living at home so that played a big part in my move."
"I was looking for my own apartment, and then I got a message from one of the [Swifts] girls because we had the two months training prior to Christmas, and they just said 'look, feel free to come in here whilst Soph [Garbin] is gone, and we'll sort the rest out after Christmas.'
"So, sort of just packed my stuff as if I was staying up here for the two months and got to the end of the two months, and we all got along like a house on fire, and I guess the rest is history from that."
In the space of a few short months, the former Melburnian had jumped states, living environments and teams, but there were still more changes around the corner.
"When I first got here, as a person, I've always wanted to be busy, and I've grown up, and netball is a huge part of my life, but you need an outlet.
"Back home was work for me, I worked in admin and that took up heaps of time back home and I sort of thought look I really would love to put my extra time in somewhere else. I was looking for jobs and social work was on the cards, I studied nursing back home as well.
"Paigey [Hadley] and I got into a conversation, and she got me in conversation with Steve Dressler, who is the CEO at What Ability. Literally that week, I had a meeting with him and started the following week with kids with disabilities, so I work with many kids with ranging disabilities.
"I love it, it's definitely the calling that I never even thought that it would be something that I'd get into, I'd honestly can't see that sort of job leaving now."
What Ability has immediately become Smith's calling, and she describes an infectious enjoyment working with children with disabilities.
"I guess being in a team environment, especially for myself, I love to be around people and love to help people. Seeing the kids smile it honestly brings you so much joy.
"You can leave that netball environment, whether you've had a great day or a not-so-great day in the office at training, it doesn't matter when you can out with those kids because you're having a great day no matter what."
But even then, a new team, new house, and new job wasn't enough change for the 22-year-old.
She made her name as a centre for the Vixens, but before she had even played a minute of official Suncorp Super Netball, Smith had put her hand up to play five different positions for the Swifts.
Smith was a clear option in all three midcourt positions, and the way the Swifts play, she was likely to see time in some of them.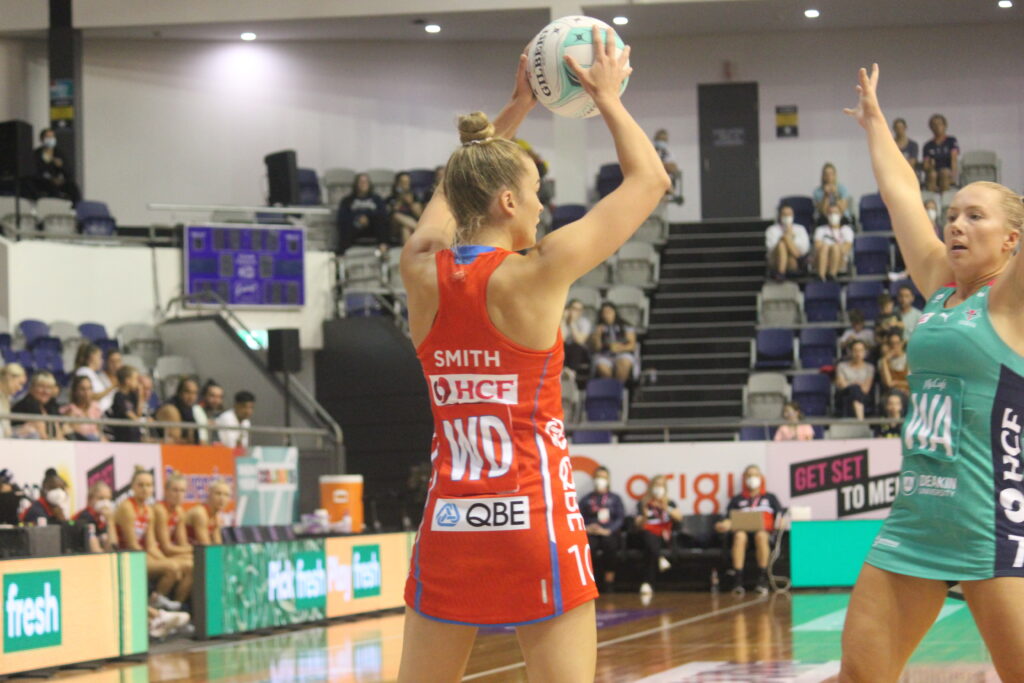 During the early part of the pre-season, and into Team Girls Cup, the former Vixen spent time in goal defence.
At Team Girls Cup, when Sam Wallace, and eventually Helen Housby, were ruled out through injury, Smith was the backup shooter. It was an opportunity she relished, with recognition for her versatility being a big moment, even if she wasn't thrown out into that role during Team Girls Cup.
"We had to vote in for a third goaler and a few of the girls were pretty upset with me that the coach [Briony Akle] actually voted me. I was more than happy to have that card played, I was sort of a bit upset that neither of the girls called time to put me on. I got voted in by the coach so that says a lot."
Smith had actually not been a centre all the way through junior netball, despite being swung out there by Simone McKinnis at the Vixens. She explained that the versatility had come through her junior years.
"At the Vixens, they introduced me into the centre role.
"I started originally as a goaler in juniors, then got moved from end to end, then got swung into the defensive midcourt. I think originally coming over to Swifts, I did a lot of my juniors in goal defence, so Briony and Bec [Bulley] both knew that was something that I could play but hasn't been in my game for a few years at the Vixens.
"The Swifts can throw out many different combinations and a lot of the work and goal defence just to seem to be one depending on the player and position and how the game is going.
"Goal defence is another position I can play which is awesome to have that variety in my game and offer that to Swifts as well. I would say that it was on the cards in my junior years but to actually have the opportunity to go out and play goal defence is something pretty unreal."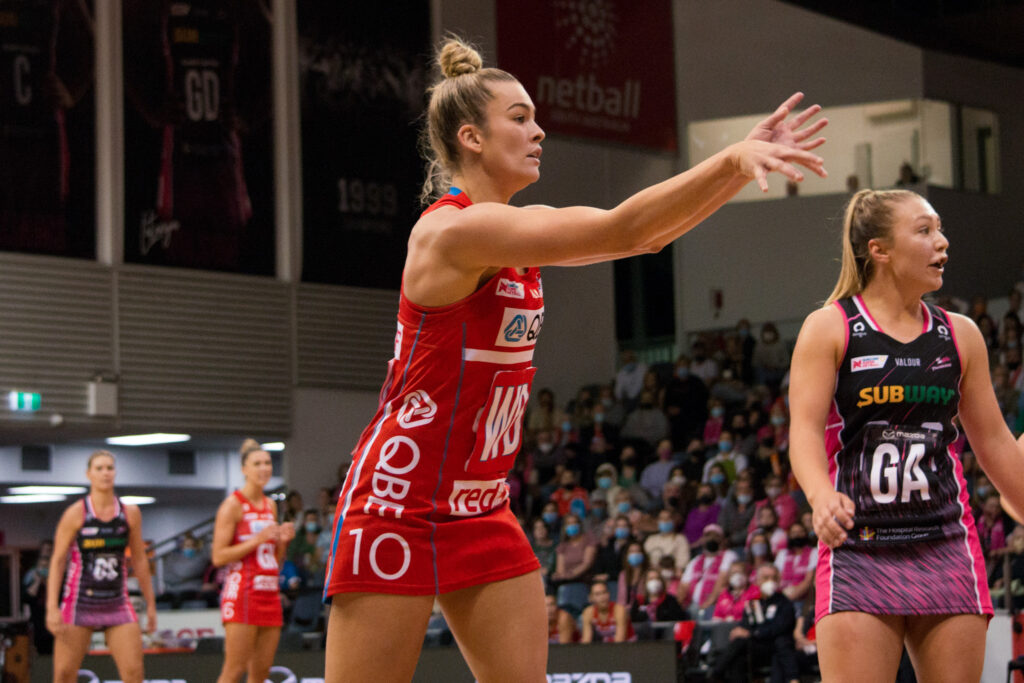 Smith has seen time in both wing defence and goal defence this season for the Swifts and has built strong chemistry with her housemates on court as well, in Maddy Proud, Sarah Klau and Maddy Turner.
That chemistry is reflected away from the court as well, the young star explained.
"The Swifts' culture is one of a kind, and I love to be a part of it. I've been lucky enough to move into a house with Proud, Turner and Sarah, so that's made the move 10 times easier and on court that also helps the connections and the honest feedback and everything."
And having housemates for teammates means that the teammates are all close like housemates. One teammate that Smith has quickly built a bond with is Sam Wallace, who has missed most of the season after tearing her ACL in the opening match.
"We go over there for dinner a few nights a week or whatever our schedule allows us to. While watching a movie or having dinner, she's doing her exercises which is so great to see.
"We've all gathered closer, I guess, to be around her and support her, and she's our #1 fan which is cool to look over the sidelines and see her, it's pretty amazing, but you don't want anyone to get injured and be in the position that she's in at the moment. It's hard work, and it's a long road in front of her, but we're all behind her, and she's all behind us as well."
So in the space of a few months, Smith's life has turned upside down. A new team, a new role on the court, a new job off-court, a new house, and a new job.
Despite all that, she has rolled with the punches and thrived. There have been challenges on court, playing midweek matches and at times, struggling for an opportunity, but the 22-year-old has settled in.
"I definitely do not regret anything, and it's probably been such a great move for me, and I'm loving every day up here, so it's been awesome."
Coach Briony Akle has shown plenty of confidence in Smith, throwing her into the fire at different times this season. She has faced up in goal defence against Sophie Dwyer and against some of the stars of the competition in wing defence, like Kelsey Browne and Verity Simmons.
This week will be no different on the court for Smith, it will be a week like any other, despite playing against her old team.
But behind that, everything is different. And yet, everything is settled.
The NSW Swifts, and Allie Smith, will take on the Melbourne Vixens at John Cain Arena at 7:00 pm on Saturday 21 May.