Alfie has been making a name for himself ever since he started releasing EPs of his brand of woozy, funky pop music in 2016. Initially, there was a lo-fi bedroom pop streak to his sound, but with the release of his debut studio album, Mellow Moon, this year, Alfie has upped the production value and gone full-tilt into spacey disco bangers. Replete with catchy choruses and shimmery timbres, Mellow Moon marks Alfie maturing into a more mainstream sound as he makes his play for pop stardom.
Having made a name for himself with a string of popular EPs and now this studio debut, it was time for Alfie to assert his independence as an international artist – it was time for him to headline an Australian tour. Coming right off a headline tour in the UK and Europe, Alfie was now to do the same in Australia, beginning in Adelaide before moving to Sydney and then to Melbourne on Thursday, before finishing in Brisbane on Friday.
I had the pleasure of watching Alfie's show in Melbourne this Thursday. Admittedly, I was not initially well-versed with his music but in preparation, I listened to his new album, his EPs and even his scrappy, lo-fi side project, Ariel Days. I developed an appreciation of his mind for melodies, his commitment to hard-hitting grooves and his occasional tendency toward experimentation, although found his lyricism at times shallow and got the sense that he was conforming to a certain label-friendly archetype of cutesy indie-pop. Overall, I was excited to see what this rising star would bring to the live performance table.
The Howler was an interesting venue to stage a show for such an artist. A warehouse turned hip Brunswick bar, the first sight upon entry is a colossal steel tree that rises into the roof of its beer garden, a reminder of the building's industrial roots.
I was ushered toward a bar in the back, where I ordered a $10 mug of mulled cider and waited for the doors to open at 8 pm.
When they did, I finally beheld the theatre for tonight's show. A more intimate affair, with a small stage and enough space for a moderately sized crowd, to vibe in. In the corner, a man identifying himself loud and proud as Alfie's father was selling his merch – a sweet, personal touch to the setting. I sequestered myself in one of the elevated booths at the back and waited for the opening act to kick off at 8:30.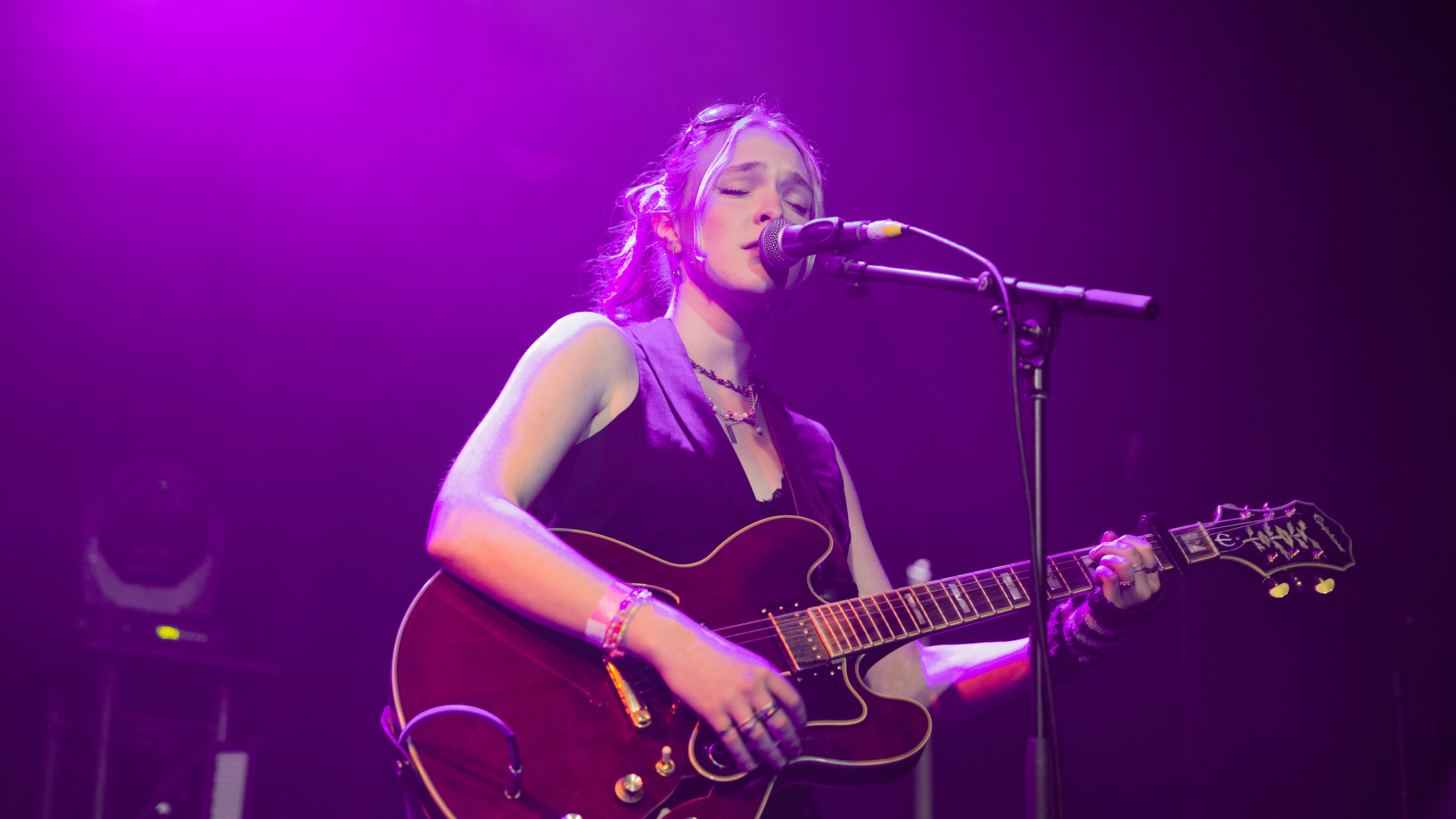 The opener was 19-year-old Melbourne singer-songwriter, Holly Hebe, who came on with backing band, the Blue Tuesdays, to perform thirty minutes of her own indie-pop numbers. It was a comparatively low-key affair, Holly's lyrics detailing lovelorn moments as she sang from the keyboard.
This is not to say there was an absence of enthusiasm, however. Holly's charisma definitely carried through and her band were similarly entertaining, with the groovy charm of sports coated saxophonist, Jack Burmeister, being a particular standout.
Holly's set won the crowd with a rendition of Miley Cyrus' 'The Climb' halfway through inspiring waving iPhone torches and a communal chant of the lyrics. Closing was a newer song, 'Plastic Chairs', that grabbed me immediately with its intense opening, heavy on the cymbals and the guitar sound, before transitioning into catchy indie-pop. We were treated to a compelling solo from guitarist, Linus Finn, and clever usage of the kit from drummer, Matt Kelly, until they all left to rousing applause.
It was to be another thirty minutes before Alfie would take the stage. In that time, more youths bedecked in flares and denim and leather and hair-dye filtered into the theatre. Anticipation grew as shadowy figures prepared the stage for Alfie's entrance.
Alfie and his band burst onto stage at 9:30 amongst an array of red and yellow lights, kicking it off with new song, 'Candyfloss', a psych-pop number with a chorus as sugary as its title implies, which culminated in a guitar solo while the strobe lights and drummer went wild.
It was then time to, in Alfie's words, "play a few rockin' songs" that Alfie and his guitarist, bassist and drummer tore through with aplomb. Steady, forward-moving drumbeats and funky basslines dominated the room until the ethereal art pop returned with another new track, 'A Western'.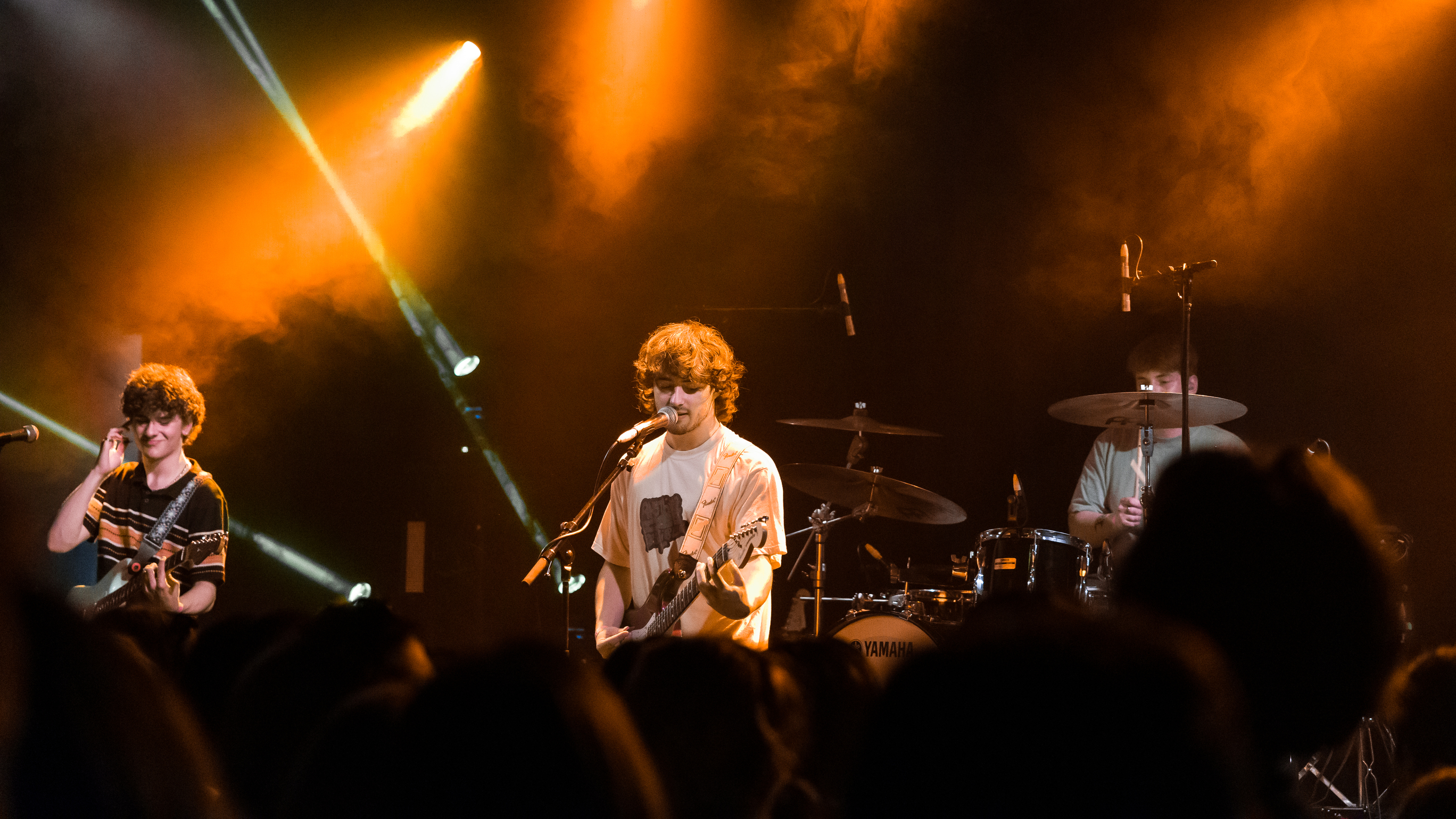 There was a brief interval where Alfie forgot what to play next and had to check the setlist, but it came across more as goofy and amusing than unprofessional. This was one of Alfie's first moments bantering with the crowd and it was certainly well-received.
The energy of Alfie and his band really started to pick up around this point. They had been playing the songs pretty straight so far, but the passionate, acrobatic vocal performance that ended 'Film Scene Daydream' showed things were ramping up.
The crowd responded to the newfound enthusiasm, dancing and singing along more than they had up to this point, particularly during follow-up track, 'Everybody's Gotta Love Somebody'. Alfie took advantage of this by encouraging everyone to channel their inner cockney lad and yell "innit, bruv" in unison, one of the crowd work highlights of the night.
Alfie kept the banter going with his bandmates during pop-rock anthem 'Like An Animal' and during the bright, ethereal grooves of 'Mellow Moon' was leaping vigorously across the stage with his bassist, keeping spirits high.
Then, it was "time to get funky" with the disco-pop of 'Obvious Guy' and 'Wait, I Lied' before exploding into lead single '3D Feelings'. This one got the crowd all dancing amidst flashes of green light and it was an energy that carried through into their screams for an encore when Alfie and his band left the stage.
Of course, there were still two more hits to be played, so they all returned and launched into 'Broken' off Mellow Moon, an anthemic banger whose danceable grooves contrasts with its melancholic lyrics. Closing was Alfie's poppiest and most popular track, 'Happiness in Liquid Form', which drove the crowd wild with its psychedelic funk and climactic guitar solo.
The night ended for real that time, Alfie wrapping things up by thanking his bandmates, the Howler, the crowd and his merch-selling dad.
I left the Howler satisfied with the show. Alfie had charisma, the kind of lackadaisical charm you'd expect from a young English lad. His stage presence and energy picked up as the night progressed and he made decent use of the smaller space. He and his band played the songs effectively and straightforwardly, not deviating too much from their studio versions.
Many different genres were traversed and Alfie gave a good sense of himself as someone fairly diverse in his creativity, although personally I would have liked to hear some of his low-key, more experimental stuff. It also would have been cool to see Alfie demonstrate his multi-instrumentalist chops: he remained solely on guitar and vocals the whole night.
All in all, it was a solid, if inoffensive, performance. Fans of Alfie will no doubt be pleased hearing his hits in-person and there was a cool, danceable vibe suffusing the night. As someone newer to his discography and not as of yet totally enamoured with Alfie's artistry, the concert didn't turn me into a super-fan, but it was enough to entertain me for an evening.