Alana King had a memorable debut for Australia in its nine-wicket T20I win over England to begin the Ashes series, picking up a wicket, riding the high of emotions in sharing the moment with important people from across her cricketing journey thus far.
The leg-spinner made sure to take the opportunity to represent her country with both hands as it was firstly announced she'd be a part of Australia's Ashes squad, and then the game-day decision she'd be pulling on the green and gold and making her international debut.
With Australian captain Meg Lanning choosing to bowl first after winning the toss at Adelaide Oval, King would get her chance with the ball early, rather than later on the night.
Already using five different bowlers within the first seven overs of the match and with England's opening pair of Tammy Beaumont and Danni Wyatt cruising along with a 62-run partnership before King was given the ball for the first time in the eighth over. The leg-spinner's first over saw her concede eight runs.
However, with England having surpassed its highest-ever opening partnership in a T20I against Australia, setting a new record of 82 runs, King was trusted with the following the midway point of the match.
With the first ball after the drinks break, the 26-year-old got the breakthrough, picking up her first international wicket, that of Beaumont, who popped up a catch to King, out caught and bowled.
Speaking to media at Adelaide Oval on Friday morning following the win, King was beaming with pride in the exciting moment of her performance on debut, relishing the chance to be involved in the national team.
"It was exciting to get that caught and bowled and get my first international wicket, just excited to break that partnership that was building quite nicely for England so I was very happy," King said.
"I was just trying to jam Tammy up a little bit and I was glad that she got that leading-edge but that [ball] actually came [back] a bit slower than expected and sometimes you actually drop those ones cause you're expecting them a lot quicker but I think it just popped up nicely and [it was] a nice, easy catch.
"[It's] awesome to get the first win of the Ashes series. It's an awesome group to be a part of and I'm very happy to be here."
Despite knowing her own capabilities with the ball, the belief from her teammates - no more than captain Meg Lanning - in affirming her hard work and determination has culminated at this moment and being trusted in these situations contributed more to King putting in a worthy performance.
"I don't shy away from a contest and I always like getting into a contest no matter what the situation of the game is so when Meg threw me the ball, I just knew that I can back myself in, back my skills, that I could have an impact in this game.
"It feels great that Meg has confidence in me, giving me the ball in those pressure situations but as I said, I love to get into the contest and get stuck in no matter what the game situation is."
King, who finished equal-fifth on the leading wickets tally in WBBL|07 with 16 scalps, including a best-haul of 4/11 against the Sydney Thunder, and an overall economy rate of 5.82 says her process with the ball is to be attacking.
"I think it's all about reading the game, seeing what the batters kind of do and it's a bit of cat and mouse I guess. Especially with spin, let alone leg-spin, it's probably the hardest craft to do," she told.
"Trying to be one step ahead of the game, my game is pretty much to attack the stumps and that's pretty much what I've brought in to the last two WBBLs and I don't want to be shying away from that."
Overall, in her international debut, King bowled four overs, finishing with figures of 1/28.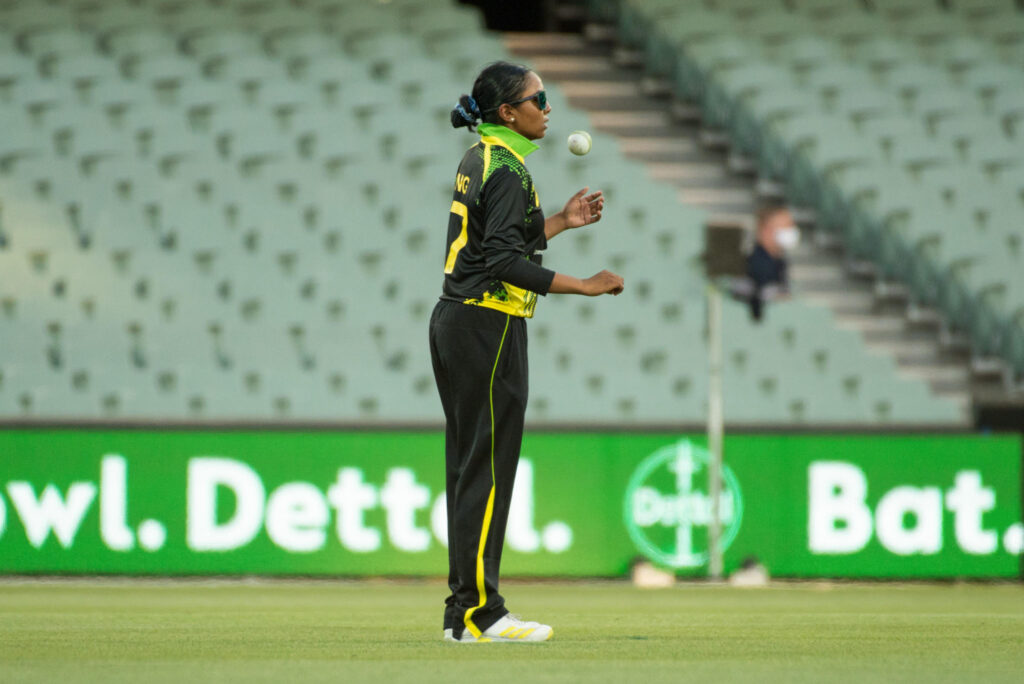 Presented her cap by former Australian all-rounder and current assistant coach Shelley Nitschke prior to the game, it was a special moment for the debutant as the now-coach has been instrumental in King's development as a cricketer.
King first worked with Nitschke as part of the National Performance Squad (NPS) in 2019, and with a move from Victoria to Western Australia for both the 2020/21 Women's National Cricket League (WNCL) competition and WBBL|07, the two linked up again, with Nitschke the head coach of the Perth Scorchers.
"It's been a big dream of mine to pull on the green and gold for Australia but I think the big move west has really helped with my development and being a little bit out of my comfort zone, away from family. All the coaches over there, I've got WA cricket to be really thankful for in getting me to where I am today," King said.
"Working with Shell (Shelley Nitsche) a couple of years ago in the NPS program, I learnt a lot from her in a short amount of time and then getting the opportunity to work with her at the Perth Scorchers this year was just tremendous for me. [I] just got to pick her brain about different things whether it was bowling or how to bowl in different situations.
"I think Shell's a big believer in just making sure I'm being myself and I don't choose to be anyone else so, just backing myself, backing my skills and making sure I've done all the work in all of the training that we've done with all the skills and developments we've done so just going out there, having fun and doing good things with a smile on my face."
On the T20I match itself, King was confident a strong batting lineup could chase down England's total of 4/169, helped immensely by Lanning (64*) and Tahlia McGrath's (91*) unbeaten 144-run second-wicket partnership.
"I think Midge (Alyssa Healy) had a couple of conversations with us when we got a couple of wickets, saying 'We'll be happy to chase 170 on this deck'. It was a beautiful deck, quick outfield so we actually thought they left a few [runs] out there when we finished up the first innings," she commented.
"T-Mac (Tahlia McGrath) was just extraordinary, it was just so awesome to see what she's been doing in the last WBBLs and do that on the international stage is phenomenal and I was just in awe of her when she was bowling and even when she was pummeling the [English] around the ground, it was just a lot of fun to see and I'm so happy for her.
"With the lineup we had, the depth we had in our lineup, we definitely knew we could chase down that total quite comfortably.
"We want to keep this form rolling and hopefully we can keep continuing the wins for us and getting that first game out of the way and making sure that we had an in was pretty pivotal for us."
Game 2 of the T20 leg of the Ashes series between Australia and England is scheduled for 1:40 pm ACDT on Saturday, January 22 at Adelaide Oval with the home nation taking a two-nil point lead into the match.