Kerryn Peterson (Carlton)
Peterson was as reliable as ever in her role down back in the first AFLW draw for Season Seven.
The Carlton captain stood tall when Port Adelaide continued its attack and collected 21 disposals, many of which were in the oppositions inside 50.
She even put on an attack of her own, sending the ball forward enough times to achieve 401 metres gained and creating her own goal as well.
Emma Swanson (West Coast)
With six marks to her name, predominantly taken in the Bombers' attacking 50m, Swanson was an essential part of why Essendon's flow of goals slowed down in the second half.
She collected 25 possessions, but her eight clearances and 392m gained showed just how integral she was to the backline when her teammates needed her most.
Jordyn Allen (Collingwood)
Allen joined the 'defenders kicking goals' club in round three - and her major halfway through the last quarter was what gave Collingwood the lead and ultimately the win.
She can cleverly read the play, and her intercept work was impressive, with five marks to her name.
When multiple Twitter users claim someone is one of the best players on the ground, you take it with a grain of salt - but with Vogt, they were right.
Vogt had minutes in both attack and defence, which led to her scoring a goal.
But it was her defensive efforts that stood out; her rebounding and work to get the ball into the midfield saw her finish with 402m gained.
Chelsea Randall (Adelaide)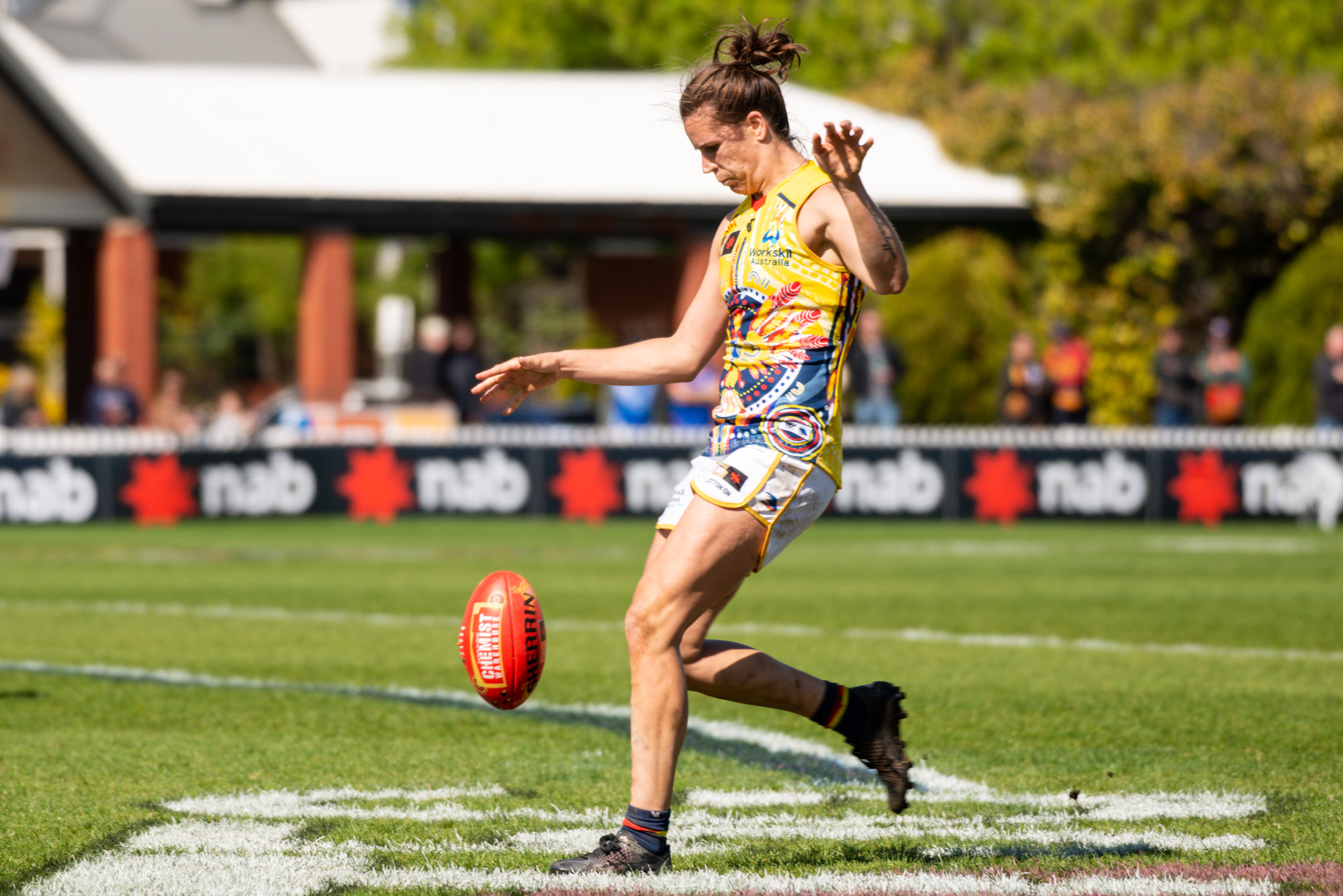 "Handy Randy" was tasked with tagging Jasmine Garner in the second half after she'd had far too much influence on the game for coach Matthew Clarke's liking, and boy, did she do a great job.
While Garner finished the game with 24 touches, she had just seven disposals in the second half due to Randall's gritty effort.
Randall collected 18 disposals herself and laid five tackles.
What a star Conti is. We always knew she was good, but somehow she finds new ways to surprise everyone with flair or improvement.
She collected 23 disposals, including 11 contested, and she snagged three goals in Richmond's win over the Hawks.
Impressively, she managed to grab 11 ground ball gets in the wet weather and added five clearances to her season tally.
Rylie Wilcox (Western Bulldogs)
What a day this was for the young winger! After finishing her school day, the year 12 student ran out to play against Fremantle.
She kicked her first AFLW goal; streaming into the forward 50m, her clean, composed hands collected the ball and slotted the major from the pocket.
The 17-year-old's work rate, combined with footy smarts, led to a great showing, which resulted in being nominated for the Rising Star award.
In one of Anderson's best games to date, she was influential all over the ground.
Her 28 disposals were the best count of her career; her 21 kicks were the highest of anyone in round three, she laid seven tackles and finished with 358m gained.
To round it out nicely, she kicked the seventh goal of her career.
Stephanie Wales (Essendon)
I know what you're all going to say: "Steph Wales is a ruck!". And while that might be true, every trait of her game on the weekend showed she could be a tremendous tall target in Essendon's forward line.
Wales entered the game having not kicked an AFLW goal, leaving with three to her name from just eight disposals.
One saw her kick on the run from 40m out; another was a set shot from long distance, and another was the result of taking a mark in the goal square surrounded by five Eagles - and each was spectacular.
Madison Prespakis (Essendon)
M. Prespakis is the grunt in the Bombers' engine room, but her footy IQ makes her a great half-forward.
Her run, carry, and precision kicking are important elements to her team's entry into attack. Her ability to be in the right place at the right time in a contest provides her with the opportunity to score.
She slotted two majors and had 22 disposals by the end of the game.
Georgie Prespakis (Geelong)
Much like her older sister, G. Prespakis is as defensive as she is an attacker.
A game-high nine tackles and four intercepts were crucial when Collingwood was trying to exit Geelong's forward half.
Fourteen of her 18 possessions were contested, she had five clearances, and while she did not add to her goal-kicking tally, she had two score involvements.
Ellie McKenzie (Richmond)
One of the highlights of round three was McKenzie's four-bounce run before giving the ball to teammate Grace Egan to score Richmond's first goal of the match.
On fire early, she was also involved in setting up Monique Conti's first goal.
She gained 305m throughout the game and completed one of her tackling attacks with a set shot from the boundary line, which she converted.
Fifty per cent of Wardlaw's possessions resulted in goals she kicked herself.
The tall ruck-turned-forward had just eight disposals but proved she did not need much of the ball to make a difference, snagging four goals straight.
Alice Edmonds (ruck) (Western Bulldogs)
Edmonds has shown huge growth and development since her first season of AFLW footy in 2020, and round three's match might've been her biggest effort yet.
Her pressure around the ball is intimidating, and her work with her hands has improved out of sight.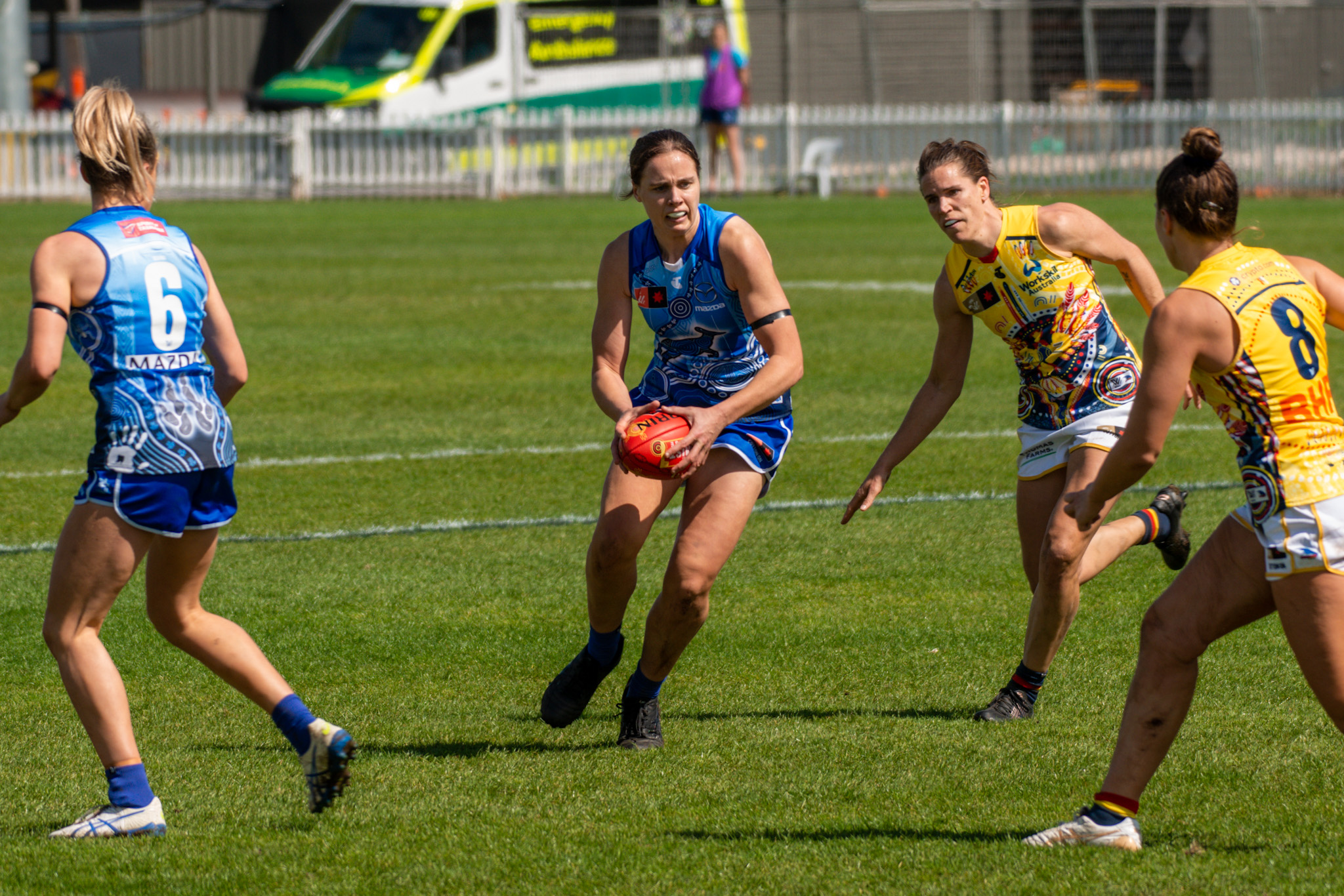 Jasmine Garner (North Melbourne)
Garner continues to lead by example, and her work against the Crows was her side's best.
With 14 of her 24 disposals contested, and with seven clearances made and four tackles laid, her defensive effort was a shining light for the Kangaroos, who fell short in the last quarter.
Parker scooted around the oval while showing off her boots, beautifully painted by Indigenous artist Zoe Cassim.
She collected 22 disposals - 14 of those contested - and managed to grab five marks and lay three tackles.
Some understate her midfield work, but this journalist thinks Parker is elite.
Kirsty Lamb (Western Bulldogs)
Another week, another perfect 10 in the AFLCA Champion Player of the Year voting for Lamb.
She ran the middle of the ground with drive and purpose, pulling off 394m gained and picking up 23 possessions.
Her six marks and five tackles were crucial in the Bulldogs' midfield operating like the well-oiled machine it is.
Danielle Ponter (Adelaide)
What's Indigenous Round without a bit of Ponter magic? Last season, she kicked two goals in the Crows' Indigenous Round match against Dockers and did the same on the weekend against the Kangaroos.
In the second quarter, she kicked a banana from deep in the pocket, which was enough to blow anyone's mind - but she took it one step further with her second goal, collecting a loose ball, dodging around two players, and snapping truly.
In addition, she had the third-highest amount of metres gained for the round, with 462m, and she had 16 touches.
Hannah Ewings (Port Adelaide)
Ewings was named one of the Rising Star nominees for the round, and it was easy to see why.
With clean hands, the 18-year-old midfielder held onto 21 disposals, including 12 contested.
She gained 434m for her team and put on four ferocious tackles.
In the words of the St Kilda FC social media officer: "With our backs to the wall, Liv Vesely stood tall".
Collecting a team-high 16 disposals, Vesely was one of the main reasons Narrm did not kick another goal in the last three quarters after booting six in the first.
Her five tackles and four clearances lifted the Saints' spirits when they could've so easily fallen.
You know when you're so used to a player performing well; sometimes you forget just how highly they are achieving? It can be like that with Bates.
The reigning league best and fairest was influential as usual, collecting 21 disposals and 11 tackles during the QClash.
While she did not kick any goals, she had a game-high eight score involvements and two goal assists, and she was awarded the QClash Medal for being the best on ground.
West has been a consistent player for Narrm so far this season, and her stats showed that she rose to another level in round three.
She had the most handballs and the most clearances of the round with 18 and nine, respectively, and was able to land six tackles.
Fourteen of her 22 disposals were contested - a great display of her dogged determination.