In a huge draft, the expansion clubs now have full rosters, and all 18 clubs are gearing up for the next AFLW season, set to be the biggest season of the competition yet.
The team at Edge of the Crowd runs the ruler over the top few draft picks, and who your club finished with at the end of the night.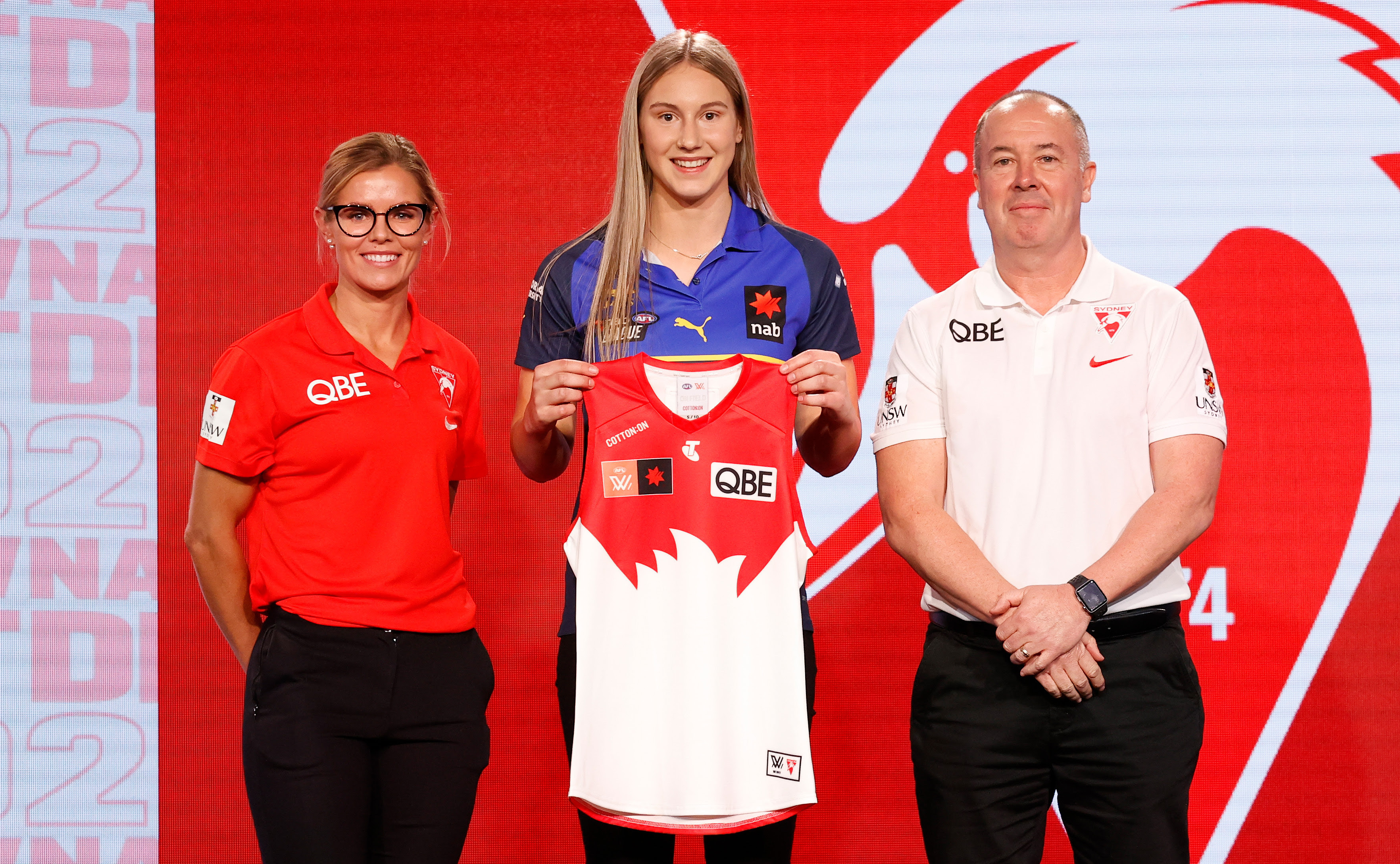 Pick 1 - Montana Ham (Sydney Swans)
Montana Ham was the first player in the draft, and the first-ever AFLW draft pick for the Sydney Swans. The hard-hitting midfielder will make an immediate impact after nominating for the New South Wales draft pool. She will slot into the Swans midfield immediately, and will likely become a leader within the expansion side quickly.
Pick 2 - Jasmine Fleming (Hawthorn Hawks)
Jasmine Fleming, descended from sporting royalty, was the first player out of the Victorian player pool picked. Fleming is expected to slot into the Hawks' midfield and will switch between an outside role (relying on her speed and agility) and an inside role, showing off her toughness and quick hands.
Pick 3 - Hannah Ewings (Port Adelaide Power)
Hannah Ewings was the consensus top player from the South Australian draft pool. A hybrid player who can play on the ball or inside forward 50, Ewings will offer plenty, as she learns from players like Erin Phillips at the Power. Some of her finest work in her draft year was in bringing the ball inside attacking 50 and setting up teammates.
Pick 4 - Amber Clarke (Essendon Bombers)
Amber Clarke made history as the first player to be taken by Essendon in the draft. Clarke's abilities were on show during the NAB League season where she won the Best on Ground in the Grand Final despite being from the losing side in the Dandenong Stingrays.
Clarke provides that element of speed to the Bombers side and although she can play at both ends of the ground, she's got a great goal sense which was also on show during her 2022 NAB League campaign, kicking five goals in round one against the Geelong Falcons.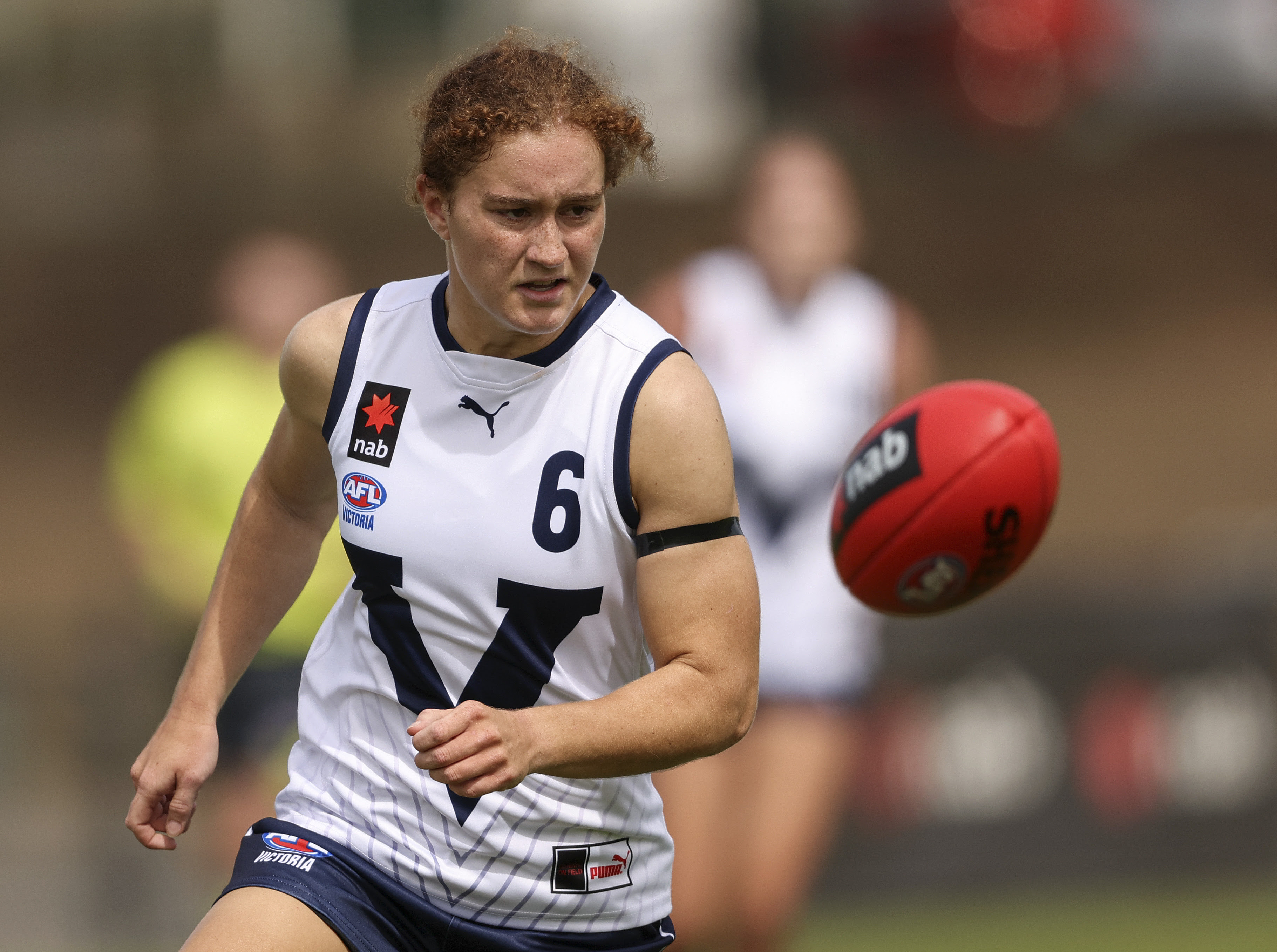 Pick 5 - Sofia Hurley (Sydney Swans)
Sofia Hurley joins pick number one in Montana Ham at the Swans with the Sandringham Dragons product also nominated for the New South Wales draft pool. Hurley is a midfielder who is a workhorse and is classy around the stoppages, she can also spend some time up forward when needed.
Pick 6 - Mackenzie Eardley (Hawthorn Hawks)
Mackenzie Eardley will immediately fill one of the key defensive positions in the fledgling Hawks lineup. Eardley is a good competitor in the air, both in a lockdown role and as an intercept player behind the ball.
With a young defensive group, Eardley will take on some of the biggest stars in the competition early in her career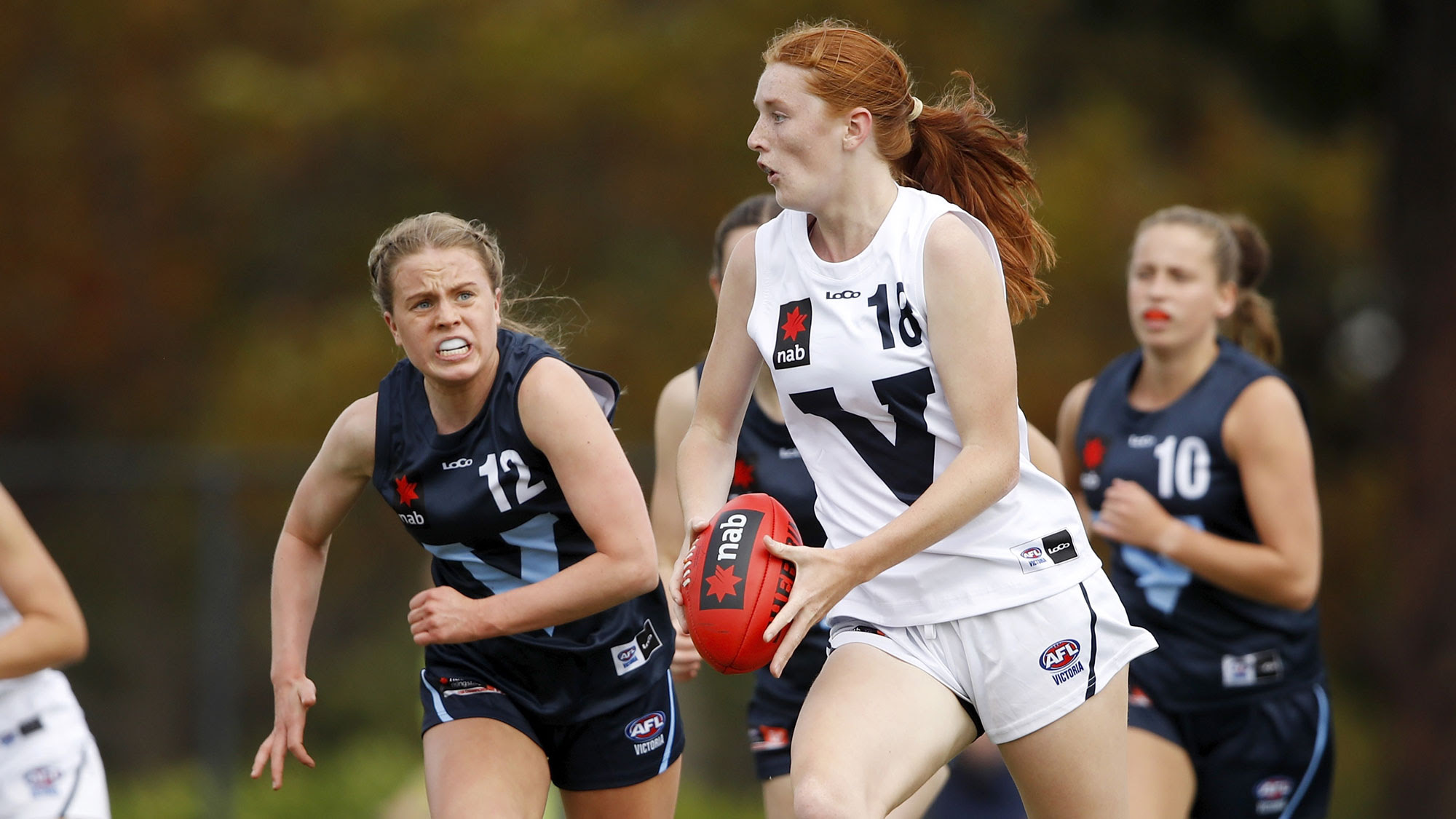 Pick 7 - Sarah Goodwin (Port Adelaide Power)
Sarah Goodwin will play a key role on the outside for the Power early on. A rebounding player, Goodwin is a polished ball-user, and will be part of the link-up as the Power bring the ball out of defence.
Linking up with some of the other draftees, and some of the mature-age recruits of the Power, Goodwin will be a game-breaker from the first moment she sets foot on the field for the Power.
Pick 8 - Paige Scott (Essendon Bombers)
Paige Scott looms as an imposing forward option for the Bombers, as a lead-up target, and a powerful contested mark. As a developing forward, Scott may also make an impact as a midfielder from time to time for the Bombers, as she has the potential to make an impact like Chloe Scheer and Darcy Vescio have in previous years.
Pick 9 - Charlotte Baskaran (Hawthorn Hawks)
Charlotte Baskaran will slot straight into the Hawks' midfield, with her proven ability to accumulate the ball and dispose of it effectively key to the expansion side winning the inside battle.
Despite being a little undersized, Baskaran is not afraid to throw her body around and make hard tackles, and will immediately set the standard as a first-year player.
Pick 10 - Bridie Hipwell (Hawthorn Hawks)
Bridie Hipwell will likely join Baskaran on the inside, as another tough nut for the Hawks. Hipwell will also likely float forward, as a strong contested mark, with excellent leading skills. If Hipwell can keep her radar working, she could immediately become one of the most dangerous draftees in her first year.
Keeley Kusterman (Pick 40)

Kiera Mueller (Pick 69)

Mckenzie Dowrick (Pick 71)
Kustermann will likely make an early impact for the Crows, stepping into a midfield missing a few key names after the raids from the expansion clubs. Kustermann has an elite endurance tank, and is composed with ball in hand, whether in the midfield or behind the ball as a defender.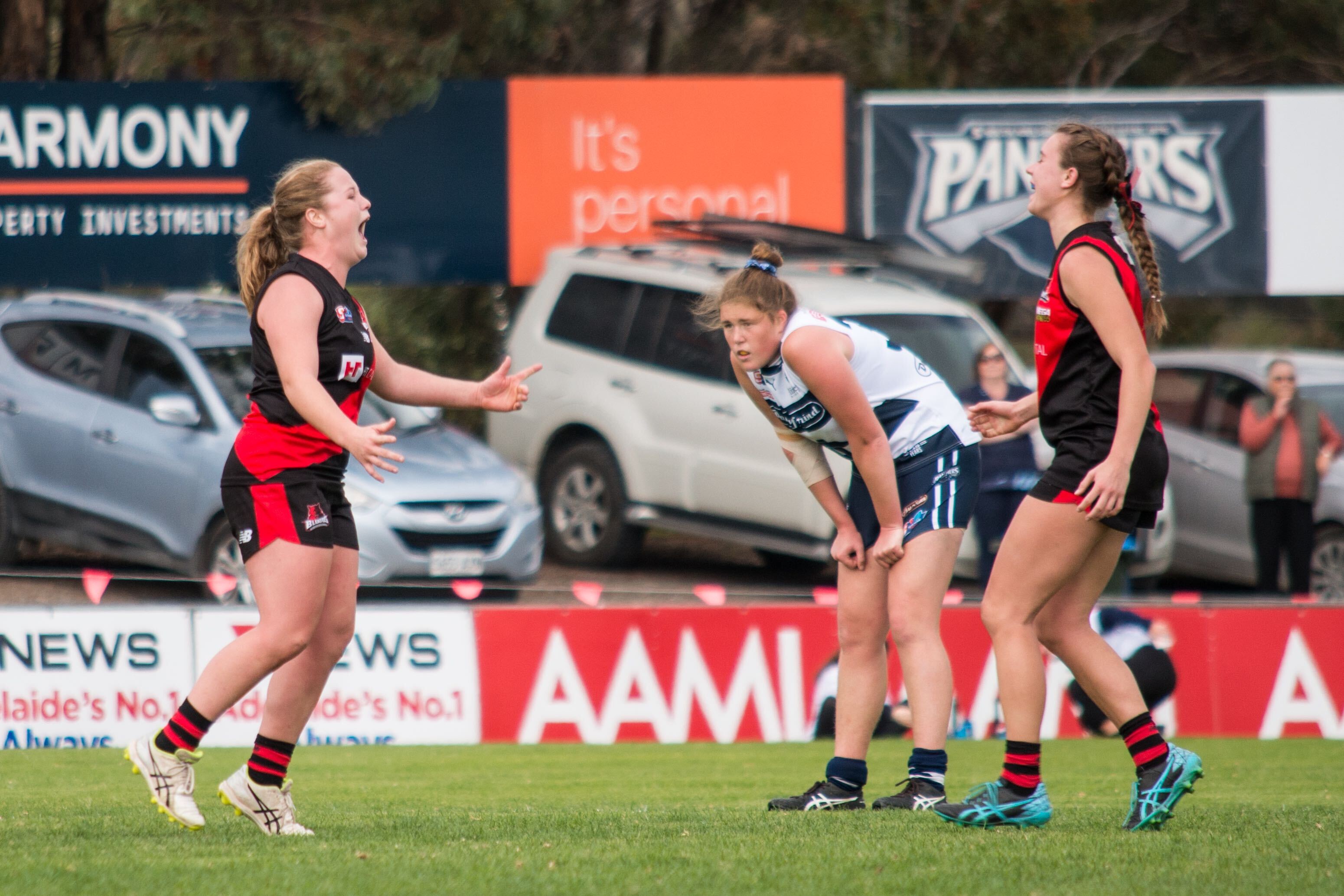 Ella Smith (Pick 40)

Dee Heslop (Pick 57)

Charlotte Mullins (Pick 70)

Kiara Hillier (Pick 78)
Ella Smith is a prototypical midfielder, and will immediately slot into the Lions side, with the ability to win the ball herself, and use it when she does have her hands on it. Her disposal numbers are very impressive, and she will add to the dominant Lions' clearance brigade.
Keeley Skepper (Pick 17)

Mia Austin (Pick 18)

Lily Goss (Pick 48)

Jessica Jones (Pick 67)
Keeley Skepper will have big shoes to fill, after Carlton's engine room was raided by the expansion teams. With a penetrating kick, and the ability to spread from a context, Skepper will look to build early momentum bringing the ball into the forward line for the Blues.
Charlotte Taylor (Pick 30)

Charlotte Blair (Pick 56)
Charlotte Taylor may only be 18, but she will add mongrel and hardness to the Pies outfit immediately. A hard-nosed midfielder who has never backed down from a contest, Taylor will be suited to the finals football that Collingwood will hope to be playing this season.
Amber Clarke (Pick 4)

Paige Scott (Pick 8)

Stephanie Wales (Pick 32)

Mia Busch (Pick 35)

Mia van Dyke (Pick 46)

Amelia Radford (Pick 62)

Ashleigh van Loon (Pick 73)
Madeleine Scanlon (Pick 27)

Tara Stribley (Pick 59)

Megan Kauffman (Pick 77)

Amy Mulholland (Pick 83)

Tahlia Read (Pick 85)
Madeleine Scanlon will immediately boost the Dockers' defensive stocks, as a polished rebound defender, with a relentless drive from siren to siren. Scanlon will help set standards, with her elite fitness and work rate a positive for the entire club.
Mia Skinner (Pick 33)

Brooke Plummer (Pick 42)

Abbey McDonald (Pick 55)
Mia Skinner already knows her way around the Cattery with Geelong using their first pick of the AFLW to re-draft Skinner back onto their list. Skinner hasn't played a game at AFLW level due to injury but proved dangerous in the Cats VFLW forward line kicking 21 goals across the season and taking out Geelong's leading goal kicker award
Alana Gee (Pick 19)

Claire Ransom (Pick 34)

Jasmyn Smith (Pick 52)
Alana Gee was destined for the Suns, and the young midfielder has excellent disposal skills, and will immediately bolster the Suns' midfield. A taller player, with rangy endurance, Gee will come into her own on the large paddock at Metricon Stadium and could be a devastating weapon for the Suns early on.
Zarlie Goldsworthy (Pick 20)

Fleur Davies (Pick 64)

Meghan Gaffney (Pick 66)

Madison Brazendale (Pick 75)

Jodie Hicks (Pick 82)

Cambridge McCormick (Pick 84)

Tess Cattle (Pick 86)
Zarlie Goldsworthy will look to contribute in and around the forward half for the Giants. After the Giants struggled at times last year to hit the scoreboard, having Goldsworthy, who has proven her ability to hit the scoreboard, will only help the Giants. The young draftee has also already proven her enthusiasm, and will no doubt be embraced by the Giants.
Jasmine Fleming (Pick 2)

Mackenzie Eardley (Pick 6)

Charlotte Baskaran (Pick 9)

Bridie Hipwell (Pick 10)

Lucy Wales (Pick 22)

Emily Everist (Pick 25)

Laura Elliott (Pick 26)
Maeve Chaplin (Pick 44)

Samantha Johnson (Pick 49)

Georgia Gall (Pick 72)
Much like Geelong, Melbourne's first pick of the draft was a re-listing with Maeve Chaplin recruited to the Demons for the January season as an injury replacement player. Hailing from the Northern Knights program, Chaplin has developed into a strong defender in the VFLW for Casey, averaging 15.3 disposals.
North Melbourne Kangaroos
Taylah Gatt (Pick 28)

Sophia McCarthy (Pick 39)

Charli Granville (Pick 50)

Grace Matser (Pick 51)

Cassidy Mailer (Pick 54)
The Kangaroos will love having Taylah Gatt on the wing, with her electric speed and vision likely to help push them towards the finals again. Gatt has been an elite distributor through junior football, and with ball-winners already in place at Arden St, will have plenty of opportunity to damage opponents from the wing.
Hannah Ewings (Pick 3)

Sarah Goodwin (Pick 7)

Sachi Syme (Pick 23)

Ella Boag (Pick 31)

Yasmin Duursma (Pick 45)

Amelie Borg (Pick 61)

Lily Johnson (Pick 80)
Charley Ryan (Pick 38)

Eilish Sheerin (Pick 58)

Katelyn Cox (Pick 60)
Ryan is a midfielder who can play both on the inside and on the wing, although won't feature in season seven of AFLW after tearing her ACL during the Under 18 Championships in March.
A product of the Dandenong Stingrays, Ryan is a prolific ball-winner and can hit the scoreboard which was on show during the Stingrays clash against Gippsland where Ryan collected 26 disposals and kicked five goals.
J'Noemi Anderson (Pick 16)

Hannah Stuart (Pick 63)

Deanna Jolliffe (Pick 74)

Caitlin Matthews (Pick 81)
J'Noemi Anderson will be thrown into the Saints' midfield from the outset, after a tough couple of years for the Saints. Her hardness on the ball, and her ability to hit the scoreboard will be essential for a side that has struggled to find consistent avenues to goal in recent years.
Montana Ham (Pick 1)

Sofia Hurley (Pick 5)

Cynthia Hamilton (Pick 11)

Montana Beruldsen (Pick 12)

Alice Mitchell (Pick 13)
Ella Roberts (Pick 14)

Lauren Wakfer (Pick 15)

Abbygail Bushby (Pick 24)

Zoe Wakfer (Pick 36)

Emily Elkington (Pick 43)

Jaide Britton (Pick 47)

Mikayla Western (Pick 53)
Ella Roberts has just the versatility that West Coast will appreciate. After struggling over the last year, having a tall forward with god marking skills as a bail-out option will be a welcome relief, but Roberts is also capable of damaging sides when the ball hits the ground. her clean hands and sharp skills will help to generate plenty of scoring opportunities for the Eagles in the future.
Rylie Wilcox (Pick 21)

Keeley Coyne (Pick 29)

Heidi Woodley (Pick 37)

Brooke Vernon (Pick 68)
Rylie Wilcox will slot straight into the Bulldogs' lineup, whether she plays on the wing or deep inside 50. As a small forward, she is good with ball in hand and knows where the goals are. When she plays further up the ground, Wilcox displays plenty of endurance and the ability to find a teammate under pressure, both crucial skills that the Bulldogs will need after being routed by expansion teams.