SQUAD (25-player provisional)
Canada will take 25 players to its training base at Olympic Park in Heidelberg West in preparation for the FIFA Women's World Cup, where two players will unfortunately be cut when the 23-player squad is announced on July 9.
The Tokyo 2020 Olympic gold medallists will field an almost-full-strength side at the upcoming tournament, with the most notable player not to feature in the squad being Janine Beckie, after she suffered an ACL injury in a pre-season NWSL game for the Portland Thorns back in March.
Eight players in this year's preliminary squad are new to the setup for a FIFA Women's World Cup, though some are familiar with being in a squad for a major tournament with Vanessa Gilles and Evelyne Viens both a part of that Olympic team that won gold in Tokyo.
Canada is strong in defence, both in regards to the goalkeepers and those that will make up the backline. Kailen Sheridan was a back-up keeper at the previous tournament with seven caps under her belt, but will be confident now as Canada's first choice going into this tournament.
Many other Canadian players have improved and been given plenty of opportunities since the 2019 edition too. With Christina Sinclair's recent moves into the midfield lately, it means the likes of Deanna Rose, Evelyne Viens, and Adriana Leon - along with possible off-the-bench contributions from Cloé Lacasse - will now mostly front up the attack, though will be equipped with their gained knowledge and experience in the past four years too.
Goalkeepers: Sabrina D'Angelo (Arsenal), Lysianne Proulx (SCU Torrense), Kailen Sheridan (San Diego Wave)
Defenders: Kadeisha Buchanan (Chelsea), Allysha Chapman (Houston Dash), Vanessa Gilles (FCF Olympique Lyonnais), Ashley Lawrence (Paris Saint-Germain), Jayde Riviere (Manchester United), Jade Rose (Harvard University), Shelina Zadorsky (Tottenham Hotspur)
Midfielders: Marie-Yasmine Alidou D'Anjou (Famalicão), Simi Awujo (University of Southern California), Jessie Fleming (Chelsea), Julia Grosso (Juventus), Quinn (OL Reign), Sophie Schmidt (Houston Dash), Desiree Scott (Kansas City Current)
Forwards: Jordyn Huitema (OL Reign), Cloé Lacasse (SL Benfica), Clarissa Larisey (BK Häcken), Adriana Leon (Portland Thorns), Christine Sinclair (Portland Thorns), Nichelle Prince (Houston Dash), Deanne Rose (Reading), Evelyne Viens (Kristianstads)
HOW WILL THEY LINE UP?...
In recent months, Bev Priestman has opted for a 4-3-3 formation, and while this has yielded reasonable results against strong opposition, Canada may just use a 4-2-3-1 formation at this year's World Cup, at least throughout the group stage.
Last year, Canada came up against fellow Group B teams Australia and Nigeria twice each, resulting in three wins - the other a draw against the latter nation. In each fixture, Priestman went with a 4-2-3-1 formation. There were no shortage of goals scored either, with the team's pace going forward from the primary attackers a threatening feature of their game.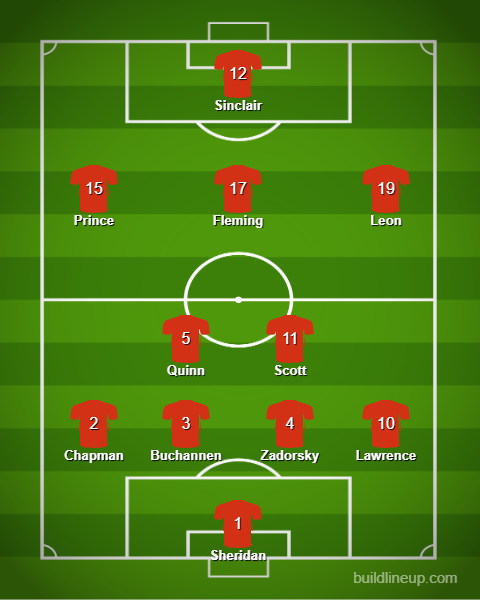 Edge of the Crowd partners with Her Game Too for the Women's World Cup, uniting our passion for diversity and inclusivity in sports. Together, we aim to dismantle barriers, tackle sexism, and amplify women's voices in the sporting realm. Join us in celebrating the spirit of the beautiful game, free of gender constraints. The love for the game knows no gender; let's make every game, Her Game Too. Head to @HerGameToo on Twitter, Facebook and Instagram to learn more.
Should Canada's goalscoring abilities up front not be producing the rewards Priestman would like, there's certainly a host of changes that could be made, both on and off the pitch. If she finds herself sitting on the sidelines waiting to enter the game, Cloé Lacasse could provide that spark off the bench.
A proficient goalscorer for SL Benfica in the Campeonato Nacional Feminino, Lacasse scores for fun. In 74 games for the Portugese-based club since being signed in July 2019, she's netted a goal on 70 occassions. While that form hasn't translated to the national team too much through her 19 caps, a big tournament like this could be cause to announce herself, even at the age of 30.
July 21: WWC Group B vs Nigeria, Melbourne Rectangular Stadium, 12pm AEST
July 26: WWC Group B vs The Republic of Ireland, Perth Rectangular Stadium, 9.30pm AEST
July 31: WWC Group B vs Australia, Melbourne Rectangular Stadium, 7.30pm AEST