The 2022 program for Alice Springs' annualParrtjima - A Festival in Lighthas been released, showcasing the country's First Nations stories, artwork and experiences throughinstallations, light projections, music, talks and film.
Parrtjima is the only Aboriginal light festival of its kind in the world and showcases the oldest continuous culture on the planet through new and different technologies. The word 'Parrtjima' itself means 'lighting up' and has two meanings: physically illuminating an object with light and 'lighting up' as in to shed light and understanding on the subject.
Hosted in Alice Springs (Mparntwe) across 10 nights from April 8-17, the theme of 2022's Parrtjima is 'Sky Country', with visitors able to take in the many programs, installations and light projections with the 300-million-year-old canvas of the MacDonnell Ranges as the backdrop to the event under the stars.
The festival is delivered by the Northern Territory Government through Northern Territory Major Events Company (NTMEC) and produced by Creative Directors AGB Events with NTMEC CEO Tim Watsford commenting on the theme and symbolism with the event.
"The Red Centre's phenomenal star-filled night skies are the perfect backdrop for Sky Country, which focuses on our place in the universe and the relationship Aboriginal Australians have with the skies above", Watsford said.
Signature installations will be scattered around Alice Springs Desert Park, a landscape of illuminated art pieces that aim to highlight the interactions between the environment's natural elements, and the role they play in Aboriginal culture.
The sensory experience allows audiences to be immersed in connecting art, story and light with the senses of sight, sound, smell and touch as attendees walk through the surrounding illuminated bushland with light shards and gobos, encountering animals, plants and ancestral totems.
The various signature installations include:
Water Tree

(designed by Karen Napaljarri Barnes,

Budgerigar Dreaming 1, 2 & 3

)

The path comes alive with the artwork of Karen Napaljarri Barnes, detailed in a twinkling array of acrylic glass. Strung over four archways, the colourful spectacle replicates the incredible natural phenomenon of thousands of budgerigars flocking together.
Flight

(designed by Farron Jampitjinpa Furber,

Budgerigar Dreaming

)

Filled with light and movement, this installation features Farron Jampitjinpa Furber's artwork,

Budgerigar Dreaming.

His work has been printed onto sheer fabric spears with circular iconography replicated on laser-etched acrylic discs. This installation represents the journey of the budgerigar along the Lander River, a place of deep spiritual meaning to the Warlpiri people of Central Australia.
Eagle's Eye

(designed by Jeannie Nungarrayi Egan,

Rain Dreaming, Budgerigar Dreaming, Bush Tobacco Dreaming, Native Fuchsia Dreaming and Ceremonial Pole Dreaming

)

The iconic Southern Cross constellation is one of great significance for desert communities, and is referred to as "eagle hawk's foot". This installation is brought to life through the animation of various works of artist Jeannie Nungarrayi Egan

.

Her use of colour and symbols creates a hypnotic portal, transporting the audience through a multi-sensory experience that will astonish and delight.
Energy

(designed by Bindi Mwerre Anthurre Artists)

Continuing with the theme of Sky Country, this interactive installation features a mix of eight static bikes and wheelchairs. As you jump on and spin the pedals, the artworks illuminate in a revolving fashion to demonstrate the relationship between energy and wind. Bindi Mwerre Anthurre Artists worked with Aboriginal artists living with a disability to collaborate on this extraordinary artwork.
Wild Wind

(designed by Raelene Ngala Williams,

Walpa Pulka – Whirly Wind

)

Reflecting the work of local artist Raelene Williams Kngwarraye and her artwork,

Walpa Pukla,

this installation celebrates the stories of the whirly whirly through a series of floating, moving structures. A stunning piece, it encourages exploration of these dreaming stories, the most prominent being the whirly winds, which Raelene paints in her distinctive and detailed style.
Night Sky

(designed by Carmen Glynn-Braun,

Dreamy

)

Lie down, look up, and enjoy a wondrous journey. The 15m-high installation houses 1,200 beautifully illuminated orbs suspended like a blanket of stars. Artist Carmen Glynn-Braun has painted directly onto the orb lights, using paints and sealants, which reflects her experimental approach to materials and form.
Grounded

Grounded features the animated stories of traditional and contemporary interpretations of Sky Country in a playful collection, accompanied by a soundscape reflecting the elements.
Macdonnell Ranges Light Show

Part of an immersive experience never before presented, a fresh and renewed sense of intimacy brings the audience closer for a 'desert of light' experience. With the prime viewing area set among towering ghost gums, mallee trees and spinifex grass, the show provides a stirring and spiritual cultural journey.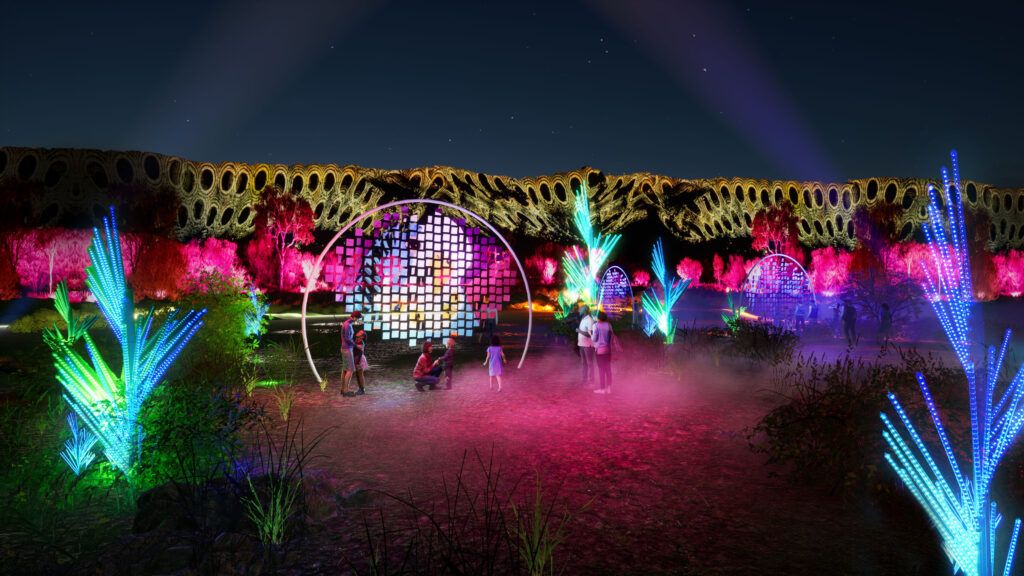 Water Tree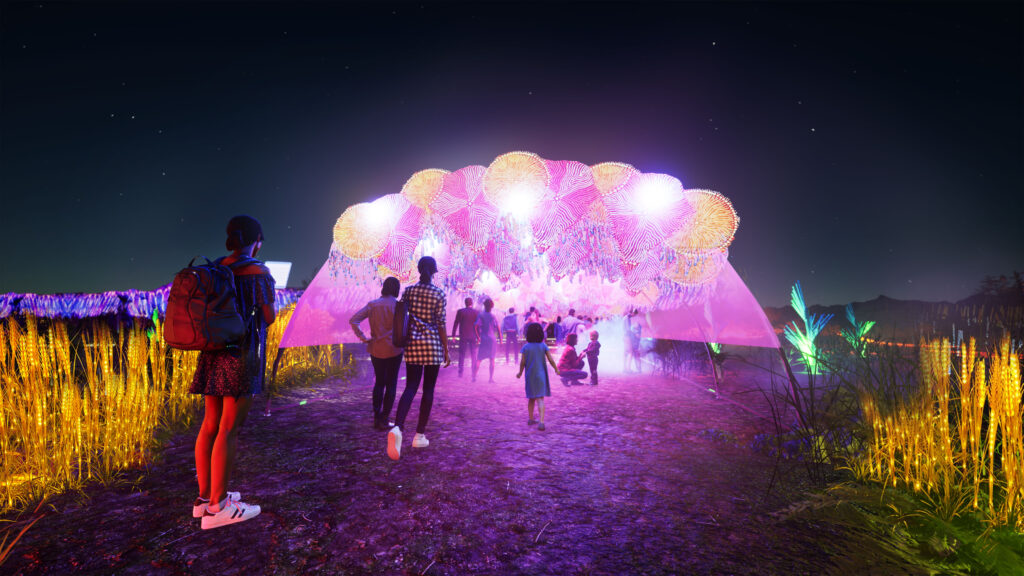 Flight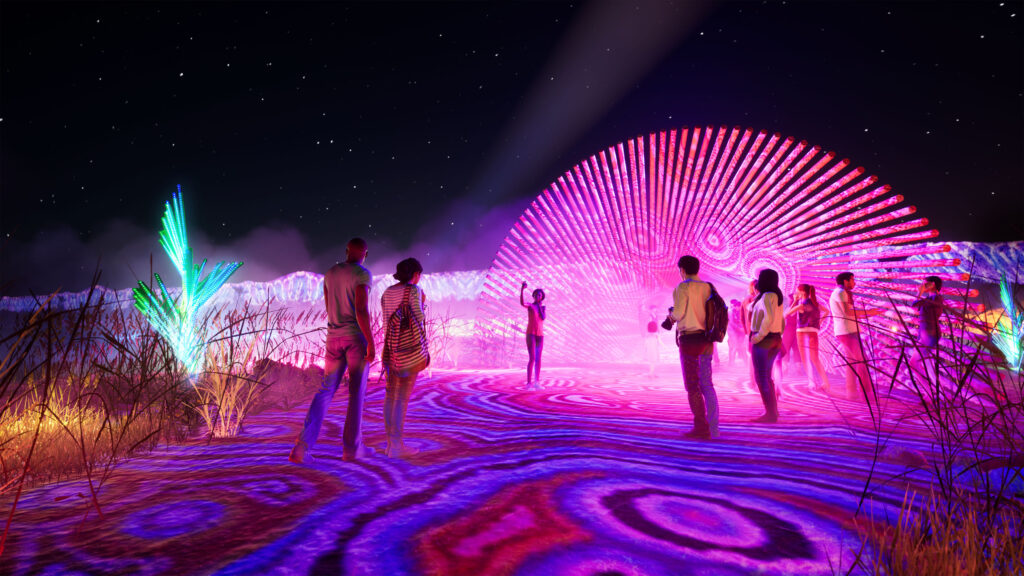 Eagle's Eye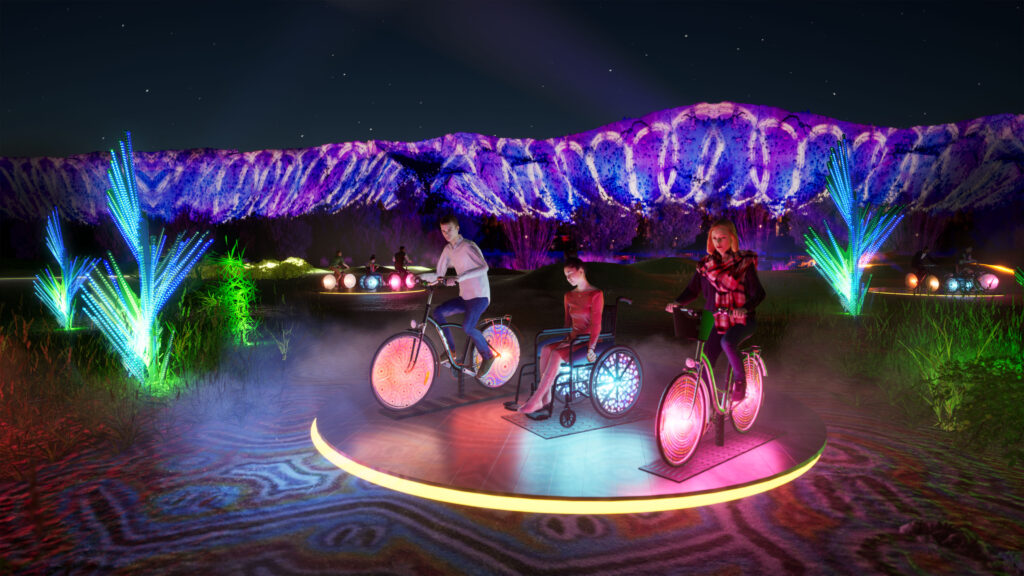 Energy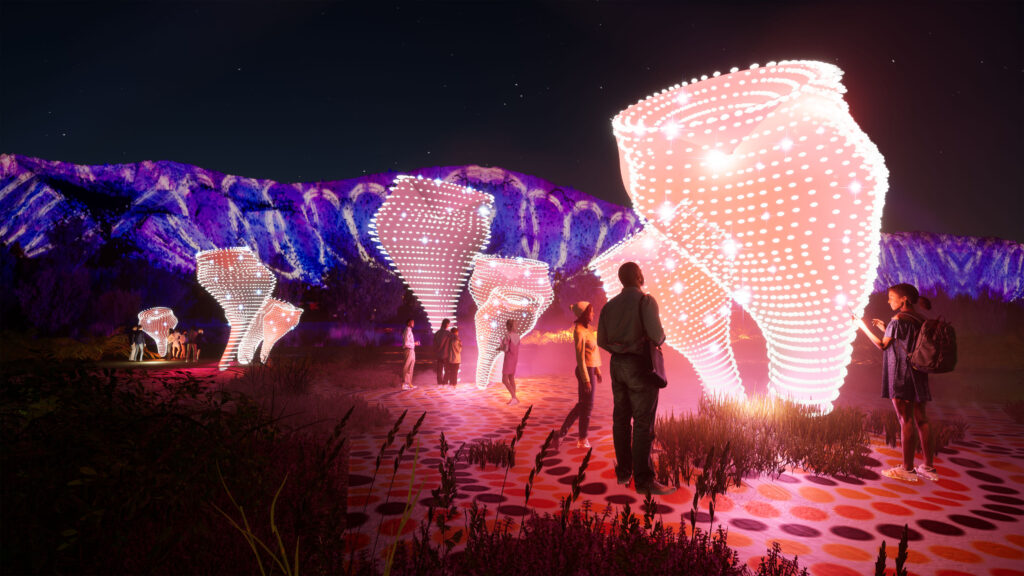 Wild Wind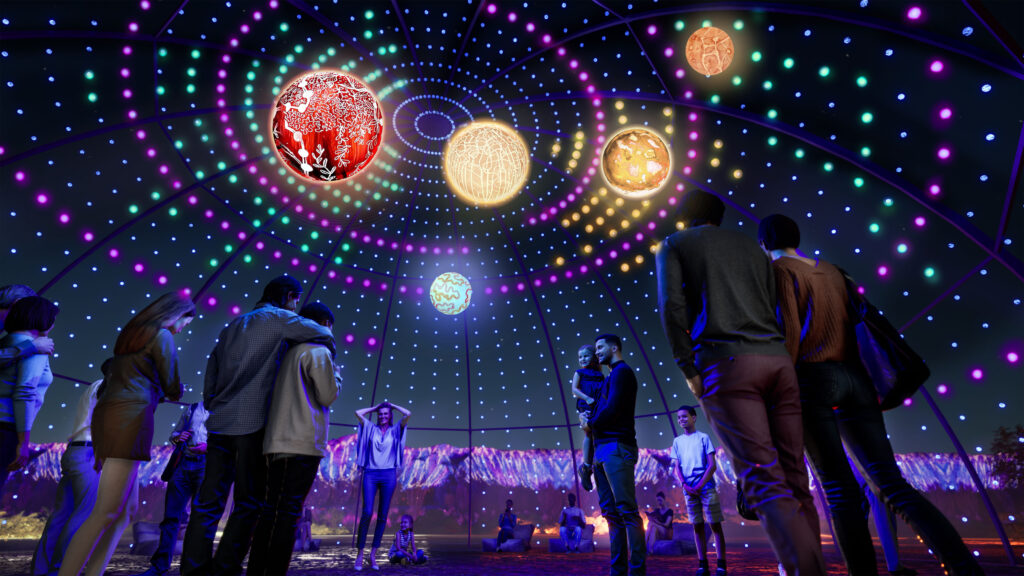 Night Sky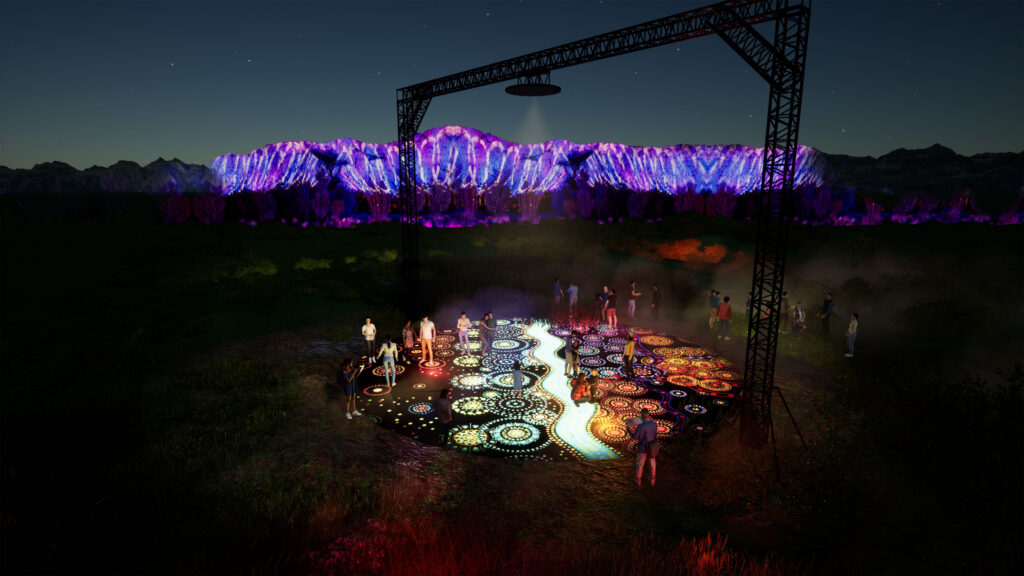 Grounded
The various signature installations of Parrtjima. (Photos: Supplied)
RELATED STORIES
'THE SOUNDTRACK OF OUR LIVES' A LOCAL MUSICIAN SHARES THEIR FAVOURITE ALBUMS
SARAH GAUL: SONGS OF RAGE TO MAKE PEOPLE LAUGH
OPENING WEEKEND OF 2022 ADELAIDE FRINGE SIGNIFIES THE 'SHOW WILL GO ON'
Headlining the festival's music program will be ARIA-award winning singer Dan Sultan, as well as triple j's 2021 Unearthed Artist of the Year, King Stingray. Rounding out the music program is Australian rapper BARKAA, West Arnhem Land's Black Rock Band, the Top End's Jimbaleh, vocalist Emma Donovan (with The Putbacks), RONA., Tilly Tjala Thomas and Ray Ray McKenzie.
As well as featuring on the musical lineup, King Stingray's 2021 songGet Me Outis the soundtrack to the festival's promotional video, with vocalist Yirrŋa Yunupiŋu saying the band is looking forward to playing Parrtjima.
"This will be the first time for us playing in the Red Centre. Our dreams have come true! We can't wait to experience the good vibes of Parrtjima and rock the stage with all the other amazing artists", Yunupiŋu said.
Some of the aforementioned musicians will also dedicate time to the talks program, with Parrtjima Curator Rhoda Roberts AO hosting intimate conversations with various speakers, including Canterbury-Bankstown Bulldogs winger Josh Ado-Carr.
Actor Steven Oliver, best known forBlack Comedy, Parrtjima artists Carmen Glynn-Braun and Raelene Ngala Williams and CEO of Common Ground, Rona Glynn-McDonald will also be part of the program.
This festival's film program for 2022 will exhibit the work of acclaimed filmmaker Warwick Thornton (Samson and Delilah,Sweet Country), with the workshops' program to be released at a later date, closer to the festival's opening.
Parrtjima - A Festival in Light takes place at Alice Springs Desert Park from April 8-17.