Australia duo Ben and Jesse of X CLUB are set to deliver their signature sounds to Australians over the next few months after selling out headline shows across both Europe and the UK.
Having most recently appeared at the 2022 Beyond the Valley Festival, X Club is certainly on the rise having attracted attention from all around the globe.
The 'Global Fugitives' tour won't just bring X CLUB's incredible and unique sounds but also world-class light and sound show with no expense spared in their revolutionary approach to what they call techno theatre.
With releases featured on some of the most well-known Techno labels and with some of the genre's most well-known artists such as Steel City Dance Discs, G-TOWN, Stay on Sight and 1Ø PILLS, as well as collaborations with Australia's Skin on Skin and Pretty Girl. This is your opportunity to hear a band on the way up, and even better, an Australian band who seems to be taking over Europe's dance scene.
Alongside X CLUB are some massive special guests within this scene. Both J Heartstring and Miley Serious will be making their Melbourne debuts this your with them both being in town for the Pitch Music and Arts Festival.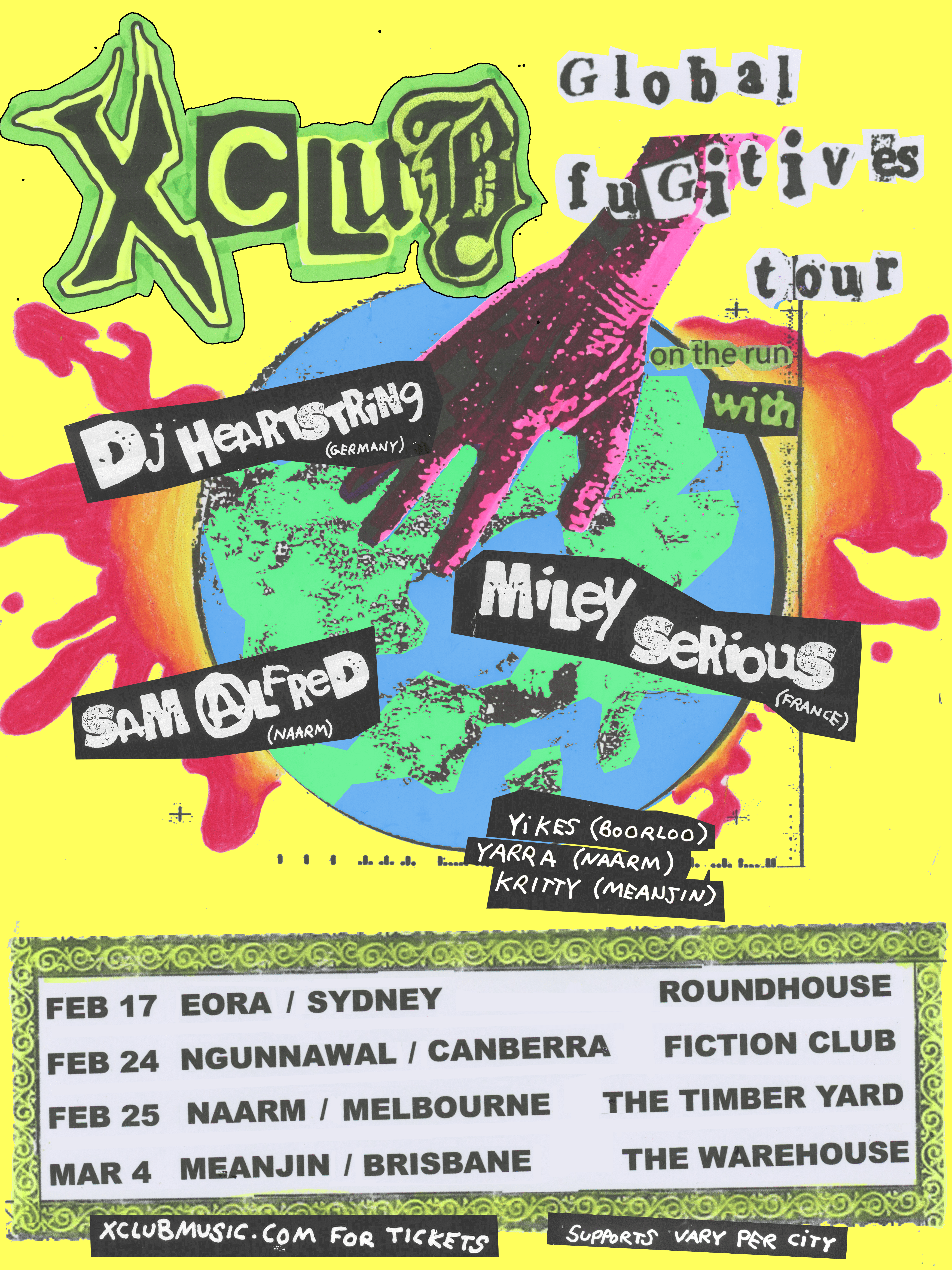 DJ Heartstring hale out of Germany and make some of the fastest and most fun techno music around, also taking the genre forward in a way almost no other band is. Miley Serious on the other hand is from New York via France and knows dance music that no one can compare to. Both acts will bring a signature European flavour to what is set to be four massive dates over the next couple of months.
While it's all good and well to have some European flavour, let's be honest, Australian acts are where it's at. X CLUB have loured along Sam Alfred, Yarra, Yikes and Kritty to bring some local talent to the lineup. They will no doubt have some early bangers to play before warming things up for their European counterparts.
Overall, the 'Global Fugitives' tour is one not to miss with massive acts on the bill all bringing a unique flavour and giving you a unique experience of course headlined by Australia's X CLUB.
X CLUB. - GLOBAL FUGITIVES TOUR
Friday, February 17 - Roundhouse - Eora / Sydney, NSW
Friday, February 24 - Fiction Club - Ngunnawal / Canberra, NSW
Saturday, February 25 - The Timber Yard - Naarm / Melbourne, VIC
Saturday, March 4th - The Warehouse - Meanjin / Brisbane, QLD
Sign Up for Pre-Sale on 11th January 2023:
https://xclubmusic.com/
X CLUB. shows are known to sell out fast. They reward their fans who are part of the club. To access tickets first you must sign-up for the pre-sale at www.xclubmusic.com
Before you move on, why not give our Facebook page a like here. Or give our Twitter account a follow to keep up with our work here.