Sturt captain Maya Rigter says her side is "up for the fight" against North Adelaide in this Sunday's SANFL Women's grand final.
It will be a battle between the experienced Roosters, who are in their fourth grand final, and the fresh-faced Double Blues, who are making their first grand final appearance.
Rigter, in her second season as stand-alone captain, is excited and nervous to take the field with her teammates.
"It's going to be a huge day with a big crowd, so I'm a bit nervous, but very excited to show everyone who we are as a footy club," she told Edge of the Crowd.
"Five years of hard work has come to this weekend.
"It's been a tough slog to get here."
And the grind will continue until the end of the match, as North Adelaide is a quality opposition.
Looking at the times the two teams have met this year, the win-loss ratio is equal; Sturt won in round three in a low-scoring affair, but North Adelaide demolished its opponents in the semi-final.
But having played in three grand finals already and won one of them, the Roosters have the upper hand experience-wise.
"They (North Adelaide) have been the powerhouse of the competition since its inception and they're still going strong," Rigter said.
"They will be very hard to play against, but we know that we're up for the fight and it's going to be a very exciting game."
It is a special one for Rigter; at just 21 years of age, this season is her second as the stand-alone captain.
She started playing footy at Morphettville Park when she was 16 before she joined Sturt in 2017 through its Talent ID junior program.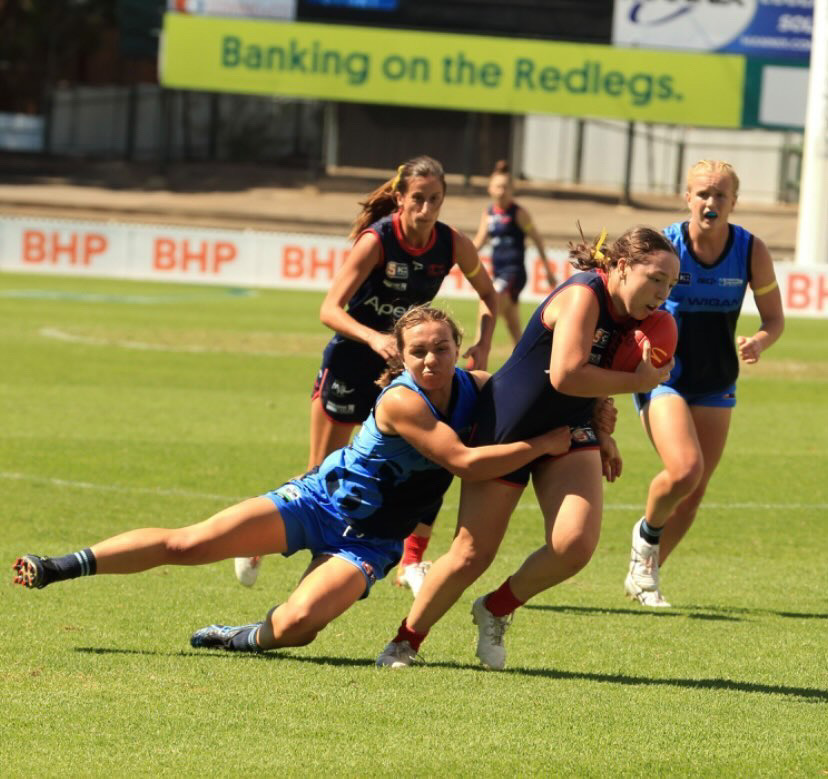 Maya Rigter has led from the front for Sturt this year in the SANFLW. Image: Supplied by Maya Rigter
She developed her skills and honed her craft, and in 2018 she was selected to be a part of the club's first SANFLW League team.
The next year, at age 18, she was voted into the leadership group and in 2020 she stepped up as co-captain, before taking the reins by herself in 2021 - something she said was a "huge honour".
"Captaining a football club presents many challenges, especially as a 19-year-old, but it also presents many opportunities," she said.
"I have grown immensely as a person both on and off field during this time.
"Captaining a club comes with a lot of off field commitments, which is difficult to balance sometimes with study and work, but I wouldn't change it for anything."
Rigter, a lockdown defender and midfielder, said it was all worth it to make the grand final, which she thinks will be an "absolute ripper of a game".
"The two best teams all year, facing off at Coopers Stadium Norwood, in a tight contest," she said.
"This game not only represents this year, but the many years of work the SANFL has put into creating this league and making it the best league after AFL level."
Related Stories
JOEL JEFFREY: PLAYING FOR FAMILY
HANNAH MUNYARD: 'IT'S JUST SUCH A SURREAL MOMENT'
She said the Sturt player to keep an eye on was Kiera Mueller, a rebounding defender and one of her best mates.
"Kiz has had a fantastic season and has worked tirelessly to get herself in career best form," Rigter said.
"Kiz has a lethal left boot and a never say die attitude.
"She has an influence on the game each week and it has been awesome to play down back with her."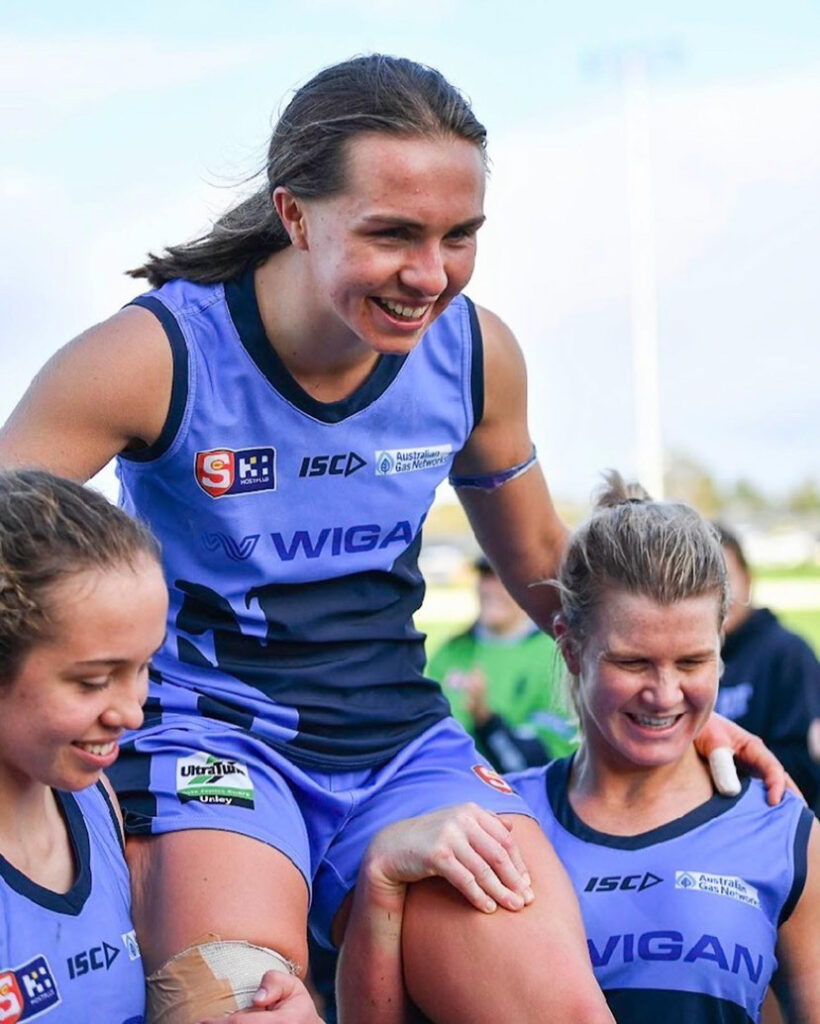 Rigter has been an inspirational leader for Sturt this SANFLW season. Image: Supplied by Maya Rigter
The 2022 SANFLW grand final, between North Adelaide and Sturt, is at Coopers Stadium in Norwood on at 1.45pm on Sunday, May 29.
The game will be broadcast live and free on Channel 7, on the SANFL Now app, and on 1629 SEN SA and the SEN app.
Tickets are $10 for adults and concession, available for pre-purchase on the SANFL website here or at the gate, with under 18s free.
North Adelaide and Sturt FC members get in free with their membership card.
"Bring your friends, bring your family, and if you can't get there, watch it on Channel 7," Rigter said.