Duo SOFI TUKKER has released their latest singlekakeewhich is the opening song off their new albumWet Tenniswhich will be released on April 29th.
Kakeebrings a thrilling oxytocin rush that comes with a giant hook and a massive beat that the duo is known for.
The song features all the things that made the world fall in love with the duo and more. The group will be heading to Australian shores to play at the Splendour In The Grass Festival as well as shows in Melbourne, Sydney, Adelaide and Perth in July.
"Kakee,which means persimmon in Portuguese and in many other languages, is a song, quite literally, about persimmons," the duo said.
"Soph had been talking about how obsessed she is with persimmons for a long time and so she and Chacal (the Brazilian poet we have made a lot of songs with) wrote a poem about them.
"The lyrics literally translate to "I don't go by car or by foot. I go by persimmon... I'm not Sophie, I'm persimmon... The juice of the persimmon is on my nose and on my chest, so sexy."
"We started it as a techno track and then with the guitar it really took a turn. No idea what genre this is. We just know that we love it. "
RELATED STORIES
ADELAIDE FRINGE 2022 FINISHES ON A MASSIVE HIGH
PUP ANNOUNCES AUSTRALIAN DATES FOR UPCOMING TOUR
EDGE OF THE CROWD'S MARCH 2022 PLAYLIST
The group's upcoming album Wet Tennis is available for pre-order with the duo releasing ombre picture disc vinyl and a very limited number of autographed CDs. As well as a range of merchandise that has been released on the group's website.
Recently the duo released Felix Jaehn's remix ofOriginal Sin, which has been labelled as an ode to loving yourself and rejecting imposed social mores.
Felix focuses on the song's tropical elements then building in a new rhythm under Sophie and Tucker's vocals. Last week, SOFI TUKKER also shared NYC disco house duo Crush Club's remix of the same track.
SOFI TUKKER revealed the cover art and tracklist for WET TENNIS with the March release ofForgive Meand its music video.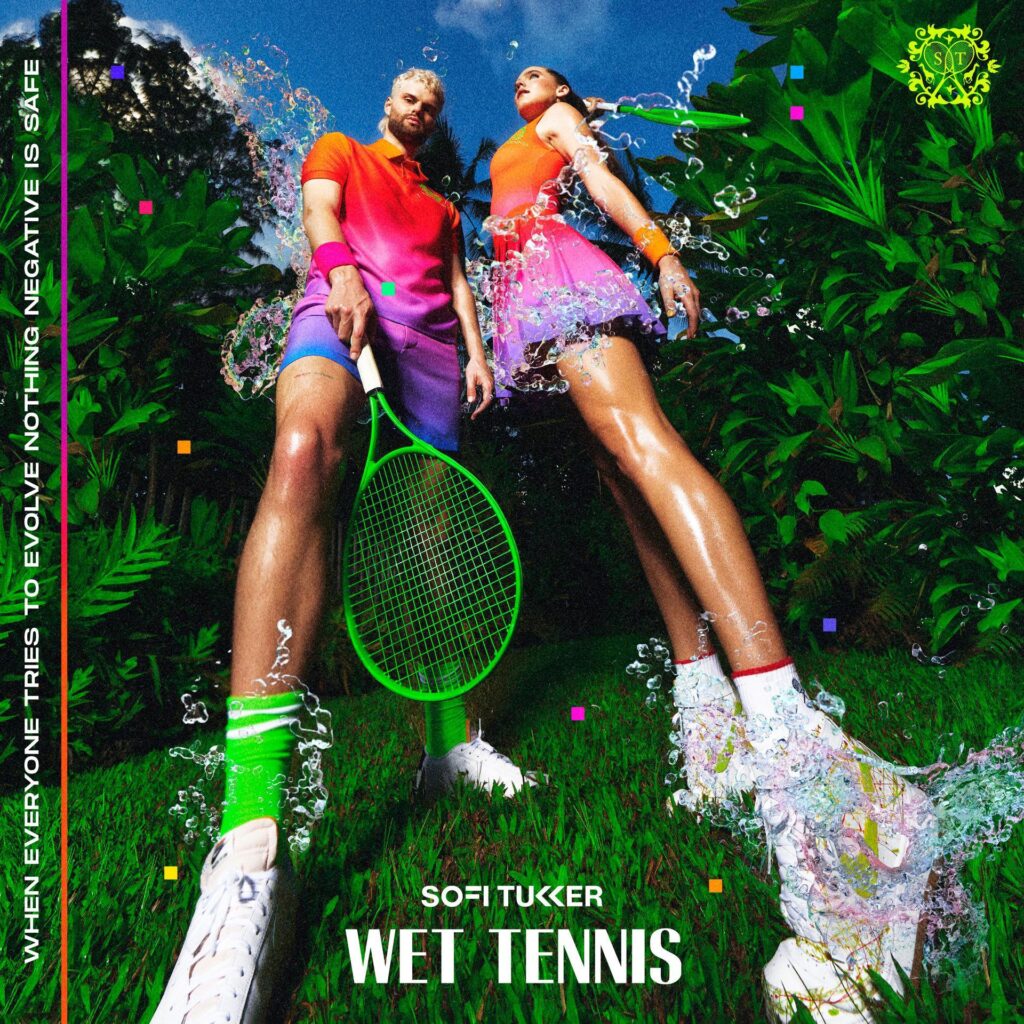 Cover art for the new album Wet Tennis. (Photo: Supplied)
Following a headline set at CRSSD festival and the group's show at Belly Up Aspen which raised $19,560 for Red Cross Ukraine, the duo has announced that they've added additional dates to their WET TENNIS world tour.
The Group will tour across Europe and Australia along with the previously announced North American dates. Due to high demand, they have added shows in US in areas that have sold out.
Sophie and Tucker will be coming to Australia this July to play Splendour In The Grass Festival as well as sideshows in Perth, Adelaide, Sydney and Melbourne. For ticket details and more information please visit: sofitukker.com/tour