Roxsolt Liv-SRAM is an Australian pro-cycling team, and for a long period, has been one of the standout teams on the Australian domestic scene. It is the only Australian UCI Women's Continental Team, and has been a talent funnel for Australian pros in recent years.
On the eve of the 2023 Road National Championships, Edge of the Crowd looks back on how Roxsolt Liv-SRAM pulled off the great heist of 2022 when Nicole Frain crossed the line and earned the green and gold bands.
Last year, they were one of two teams with big numbers and top credentials to make a team effort to try and win the women's road national championship.
Alongside BikeExchange-Jayco, Roxsolt Liv SRAM had the numbers to make the race about them, and run it to their strategy.
Edge of the Crowd spoke to members of the Roxsolt Liv-SRAM team from that day about how the race went down, and re-tell that strategy here.
Check out the Edge of the Crowd recap of the day.
Justine Barrow explained that the night before the race, the plan was hatched, and everyone in the team was on the same page.
"We went in with a pretty strong team plan," Barrow explained.
"We had some joint leaders in Nicole Frain and Emily Herfoss. My role was to support the team and particularly those two riders."
Frain has a clear recollection of that meeting too.
"We had our team meeting the night before, and we were going into that race, looking to take out the win," Frain said.
"That was 100% what we wanted to do in that race, and we went there with the full squad, and we were racing for myself or Emily.
"I suppose the situation sort of comes down to which of us feels good at what point in the race and how we can contribute, and then it's about talking through the race, and playing to those strengths."
Tilly Field knew what would happen too, and how communication would work if things unfolded unexpectedly on the road.
"Our plan, to be honest, we were open with it," Field said.
"We knew we would be strategic, and we knew we wanted to win, but we didn't really know. It's not like we ran through too many specific scenarios, Peta is very good at assessing what is happening during the race and being good at making calls on the go.
"We knew, if it didn't come from her, if she'd been dropped from the lead group, she was going to tell her partner on the side of the road, Jarrod, and we would receive instructions from him.
"We knew that we'd be instructed during the race as to what we had to do. With that in mind, when we were on the road and we were told to do something, we knew that this was the game plan."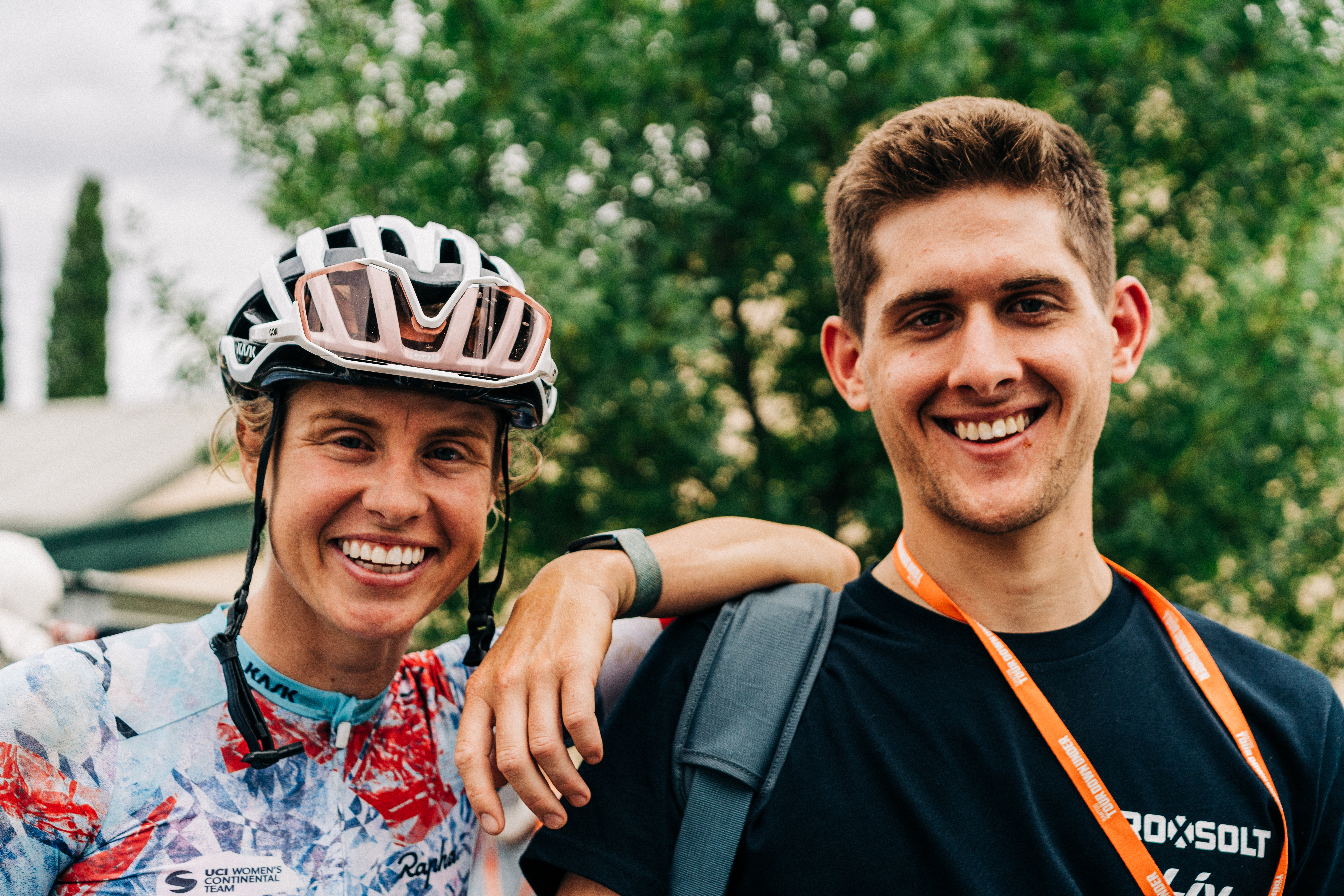 And so with everyone on the same page, the game plan started to unfold, looking for Herfoss or Frain to take a victory.
As Field explained, the way for Roxsolt Liv SRAM's plan to work, was if the race was hard enough to isolate the other favourites, and use their numerical advantage to put everyone in difficulty. Once everyone was in the hurt box, they would launch an attack for the win.
"My plan definitely wasn't to go up the road that early, but I think Peta went up to Justine after a few laps, and said it wasn't too hard," Herfoss explained.
"Peta told Justine to amp it up a little bit on the hill, but Justine just loves the hill, and probably amped it up too much, and lost a couple of our teammates, but definitely put the pressure on some of the other riders."
As Field explained, that was where the plan started to change suddenly, with pressure on the team as well.
"So the plan was on the third lap, for Justine to make it a 'warm effort' up the climb, and harden things up a bit, and then at the top, I was meant to attack," Field explained.
"How it played out, Justine did more of a 'hot' effort, up the hill, and dropped a few too many people, including me, Peta and Courtney."
Despite being in the wrong spot, Field knew that she had to contribute, and tells the story of how she found herself back in the race.
"I shouldn't have been as far back as I was, that was my bad," Field said.
"I was trying to get a bottle in the feed zone, so I was just looking ahead at Peta and Courtney, thinking, if I can see them, I'm still in contact, I'm not dropped.
"I got my bottle, made it back to them, and realised and saw that actually there had been a break and everyone was up the road on the climb, so I came up behind Peta. I just said her name, because I was mortified, and she turned and said 'it's ok', and people were sort of trying to go and bridge, and I said, 'should I go?', and she said 'if you think you can'.
"In my mind, there was no other option, because, as someone with a lot of personal responsibility, and this is such a big thing for me, and I feel so special to be here, so of course, I was going to do everything that I can.
"I thought 'I have to get back', I had to get there, and that's when I went, and that's where the plan didn't go to plan, is me not being at the top of that QOM. I made it back on through [Uni of South Australia], and then someone had already gone off the front.
"I made it back, and I went straight to the front so I'd pass my teammates so they knew I was there now, and then Emily came up to me and said 'get to those people off the front'.
"I thought I'd just gotten back here, but I hopped on the front and drove it as hard as I could to get that lead group back to the two leaders, and then another lap passed."
When the pace ramped up, it was clear to the team that Herfoss didn't have the legs to take the victory, and so she became part of the strategy to make the race hard.
"Em went off solo, during the race, her legs weren't feeling really great with the surges and things like that, so she wanted to take that opportunity to go off on her own pace and do that," Frain said.
"It was good for me, because as the other protected rider, I was able to sit in, and conserve and look after myself a bit there as well."
Herfoss had hoped that it would unfold differently.
"I saw the opportunity for one of us to go, and because there were a few of us in the bunch, I decided just to go, and try and get a gap, which in the end played to our strengths," Herfoss said.
"Because I was up the road, Tilly got a free ride across with Matilda, and once she got to me, the moment, they caught me, both my legs just cramped at the bottom of the climb, and so it was a bit unfortunate."
As Field explains, sitting in the peloton, Frain had taken charge, and was pulling the Roxsolt strings to make the race unfold to her liking.
"When Emily went, it was quiet for a bit and then Matilda [Raynolds] went," Field said.
"I said out loud, because I'm such a noob, I said to Nicole 'should I go?'. I could see Ruby Roseman-Gannon tighten up, her body language was primed, ready to mark me.
"And Nicole, and she just smirked at me like 'you idiot', and I went, I thought I won't go, and dropped half a wheel back, and then launched. I didn't really know if I was meant to go or not.
"I took Nicole's smirk as 'only if you can make it without anyone on your wheel', I think that's what she was about to say, but I didn't wait."
As the race came down to the wire, Field was up the road, and Frain was pulling the strings in the bunch. Team talisman Peta Mullens had been dropped, Emily Herfoss and Justine Barrow had sacrificed themselves for the plan.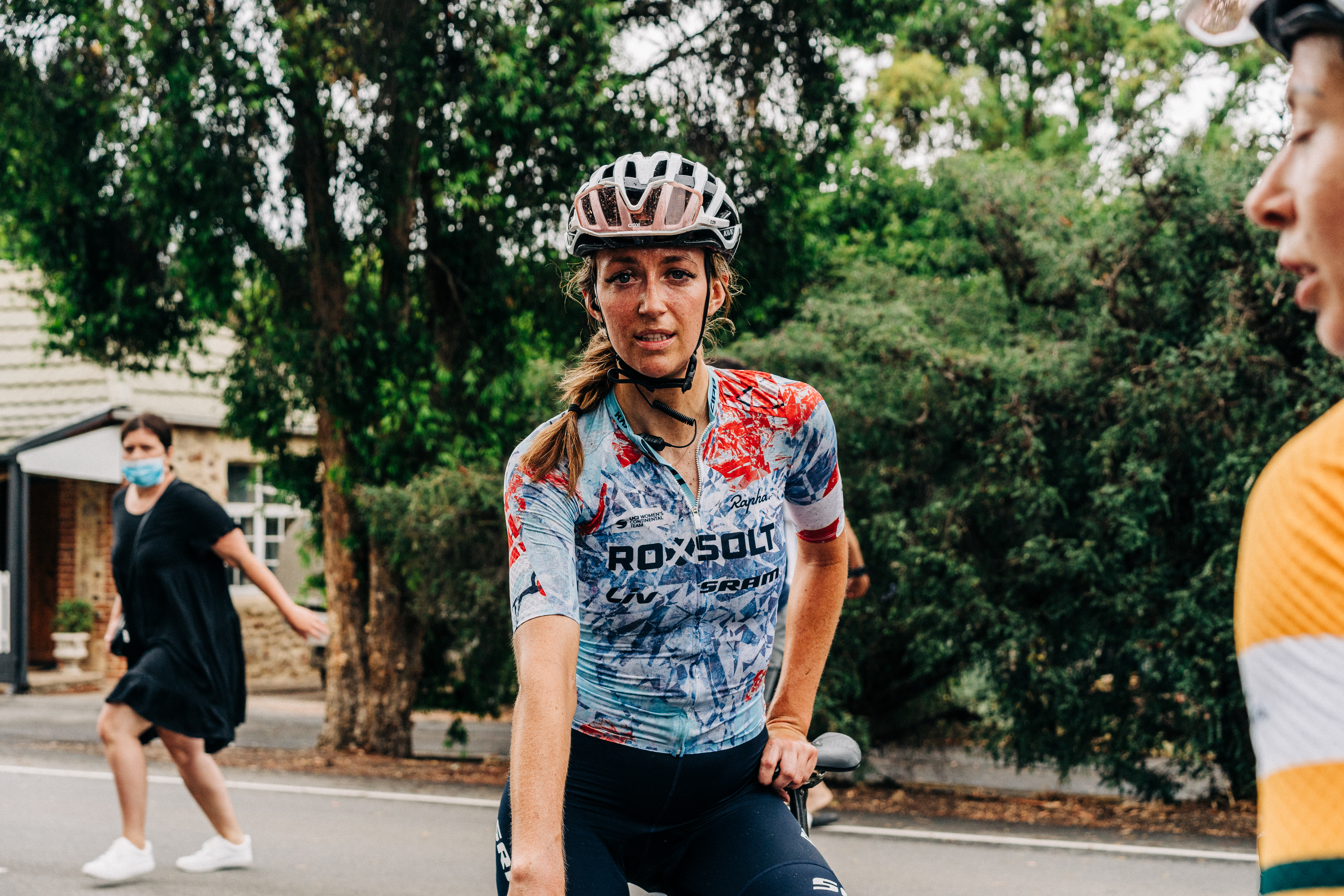 Field explains, she, and the whole race was deep in the hurt box.
"I was already on my limit," she said.
"I was sort of like 'at some point, I'm going to have to stop working and wait for them to catch'. We got to that last lap, and I was really feeling it at that point, my legs didn't have anything left in them.
"Jarrad said to me 'you've got to send it, you've just got to go', and I went 'ugh' because I didn't have anything left. You don't see this on the camera, but I attacked Matilda, and then had absolutely nothing and she comes round me, and I didn't have anything. That's how that happened.
"Jarrad said go and I did what I was told, knowing that either way, I was getting caught, and then Nicole did what she had to do, which was go early, her strength, and luckily it was all timed perfectly and the bunch didn't respond quick enough and she made it."
As Frain tells it, she felt the pressure on her, and then when the moment came, she struck.
"Knowing that I as the last option for us, because Emily we'd obviously used her up, because she went off solo, and the other girls had obviously been working for me," Frain said.
"Justine had pushed up those climbs every time, and she's not a sprinter for that last scenario and it was just us two in that group, and I hadn't done anything all day.
"I'd just literally sat in, to that point, so it really does come down to then what I could do, so I was a bit nervous, because I had to do something know, and either it works or it doesn't.
"When I attacked, coming into the uni, the pace really cooled off a bit, I guess that was everyone getting four or five km out from the finish, everyone looking around and I found myself on the front.
"I didn't really want to be there, but no one was going to come over, so coming through hose corners I pretty much felt like the girl behind me wasn't glued to my wheel, so I thought I was going to attack into one of these corners and see where it leaves me, and it opened up a gap, and then once it opened up the gap, I was going in 110% which is what I did, and it was great."
Field put it more simply, saying just "Nicole did what she had to do, which was go early, her strength, and luckily it was all timed perfectly and the bunch didn't respond quick enough and she made it."
And so all year, the team from Roxsolt Liv-SRAM have raced with the green and gold bands within their team.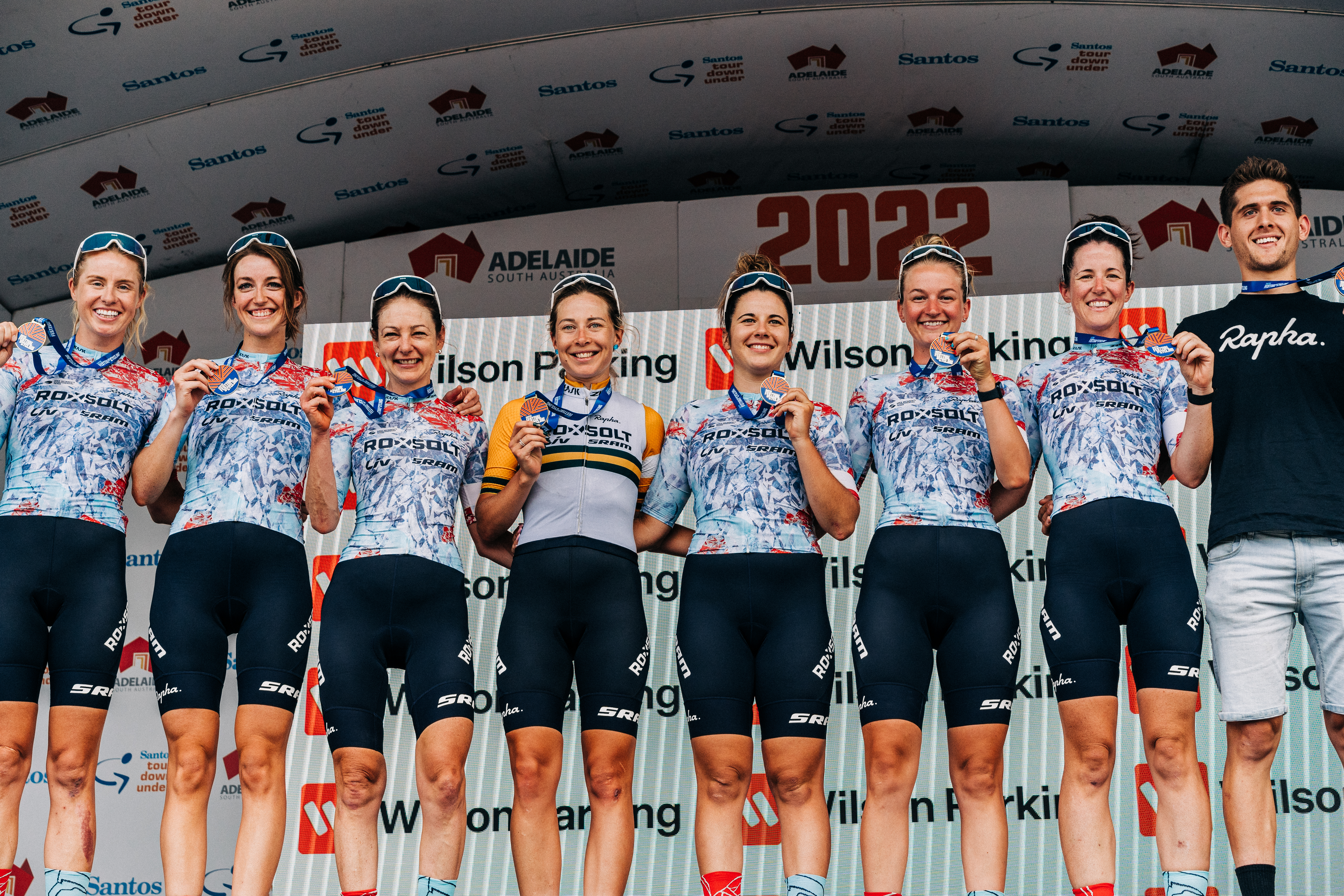 It's a treasure to them, and they earned every fibre of that jersey with their race. But why they're a special group? Stay tuned for the next part of Edge of the Crowd's in-depth chat with the team.