For the fourth time in its inaugural season, Essendon has sung its song, flying up over Port Adelaide in a 27 point win.
In unusually wet and windy conditions for the last weekend in October, it came down to forward 50 efficiency at Alberton Oval - something Port has struggled with all season.
Essendon had seven more shots on goal than Port, from just two more entries, and was able to register five goals and seven behinds, to Port's one goal, four behinds, in a strong performance.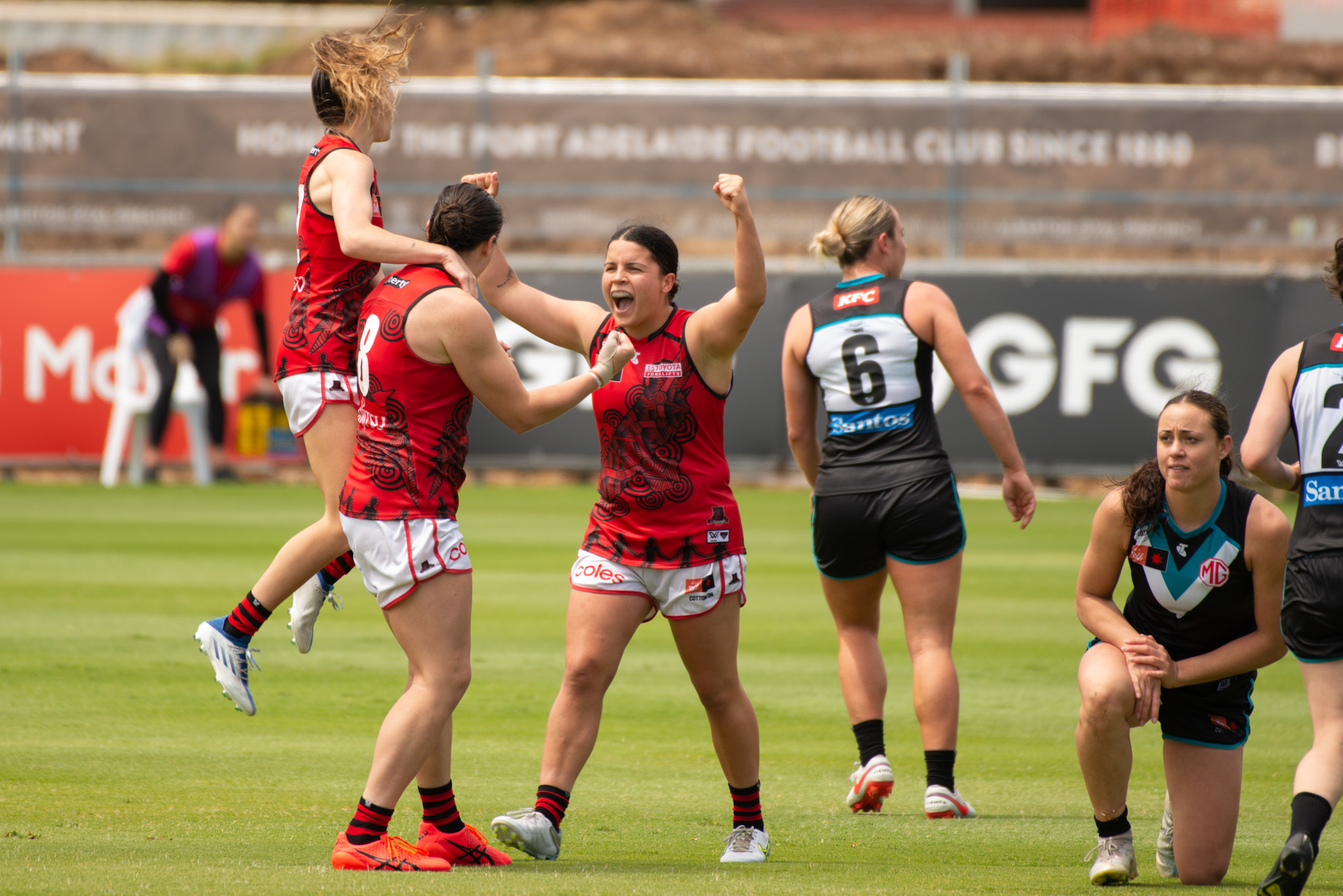 Around the ground, there was little separating these two sides.
Port finished ahead in hit-outs, clearances, and had more disposals, the teams were almost equal in tackles, but when it came to hitting the scoreboard, only one team was able to keep it ticking over all day.
"We knew that Port Adelaide are a really contested team, they've really held up well in a lot of the contest battles in the first nine rounds, so we knew that it was going to be a contest," Essendon coach Natalie Wood said post-match.
"I'm really proud of our players, they stepped up and were ready for that battle, and we took our opportunities and were able to get a score on the board."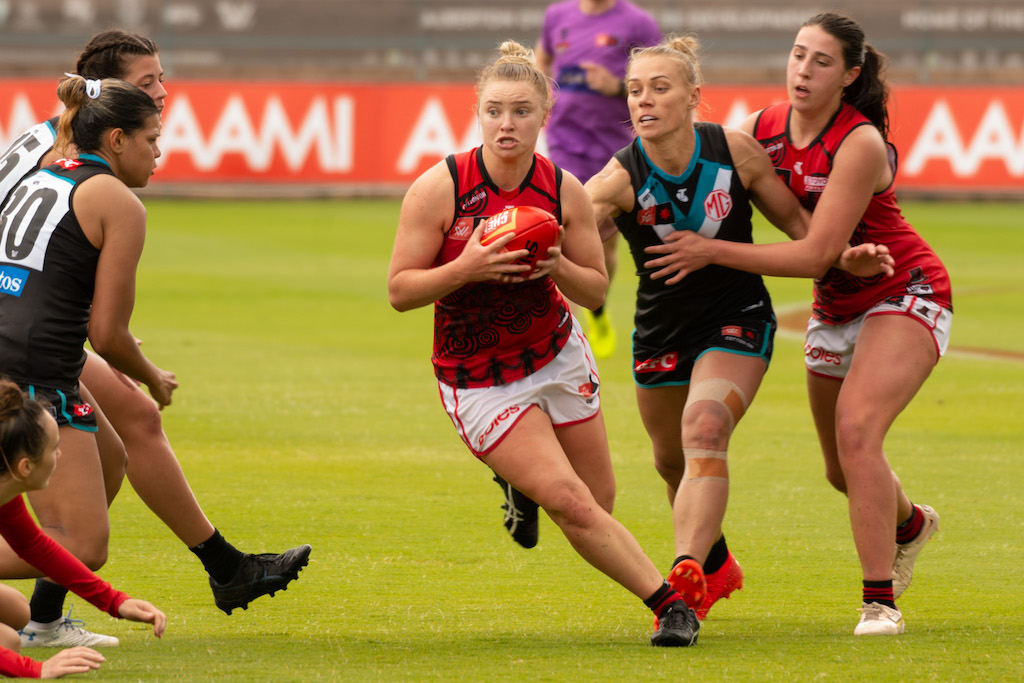 Scoring did come with a bit of luck, and a bit of tough luck at times.
Amber Clarke scored the first goal for Essendon from a 50 metre penalty, after she made a strong chase down of Sarah Goodwin running the ball out of Port's defence.
Then, Bonnie Toogood had one of the shockers of the day, an in swinger from close range that spun out to the right for a behind.
She later tried to over correct and went left, but her snap on the run went through for a goal in the third.
After Port had the first two inside 50s to start the second term, Essendon had the next two and were able to capitalise. A sneaky checkside off the left boot Daria Bannister put Essendon comfortably in front, in the soapy conditions.
The weather cleared up in the second half, and although it was still tough in the wind, the Bombers were able to hit the scoreboard more often.
Paige Scott might have challenged Toogood for 'miss of the day', but Bannister recorded a second and Sophie Alexander added another goal in the thrashing.
The Power managed just one goal, Cheyenne Hammond got on the end of some play up forward, and finally there was a major recorded for all of their inside 50 entries.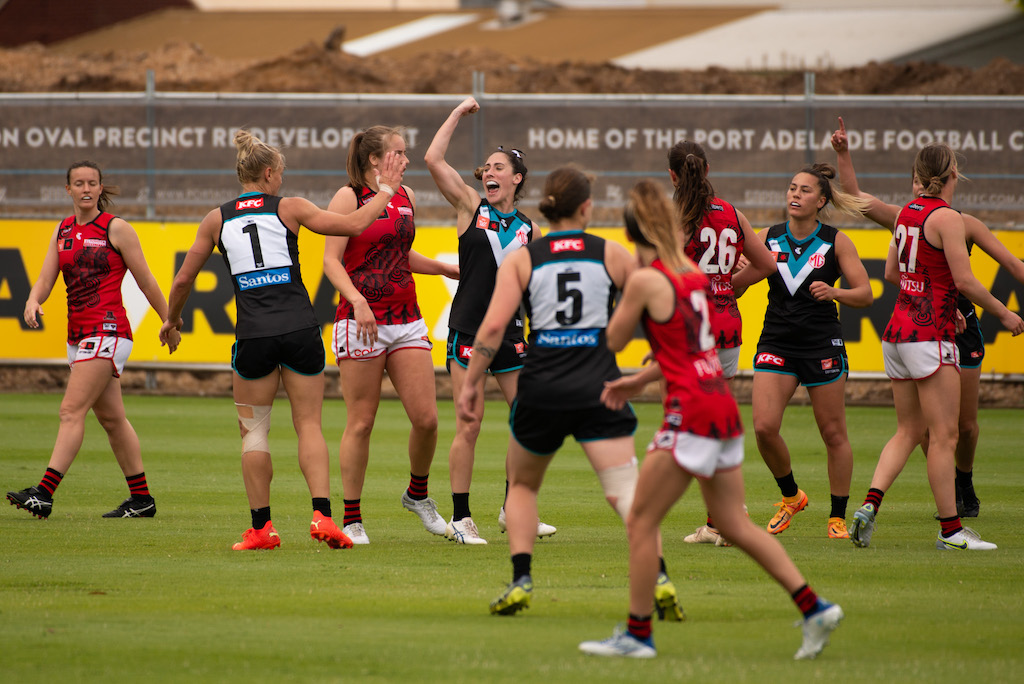 The Bombers' win was soured by a horrible incident involving young Lily-Rose Williamson, who was flipped in a tackle very late in the game. A stretcher was called for the fifth gamer; the Essendon support staff taking special care of her neck, as they took her from the field.
Wood confirmed post-match that Williamson had been taken to hospital for assessment.
"Lily-Rose went down in that really awkward collision and has a neck complaint at the moment. She's been taken away in the ambulance and is being well looked after by the medical team, and she'll go in for an assessment, and we'll know more soon."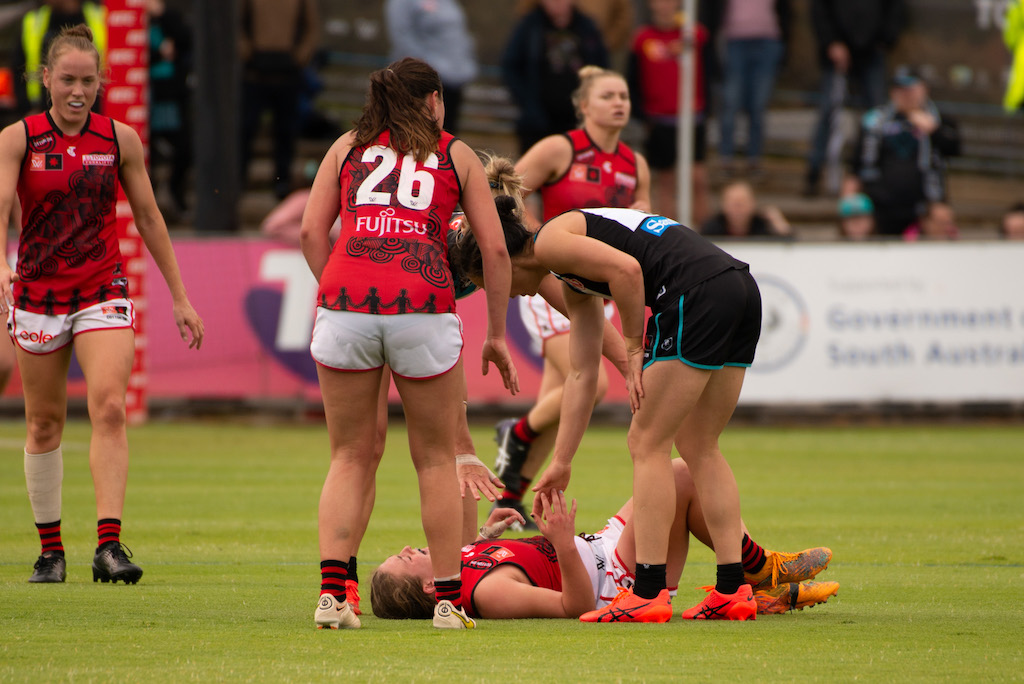 Clarke also finished the game on the bench with ice on a strapped upper leg, after hobbling from the field.
It was a disappointing finish to a promising season by the Power, a season they admit has been below their own expectations.
The loss has them finish with one win and one draw from 10 rounds, 17th on the ladder.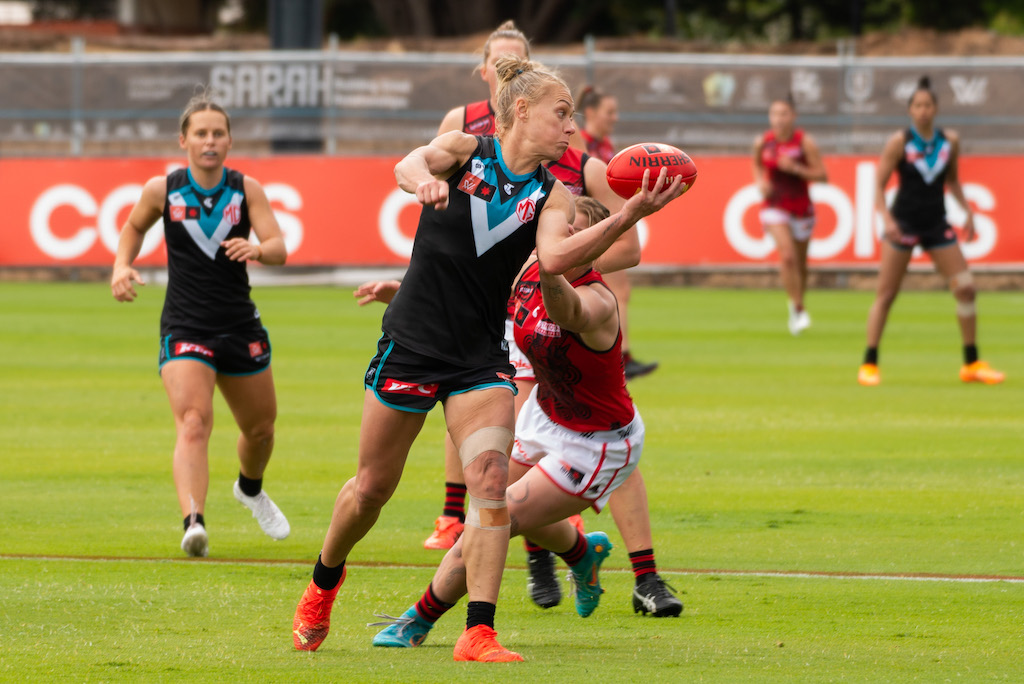 Coach Lauren Arnell has been honest all season about her side, where they're at, and how they're getting better. Reflecting on the club's first year, she sees solid foundations, ready for a real preseason and more growth.
"At the highest level, reward comes in wins and losses.
"What we're really clear on is we're on a path to far greater than what we've been able to put out this season, and we feel quite bullish about what's ahead of us.
"We also understand there's a hell of a lot of hard work to get done to be better in not just next year, but in future years. We want to be certainly protecting Alberton to a higher level.
"The fitness element is an obvious one for us, that we've got time to put work into that now, and we're looking forward to that."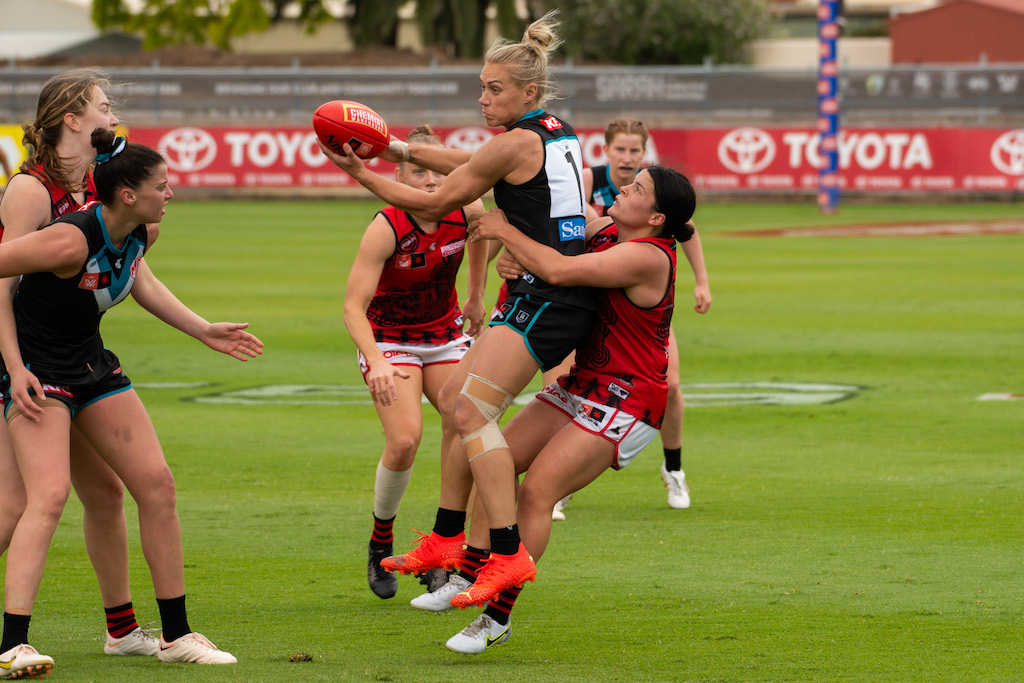 Fitness is something all expansion sides have battled with this season. They had less than three months together before Round One, and have generally found consistency across four quarters to be one of the biggest challenges in Season Seven.
"You look at across our group, we've had a group of players who played a W season, a big chunk of the players that came from W teams played finals," Arnell said.
"And so they were playing for their previous team right through April, and we got them mid-June.
"Our draftees had a seven-week preseason after playing school footy, state league footy and winning a National Championship for South Australia, and then they spun that into a pretty quick turnaround and into a seven-week preseason for us.
"There's some really obvious areas where, with time over Summer and over the Autumn, we'd like to put a big chunk of SANFL games into our players where we can.
"I know I'm quite bullish in saying we do this better than any club, I've obviously got a fair bit of experience around the competition, and I don't say that lightly.
"And so we'll put every ounce of support that we can around our group to get better."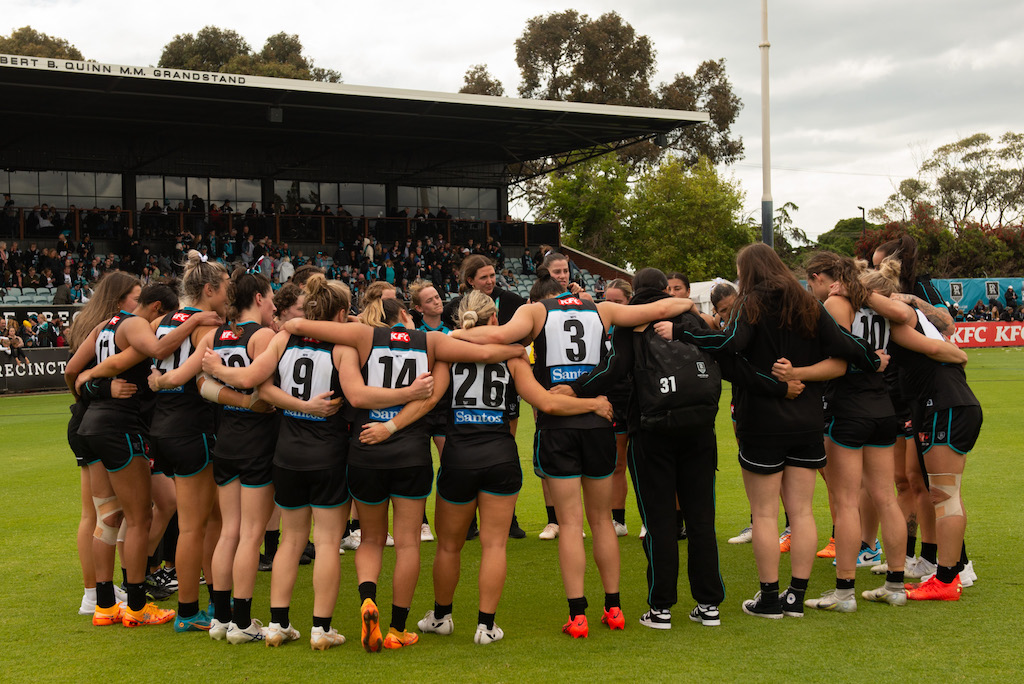 Wood also reflected on her side's first season, and the group of young players that have come into the side and played key roles at time - none bigger than Ash Van Loon's job on Erin Phillips on Sunday.
"We keep looking at things week to week and trying to build on what's really working and try to build individually, like both teams, we've got a lot of 18 year olds, 17 year olds.
"We've got Ash Van Loon, who we set the challenge of Erin Phillips, and she's an 18 year old kid, who is doing Year 12 and every week we've given her the best forwards and so the growth she's got and what she'll learn going into next year, what she's been exposed to this year, she'll be exceptional.
"We'll obviously get to work in the off season to keep developing all our players, we've got some really quality players that have come to us, either from other AFLW clubs or from VFL system, and the common thread in everyone is they really want to improve their game.
"So I guess that's our responsibility now that we've seen a little bit of what they can all do individually and also together, and now our responsibility is to help them keep taking steps forward."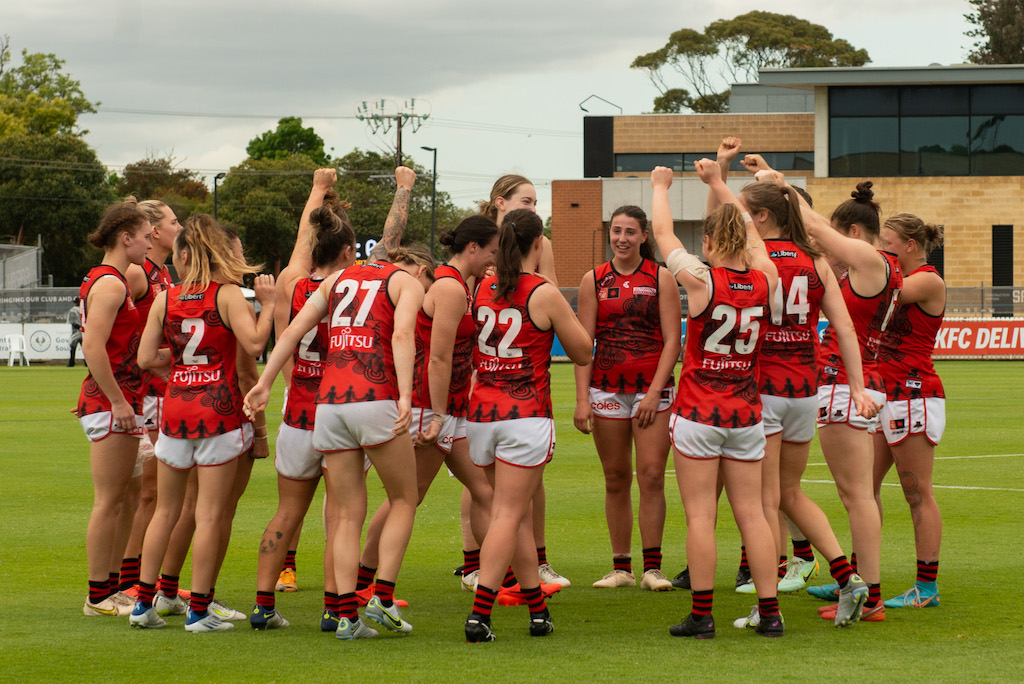 Ange Foley was in the thick of it as usual today. Celebrating 50 games of AFLW, the ex-Crow has been a leader and a mentor for her young team this season.
Speaking to Foley's milestone, Arnell reflected on what a big move it was for her and Phillips to come across from Adelaide.
"Obviously Ange is our vice captain and I spoke about Erin pouring all of herself into this footy club and Ange has done the same, and it's no mean feat.
"These are players who've been at previous clubs with enormous success and backed themselves in to move to, we're an expansion team with incredibly proud history at our football club, but for Ange the way that she's poured herself into the program and given as much as she possibly can, it just speaks volumes."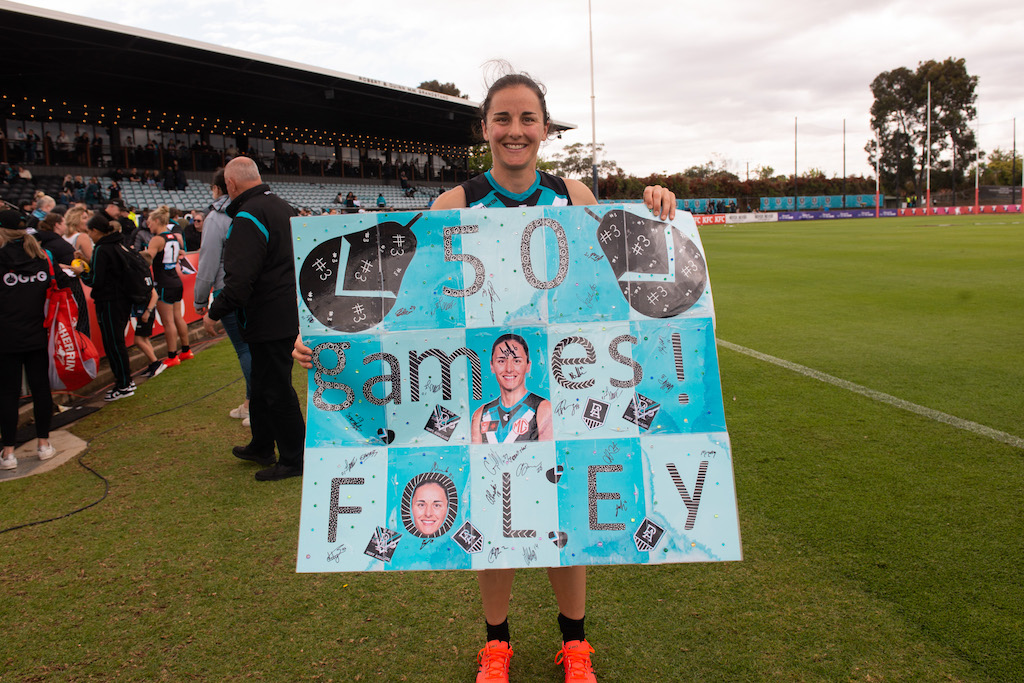 "You also look at a player like Ange Foley and the last game I played of footy, she played her 40th and captained the Crows in the 2021 Grand Final," Arnell reflected.
"And a lot of people forget the resilience she's shown to come back from that ACL that day and to play 10 pretty high level games of footy in this season and support leading the program.
"She's been excellent, and she was right at the front of us wanting to get better."
That's the end of the road for these two teams in their inaugural seasons. AFLW Season Seven finals action begins next weekend, with an expanded, four week finals series.