The Warriors played 59 games in which their home base was in Queensland due to COVID-19. Many thought Queensland was their lucky charm after the Warriors secured three straight home game wins on Queensland's Central Coast at the start of their COVID-19 relocation; however, this came into question when they followed this with three straight Central Coast losses.
We've compared the Warriors' performance during their time in Queensland to the most recent 59 games that they played before COVID-19. This pre-COVID 59-game period spans from Round 14 of 2017 to the end of the 2019 regular season.
Ladder, Win Percentages and Margins
On average, the Warriors were one position lower on the ladder during their COVID-induced relocation to Queensland compared to the years pre-COVID, and their win percentage was 6% lower. They also had a smaller average win margin and a larger average loss margin during versus before their time in the Sunshine State.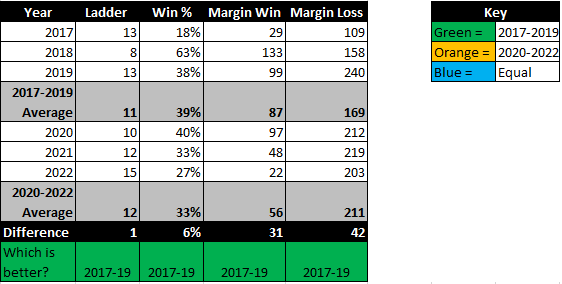 Home Vs Away Results
Interestingly, the Warriors' win record for the 2017-2019 and 2020-2022 periods is equal for games classified as "home" games, with an average of 4.3 home wins. At the same time, this suggests that Queensland really is a home away from home for the Warriors; the other home and away statistics tell a more complex story.
The Warriors had a slightly higher loss rate for home games during COVID-19, with an average of 0.3 more losses than the 59 games before the pandemic. Away games seem to be where being away from New Zealand really took its toll. The Warriors had an average of 1.7 fewer away game wins and 1.7 more away game losses from 2020 to 2022. They also snagged an away game draw in 2019, but they did not do so in the years since.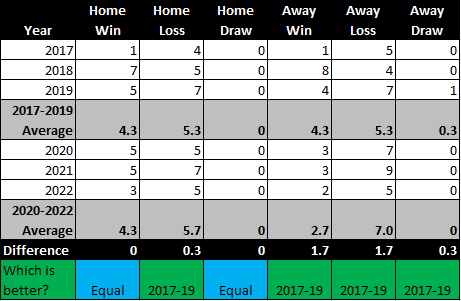 For and Against
In terms of for and against, the Warriors racked up slightly more points and conceded significantly fewer points on average pre-COVID. This resulted in an average for and against of -73 in the 59 games before COVID compared to -157 in the 59 games afterwards.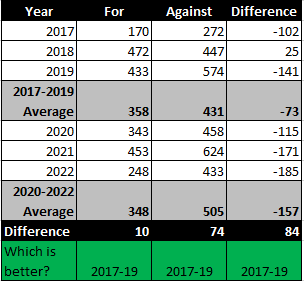 When we break these for and against results up into home and away games, we see further confirmation of what we've found from the rest of the statistics. The Warriors conceded significantly more points from 2020 to 2022 for both home and away games and they gained less points for away games; however, their attack improved marginally in the latter period for home games, with the Warriors gaining an average of 11 more points during their games.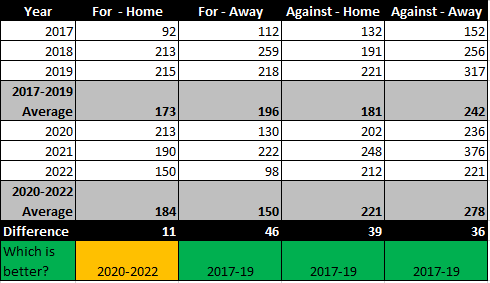 Where Were Home Games Played?
The New Zealand Warriors had their home games across three locations during the 2017 to 2019 period. They only played at their official home base, Mount Smart Stadium in Auckland, in 2017 and 2018; however, in 2019, they played once in Wellington, another New Zealand city, and once in Brisbane, while they played the remainder in Auckland.
In contrast, the Warriors had very little stability from 2020 to 2022, playing at eight different venues across two States – not just in Queensland but also in New South Wales.
2021 was the Warriors' most unstable year in terms of variation in home gain venues, with four different stadiums. Perhaps this is why 2021 was an anomaly regarding the number of points the Warriors gained at home and away venues. It was the only year where they gained significantly more points in away games compared to home games, with 222 points compared to 190 points. "Home" doesn't mean much when you have to move so regularly.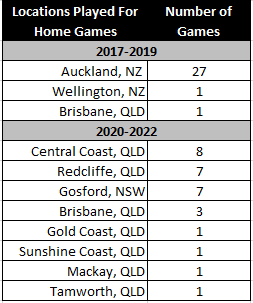 Did They Perform Better Before or During COVID-19?
Overall, the New Zealand Warriors performed better when their home base was in New Zealand before their relocation to Queensland during the pandemic.
In their long-awaited homecoming match in Round 16, they thrashed the Tigers 22-2 in their biggest win of 2022. The following week, they lost to the Eels in Sydney. You could argue that they performed well in their first match back in Auckland because they versed a struggling 16th-placed team. Perhaps they lost the following week because they were up against a top-eight side.
Either way, the statistics speak for themselves. Though some of the figures point to minimal differences between the two analysis periods, these differences exist all the same.
Some of the Warriors players' homes and loved ones are in New Zealand. Others joined the team during COVID-19 and have never lived in New Zealand, though their families will likely follow them there now that Auckland is once again the Warriors' home base. Home is where the heart is, and the Warriors players' hearts are in New Zealand.
Before you move on to our next piece of wonderful content, we would love to grab your feedback via the form here - Edge of the Crowd reader survey.