On Sunday night, Mollie O'Callaghan was named Swimmer of the Year of the Olympic program in Australian swimming. It caps off a glowing campaign, that comes off the back of a meteoric rise over the last 12 months.
Since racing at the Tokyo Olympics as a 17 year old, where she won two gold medals and a bronze medal, O'Callaghan has gone from strength to strength.
She won three gold medals and three silver medals at the World Championships followed by five gold and two silver medals at the Commonwealth Games.
She took gold at both competitions in the 100m freestyle, and silver in the 200m, and has become on of the sprint stars of world swimming.
Despite all the success, O'Callaghan has stayed grounded. Even now, she still isn't always sure what is happening, as she explained at Duel in the Pool last week.
"I'm wondering what's happening next and just looking what everyone else is doing," O'Callaghan said.
"Honestly, I didn't know my event order today. I kind of knew I was just doing for events and just kind of went with that."
That's not to say that she's not feeling the pressure of the world on her shoulders, though.
"Last year, there was just nothing like I went to the Olympics and started building my way up.
"And then all of a sudden this year, it just kind of all hit me in one go. And it's been a bit hard at the start. Especially well, for Worlds, I struggled a lot mentally, after trials, to get back into the rhythm and enjoy swimming.
"I guess the pressure kind of got to me a little bit but come games and all that. I guess just having the team with me definitely helps."
Despite all the pressure and all the stress of an arduous campaign, O'Callaghan decided to swim the National Short Course championships last week, explaining that she was happy to have every racing opportunity.
"I haven't swam short course, since maybe 2020 or 2020 on 2019. So I was like, I'll give it a crack, maybe go to Worlds if I want to. But I'm gonna have a break afterwards. So I definitely need that."
And the break is well deserved for O'Callaghan. Named Swimmer of the Year, the teenager has well and truly broken out this year, and was fittingly recognised.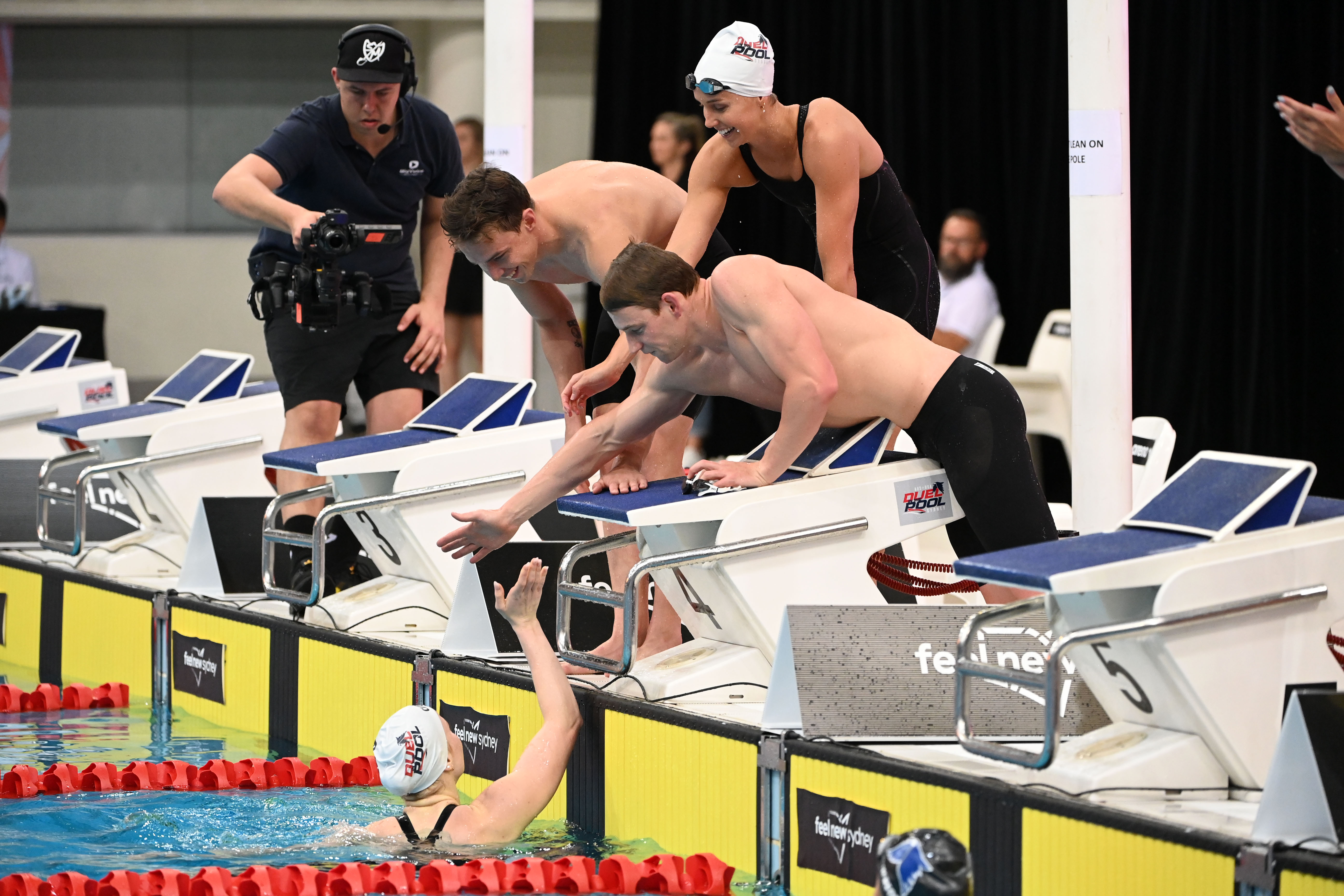 The 18-year-old is expected to be named to the Australian Dolphins for the World Short Course Championships in Melbourne in December. It will mark her fourth Australian team of the year and her fifth in a year and a half.
The way she is swimming, though, it will be far from her last. O'Callaghan is already challenging the likes of Emma McKeon, Shayna Jack and Summer McIntosh in the freestyle events and is considering adding backstroke to her program.
At Duel in the Pool, Dolphins coach Rohan Taylor explained how impressed he was with the young star and her dabbling in another stroke.
"I don't know what her [Mollie] and her coaches plan is, but I know that definitely, that depends on where [backstroke] sits in the program.
"She swam it at trials; she's definitely doing some backstroke work for sure. Whether the 100m fits in for Paris, I'm not sure, but I wouldn't be surprised."
He also explained that O'Callaghan had pushed back her break to be able to take on the recent racing block at Duel in the Pool and the National Short Course Championships.
"Mollie was one of the ones that originally was selected (form being a medalist from the Olympics - the preselection we did for those guys), and then she came to me and said she probably won't do it because it will be a long time away, and then came back to me when we were on the tour and said 'I want to do it.'
"I think because the girls on the team were talking about how much fun it would be, and then she came in, and now she wants to go to World Short-Course too, so she's put that all back on the table.
"When you're on that trajectory of going up, I think you take every opportunity you can to race."
And race, O'Callaghan will. Likely very, very fast. In fact, like a Mollie Missile has been released.