Mollie O'Callaghan is a name to remember. Dubbed the 'pocket rocket' at the 2022 Australian Swimming Championships, the 18 year old has been causing waves in the pool, qualifying in four individual events.
The Championships have acted as the trial event for this year's international meets: the World Championships in late June and the Commonwealth Games at the end of July.
In the opening night of competition, O'Callaghan took home her first Australian title with a personal best time in the 100m Freestyle (52.49). Just behind her was St Peter's Western teammate, Shayna Jack (52.60). Jack was competing for her place back on the Australian team after serving a two-year doping ban.
O'Callaghan went on to win the 50m Backstroke (27.46) on Night Two, however qualification in all 50m races is not automatic and at the discretion of Swimming Australia.
But, it all became even more exciting on Night Three, as O'Callaghan backed up a 1:54.94 in the 200m Freestyle with a third qualification spot in the 100m Backstroke (59.12). Finally, on Night Four of the trials, she qualified second (2:08.48) in the 200m Backstroke behind Tokyo gold medallist Kaylee McKeown (2:05.31).
Speaking to media on Night Three of the meet, O'Callaghan was in disbelief at how well she had swum so far.
"At the moment, yes [it feels like giant steps with every race], it's absolutely been crazy.
"I didn't expect this much to happen so quick, but I'm really happy with the results so far."
The St Peter's Western swimmer was one of the surprises of the 2021 trials, which saw her named as the youngest member of the Australian Swim team that headed to the Tokyo Summer Olympics.
Since then, O'Callaghan has only got faster, and is right there with the big names in Ariarne Titmus and McKeown. She's also coached by one of the best in the business, Dean Boxall, who the world knows for his celebrations of Titmus' triumphs in Tokyo.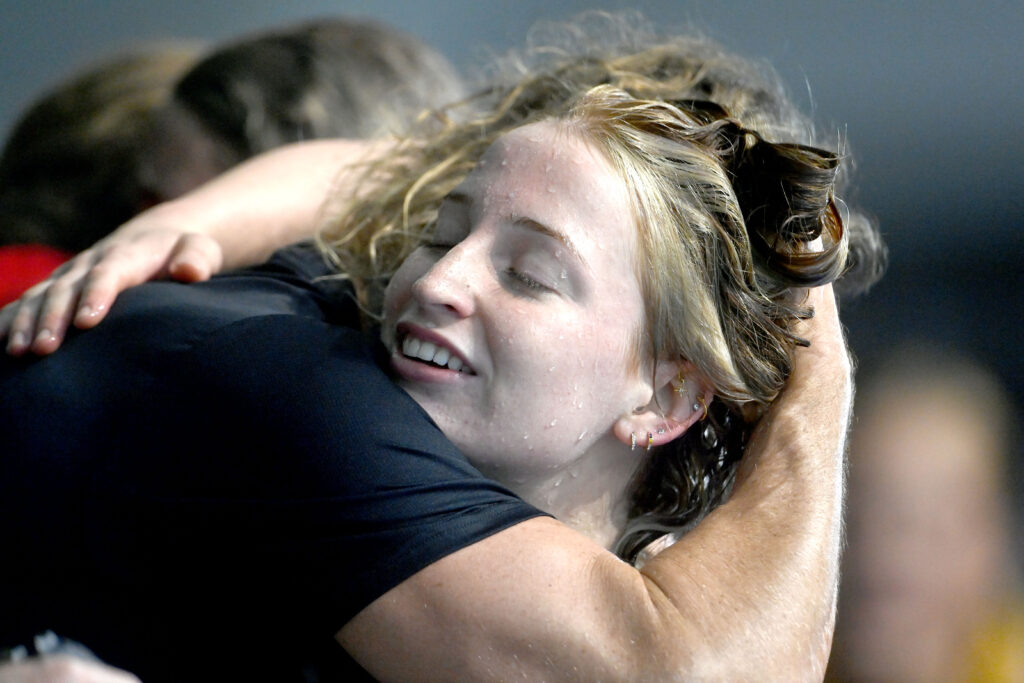 Mollie O'Callaghan embraces coach Dean Boxall on night one of the Australian Swimming Championships.
Photo: Delly Carr/Swimming Australia
And while their training programs are often different, with O'Callaghan's focus firmly on 100m and 200m events and Titmus thriving on longer races, mixing it with Australia's most impressive swimmers pushes her to keep working hard.
"I get to train with Arnie (Ariarne Titmus), but sometimes we're a bit different, different sets and stuffs.
"But I've roomed with Kaylee (McKeown) and I've gotten so close to the girls and it's so amazing to see how well they've done, and they push me along too, so it's really nice."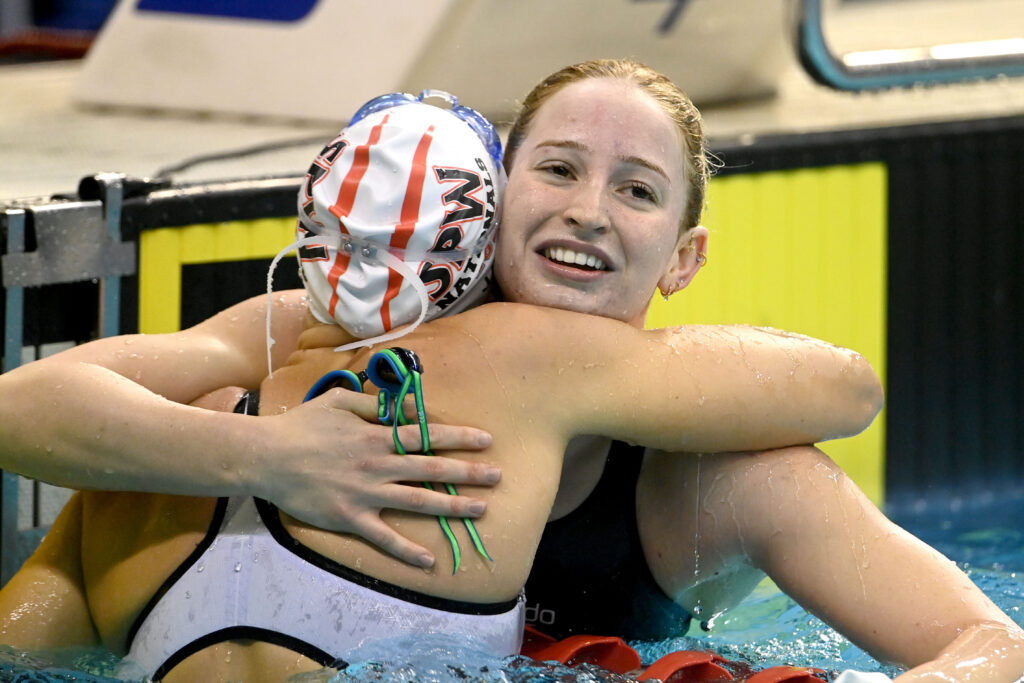 Mollie O'Callaghan embraces teammate Shayna Jack after the 100m Freestyle Final on Night One in Adelaide.
Photo: Delly Carr/Swimming Australia
World Championship plans
There are just over three weeks between the World Championships and the Commonwealth Games, so the challenge every swimmer will face as these Australian Championships conclude is: with qualification confirmed, what does the program look like for two major events so close together?
O'Callaghan has got four individual spots, but will have to sit down with Boxall to decide how many she can actually swim in Budapest and Birmingham, with relays to be considered as well.
"Honestly [my World Championship's plan is] kind of a bit of a mystery, I would say at the moment," O'Callaghan said when asked what her program might look like.
"I'll see at the end of this meet what I want to do, but I'm hoping to mainly focus on the 100, 200 free and then the 100 backstroke."
Night Three also gave O'Callaghan the chance to practice backing up a swim, something she has been training for, but got real experience at in Adelaide.
"Dean definitely makes me practice backing up and doing all that, plus especially tonight, I would say I was definitely practising and definitely focussing on more experience for the Paris Olympics and I think it's just mainly getting to like learn to, I guess... it's really hard to put it, but it's the way it is.
"I'm actually stoked there was a bit longer break [between races], so I got like 800 to a [kilometre] done, just with fins and without, but I kind of got into the marshalling, and I was so out of breath!
"I was like 'oh my god, I'm finding it so hard to breathe!' But, I got behind the blocks, and I had Kaylee with me, and we get really excited and pumped up on for it.
"So it was really nice to have her there, pumping me up to get this 100 back done."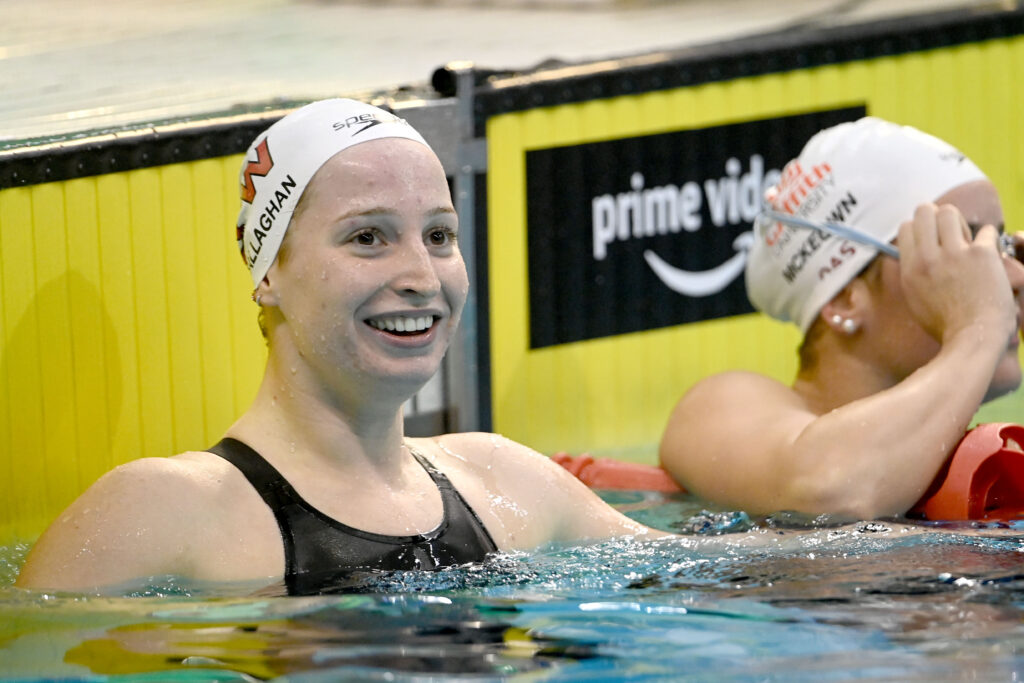 Mollie O'Callaghan sees she has qualified in a fourth event, the 200m Backstroke, at the trial event in Adelaide.
Photo: Delly Carr/Swimming Australia
Related Stories
2022 AUSTRALIAN SWIMMING CHAMPIONSHIPS WRAP UP
PARA SWIMMING DOLPHINS NAMED FOR WORLD CHAMPIONSHIPS
JESSICA FOX – OLYMPIC SUPERSTAR, AND SUPER FAN?
While O'Callaghan is yet to fully decide on her program coming into two major meets back-to-back, she is hungry for more success - and a relay finals spot - after her Olympic experience as a heat swimmer in the gold medal winning Women's 4x100m Freestyle and 4x100m medley relays, as well as the bronze medal team for the 4x200m Freestyle.
"Definitely after Tokyo Olympics I was really hungry.
"I was a bit upset with missing out on the 4x100m free at the start, but the 200m free relay I kind of knew what was happening before.
"In a way, for the Olympics, I raced my own race. I got to lead off, so I was like, 'okay I'm going to think of this as an individual and do my best'.
"But after that it definitely made me more hungry to actually improve and be in the top."
O'Callaghan has previously travelled to represent Australia for two major meets, World Juniors and Olympics, but this year she'll make a splash across a couple of big events in one year.
While she focussed on swimming goals, the 18 year old is hoping for a little bit of sightseeing and fun away from the pool deck.
"My first international experience was the 2019 World Juniors and that was in Slovakia Budapest, so I've been to the pool before, and it's really nice!
"But last year was my first senior international meet, this year is just going to be epic.
"There's more freedom I find on senior teams, so hopefully we get to wander round a little bit, have a little bit of fun, maybe after racing."
Mollie O'Callaghan will travel with the Australian Dolphins to Budapest for the 2022 World Aquatics Championships from June 17 to July 3, and then Birmingham for the Commonwealth Games, beginning on July 28.