When she enters the Birds Nest on Friday night at the Beijing 2022 Opening Ceremony, Aerial skier Laura Peel will become the first dual Flag Bearer at a Winter Olympicsalongside figure skater Brendan Kerry.
At what will be her her third Olympics, Peel becomes the third Aerials skier to lead Australia in the Parade of Nations, after Kirstie Marshall did so at Lillehammer in 1994 and Alisa Camplin-Warner in Turin in 2006.
Peel has already had a fantastic season, winning gold at her final World Cup event ahead of the Olympics in Deer Valley, USA, and is considered a serious medal threat alongside teammate Danielle Scott.
Should she medal, she'll be the fourth Aerials medallist for Australia after Camplin, Lydia Lassila and David Morris. If she wins gold, she'll become the third Aerials Olympic Champion from Australia.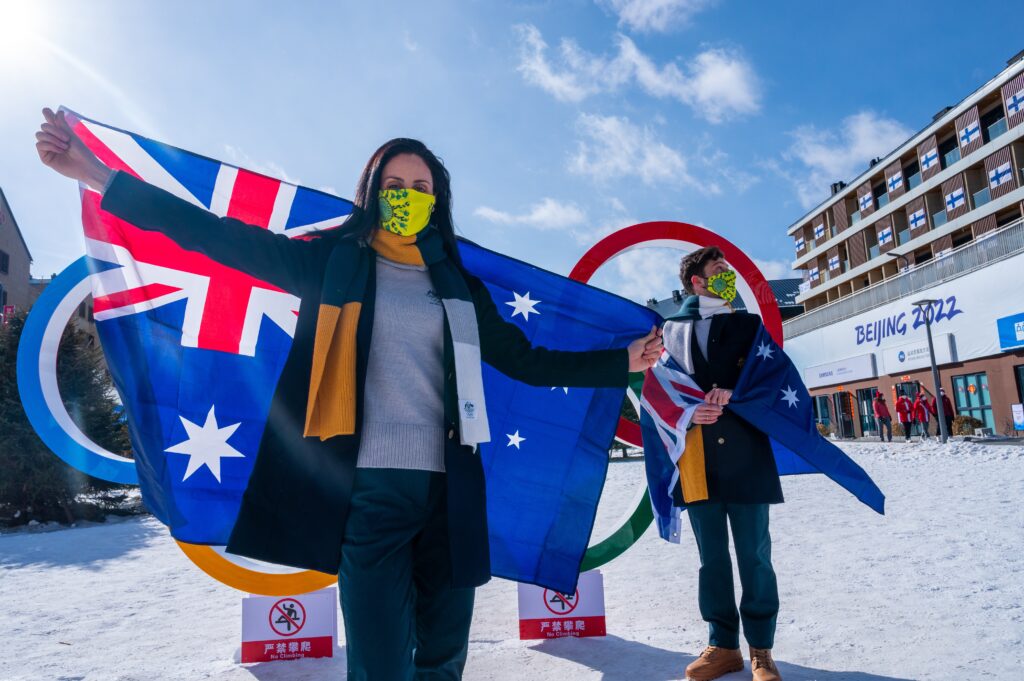 Laura Peel and Brendan Kerry Photo: Chris Hosking/Australian Olympic Committee
Peel described being named Flag Bearer as a dream, putting it on the top of her list of honours.
"It's really hard to put into words how it feels to be selected as Flag Bearer for this incredible team. It's such an honour and I'm truly grateful and so humbled to be able to lead the team into Opening Ceremony. Honestly, it feels like a dream.
"This honour definitely goes to the top of the list. Growing up I dreamed of being an Olympian and it's always so special to pull on the green and gold, being a Flag Bearer is beyond anything I ever dreamed of. This is such an incredible team."
Related Stories
BEIJING WINTER OLYMPICS WILL HAVE MORE OUT LGBT+ ATHLETES THAN ANY OTHER WINTER GAMES
BEIJING 2022 DAY -2 RECAP: AUSTRALIA DEBUTS IN CURLING AND FERLAZZO TRAINS ON LUGE TRACK
WHAT ARE THE NEW EVENTS AT BEIJING 2022
She concluded by acknowledging the incredible Aerials athletes that came before her.
"Australia has such a rich history in Aerial skiing, I'm so grateful to the athletes who came before me, like Alisa Camplin, Jacqui Cooper, Lydia Lassila, David Morris, they paved the way for us in our sport."
Australian Olympic Team Chef de Mission Geoff Lipshut commended the example Peel sets for all athletes, in particular her sport, and shared how happy he was for the pair
"Laura also is attending her third Olympic Games and arrives here in exceptional form. That really flows from her absolute professionalism and attention to detail as an athlete.
"She has always set a great example in how she goes about her sport - dedicated and determined and constantly seeking to advance her considerable skills. It's these attributes that make her an outstanding candidate for this important role.
"These two young Australians lead an exceptional group of young Australians in our Team – a real balance of youth and experience."