It's a rivalry older than I am. 26 years and 52 games deep, now it's set to open a new chapter as the Adelaide and Port Adelaide Football Clubs meet in the very first women's Showdown, Showdown I.
At the beginning of season seven, I wrote about what it means for my team - Port Power - to be part of the fully-expanded, 18-team AFLW competition.
I can't wait for the very first Showdown. I'll be there, as will thousands of others.

After 52 men's Showdown games, there is an incredible foundation for the AFLW Showdown rivalry to create its own history.

I'll still sit opposite those Crows supporters, but this time I'll be wearing my Port scarf, among fans of my team, cheering for our girls as they run out for the first AFLW Showdown.
And now that week and that game is finally here.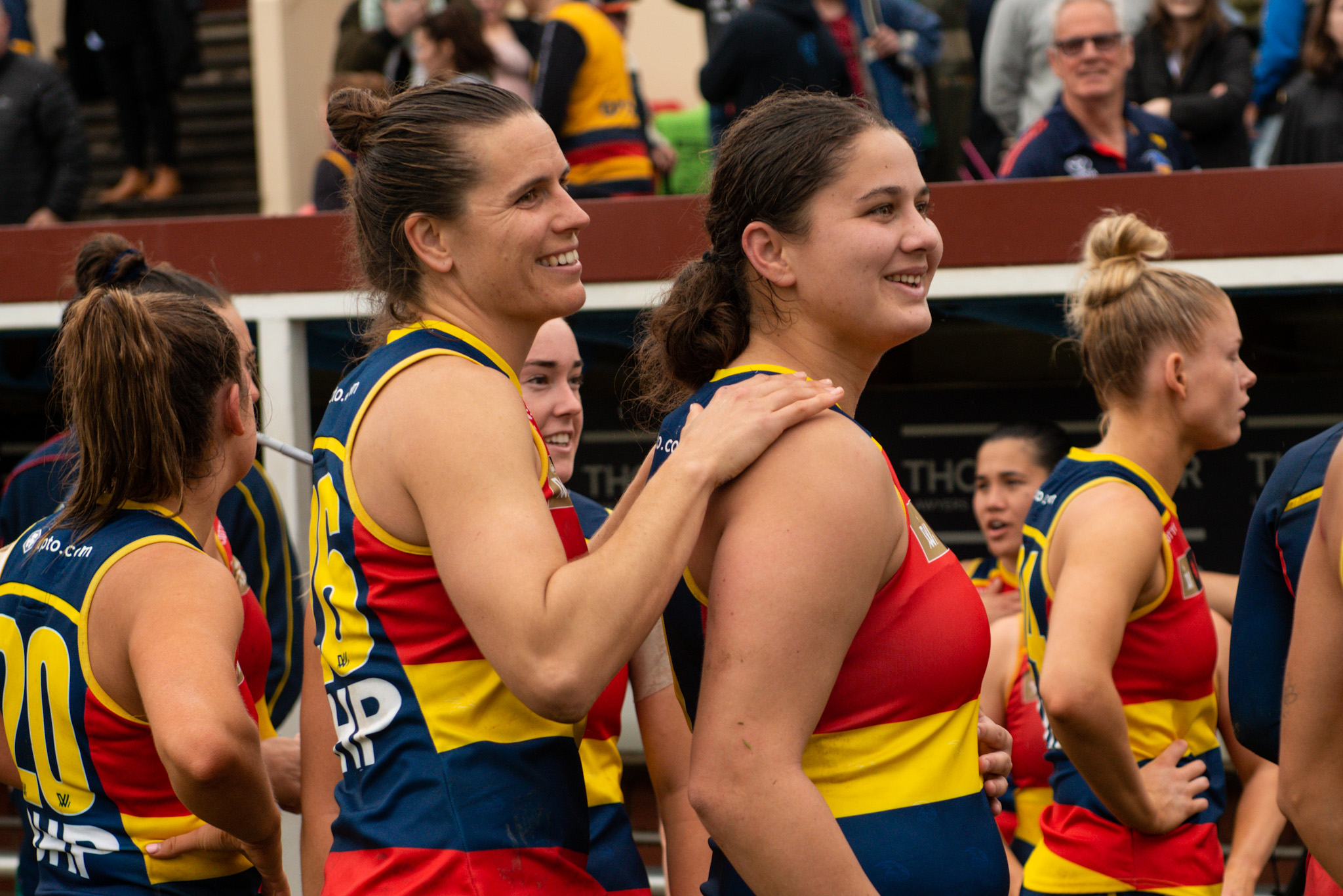 On Monday, Adelaide captain Chelsea Randall and Port Adelaide vice-captain Ange Foley joined South Australian Premier The Honourable Peter Malinauskas at Adelaide Oval to build the anticipation for the first instalment of the women's Showdown.
It's a bit bizarre to be here as a South Australian, finally looking ahead to Showdown I, something we've waited seven seasons for. Randall also shared in that sentiment when asked if 20 years ago, as she started playing footy, she could have imagined she'd be captaining one of the sides in the very first Showdown.
"I don't know if I'd believe you, to be honest. It's pretty surreal," Randall said.
"And you keep kind of pinching yourself. The journey that you've been on, the journey that we've shared, and the journey that awaits us - it's pretty amazing.
"It's been one hell of a journey, and I'm just proud, and I know a lot of the other girls are, just that we have this opportunity to be playing footy at the elite level and to be surrounded by such incredible support staff, such incredible coaches that help make you the best footballer and best person that you can be."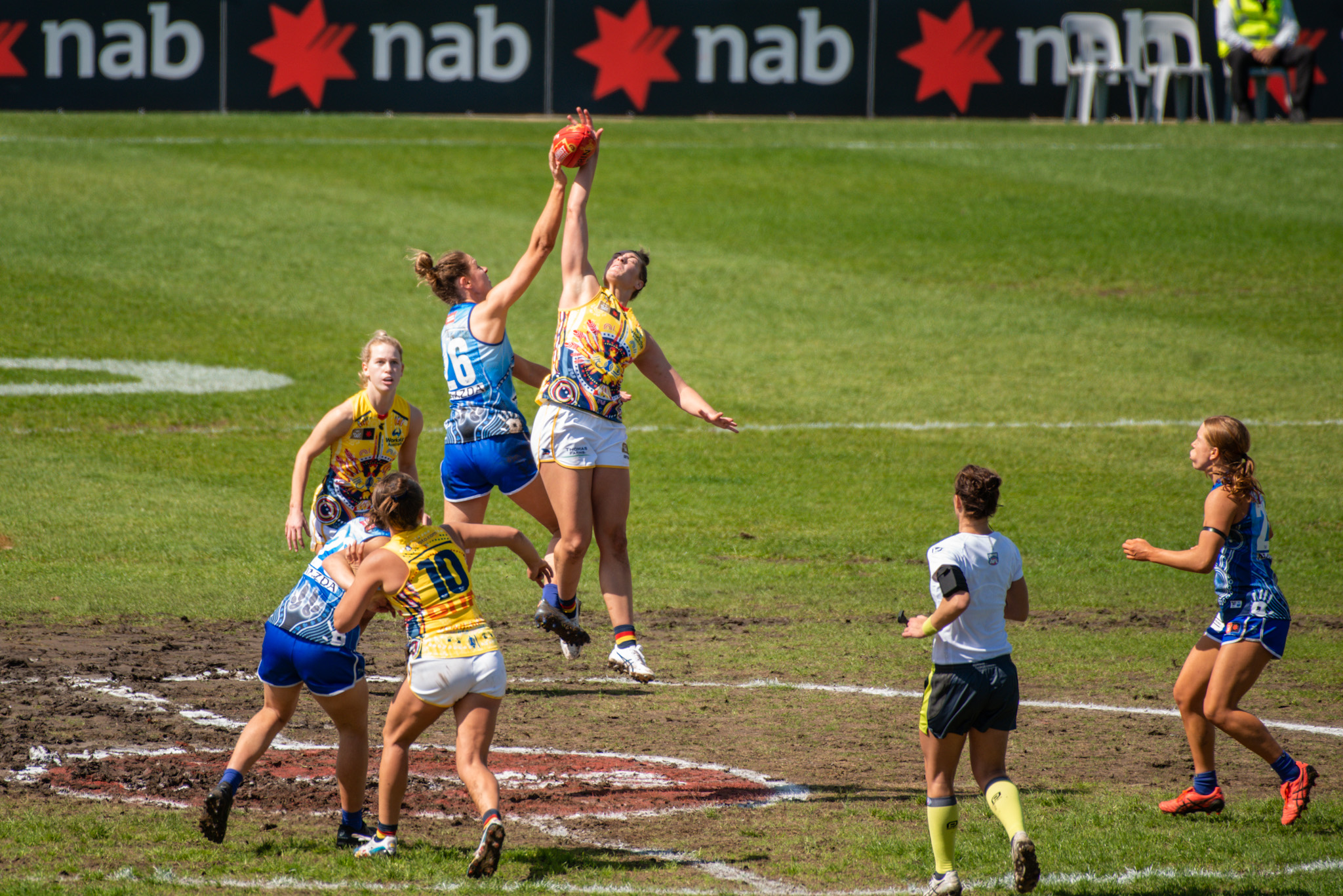 History in the making
On the 20th of April 1997, the first men's AFL Showdown was played, with South Australia's two sides going head-to-head at Footy Park.
Port, the new kids on the block back then, beat the Crows, who would go on to become Premiers in 1997, by 11 points.
It was fierce back then and remained, to this day, one of the greatest rivalries in Aussie Rules.
Over time, ladder position and betting markets have proven unreliable when it comes to this match-up; the occasion of a Showdown is an equaliser no matter where the two teams are situated in their seasons.
And in 2022, Port are once again the new kids on the block, one of four expansion teams in 2022, and without a doubt, they'll be underdogs. Their opponent is an experienced, successful, three-time Premiership Crows outfit.
But, just as was the case in 1997, there's a feeling the result will not be so clear-cut.
The Premier, showing his Port Adelaide pride by wearing just a Port scarf, noted Port's comeback in a tight loss on Sunday and the "96 point drubbing" the Crows delivered against the Giants. However, he -and most of South Australia - believe such results from the weekend will mean little come Round Six.
"We know that the contest on Friday night, as is the case with any Showdown, is likely to be very close," he said.
"This will be a fiercely fought battle, and we're very, very excited about the prospect of the first AFLW Showdown, here in front of a packed house at Adelaide Oval.
"This is a really fantastic way to celebrate women's footy and everything that it's contributing to our community as a whole."
Foley admitted they'd barely had time to process the results of Round Five, with both teams playing on Sunday afternoon, before they were forced to turn their attention to the upcoming contest for today's media conference.
"We just played yesterday, so it's funny starting to talk about the next game already…
"We will be 100% focused on what we can achieve on Friday night, and that'll be a win for sure."
But the Power won't be intimated by the Crows demolition job, Foley commenting on the overall feeling in the competition, now all 18 clubs are represented.
"I think the competition's a little bit up and down at the moment.
"I think any team can beat any team - we saw it with Brisbane having their first loss during the week, and GWS honestly have shown really promising signs in the first four weeks, and then all of a sudden go out against the Crows and kudos to them and the way that they played yesterday.
"But on any given day, I think it's that passion that can sometimes get teams over the line in such a very fierce, even competition that's starting to unfold now that there are 18 teams."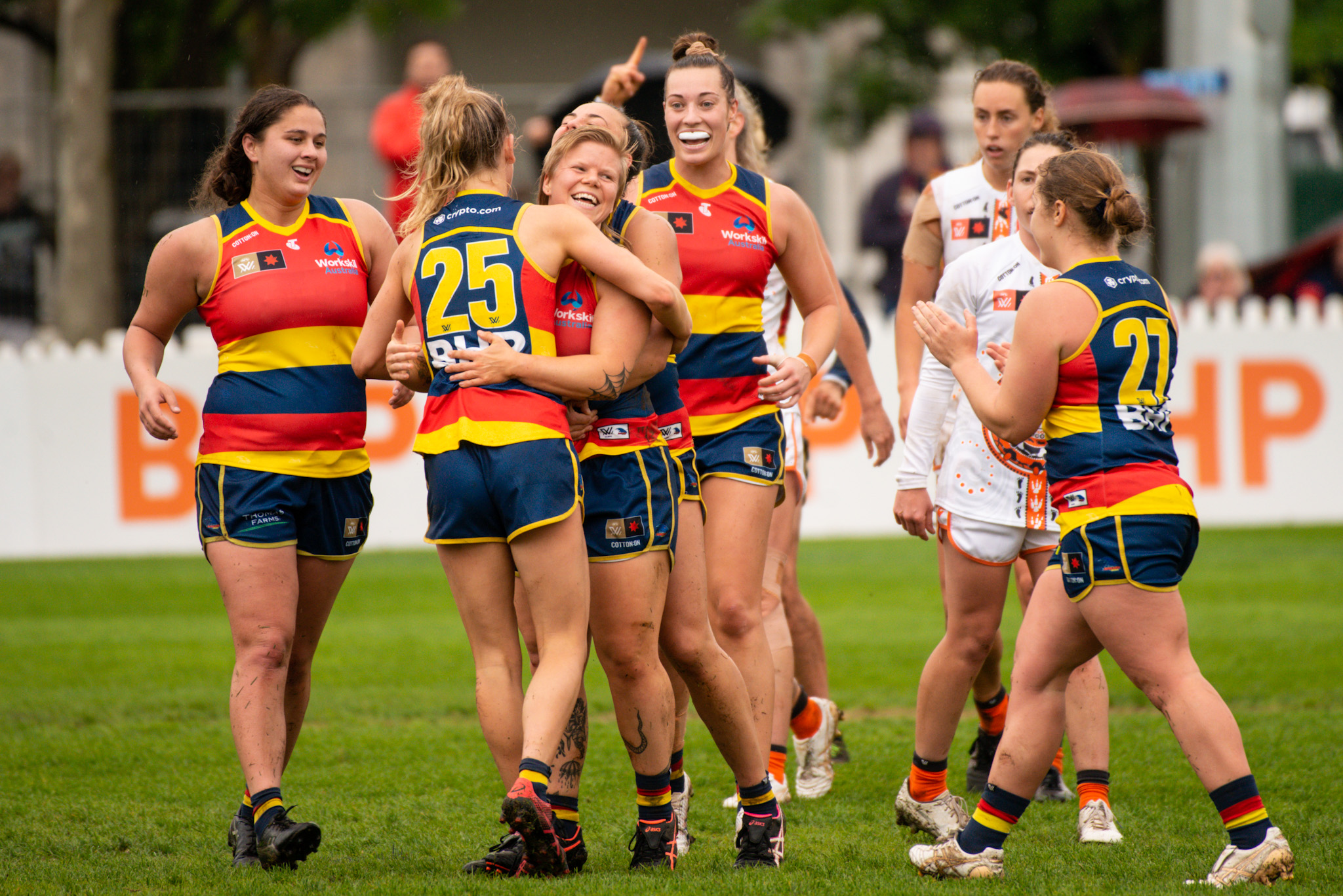 Growing the rivalry
Now it's time for the women to foster and grow their own rivalry, something neither player thinks will take too long to generate.
"I think here in South Australia, the Showdown is one of the most, I guess, iconic kind of game day for a lot of South Australians," Randall said.
"There's a mutual respect amongst all players in the AFLW competition that yes when we cross the white line, it's game on and time to go, but obviously a massive mutual respect for one another as well.
"And obviously playing alongside Ange and Erin (Phillips) and Justine (Mules) who are former Crows, there's a lot of banter - she (Foley) gives it out," Randall joked.
Foley "definitely" wants to get the wood over the Crows in this first Showdown, even though the Crows will be heavy favourites.
"We're competitors, and we want to win every game.
"But in terms of, what you say about it being that rivalry, I think mutually, as Chelsea said, there's a fair passion for women's footy in general, in every game that we play, and I think there are small little rivalries happening across the competition.
"So will the rivalry start straightaway on Friday night when the ball goes up? Absolutely."
"It's going to be a very historic moment for both clubs, something that we've been looking forward to for a very long time," Randall said.
"Having all 18 clubs represented in this football competition, this women's competition and now get the opportunity to actually play the first ever women's Showdown.
"It's going to be an amazing day."
Before you move on, why not give our Facebook page a like here. Or give our Twitter account a follow to keep up with our work here.