Hana Lowry has long been recognized as having the potential to be one of the brightest stars among the next generation of Australia's female footballers.
The midfielder spoke exclusively toEdge of the Crowd's Ben Gilby about her footballing journey, time with the Junior Matildas, and challenges faced at Perth Glory.
The 18-year-old Western Australian grew up in Cockburn, about twelve miles from Perth, and went to Coogee Primary. She went on to study at John Curtin College of the Arts, the state's leading football program in secondary schools.
Hana's father and brother played football and by the time she was seven, she too was playing the sport locally with boys. Five years later, Lowry was playing for the Western Australia state team. She became part of the state NTC program from the age of 15.
Her break-out year was 2019. Over the course of the year, Lowry went on tour with the Junior Matildas in Laos, Tonga, Vanuatu, Solomon Islands as well as Thailand for the Asian Championships. She was then awarded her first contract with Perth Glory.
Last season was the teenager's first full campaign in the Perth starting line-up. It was a tough baptism for Lowry in an extremely young team put together very late due to uncertainty over the Western Australia border situation.
The 18-year-old saw it as a wholly positive experience.
"For me, I was really grateful to get the opportunity to have a lot of game time last season. Being a younger player in the team, it meant a lot that Alex [Epakis, head coach] had the belief in me to play a big part.
"Having that experience in the league, I feel really allowed me to grow as a player. I learnt about what I need to work on and improve.
"Obviously it was a tough season with many disruptions, but the resilience and commitment the team had to each other was something that really stood out. I think it helped me grow as a person, because although we weren't getting the results we wanted, it taught me to not let setbacks get in the way of staying positive and looking to improve in our performances each week."
It was an experience that Lowry feels stood her in good stead and developed her greatly as a player.
"I think the biggest thing I took from last season, was the standard of football in the league you need to compete at to win games. I was able to identify things I did well, but also things I wanted to improve on going into this season.
"Having such a difficult season in terms of results was a real motivator for me to work on these things in the off-season. Going into this season I could hopefully contribute to winning games and showing good performances.
"For me personally, I learnt a lot about myself, and how to deal with a tough season. It was difficult not getting the results that at times we arguably deserved. I learnt to take the positives away from games and made sure that I am doing everything I can to contribute to a positive environment within the team."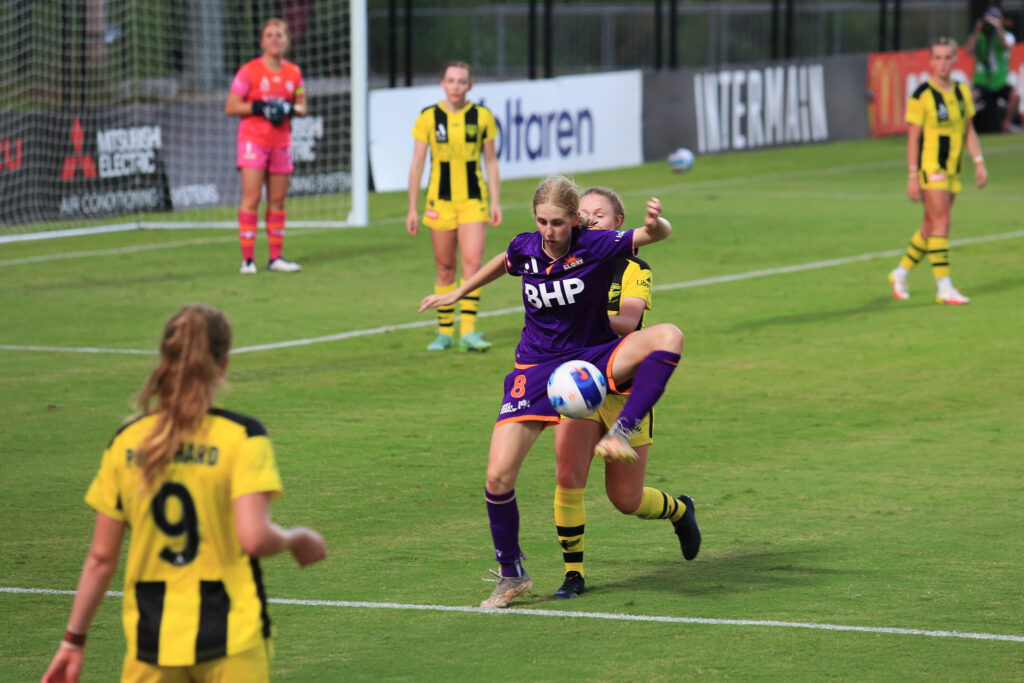 Following the W-League last year, the midfielder went to play NPL in New South Wales for Blacktown Spartans. It was the first time that Lowry had been away from home for such a long spell.
"I really enjoyed my time in NSW last year. It was a big step for me, moving away from family, but I feel I was able to become more independent, and more resilient.
"I was part of the future Matildas program, whilst also playing with Blacktown Spartans in the NPL. Staying with a host family along with Sally James from Melbourne City was great. They made me feel so welcome.
"I feel that the program really helped me improve as a footballer, as the standards and intensity at training were always extremely high. It helped me to improve on my strength, and my ability for my body to cope with a high training load.
"The standard in the NPL was also very high. Every team had lots of quality and experienced players. It was great to compete at such a high level going into this season."
Coming back this season, with Perth Glory, the club made a conscious effort to build a strong team with depth. Lowry was one of the first players to sign a contract.
It was an exciting time for the club, and one which the 18-year-old saw the benefits of immediately due to many of the interstate arrivals being familiar to her.
"I was quite lucky in that I knew the majority of the interstate girls who came over. I played with quite a few of them in the Junior Matildas, and met a lot of them during my time in NSW.
"All of the girls who have come over have really added something special to the group. They all fit into the environment that Alex creates. We are all a very tight-knit group. I think that's evident on the pitch, particularly in games where we've won in the later stages.
"Pre-season was very intense and tested our resilience every session. The coaching staff really focused on pushing us to our limit, because they knew that in games where we really needed to push ourselves to get a win, we were able to both physically and mentally."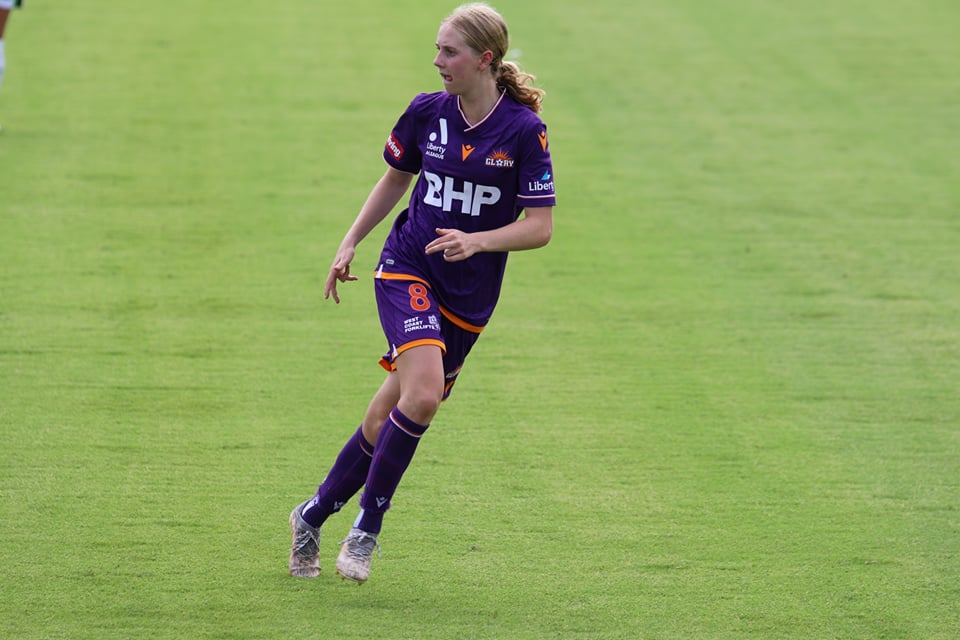 Related Stories
Deborah-Ann de la Harpe: In the form of her life
Mie Leth-Jans on life with Perth Glory
Cyera Hintzen on learning, growing, and life with Perth
Lowry has already touched upon the tight-knit nature of the group enabling them to get results in the latter stages of games. I asked her to explain in a bit more depth how those three wins against Brisbane (twice) and Wellington were achieved.
"A big focus for us is to be relentless against teams and making sure every action is all in. It's evident in how we play. It's a very attacking style that's always looking to win the ball back quickly and play forwards.
"A massive part of this is our mindset, never giving up and doing everything we can to help the team. This has helped us a lot in the later stages of games. I think it here it came down to our team's unity and mindset to get us over the line."
The biggest challenge in a season of difficulties for Perth has been the extended border closure for Western Australia. Consequently, the team will only play one home game this season. They have now have been in a North Sydney hub since the start of the year.
Lowry gave an indication of how hard it has been for the players.
"It was definitely tough to hear the news that the WA borders were staying shut and we would have to play the rest of the season here. It's difficult for the team being away from home, particularly for the girls who have jobs.
"I think having that time in NSW last year prepared me well to being away from home for a longer period. The club has been very good at doing everything they can to make us feel at home. We're living in apartments, and having the freedom to have some time away from football whilst being COVID safe.
"The whole team has been great at keeping each other company, whilst also making sure we are following the COVID rules so we can play all our games consistently.
"Knowing we are living away from home for even longer, and having to deal with many hurdles along the way, makes it even more special to go out and put on a good performance and win games.
"The Western Sydney game was a great example, it was the week after we got the news [that the border would remain closed], and we really used that as a way to give it our all and show ourselves and others that we aren't letting setbacks get in the way of what we want to achieve."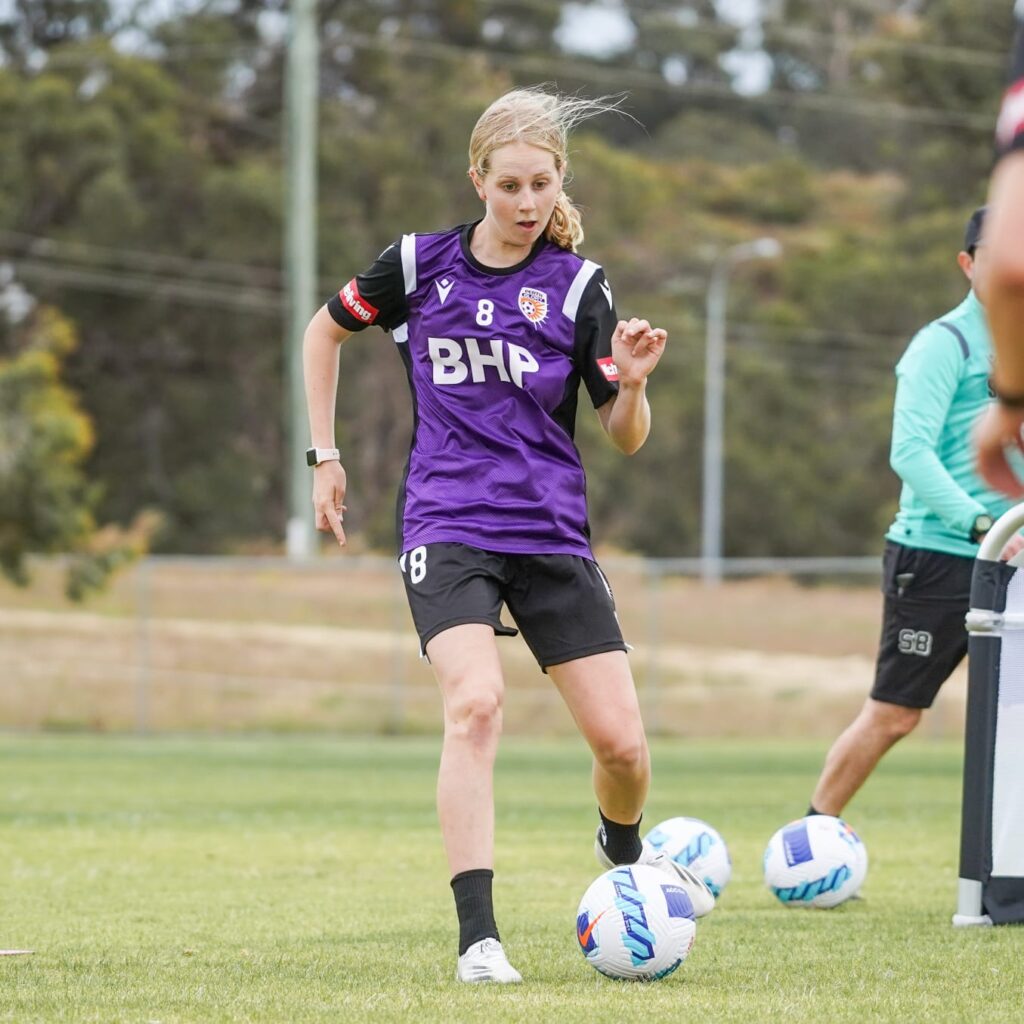 Perth Glory head coach Alex Epakis has deployed the midfielder in several different roles this season. Lowry highlighted the changes and how she believes it has gone.
"I'm a player that likes playing any position in the midfield for different reasons. Some games I've played as more of a holding midfielder. I've enjoyed that because I like to get on the ball lots, and circulate the play.
"I have also played some games as a more attacking midfielder. This is also enjoyable because I can try to be creative in attack and shoot.
"I think being exposed to these positions has helped me become more versatile. I want to keep learning how I can improve and become better in these roles."
Despite all the challenges that they have faced and overcome together this season, Perth Glory still has a chance of playing Finals football.
In order to achieve that they will have to get results against four of the teams above them in the table – Adelaide United, Melbourne City, Melbourne Victory, and Sydney FC.
It is the toughest possible run-in, but Lowry is positive.
"I think that a massive advantage of ours is the depth in our squad. All the players add something important to the squad. With lots of games in a short time, I think this is a real advantage for us.
"Our up-and-coming fixtures are going to be tough. We know we need to be at our best to win these. However, I definitely believe that with the mindset and quality we have, we are capable of getting results.
"We know that we need to be more clinical, and finish our chances early in games so we don't have to leave it until the later stages. We've got some really dangerous attacking players, and I'm excited to see what they can do against these quality teams."