The FIFA Women's World Cup is fast approaching in Australia and New Zealand. There will be hundreds of stories on the field, but there have been many more of them. Edge of the Crowd talks to the authors of some essential books about Women's football.
The future of the game is as exciting as it has ever been. The Euros in 2022 reached record crowds and television viewers. During the Toyko Olympics, almost 1.5 million Australians tuned in to the semifinal against Sweden.
Admiring the feats of Sam Kerr and appreciating the world's best players on our soil will only be enhanced by learning of the past. The struggles and triumphs of institutions and individuals have built what exists now. It forms the foundation of whatever happens in future.
Edge of the Crowd read four Australian books that will enrich or inspire your love of the game.
Women In Boots: Football and Feminism in the 1970s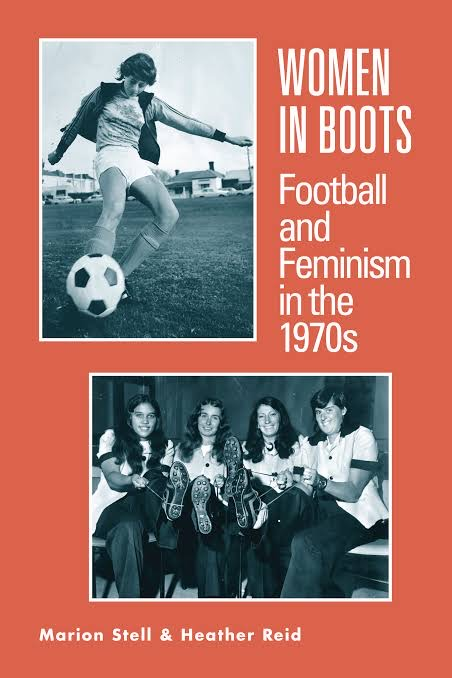 Where better to start than at the beginning? Women In Boots by Marion Stell and Heather Reid details the modern game's formative years in Australia. Reid is a significant figure in the sport. She is a tireless advocate for the game, a long-time administrator and played a role in the founding of Canberra United. It remains the only professional women's football club in Australia.
The title is drawn from the challenge many players had in finding boots that fit them. Only men's footwear existed at the time, and the pride many players had in buying their first pair of football boots is central to the book, as it is the game's history.
"The gender politics of women playing a traditionally male sport like soccer in the 1970s was very real," Reid told The Edge of the Crowd.
"We were up against a lot of negative attitudes.
"The naysayers who didn't think it was going to last, or it was a novelty that we were engaging in.
"Whenever women venture into male-dominated pursuits or businesses, particularly when women were barely being encouraged to play traditional male sports like cricket, it was a big thing that was being done."
The era was crucial according to Reid. 1971 marked 50 years since women were effectively banned from playing football. Australian society in the 70s was shaped by Gough Whitlam's government, International Women's Year in 1975, and the first Australian side playing in 1978. It was a year that also saw the first marchers in the Gay and Lesbian Mardi Gras.
Change was in the air, but as the book explains, every gain won, or new ground broken had to be fought for.
"It was very much up and down. The late 70's we got a bit of a toehold.
"We had the first international series which went fairly quietly.
"The players themselves relied on their parents and families to help to and from games. We're talking about a time when the players in the national team were 17,18 or younger than that even.
"They weren't driving. They didn't have their own income. They had to pay to represent their country.
"In 1980 when they did a series in New Zealand, they were raising money selling lamingtons and raffle tickets.
"We talk about that in the book. We start chapter three for example with the quote about the New Zealanders where a goalie a centre back and a midfielder walk into a bar.
"It's not a joke, they're going in there to hold out coin boxes to raise money for their trips overseas.
"We've come a long way since those days, but the 1980s were tumultuous as well."
Times changed slowly, and although the graph trended upward there were dips. It was not until women's football became an Olympic sport in 1996 that dependable funding became available.
Knowing the game's history is important and rewarding. Reid and Stell started compiling the stories in 2018. Reid conducted many of the interviews while being treated for cancer. This is an achievement of the same passion that built the sport into what it is now.
"We're talking about a time when the players struggled to be able to buy a pair of football boots that actually fit them," says Reid.
"They had to go out and buy boots that were for men.
"The front cover of the book has a photo of Sandra Brentnall, one of the best players in that era to play for Australia.
"She's wearing a pair of boots that were almost clown-like, they're so big and floppy.
"She had to wear two pairs of socks.
"We explore their purchasing of boots, and how significant it was to get a pair that fit them properly.
"Now you see, the players today are given multiple boots through sponsorships or the national team."
Women in Boots: Football and Feminism in the 1970s can be purchased from Amazon.
Never Say Die: The Hundred-Year Overnight Success of Australian Women's Football - Dr Fiona Crawford and Dr Lee Mcgowan
This is the essential text for any football fan in Australia. The bible of the Australian game details "the hundred-year overnight success of Australian Women's football," through firsthand stories and unrivalled research.
"The book's the result of two complementary set of knowledge," Dr Mcgowan told the New Books podcast in 2022.
"I had been unpacking the historical stuff, the 1920s stuff and the re-emergence of the game particularly in Brisbane in the 1960s and then this kind of explosion that happened with the women's rights movements in the early 60s and late 70's as well.
"Fiona's well connected and really knowledgeable about5 what's going on in the contemporary game.
"So, we came to the book bringing these two really complementary sets of knowledge.
"Coming at it from those two ends of the conversation was where we started to recognize the similarities.
Mcgowan and Crawford do not hide the uphill struggle of the game's pioneers and current-day stars. However, the book is an uplifting read. Women's football is a still developing success story. Never Say Die is a tribute to the spirit that drives The Matildas today.
"It was a case of getting the first draft down and then reworking it to ensure it didn't read like 'and then this happened and then this male administrator tried to block it by doing this …' Fiona Crawford told The Edge of the Crowd.
"Women's football has definitely been up against it, so it would have been easy for the writing to read like a laundry list of hurdles.
"But by focusing on players' and administrators' contributions, it was pretty easy to be positive. Once we had the corner pieces in place outlining what happened and why it was challenging, we were able to fill in the middle of the puzzle with the women's (and some men's) incredible stories.
"Ultimately, that helped ensure the angle was positive."
The book was released in 2020. It arrived following three years of unprecedented interest in The Matildas. It is a favourite among fans of women's football and created some new ones. This is not an academic paper and is filled with entertaining, previously untold stories in Matildas' history. A team plan to meet Snoop Dogg is one of the many memorable surprises.
"The response has been incredibly generous and kind," said Crawford.
"I've been really heartened that they understood what we were trying to achieve with the book, which is to document and draw attention to the trailblazing efforts of players and administrators, and also contribute to a conversation about the roadblocks in and around women's football and, more importantly, women's football's potential."
Never Say Die is a celebration of the history of the game. It is informative as it is entertaining and the product of two of the sport's best writers. This is a book written by football fans, who happen to be highly knowledgeable and experienced.
Like Women in Boots, it covers the early years of the game, but also events up until 2020, there will be familiar names for recent fans of The Matildas and backstories to how they arrived at a place where they fill out stadiums.
Despite spending years as an expert in the game, Crawford is still discovering new things about the sport that will dominate Australia in July 2023.
"I'm surprised every day. Probably the biggest surprise is how much wider societal attitudes and norms pervade women's sport and how much of women's sport is not about sport at all.
"Gender-based discrimination and lack of pay parity are obvious examples of that.
"Also, women having fewer chances to act in decision-making roles, for example as head coaches, sitting on boards, and being in senior roles in governing bodies creating policies that significantly affect women.
"Likewise, how much of women's football's current success is due to women hearing 'no' directly and indirectly many, many times and persevering regardless.
"So much of that success comes from decades of unglamorous daily grind at an unpaid, grassroots level. It would have been difficult for the women involved to imagine how their individual incremental efforts would translate into today's trajectory.
"I'm impressed they kept going, nonetheless."
Never Say Die can be purchased from most booksellers
Anna Black: This Girl can Play- Texi Smith
What is football without imagination? At its heart it is a game of hope, every supporter thinks about what could or might happen in any tournament, in any game, in every moment.
Anna Black is a fictional story, from the mind of Sydney author Texi Smith. It tells the story of a young Australian football prodigy and what a World Cup in Australia might entail.
It is a highly enjoyable rollercoaster, and an easy page-turner with QR links to match reports within.
The book is a spinoff from his other series based around the career of Jarrod Black. If the Goal! Movies were as frustrating to you as they were to Goals On Film podcast, this is the book for you.
"The idea came from being a parent in the NPLW space," Smith told The Edge of the Crowd.
"Being in and around games and training, being involved in a football community that is focused solely on the women's game, it showed that there is a fervent female football scene.
"The World Cup had not yet been through the host selection process for 2023, so the story was based on what it would be like to host the World Cup in Australia if it ever did happen."
The central character is a fast-rising Matildas star blessed with talent but faced with obstacles throughout. She is entirely fictional but feels familiar.
Smith has received some feedback that his protagonist can come across as unsympathetic, but he disagrees. She is depicted as determined and driven as are many players in the real world.
"Anna is based upon many different people. The modest beginnings in park football echo the early days of my kids' football experiences, but once in the NPL and the A-League Women (or W-League as it was still called in the novel) Anna could be many different footballers all rolled into one.
"Think of a player in your favourite team who has overcome obstacles, maybe an injury or two, who has sacrificed a safe life to chase their dreams and who is a solid hard-working member of the squad. That's Anna Black."
The book feels real and is helped by the match reports. With Anna Black, Smith achieves something few football movies have. The events feel real. Everything feels earned, and although a fairytale ending feels possible, it is never promised.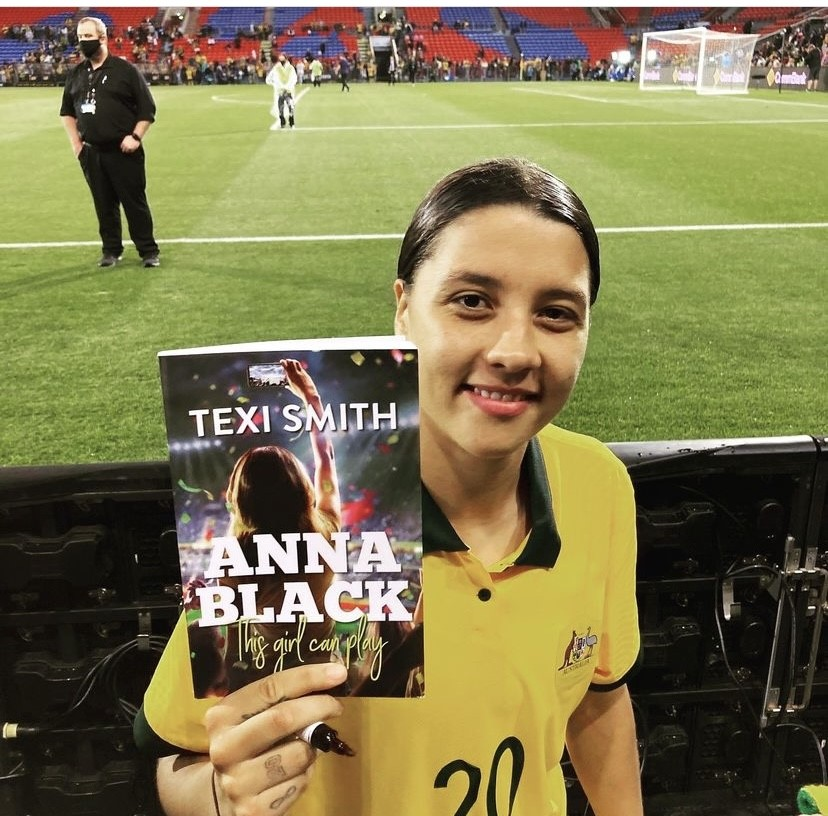 "The biggest challenge is not the writing of the story, it's everything else that goes with it - the editing process, the marketing," says Smith.
"The writing is the most enjoyable part of the process. Football fiction has to feel real, without being sensational, otherwise, the story would lose credibility.
"Football is a fast-moving scene too. I'm glad I had the book written well before the World Cup, and the worry is always there that something in the book actually happens in real life before the book comes out and the impact is lost.
"As we're now up to five football novels, all featuring the same football family, consistency is certainly key and that is a challenge when bringing characters in and out over time.
"I have read some [real biographies] that contain amazing stories that even push the boundaries of what would be believable in fiction, but on the flip-side, there are others out there that struggle to get past the life in football and don't have the hook in the story to make it different.
"With football fiction, we can literally take the character anywhere. Football fiction, especially in Australia, is rare, but I'm definitely not the first. It's great to see now that my publisher has expanded its fiction offerings and I look forward to reading some high-quality football fiction from other Australian authors as our football culture continues to grow in this country."
Read Anna Black, not as a preview of the World Cup, but as an enjoyable look at what might be possible for any player in the game. This Girl Can Play makes for an easy read and is an entertaining window into the women's football.
Anna Black, along with Texi Smith's other work can be purchased at Dymocks and Booktopia, or from the man himself if you find him at a game.
Don't Kick it to the Girl- Emily Condon
Adelaide United's playmaker is 24 years old, a nine-year veteran of the A-League Women, a senior Matilda, and now an author.
Emily Condon has written a book about her rise through the game. Don't Kick it to the Girl draws on her experiences as a child playing in the boys' teams, to an established professional in Australia's top league.
Condon is remarkably open about her doubts and trials during her career. It is rare for current players to make themselves so available and potentially vulnerable. But as the book details, Condon is made of tough stuff.
"I first felt compelled to write this book as a way of sharing not just my soccer journey with all its highs and lows but as a way of encouraging young female players not to give up on their dreams if it's something they really want," Condon told The Edge of the Crowd.
"I have the privilege of speaking with so many talented young female footballers through my EC Advantage coaching and I often hear how difficult their journey has been, regularly with similar stories as mine.
"I wanted to share what I had been through on the way to becoming a professional player, hopefully, to inspire them and to help them to overcome adversity and setbacks that are inevitable.
"I wanted to help them become more resilient and demonstrate to them the importance of having a positive mindset."
From the outside, Condon's career looks packed with highlights. She is often among the best players in any Adelaide United game and has a right foot that any player would be proud of.
Don't Kick It to the Girl, details how these skills and opportunities were earned. Like most stories in women's football, Condon's one is an underdog tale. It is a story she was eager to share.
"It was important for me to be open about not just what I have achieved, but what it took to get there and not just 'gloss 'over it.
"People see the journey and think how quickly and simply I achieved it.
"While for the most part, I did seem to tick all the boxes on the way…it wasn't without a lot of hard work, determination and challenges.
"I didn't really find it too hard to write about some of those more difficult times to be truthful.
"I think reflecting on those less-than-ideal times made me feel a sense of pride in being resilient and always having a positive attitude."
"Telling your own story can be a little challenging, but on the whole once I started the words flowed.
"While I'm certainly no literary genius [ask my year 11 teacher!] I felt excited to share what I have learnt with the hope that it will encourage a young girl out there to keep going, to keep working hard and to follow her dreams and not give up."
Although the title references the sort of prejudice that a child should never have to endure. Condon says that playing in the boy's teams was something she enjoyed. It was something heard from the sidelines, or opposition but not her young teammates.
Condon says there is some small satisfaction now she is on the national stage. But those comments pushed her harder. This is the purpose of her book, so encourage others to push past the doubts of others and not allow it to deter anybody from pursuing their dreams.
"My years playing in Port Pirie with the boys was a terrific starting base, I was just one of the lads and had the respect not just from them but the coaches as well.
"In contrast to the title of my book, the coaches would usually yell 'get the ball to Emily!' I'd also be called upon for set pieces and penalties.
"Playing with those boys was a good experience and made me a faster and stronger player than I would've been playing with girls.
"After playing WNPL and so on I even went back to play for the Northern Demon Boys in the under 18's, my final year of being allowed to play."
Writing the book gave Condon a chance to reminisce about a career that is almost a decade in, but still yet to truly peak. It has helped her appreciate what helped her arrive at this point and revealed a few truths to the author.
"I learnt I should've paid more attention in English classes, sorry Miss M!
"Also thank goodness for spell check!"
"I also learnt that my parents are pretty awesome. The hours of driving me back and forth to trainings and games, a mere five or so hour round trip. Also, the hours they spent in the car waiting for me, the hours my dad [my first coach] spent in the backyard teaching me the importance of using both feet that's something that I really thought about, and now appreciate so much."
"I also learnt the importance of surrounding yourself with the best possible team.
"Not only do you need to find a coach that is right for you, but you need the right mentors, the people who are there to help you and encourage you, the people who have got your back.
"I'm so fortunate to have a great strength and conditioning coach and mindset coach as well and can't thank Dean or Frankie enough for all the work they do with me."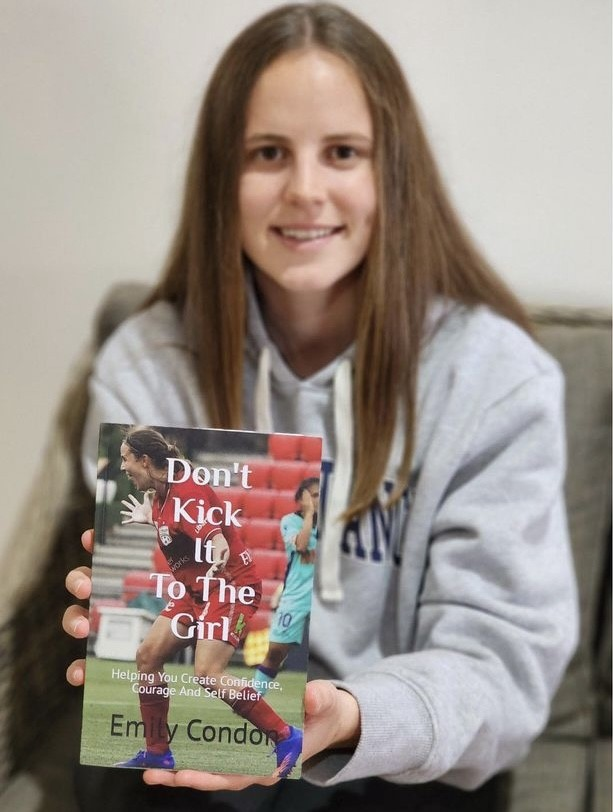 The book is only one part of the legacy Emily Condon plans to leave for the game. She is a Personal Trainer and has started a company to cater specifically for the needs of women's football, EC Advantage.
"It was the fact that there are very few women's football-specific PT options that drove me to get into this field, to begin with, and to work with female soccer players specifically both in gym and soccer skills coaching.
"I wanted to create an option for female players to have the right coaching both on and off the field to help them become the best they can be.
"I think it's an area or industry that will continue to grow and attain more attention as the sport grows and more girls participate in the sport."
With the season underway, Condon's focus quickly returned to football. Adelaide United started with four wins from five matches and went into the Christmas break second on the ladder.
The team has been increasingly promising every season since she arrived and is tipped to content for silverware this season.
With her attentions back on the pitch, writing the book was something she took a lot of satisfaction from.
"I enjoyed reminiscing on not just what I have achieved but reflecting on all the friends I have made, countries I have played in and the great times I have had over the years.
"I don't know where the next chapter of my life or book will take me, but I can say I have loved it all and feel blessed to be where I am today."
Don't Kick it to the Girl can be purchased through Emily Condon's Instagram or at Amazon.
Further Reading from home and abroad
Under the light and in the Dark - Gwendolyn Oxenham
A Woman's Game: The Rise, Fall, and Rise Again of Women's Football- Suzanne Wrack
What Makes a Matilda- Football Australia
Sam Kerr, Kicking Goals collection- Sam Kerr
Hayley's Ribbon - Sarah Griffiths and Hayley Raso
Goal!!!- Lydia Williams and Lucinda Gifford
Before you move on, why not give our Facebook page a like here. Or give our Twitter account a follow to keep up with our work here.