From explosions to tornadoes, Neighbours had it all. After 37 years, the final-ever episode of Australian soap Neighbours aired on Thursday night. The Edge of the Crowd team has taken a trip down memory lane.
Harold returns from the dead
There's nothing else that says Australian soap opera then a beloved character returning from the dead. While this storyline played out long before I was born it's still one of the first ones that pops into my head when thinking of Neighbours.
Harold Bishop was presumed dead back in 1991 after going on holiday with his wife Madge, while Madge stops to talk to a painter, chaos strucks with nothing but Harold's glasses appear on a cliff but his body was never found.
In 1996, Harold returned but had amnesia and was volunteering for the Salvation Army but under his new persona, Ted. Safe to say things worked out in the end with Harold returning a few times over the years, ahead of an appearance throughout the final episodes too.
Kate Ramsey shot after birthday happiness
Erinsborough was rocked in 2014 when Kate Ramsay was unexpectedly shot while in the hands of recent fiancé, Mark Brennan, after the latter had just proposed to her on her birthday at the lake.
After a few suspects emerged, it was revealed that Victor Cleary was the one who shot Kate, in an attempt to get revenge over Paul Robinson - her uncle - for his involvement in the Lassiters fire a year earlier which killed Victor's brother, Gus.
Finn's deadly rampage in Endgame
No, Finn's Kelly wasn't part of the Avengers, but when Neighbours had a week-long stretch of episodes relating to his wicked ways after regaining his memories and turning evil once more.
Endgame was darker than Neighbours usually is, and it comes back to Finn, who sets about his revenge plan including setting up bombs to kill, trapping other people, and killing one resident himself, setting a private island alight as he made his getaway, all before his own ultimate death soon after.
In all, it was a gripping set of episodes and aftermath that lingered on with plenty of outcomes affected as a result.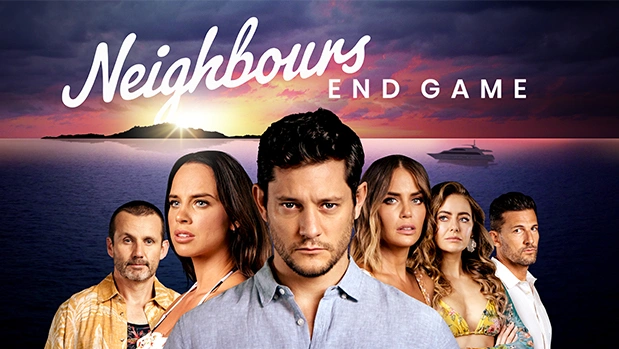 Donna and Ringo's wedding
There probably wasn't more of an iconic couple of the late 2000s and early 2010s then Ringo and Donna, with the pair tying the knot back in 2010.
Although like most Neighbours weddings it didn't come without the drama, with Donna getting pulled over by the police making her late for her big day. Although all was well when Donna arrived to the ceremony in a police car. Donna's wedding dress was a pink number that was very Disney-princess inspired.
Mackenzie Hargreaves becomes the show's first trans character
The introduction of Georgie Stone's Mackenzie Hargreaves to Ramsay St in 2019 represented the soaps first transgender character and a storyline that was conveyed true to the experiences, based off of Stone herself helping bring the character to light, and through her own lived experiences.
Stone approached the show's executive producer about introducing a trans character and auditioned for the role, therefore able to bring an authenticity to the role and help guide Mackenzie's storyline including topics the show had never tackled before from a different lens, including the process of gender reassignment surgery and broken family relationships and acceptance.
Hotel Death Trap
There have been plenty of tragedies that have hit Neighbours and the hotel explosion is no different. Back in 2016, another disaster hit Neighbours with an explosion hitting the Lassiters Hotel which lead to the deaths of both Josh and Doug Willis.
The week of the hotel death trap had just about everything, with Amy and Kyle getting stuck in an elevator, just after Kyle's ex Georgia returned from Germany wanting Kyle to go back with her. On top of that, Brad Willis's long lost son Ned came to Erinsborough and one of Karl's many affairs in Sarah Beaumont found her way back.
Wedding Expo
To celebrate the milestone of the Australian classic reaching its 35th anniversary, a few familiar faces returned to Ramsay St to celebrate the special occasion. Running alongside Endgame with double episodes, Lassiters Hotel ran a wedding expo where they displayed wedding dresses from past weddings.
With Mark Brennan proving that third time's the charm marrying Paige Smith, they both returned to Erinsborough from their respective states, while another fan favourite couple in coming back to Ramsay Street in Skye Mangle and Lana Crawford getting married as a part of the special celebrations.
Neighbours make history after same-sex marriage legislation
In 2018, a year after the country's 'Yes' vote for marriage equality, Neighbours became the first Australian TV show to feature a same-sex wedding, that of Aaron Brennan and David Tanaka. The wedding also included Magda Szubanski as the marriage celebrant.
With the introduction of each character in the mid-2010s, and while neither was the first openly gay character on the show, nor involved in the first same-sex attracted relationship, the show allowed for a steady progression of the relationship, complete with the initial struggles, acceptance, and adoption.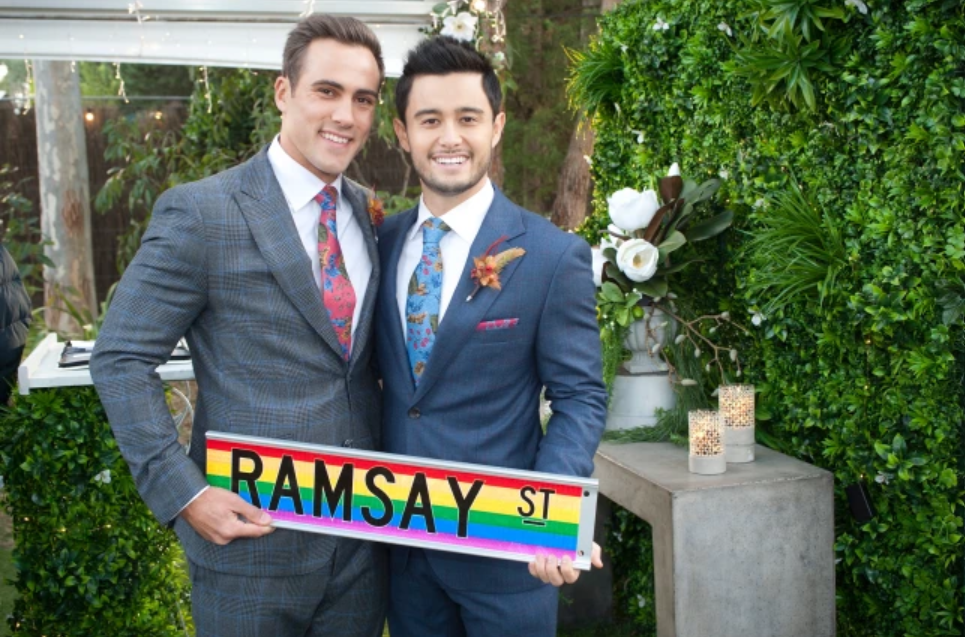 Scott and Charlene return to Ramsay Street
There wasn't a more iconic couple of neighbours than Scott and Charlene, with the pair making their long awaited return in the series finale on Thursday night.
While there were many cameos in the final episode, it's safe to say there were none greater to long-time fans than seeing Scott and Charlene back on the famous street. The final episode paid homage to earlier moments in the show, with Charlene attempting to climb through the window of number 24 - just like the circumstances of how the two characters met.
Before you move on, why not give our Facebook page a like here. Or give our Twitter account a follow to keep up with our work here.