The Australian Diamonds have taken control of their series against the English Roses with a second consecutive victory, 56-48.
The Diamonds were up against it early, with Donnell Wallam a late withdrawal with a stomach bug. Sophie Garbin was added to the squad as her replacement, but Cara Koenen played the full 60 minutes at goal shooter, filling the role aptly with 29 goals from 31 attempts.
The two teams traded goals early, neither able to build a lead of any significance until late in the first, when the Diamonds piled on six in a row to pull away 15-9.
The Roses fought back, with Funmi Fadoju and Eleanor Cardwell making life difficult for the Diamonds at each end of the court. Fadoju was affecting every high feed, forcing the Aussies to play short passes around the circle.
At the other end, Cardwell was putting to bed any doubts about how she will adjust to the defensive tactics at Super Netball, holding well against both Sarah Klau and Jo Weston.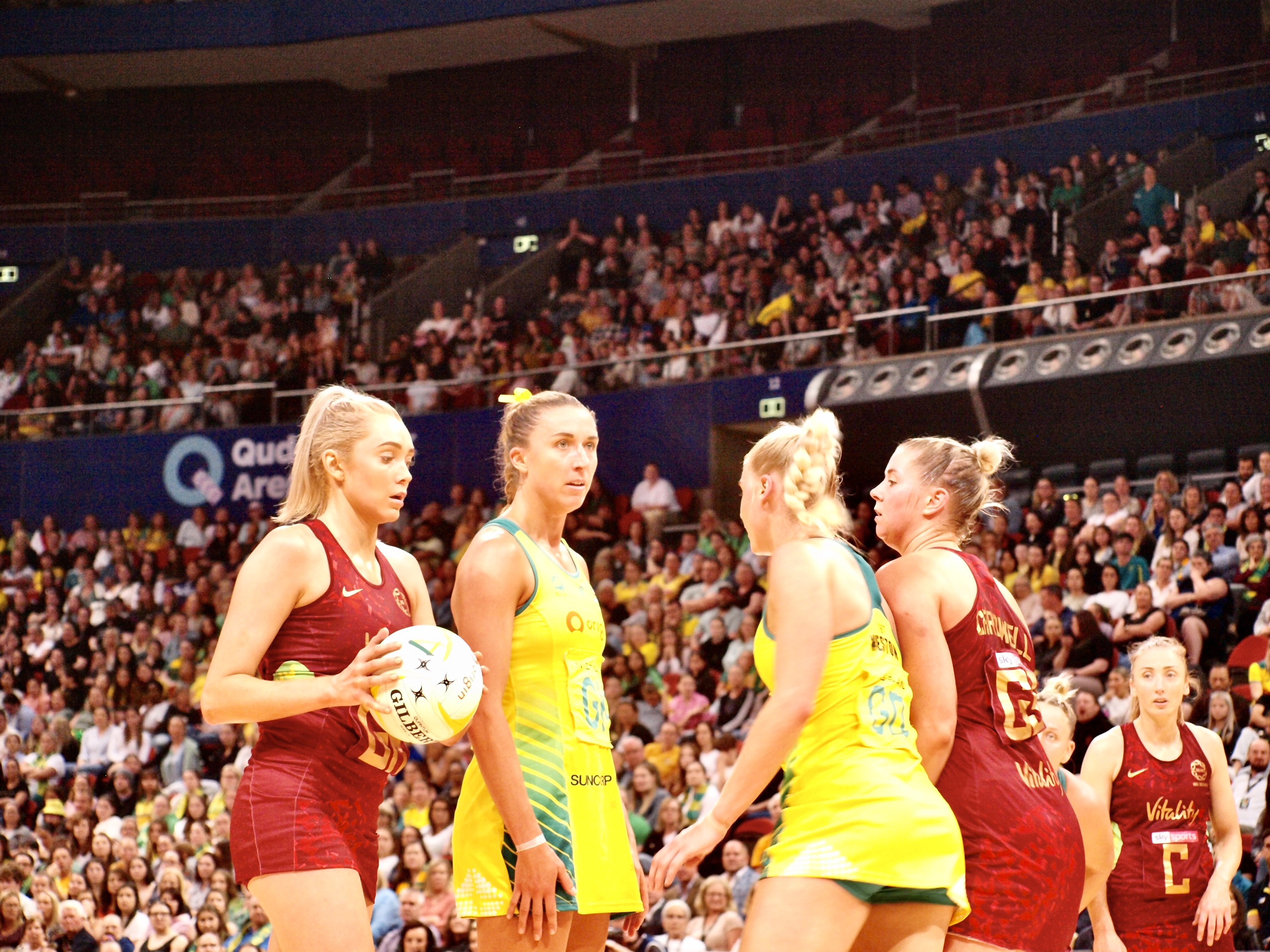 The Roses managed to win the second quarter by a goal, forcing the Australians into errors in a few critical situations, but the Diamonds still led at the long break.
Coming out of the long break, the Diamonds shifted Maddy Proud into centre, replacing Jamie-Lee Price. The Roses countered with Laura Malcolm and Imogen Allison coming into the middle.
The Diamonds started to work through the combinations well, finding circle edge and providing safe ball for Koenen and Austin in the circle, until Austin and Maddy Proud collided, leaving Proud concussed.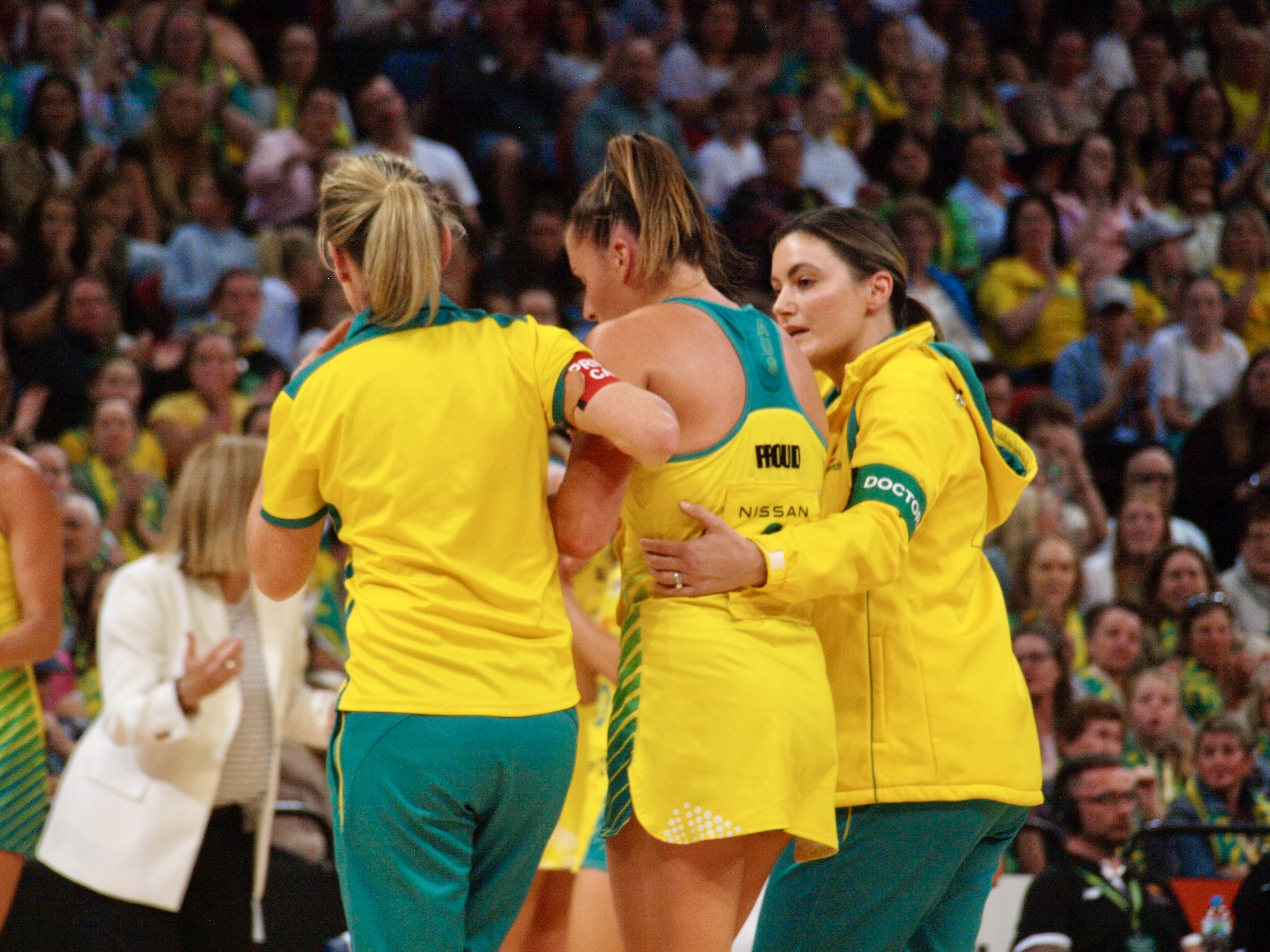 Price returned to the game, and Austin left the court shortly afterwards, bringing Sophie Dwyer on in front of home fans.
The twenty year old brought the same calm manner that she has displayed in Super Netball, unfazed by anything Geva Mentor or Layla Guscoth threw at her.
In the end, the Australians ran out convincing winners, with the match well under control.
Sophie Dwyer put the icing on the cake with a goal from long range, as has become so familiar in this part of Sydney. With the crowd at full roar, the Diamonds celebrated a significant win.
Part of the significance is to win without established captain and vice captain Liz Watson and Steph Wood.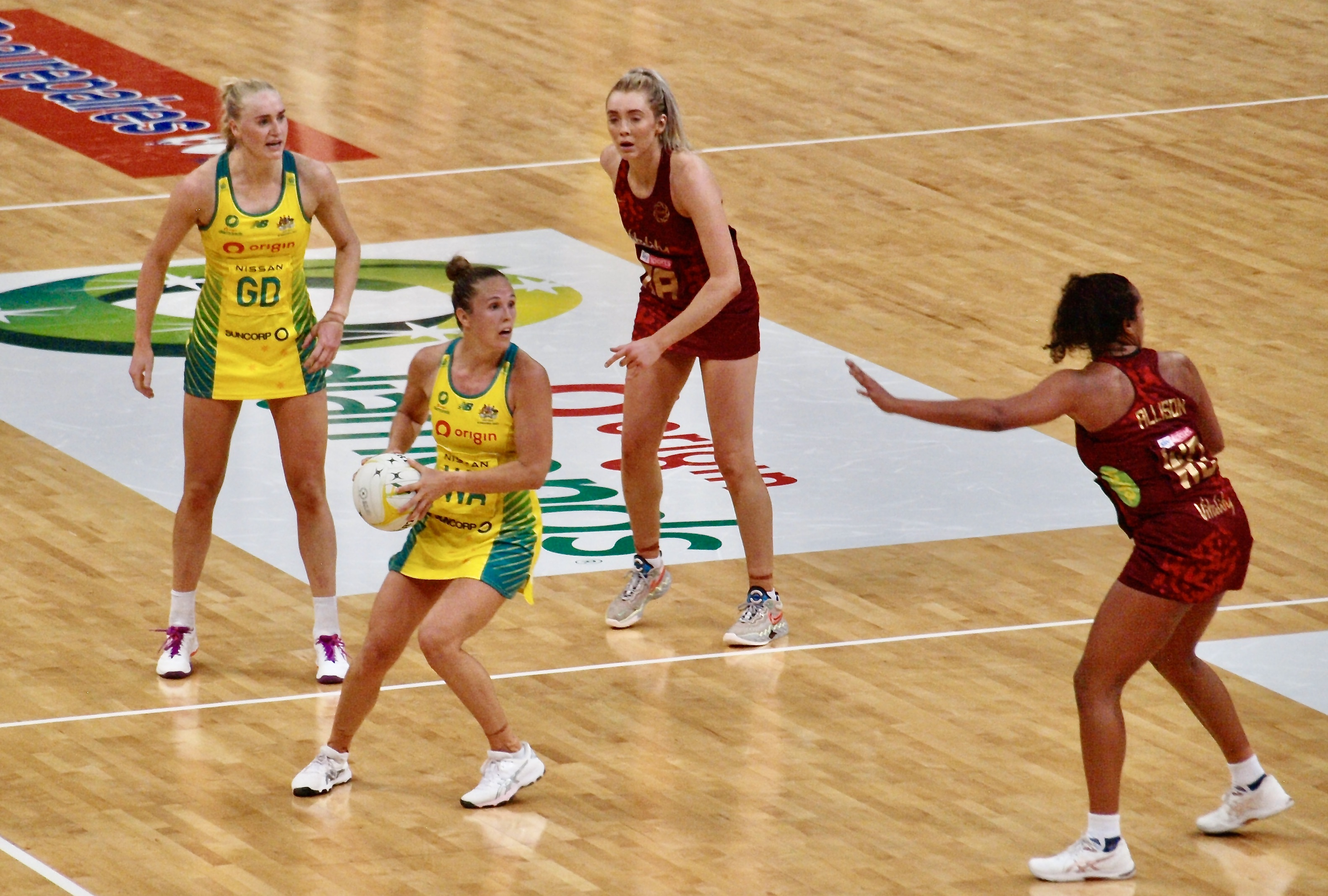 When asked about the confidence that gives the team after the game, Diamonds coach Stacey Marinkovich said "There are incredible leaders across the group, they hold positions within their SSN clubs, and it's being able to give people opportunity to have that voice.
"Liz and Steph have also stayed closely connected to the group as well. So whilst they might not be here, they they still have an input but you know, with Paige leading the group and and with the experience around her, it's good they can take on moments and really charge at it."
For Hadley actually out on court, Funmi Fadoju has been a unique challenge, having caused disruption on Wednesday night in Newcastle, and still finishing with four gains in Sydney, despite the Diamonds trying to keep the ball away from her.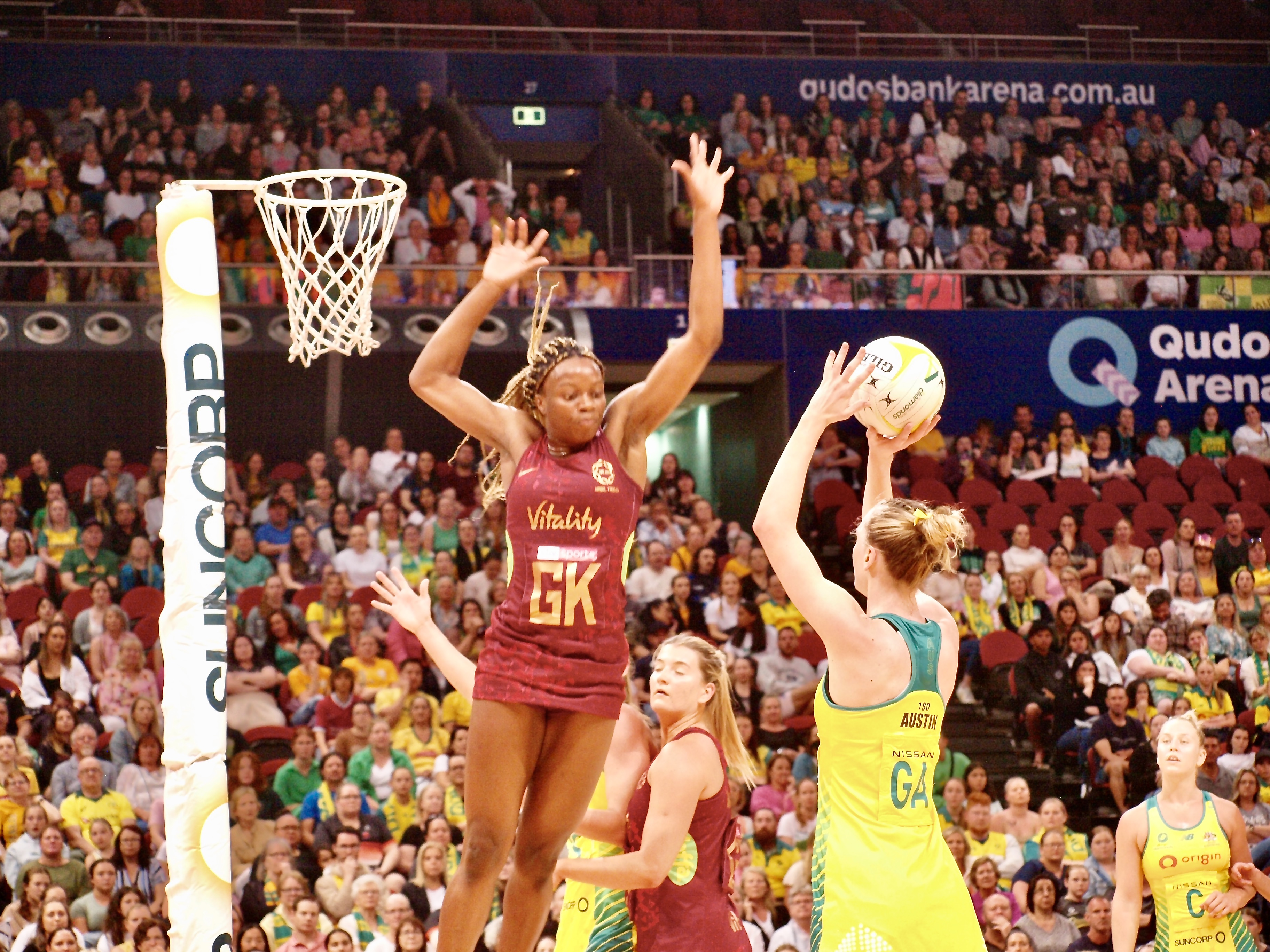 Hadley explained how the Australians had looked to counter her high ball abilities.
"Wednesday we hadn't really seen much of Funmi before," the captain said.
"Today obviously we had more of an idea where I thought Cara did extremely well in terms of to get her on the move to be able to open up the circle obviously we had moments where we're probably forcing balls into the shooter so just obviously watching that back.
"I thought Cara did a great job of keeping them accountable and then giving the space to the goaler at the front."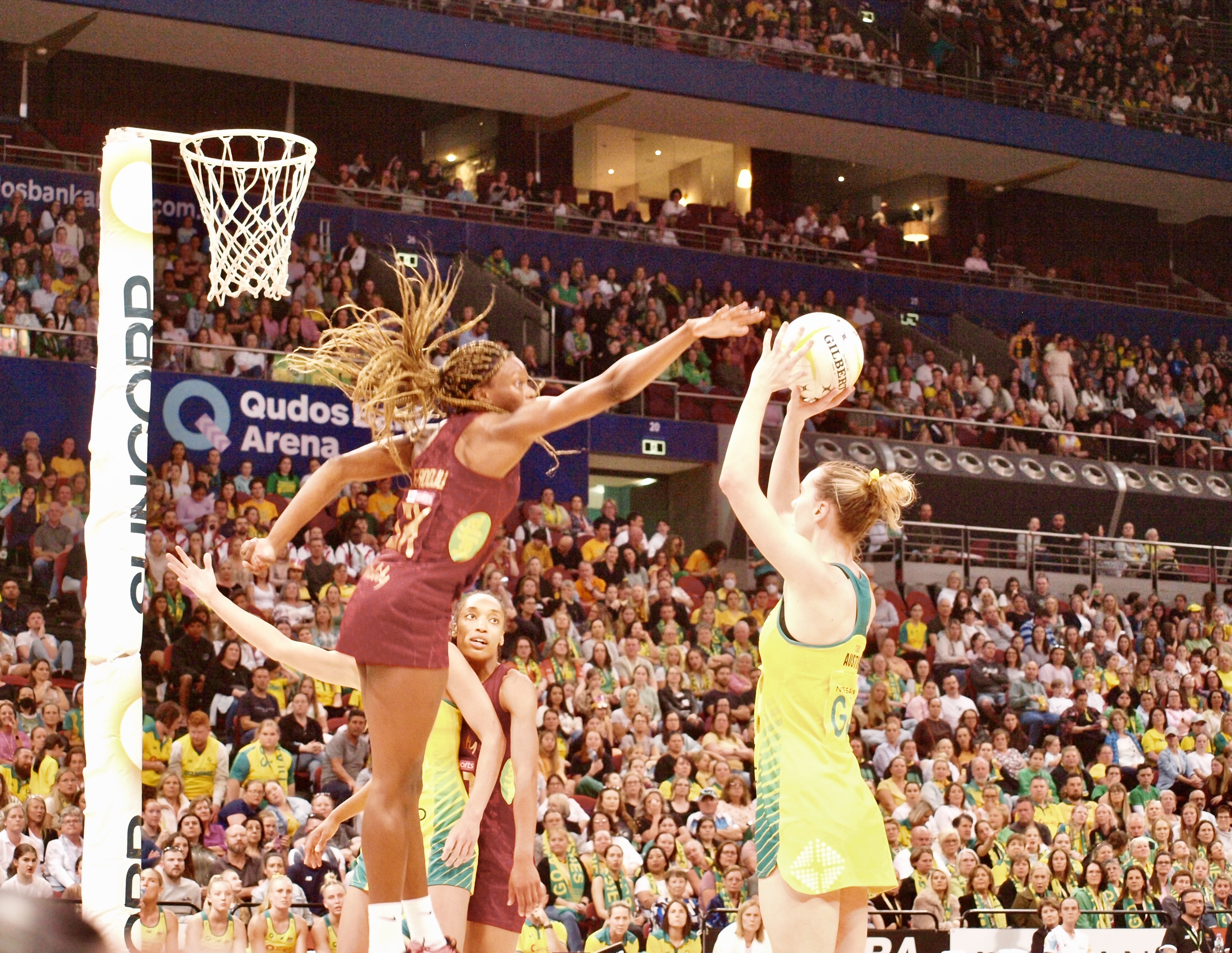 Austin, who joined Hadley and Marinkovich after the game joked that her part of the plan to keep Fadoju quiet was simple, saying that she had been told to run nonstop.
"I'm best when I'm on the move and just backing myself in the drive so I just did that on call today," Austin said. "And it opened up a lot, it was a lot easier and a lot nicer for our feeders."
On the other bench, Jess Thirlby was reflective on her side's progress.
"We've come on this tour with the real intent to be being games and stay in games for longer periods," Thirlby said.
"I think both in Game One and Game Two actually, we've done that. I think where we got caught out tonight really was our ability to find ball we knew was going to be tougher tonight.
"I think the first and second quarter [particularly], we finished those quarters poorly, having been with [the Diamonds] throughout and I think those things against the number one in the world do cost you deeper into the game.
"I guess the the bad taste in the mouth for us is that we know that we were in the game."
One particular source of struggle for the Roses was the ability to feed into the circle, as Nat Metcalf struggled to keep the Roases' attack on task.
After the game, Metcalf talked about her struggle feeding against Sarah Klau, her former teammate at the NSW Swifts.
"Sarah's very, very, very good at what she does and I think she built a really good partnership with Jo [Weston] in front of her tonight," Metcalf said.
"Our challenge was probably an attack looking in a bit sooner and getting our ball to early a little bit sooner under the post Elle's [Cardwell] got such a strong stature and a huge presence for us.
"So I think we can go back and look at the tape and see where there's opportunities for us to get the ball in sooner."
For Thirlby, she will focus on the trying to take positives out of the third game, and hope that her squad shows signs of the growth she has seen since Commonwealth Games.
"If we're not going to get a win then the next best thing is that that our game plan is more robust and we've done it for longer and that we're fixing up between Test matches," Thirlby said.
"[The team] have been great in terms of engagement since Test Match One and in elements we were okay today but two wasteful forward - sprayed too much ball and and at times I think a little bit bullied off the ball physically and I thought that we were better in Test Match One."
For Stacey Marinkovich, despite having the series result locked up, she has selection battles to face. With no Maddy Proud in Game Three, there is less pressure in the immediate day to day, but with Proud and Amy Parmenter both finding their feet, the midcourt selection crunch is on.
"Selection for me, right at this point in time is difficult across multiple positions or more positions, really," Marinkovich explained.
"I think Amy has built and has grown in her game and obviously [Ash Brazill] brings some really strong attributes at the same time. So there's some things that we've still got to work through.
"Through this series it's been great to see Amy out there we've put Jamie-Lee in the wing defense so I guess we've got to look at an overall dynamic and keep weighing that up.
"So got a bit of time still now before we have to select for for World Cup but it's great to be able to have so many people putting their hands up."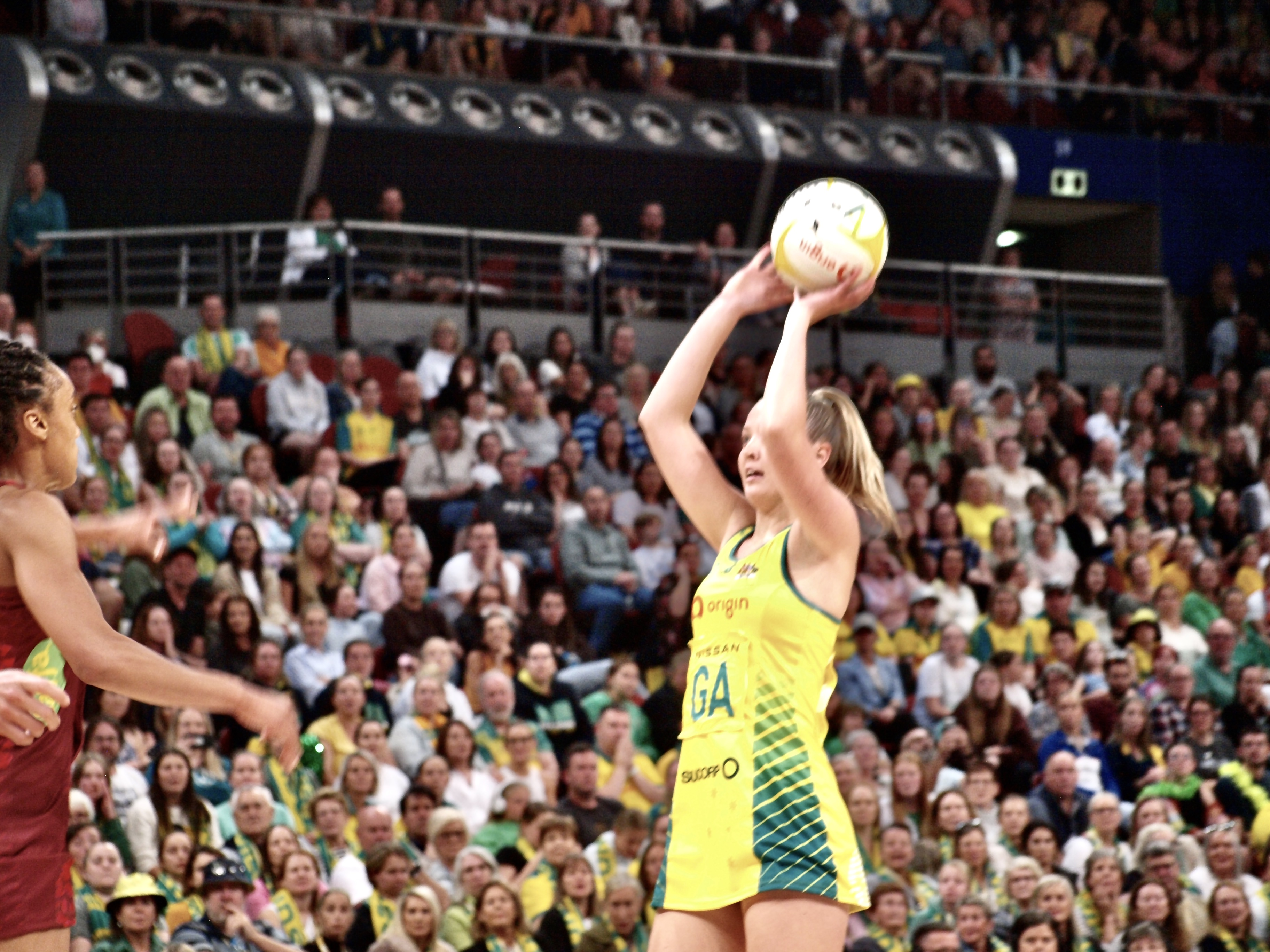 The Diamonds and Roses face off on Thursday night for the third time to end the series.